Quarterback tops Raiders' free agency wish list
Updated March 11, 2023 - 2:05 pm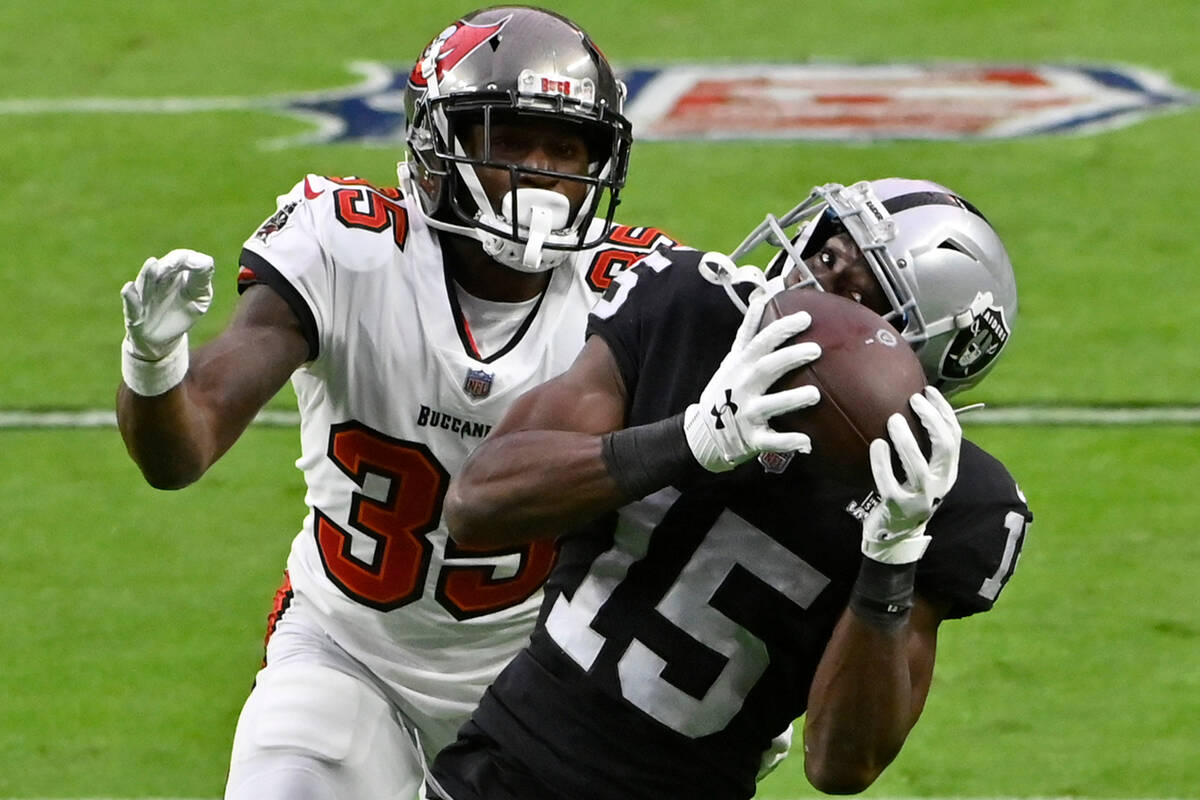 The Raiders are ready to execute a plan they have been formulating for months when NFL free agency begins this week.
It will be equal measures of aggressiveness and prudence. And while the objective is to use this phase of the offseason to help fill at least nine starting jobs and beef up depth, they will proceed with a protective eye on the future.
In other words, everything they do this offseason, from free agency to the draft, will be done with the objective of building a young, talented roster in a fiscally and philosophically sound manner.
After restructuring the contract of star edge rusher Maxx Crosby, the Raiders have approximately $47 million in cap space. The great unknown is how that cap space lines up with the actual budget general manager Dave Ziegler and coach Josh McDaniels are working with.
But even in the unlikely case that it matched up to the penny, the Raiders' brain trust will always approach free agency less motivated to make splashy moves and more driven to make smart investments. Free agency is meant to supplement a roster primarily built through the draft.
So while years of bad drafting by previous regimes have left the roster vulnerable at a number of spots, don't expect Ziegler and McDaniels to recklessly throw money at fixing those mistakes. They are in this for the long haul, and their goal is to build this roster responsibly.
So expect a measured approach to free agency.
Here's a potential blueprint the Raiders could follow.
The quarterback
Jimmy Garoppolo
The Raiders can go in so many directions at quarterback, and expect a combination of free agency and the draft to address their biggest need.
Garoppolo fits on so many levels, though the Raiders have to be prudent about what they are willing to pay him and the length of their commitment. So don't expect them to engage in a bidding war, especially considering their other needs.
That's for two reasons.
First, it's imperative they keep an eye on the future, as their need to identify the long-term face of their franchise should be priority one. They can't get locked onto Garoppolo in years and money if it impacts their ability to draft and groom the next quarterback.
Also, his injury history makes it critical that they proceed cautiously,
That said, the combination of Garoppolo's familiarity with McDaniels' offense, his leadership skills and because he has been a huge part of a big-time winner in San Francisco make him an ideal candidate to manage the present while offering a mentorship to his replacement.
Garoppolo's 25-3 record when his team allows 20 or fewer points a game and his appearance in a Super Bowl and multiple NFC championship games are proof he can steward a winning program.
Priority targets cap space
It's highly unlikely that the Raiders will sign all of the selected players, and depending on where their markets go, they will walk away from all of them if they exceed their price points.
John Johnson, safety (Browns)
The Browns' trade for Deshaun Watson and his fully guaranteed five-year, $230 million contract is already having an effect on their salary cap. And it meant having to recently cut Johnson in a cost-saving move.
The Raiders need a quarterback for their defense, and Johnson, 27, fits that profile while adding a high level of play.
Zach Allen, defensive lineman (Cardinals)
Allen, a 25-year-old former third-round pick, has emerged in the past two seasons as an impact lineman while totaling 95 tackles, including 15 for loss, 9.5 sacks, 34 quarterback hits and 12 pass deflections. His 5.5 sacks and 20 quarterback hits were career highs last season.
Mike McGlinchey, offensive tackle (49ers)
The Raiders got decent play last season from Jermaine Elumenor, but it's time to invest money in an upgrade at right tackle, and McGlinchey provides that type of elevation.
Along with Kolton Miller, the Raiders would have bookend tackles for the next three seasons. According to Pro Football Focus, McGlinchey established career highs last season with a 5.1 percent pressure rate and a 96.9 pass-blocking efficiency grade.
Midmajor additions
Again, the following players represent a group the Raiders can choose from rather than a total haul.
Andrew Wylie, offensive tackle (Chiefs)
In McDaniels' offense, a priority is put on quarterbacks getting rid of the ball quickly. That will help Wylie, who took a bad rap in Kansas City because Patrick Mahomes holds onto the ball a bit longer than most quarterbacks.
Nick Scott, safety (Rams)
There is depth at safety in free agency, and Scott is an emerging player after racking up a career-high 86 tackles in his first season as a starter. He's also a terrific special teams player.
Devin Bush, linebacker (Steelers)
Bush rebounded from a knee injury in 2021 to show he can still hunt the ball as a run defender and defend the pass. He doesn't have ideal size, but he is a good enough athlete to be a capable starter and three-down player.
Contact Vincent Bonsignore at vbonsignore@reviewjournal.com. Follow @VinnyBonsignore on Twitter.