Raiders' Antonio Brown returns to camp, but does not practice
Updated August 13, 2019 - 5:17 pm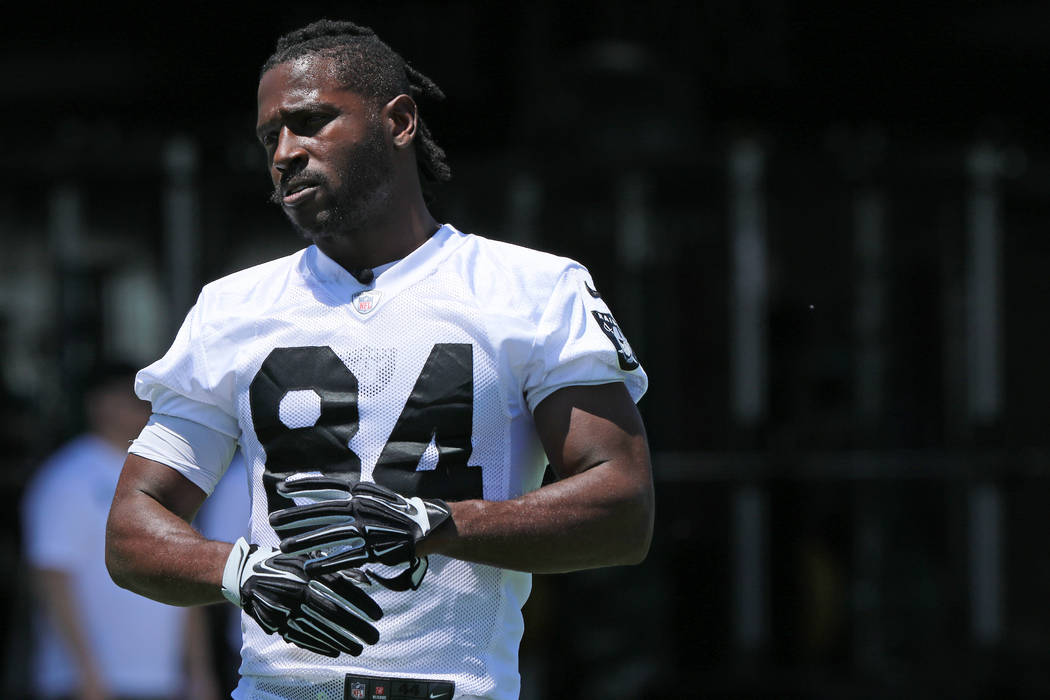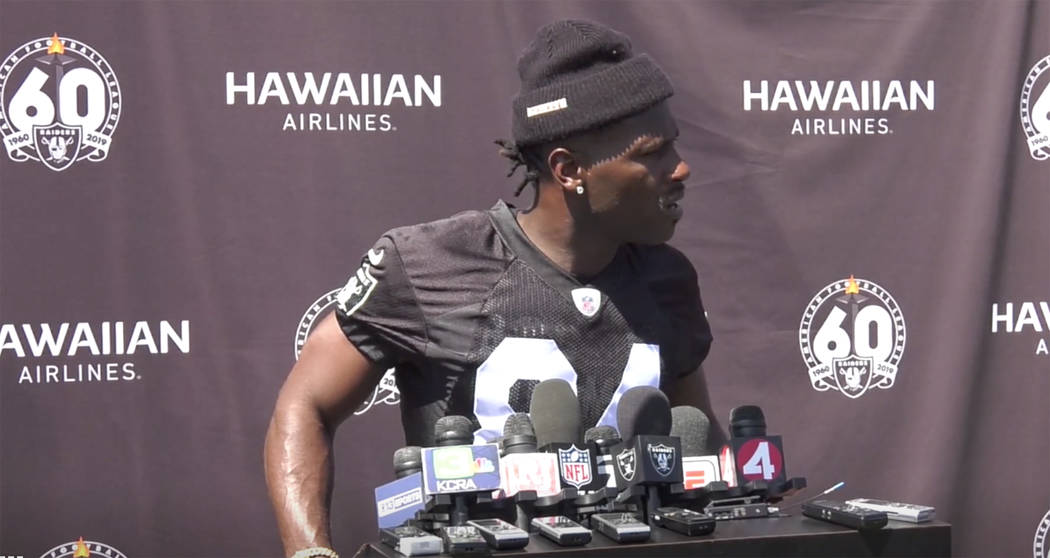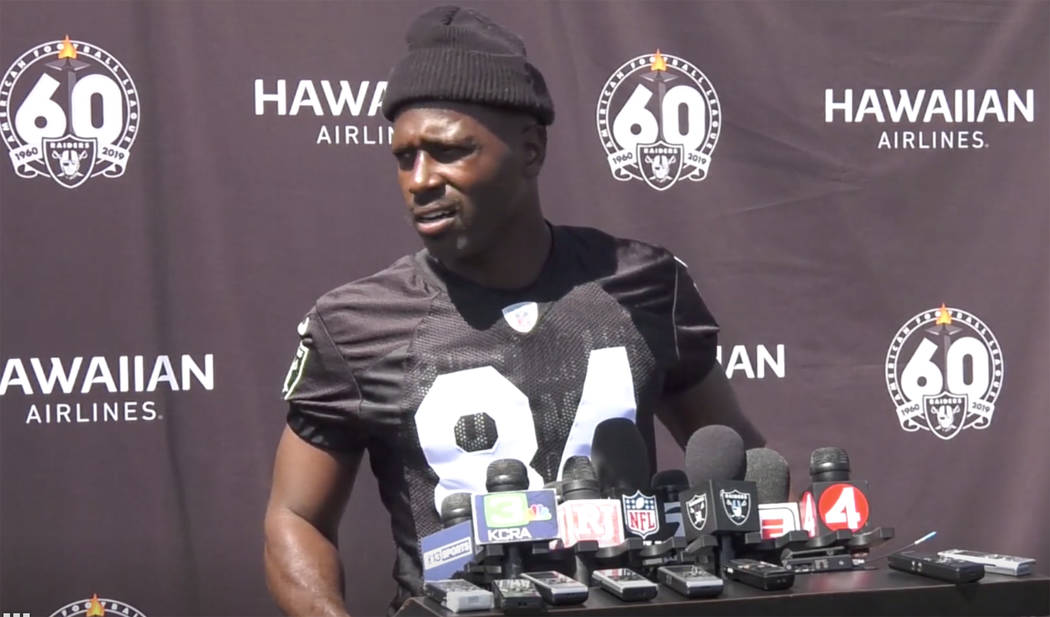 NAPA, Calif. — As the Raiders finished practice Tuesday, a familiar yet unfamiliar face in this particular place made his way onto the field, joining the huddle led by coach Jon Gruden.
A day after losing his grievance in arbitration, which would have allowed Antonio Brown to use a non-NFL approved helmet, the wide receiver began his morning by using his Instagram story to document his private flight to rejoin the team, showing his agent, Drew Rosenhaus, accompanying him on the return to wine country.
Once he arrived at the Raiders' facility, Brown did not put on pads to join the ongoing session. But the wideout, who has been sidelined for nearly all of training camp with a foot injury, did sport a black No. 84 practice jersey and sweatpants as he greeted teammates and coaches. At a news conference after practice Tuesday morning, Brown said he's feeling, "a lot better — working towards 100 percent."
While there isn't a set timeline for Brown to return to practice — "Guess you've got to stay tuned," the wide receiver said — Gruden indicated he expects Brown to be ready for the season opener against the Broncos, noting the team and player have been on the same page throughout Brown's absence.
"We've had a pretty good understanding of the foot injury. We know where he's been, we know what he's been through," Gruden said. "We're thrilled to have him back." And, obviously, we think he's a great player and we're anxious to get the men together and get rolling.
Rosenhaus also made his way to the facility after the private flight. He said the frostbite on Brown's feet was initially so severe that the agent "couldn't look at the video."
"He sent it to me and it was so excruciating, I can't even imagine what he went through. It was brutal," Rosenhaus said. "So we're glad that it wasn't a permanent injury. He's going to be back to 100 percent in the very near future."
Rosenhaus declined to get into specifics about how Brown suffered his foot injury, saying that it's a potential legal matter between the player and the cryotherapy facility — which Rosenhaus did not name.
But the agent added that the reports of Brown retiring if he could not use his preferred helmet were overblown, telling reporters, "That's not a consideration right now." Rosenhaus said that Brown's entire absence stemmed from him receiving treatment on his feet. "There's no connection with the helmet and him being here," Rosenhaus said.
Rosenhaus said he and Brown have tried to go through the proper channels to resolve his helmet issue for months — citing conversations with league officials all the way up to commissioner Roger Goodell.
"We have a lot of clients that are frustrated that they had to change. But everybody understands the way to get this done is to work with the league," Rosenhaus said. "And we're working with the league, we're working with the Raiders, and we're working with the NFLPA. No one's trying to beat the system. We're trying to work within the system to make it work for everybody."
Brown could potentially resolve the situation simply by acquiring a Schutt Air Advantage helmet made in the last 10 years. It would have to be certified and approved, but that's not out of the question. The helmet Brown wanted to use was older than that. Brown tweeted a request for a newer model of his old helmet on Tuesday morning.
Despite the plea, Rosenhaus said he and his client are close to finding a helmet solution for not just this year, but the seasons to come.
"Having the proper helmet not only to protect you physically, but also to be able to use it visually was important to him," Rosenhaus said. "That's the only thing he's played in. Back in high school, college, not the same helmet, but the brand and the model — the Schutt Air Advantage is what he's worn his whole life. So we're trying to continue the success that he's had and work within the NFL rules."
So with Brown's feet on the mend and headgear sorted, he will sooner than later be able to get back to what he does best. Given that there's still about four weeks until the Raiders open the season on Monday Night Football, quarterback Derek Carr did not appear concerned about integrating Brown back into the offense.
"I think he's here now, so we'll be ready to go Week 1. We've got a lot of time until then," Carr said. "Obviously, a short week this week playing a game on Thursday. But with that said, we have so much time to get some game-plan plays down, some routes, certain cuts that we're going to have him run and all those kinds of things. We've got plenty of time. So the fact that he's here is a good sign, is good for us."
More Raiders: Follow at reviewjournal.com/Raiders and @VegasNation on Twitter.
Contact Myles Simmons at msimmons@reviewjournal.com.
Related
Antonio Brown asks Twitter to help find new helmet
Graney: 'Helmetgate' is sort of drama Raiders get with Antonio Brown
After losing helmet appeal, Raiders' Antonio Brown due in camp