Raiders cap tumultuous week with convincing win at Denver
Updated October 17, 2021 - 6:58 pm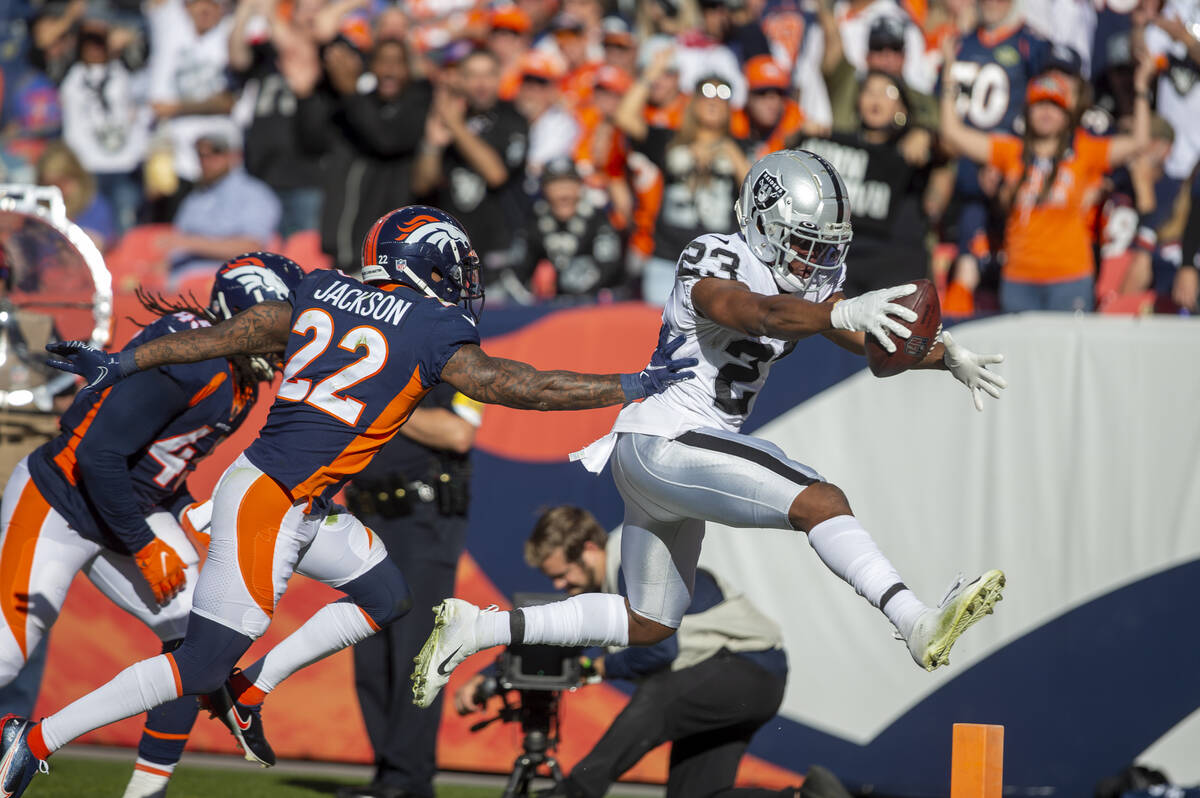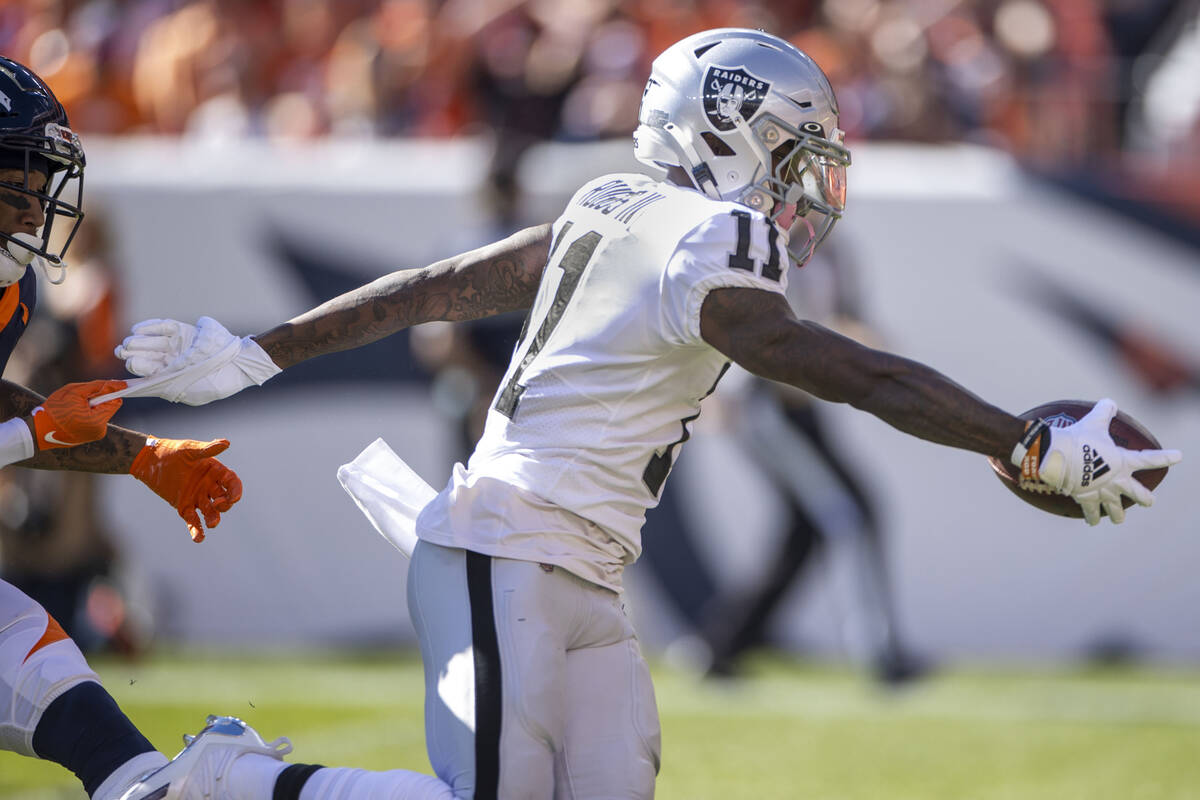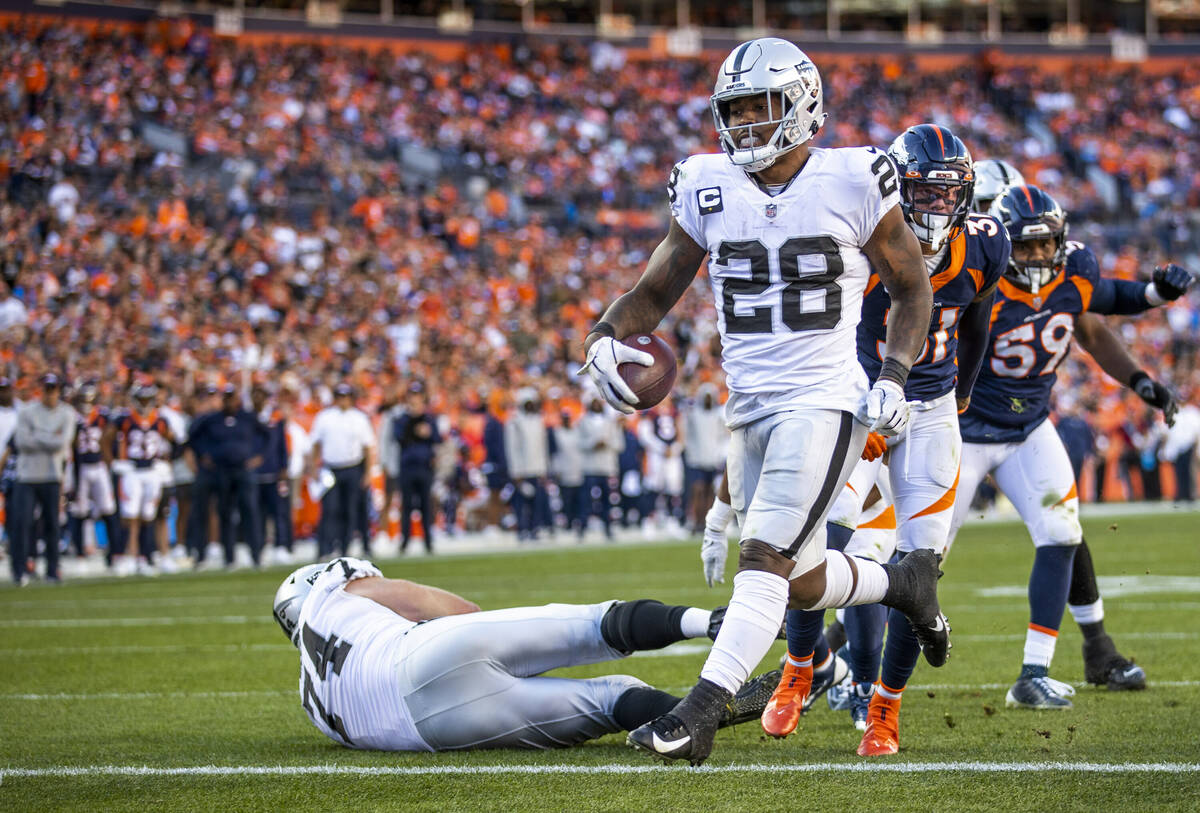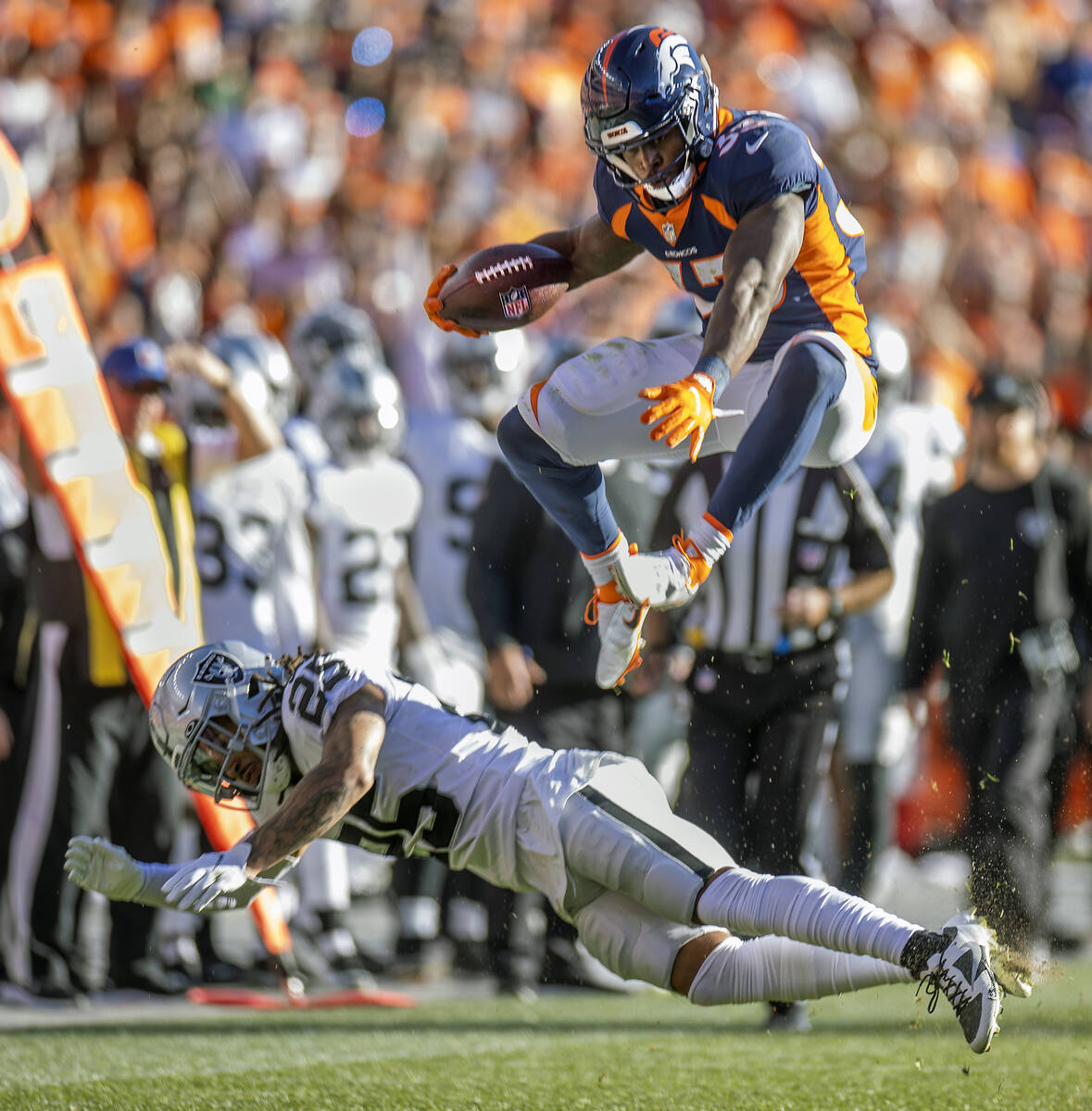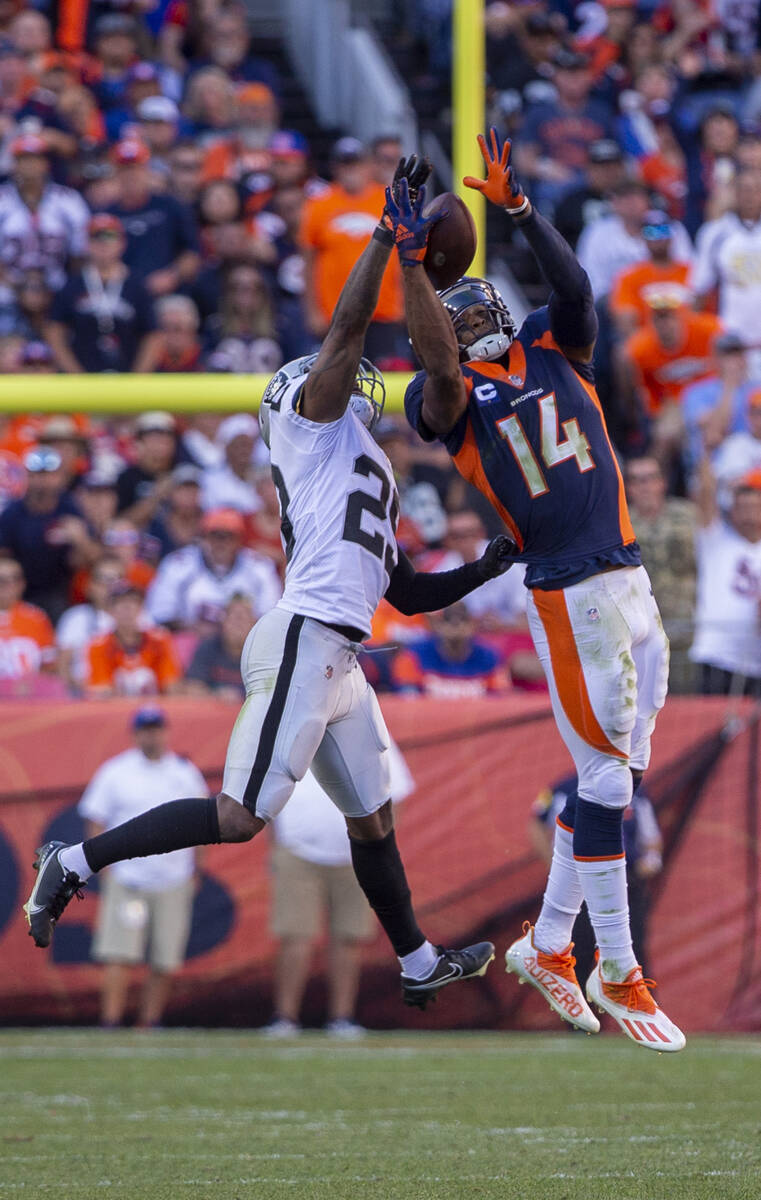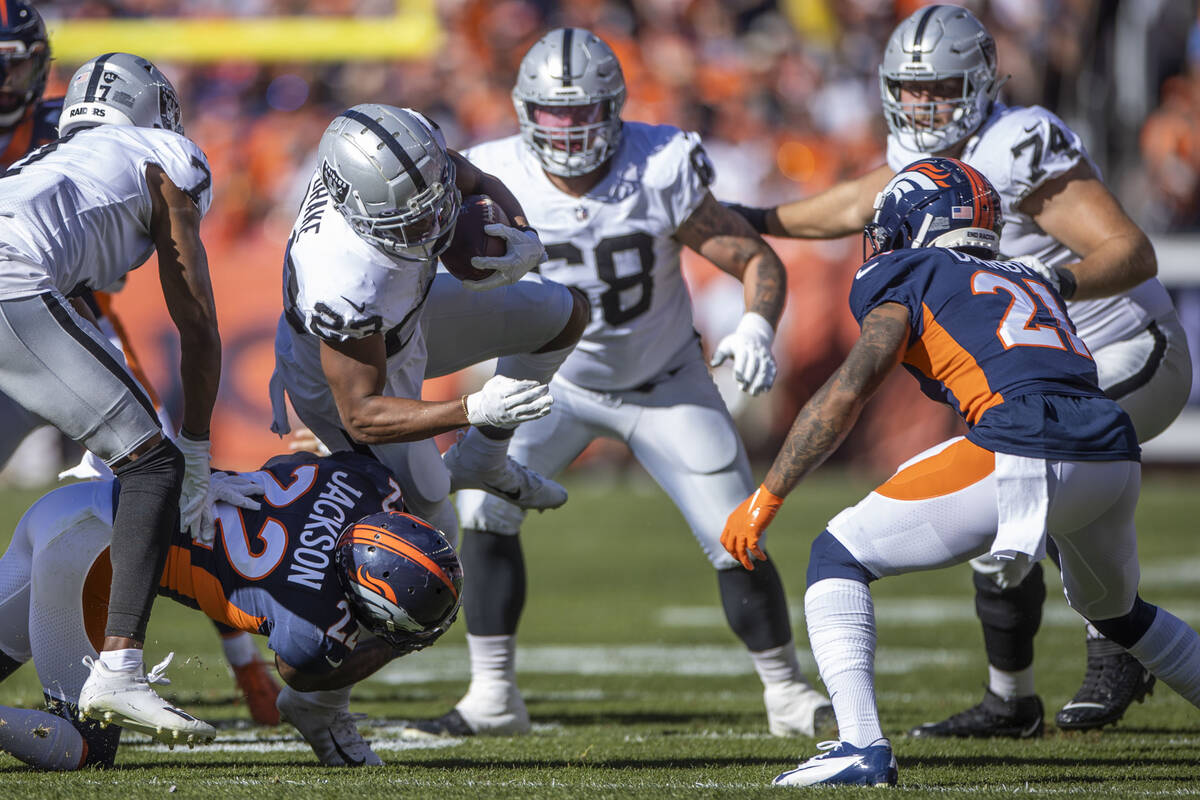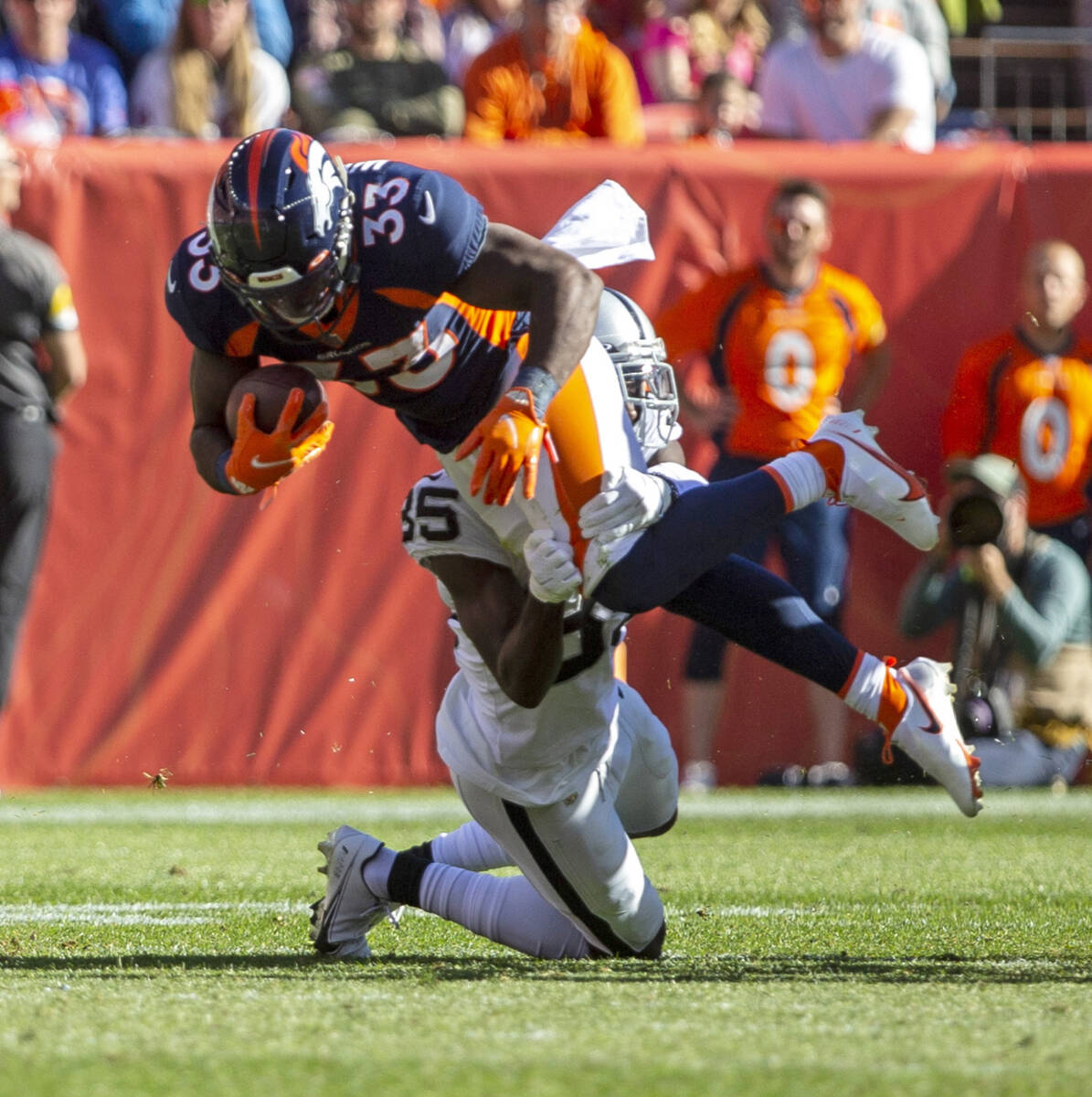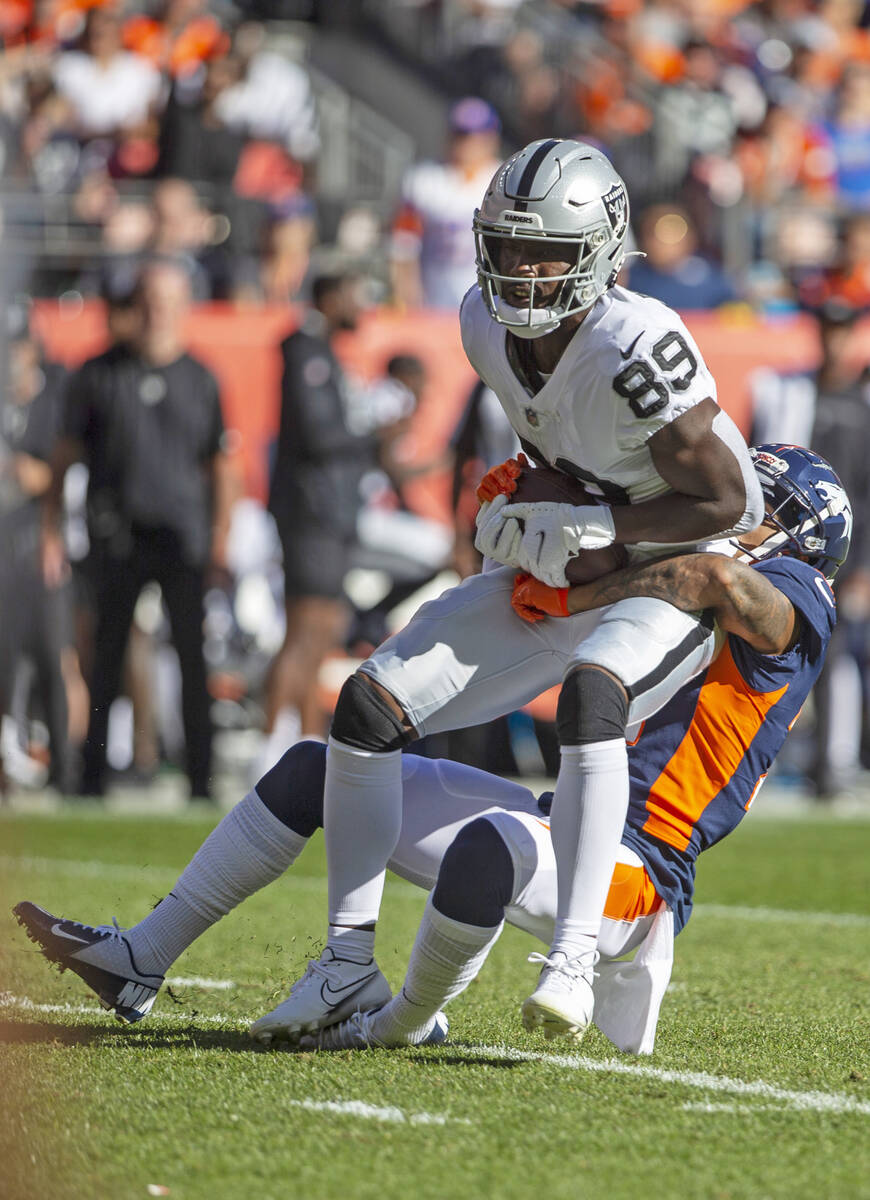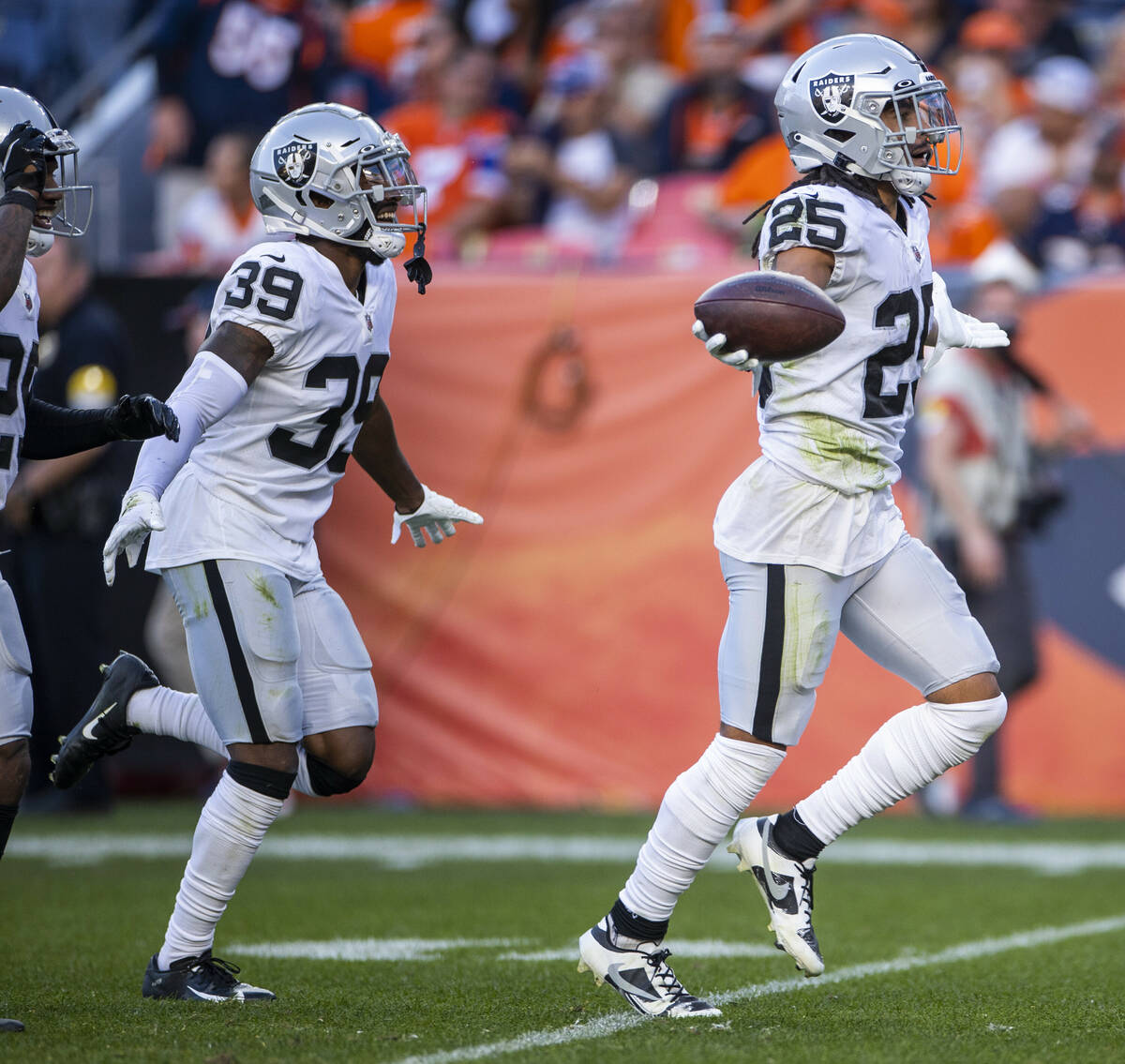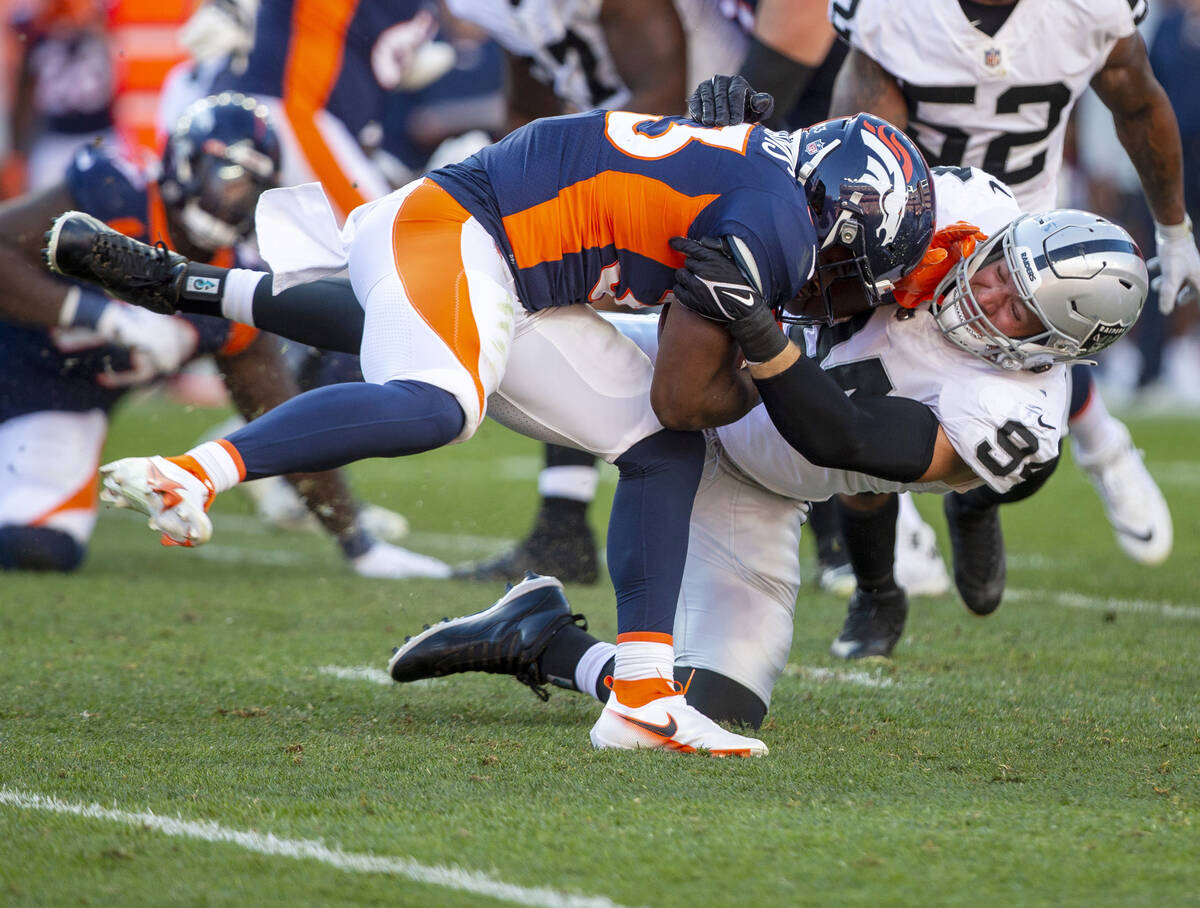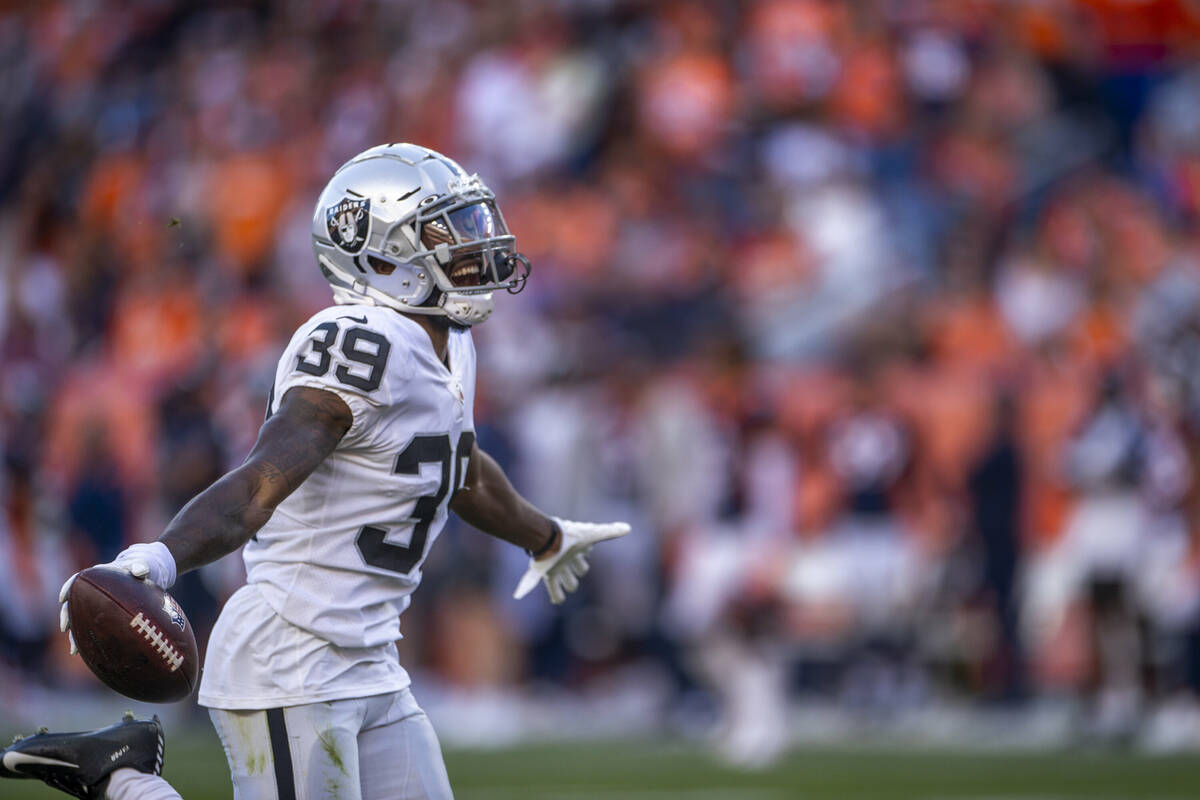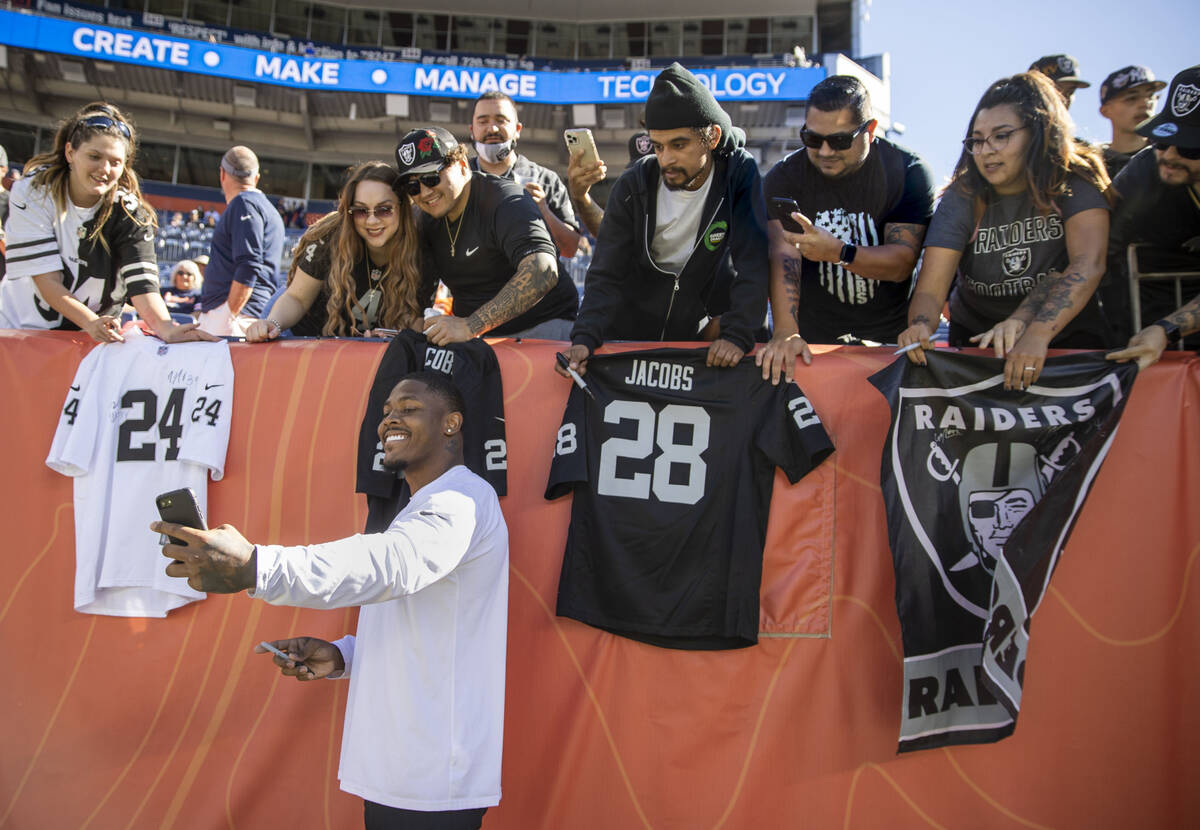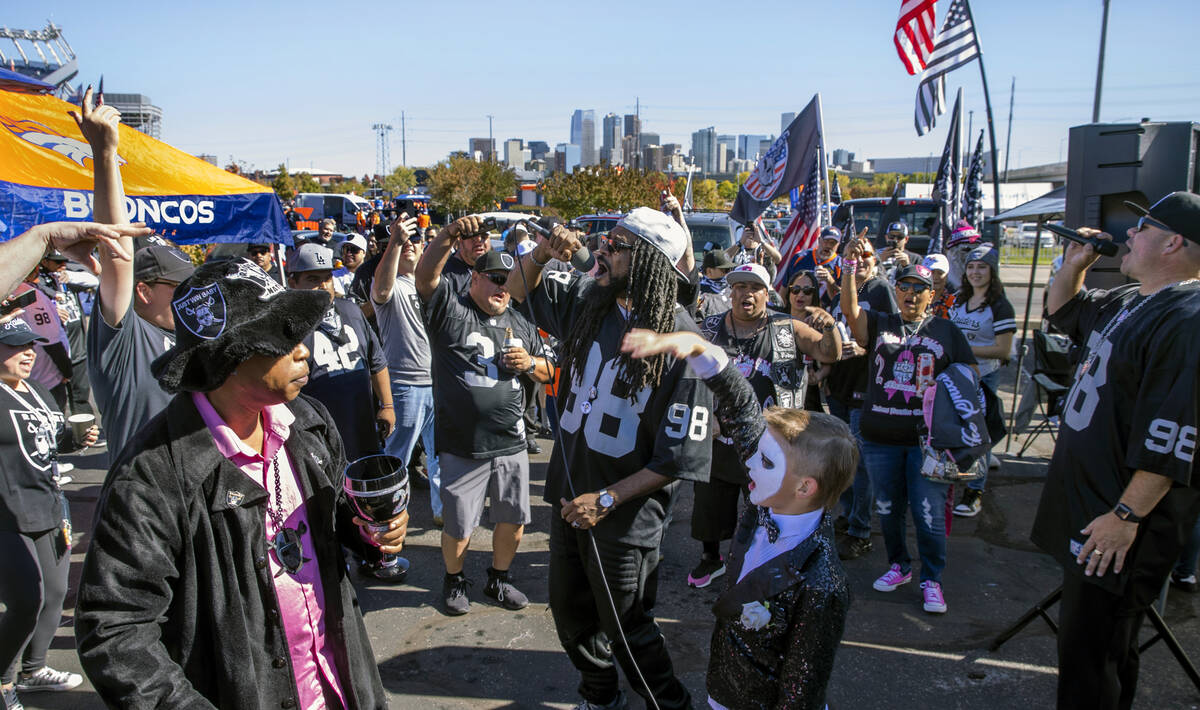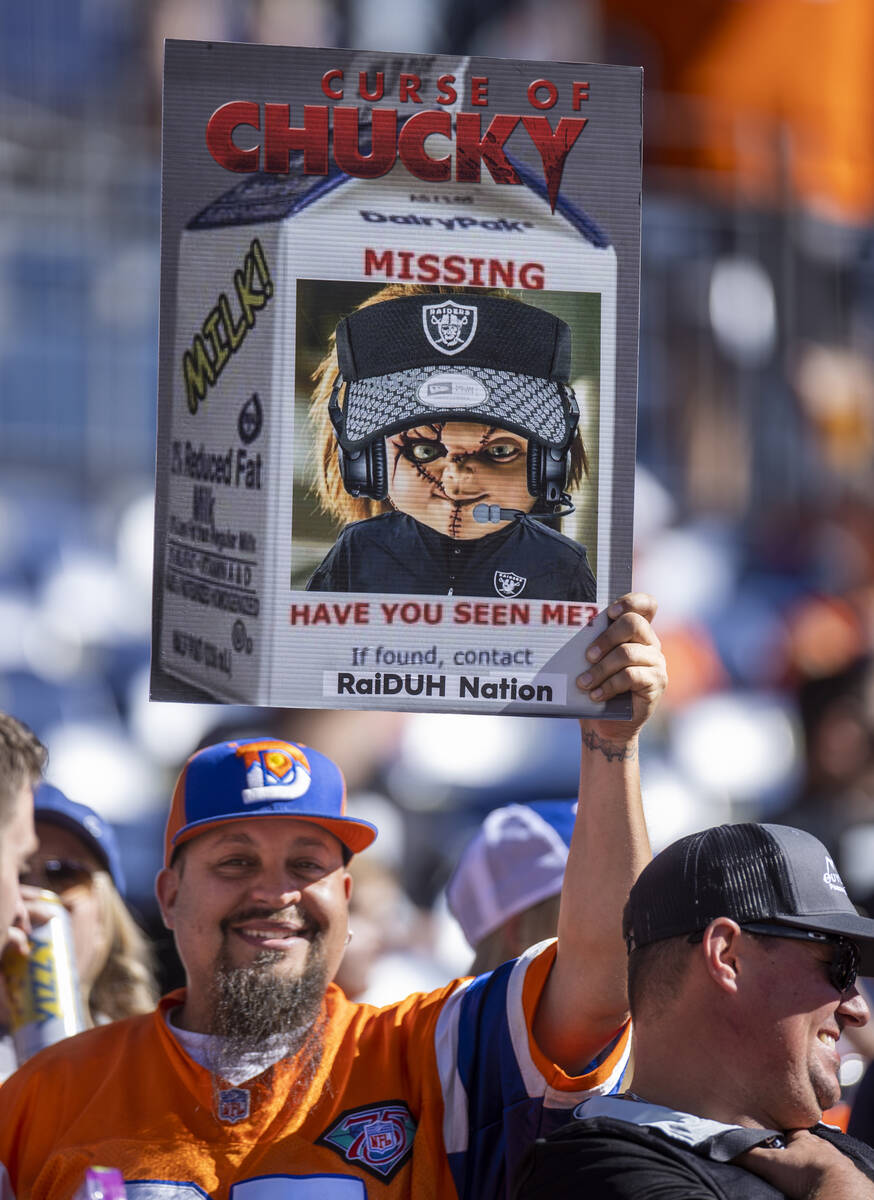 DENVER — In need of a win to clear the air, if not their minds after one of the most trying and turbulent weeks in franchise history, the Raiders took it a step further on Sunday.
They put together their most balanced, efficient and dominant performance in years in a 34-24 victory over the Denver Broncos that, for the moment, pushes them into a first-place tie in their division and points their season back in the right direction.
Simply flushing out the negativity from a tempestuous week would have sufficed. But the 4-2 Raiders might have done much more than just put some distance between themselves and the weeklong controversy that led to the abrupt resignation of coach Jon Gruden and engulfed the entire organization.
They also might have found themselves by putting together a complete performance in which they played efficient football in all three phases — including their beleaguered offensive line — for the first time in recent memory.
Doing so meant leaning on the leadership of Derek Carr and Maxx Crosby throughout the stormy week, and then decisively delivering a performance that snapped a two-game losing streak and drew them even with the Los Angeles Chargers atop the AFC West.
Carr threw for 341 yards and two touchdowns, Crosby had a season-high three sacks, the defense forced four turnovers, and the Raiders averaged a season-high 8.2 yards per play while scoring on their first possession for the first time in 11 games.
But while it all played out on a crisp, beautiful day in Denver, the roots of this win go back to Wednesday when the Raiders gathered for the first time since Gruden's resignation and leaders like Carr, Crosby, Yannick Ngakoue, Josh Jacobs, Alec Ingold, Darren Waller and others stressed forging ahead with a purpose rather than cowering to the moment.
"We still have our room of leaders, and more now than ever we had to step up and be a voice," Carr said. "If anything, what this did, for sure, is brought us closer."
Said running back Kenyan Drake: "We just wanted to kind of stay together. Block the outside noise out."
That was evident on the Raiders' opening drive when they got just enough of a push up front to create a run game and then, when the Broncos leaned in closer to stop it, Carr pushed a long ball to Henry Ruggs for a 48-yard touchdown.
For the first time all season, the Raiders had a seven-point lead off their first drive.
"It just shows that we know what we have to do and we're going to accomplish it," Ruggs said. "Just to go out and start fast like that just put us on the right foot to play the entire game and gave us the energy we needed."
Ruggs finished with three catches for 97 yards. Bryan Edwards had two catches for 67 yards. The Raiders also ran for 86 yards on 23 carries. While that isn't anywhere near a dominant output, considering how much they have struggled to run the ball, it was a welcome addition to the attack.
While the defense gave up a touchdown on the Broncos' opening drive, it would be the only points they surrendered until Denver kicked a third-quarter field goal.
By that point, the Raiders were in control at 24-10. They soon answered the field goal by coming up with a fumble and then marching 42 yards on five plays to go up 31-10 when Jacobs ran three yards for a touchdown.
The forced fumble came on a hustle play by defensive tackle Solomon Thomas, who chased down Broncos QB Teddy Bridgewater and punched the ball loose. The Raiders also got interceptions from Brandon Facyson, Tre'von Moehrig and Johnathan Abram.
That was on top of their five sacks of Bridgewater.
Coupled with everything else that went right on Sunday, it was exactly what the Raiders needed after the week they just endured.
"Proud of where we're at and glad for our organization to get a win," Carr said. "We needed a win bad this week. Sometimes when you get punched in the gut, it's hard to bounce back. But we were able to do it."
Contact Vincent Bonsignore at vbonsignore@reviewjournal.com. Follow @VinnyBonsignore on Twitter.