Raiders' Chandler Jones arrested, posts bail
Updated September 29, 2023 - 7:44 pm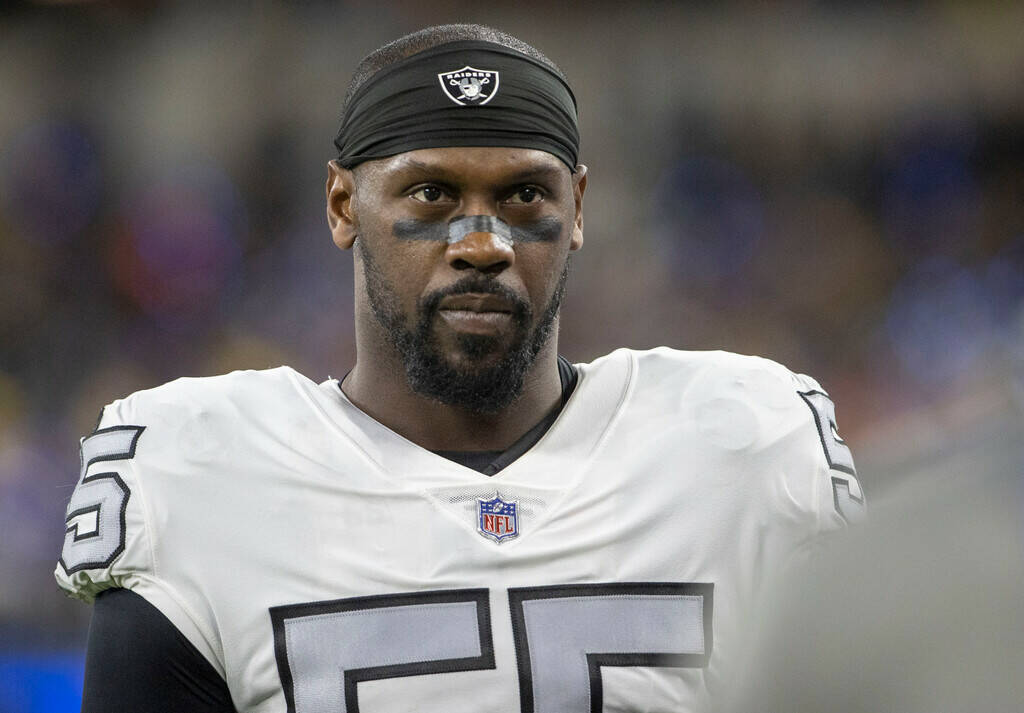 Raiders defensive end Chandler Jones was arrested and booked into the Clark County Detention Center early Friday, then released in the afternoon after posting a $15,000 bail bond.
Jones, 33, was arrested for allegedly violating a temporary protection order Thursday night.
The veteran defensive end, who has been acting erratically in the past month on social media, has not played a game this season for the Raiders and is on the non-football illness list.
"The Raiders are hopeful that Chandler Jones receives the care that he needs," a statement from the organization read. "He, his family and all those involved are in our thoughts. As this is now a legal matter, we will not be providing further comment."
The arrest is the latest in a series of troublesome actions by Jones, all of which began surfacing the week before the season opener when he took to social media with a slew of pointed posts directed at the Raiders.
Over the next few weeks, those posts escalated to include remarks about Raiders owner Mark Davis, coach Josh McDaniels, general manager Dave Ziegler and former NFL players such as Larry Fitzgerald and Antonio Brown.
As quickly as the posts appeared, many would just as quickly be deleted. But the tone and tenor of them reflected someone who was going through some sort of mental trauma. The Raiders have treated the situation as a personal matter and have not publicly commented on it aside from some general statements.
That was the position McDaniels took Friday when he was asked about Jones' arrest.
"I don't have much to add to any of that," McDaniels said. "Nothing's changed on our end in terms of the status and everything else. I'm not up to speed on everything."
McDaniels and Jones' working relationship goes back to 2012 when Jones was a rookie in New England and McDaniels was the Patriots' offensive coordinator.
The human side of things in his situation is difficult to ignore, McDaniels said.
"We want the best for all of our players, former players, so that will never change," he said.
Jones has been one of the most dominant pass rushers in the NFL since entering the league as a first-round pick of the Patriots. The former Syracuse star has accumulated 112 sacks over his 11 NFL seasons while also forcing 34 fumbles.
His pass-rush ability with the Patriots and Cardinals over the first 10 years of his career prompted the Raiders to sign him in March of 2022 to a three-year, $51-million deal, including $32 million guaranteed.
Jones, though, was a disappointment in his first season with the Raiders while coming up with just 4.5 sacks. Nevertheless, he was a solid edge-setter in the run game, and the Raiders were counting on him to bounce back in the pass-rush department while also serving as a mentor to rookie defensive end Tyree Wilson.
That has not happened, obviously, and while a door remains open for a potential return, it is looking more likely by the day that Jones has played his last down with the Raiders.
Contact Vincent Bonsignore atvbonsignore@reviewjournal.com. Follow@VinnyBonsignore on X.