Raiders coach says he has 'no anxiety' about Jimmy Garoppolo
Updated June 1, 2023 - 3:07 pm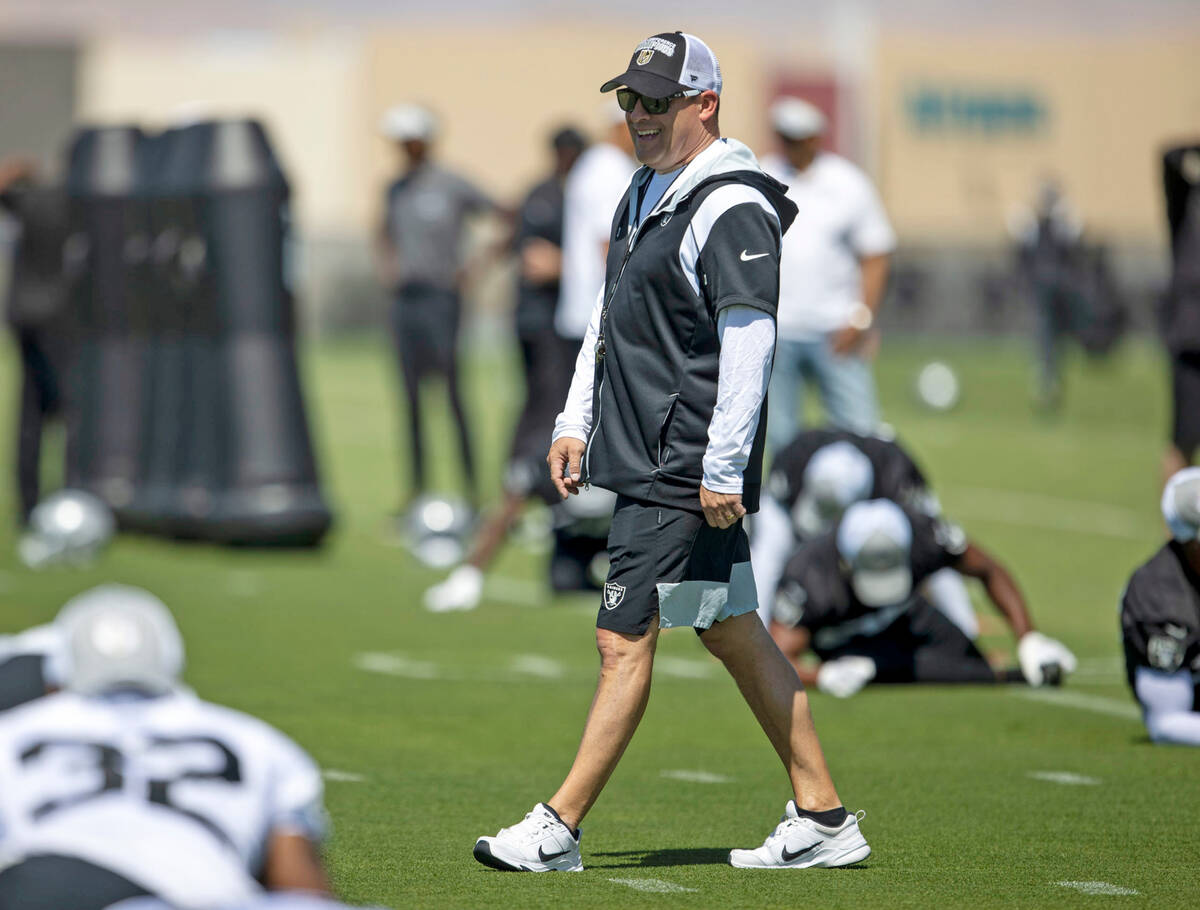 For the second straight week, Jimmy Garoppolo was not with the Raiders during the on-field portion of their organized team activities on Thursday. And at this point, it's anyone's guess when his left foot will be healthy enough for him to be cleared to practice.
Nevertheless — and in spite of the ongoing angst among a Raiders' fan base worried that Garoppolo might not be ready to start the season — Josh McDaniels painted a positive picture relative to his quarterbacks' availability for training camp, which begins next month, and ultimately the season opener in early September.
"I have no anxiety," McDaniels said.
It was a reassuring message given the recent news that Garoppolo has yet to pass a physical because of a foot he injure last season with the 49ers. And how the injury — which required surgery soon after Garoppolo agreed to a three-year deal with the Raiders in March — resulted in him signing a heavily team-protected contract that provides an out for the Raiders if he isn't cleared to play.
McDaniels tempered those concerns on Thursday shortly before the Raiders took the field for a mid-morning OTA practice at their Henderson practice facility.
"I'm not going to put a timeline or a day on anything, but like I said, I have no anxiety," McDaniels said. "Feel pretty good about it."
When asked why he wasn't anxious about Garoppolo's recovery, McDaniels said, "I have very good information that would tell me we're going to be fine."
Garoppolo has been participating in nearly all other aspects of OTAs, which includes numerous interactions with his new teammates. Among them is star wide receiver Davante Adams, who said he and Garoppolo have spent considerable time talking and doing film study together.
"I've gotten to know him pretty well," Adams said. "I mean, obviously it's only been about six weeks or so since we've been doing it, but I know a decent amount about him now and I feel like that'll help us on the field, just knowing him and knowing the way he thinks."
In the meantime, Garoppolo's absence creates more reps for rookie quarterback Aidan O'Connell, who flashed some big-time throws on Thursday while working behind veteran backup Brian Hoyer. In addition, O'Connell, a fourth-round pick out of Purdue, has displayed a keen level of football knowledge in the early stages of his transition from the Big Ten to the NFL.
"That's definitely part of the allure with Aidan," McDaniels said. "He's accurate with the ball. He loves the game of football. He works very hard at it, which to me if you don't have those two things at this position, it's going to be hard for you to ever continue to grow and develop. So, he's getting a lot of reps."
As is the case with any rookie, the vast amount of information O'Connell is digesting can be overwhelming. As McDaniels described this phase for the rookies, "It's spinning, and the quarterbacks are probably spinning as much as anybody."
That has led to some inevitable hiccups. But McDaniels is encouraged by O'Connell's ability to quickly bounce back and avoid repeat miscues.
"He'll make mistakes and learn from them every day and then hopefully not make them again," McDaniels said. "That's the process that we're going through with the quarterbacks right now. I really love his attitude, his demeanor, the way he approaches football and how he attacks every day. He's got a plan, and that usually bodes well for you in terms of improving."
Contact Vincent Bonsignore at vbonsignore@reviewjournal.com. Follow @VinnyBonsignore on Twitter.