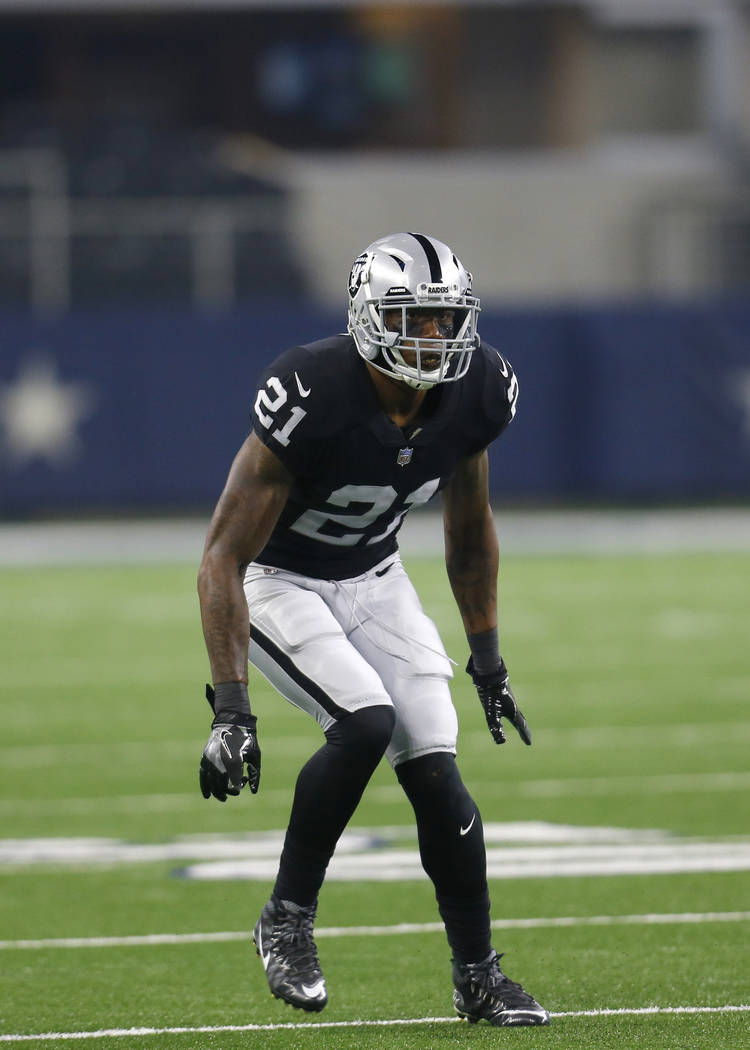 ALAMEDA, Calif. — Raiders cornerback Sean Smith is scheduled to be arraigned Friday on charges of felony assault and battery after allegedly beating and stomping on the head of his sister's boyfriend in Old Town Pasadena on July 4.
Smith's counsel will plead not guilty on his behalf in Pasadena Courthouse, a source said Thursday.
This marks the NFL veteran's first court appearance in the criminal case. He missed the team's final training camp practice Aug. 17 to be arrested under his own volition. He was released later that day after posting $80,000 bail, according to court and police records. Two days later, he played 26 snaps in an exhibition against the Los Angeles Rams in Oakland.
A Raiders spokesman declined comment, but it appears Smith, for the second time, will be excused from team functions to address the legal matter. The courthouse opens at 8:30 a.m. and Smith "is required to be there," said a spokeswoman from the Los Angeles County District Attorney's Office.
The Raiders will hold meetings in the morning before the 11:05 a.m. start of practice.
If convicted as charged, Smith could serve up to seven years in state prison.
The NFL has yet to determine if it will impose any punishment on Smith for the alleged incident. He "remains under review of the personal conduct policy," an NFL spokesman said Thursday. Smith is expected to participate in Sunday's game against the Denver Broncos, although it is unclear the scale of role he'll have.
Last week, Smith was on the injury report for neck and shoulder ailments. He then played only three snaps in Sunday's 27-10 loss to the Washington Redskins. He allowed two receptions for 44 yards during the limited action, including an 18-yard touchdown. Both catches came in man coverage against tight end Vernon Davis.
Smith signed a four-year, $38 million contract in 2016.
By his own admission, he struggled in his debut year with the Raiders. Early-season coverage struggles preceded a Week 8 tear to his shoulder labrum for which he underwent January surgery. In March, he collected a $4.25 million roster bonus. His $5 million salary for the season is fully guaranteed. His deal included an additional $250,000 workout bonus for 2017.
Before Smith's booking, the Raiders owned the NFL's longest active streak without a known arrest. Their last was running back Kory Sheets, booked in 2014 for speeding and marijuana possession.
Notable
■ For the third straight week, the Raiders held a practice in which all 53 players participated. Cornerback Gareon Conley (shin) returned to fold as a limited participant. Wide receiver Michael Crabtree (chest) and safety Keith McGill II (foot) were limited for the second straight day.
■ Wide receiver Amari Cooper (knee) and running back Jalen Richard (calf) saw more work Thursday. They were listed as full participants on the club's injury report after being limited Wednesday. Richard was injured in the fourth quarter Sunday; he is expected to play Sunday.
Contact reporter Michael Gehlken at mgehlken@reviewjournal.com. Follow @GehlkenNFL on Twitter.
Charges against Sean Smith
— One count of felony assault by means of force likely to produce great bodily injury.
— One count of felony battery with serious bodily injury.
Related
Raiders CB Sean Smith arrested, charged with felony assault