Raiders defeat Indianapolis Colts 31-24, even record at 2-2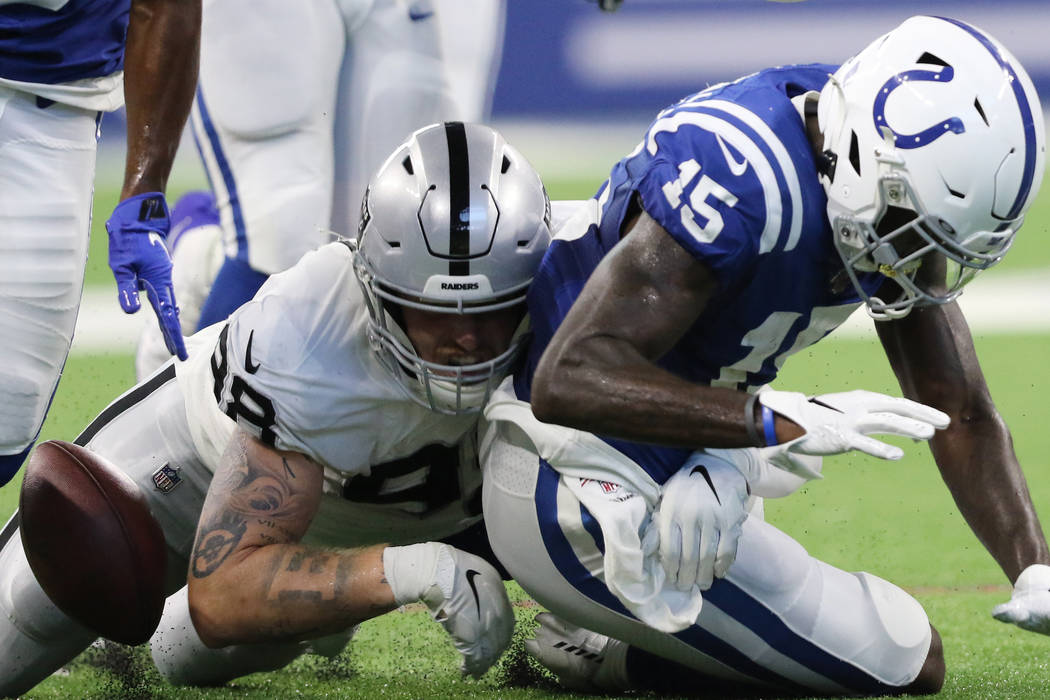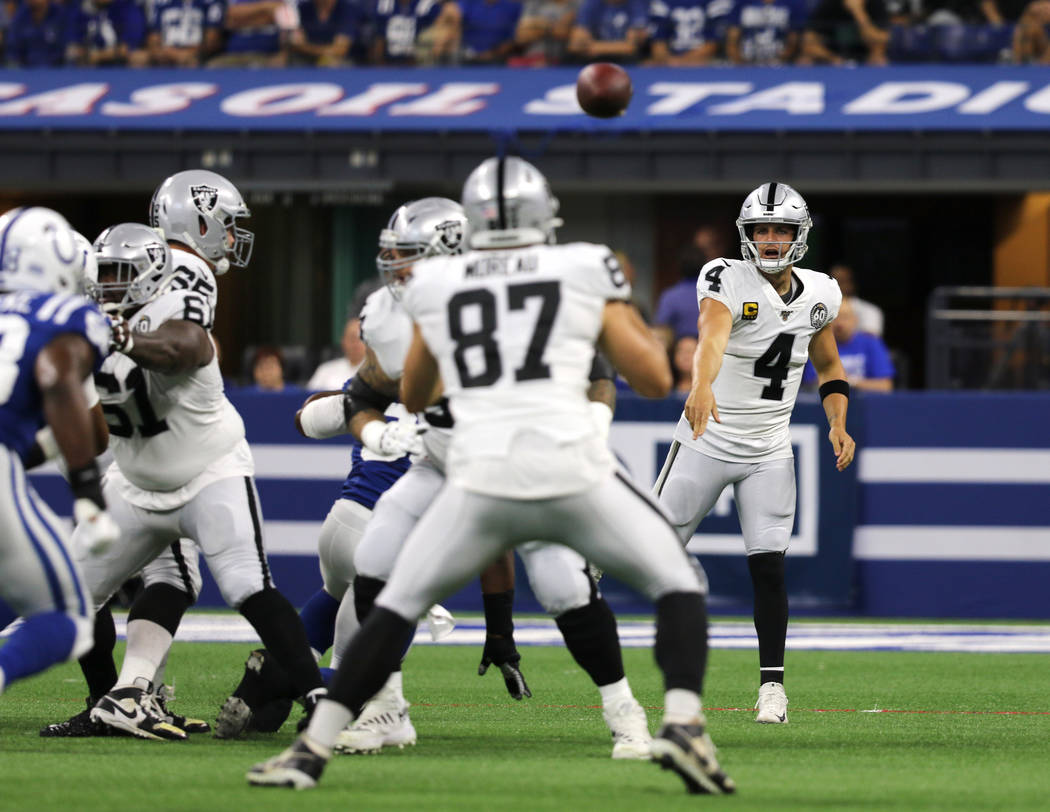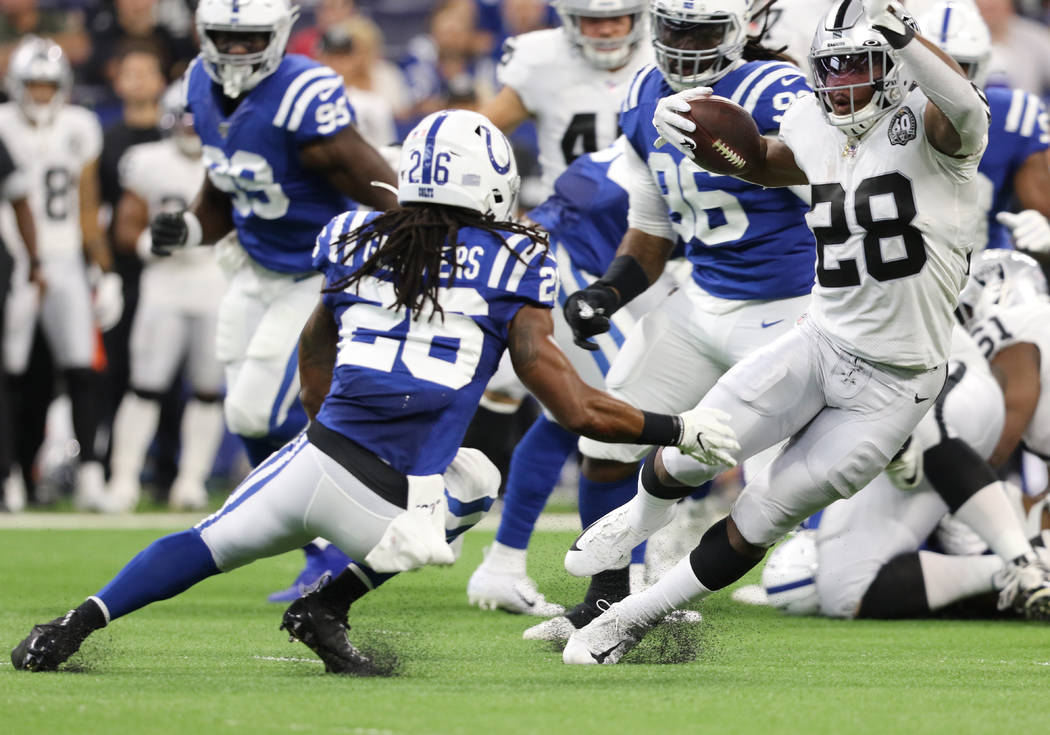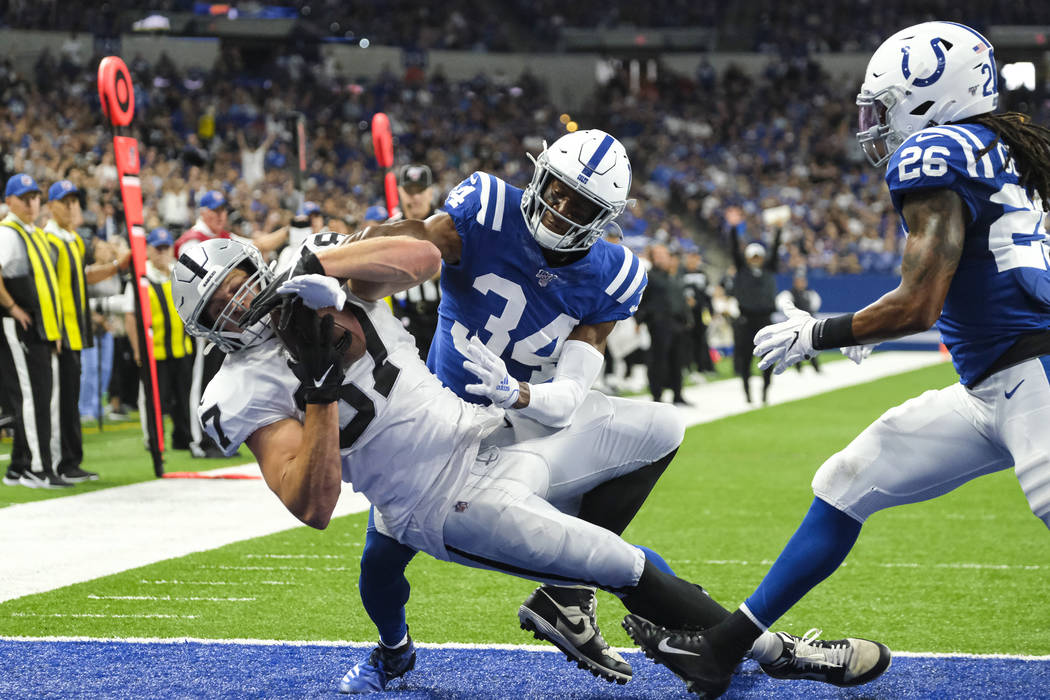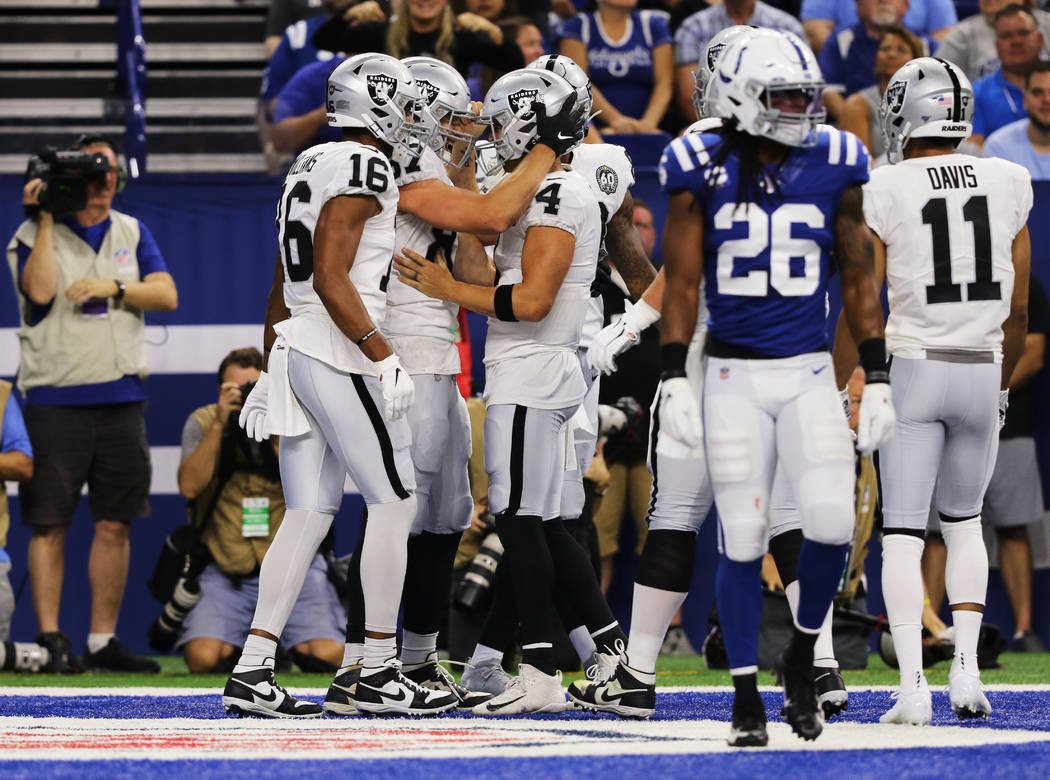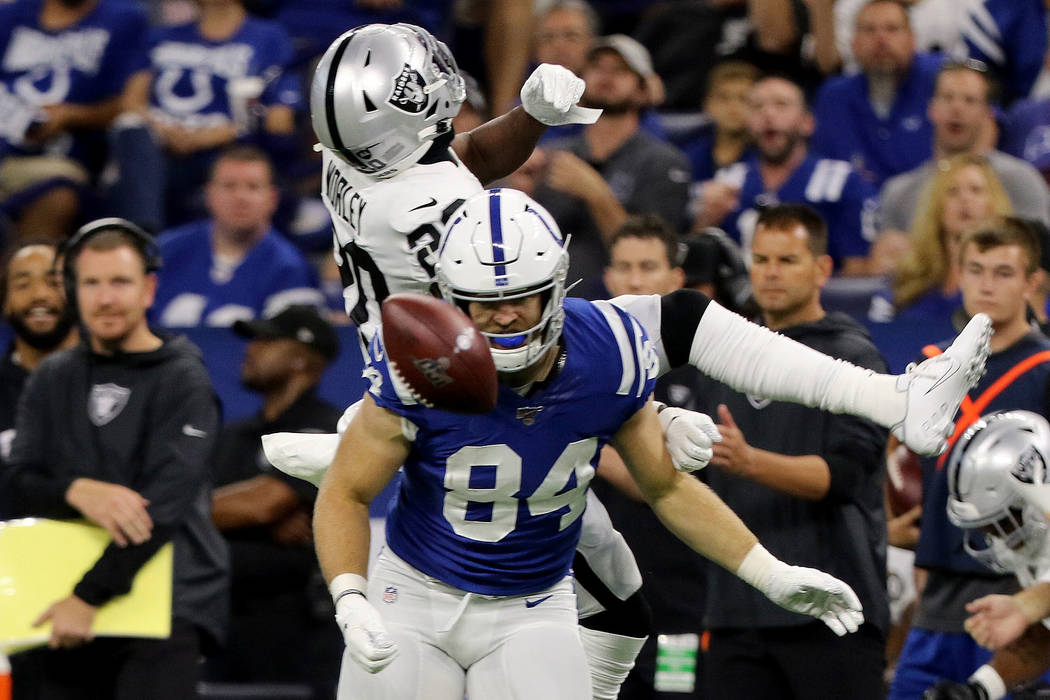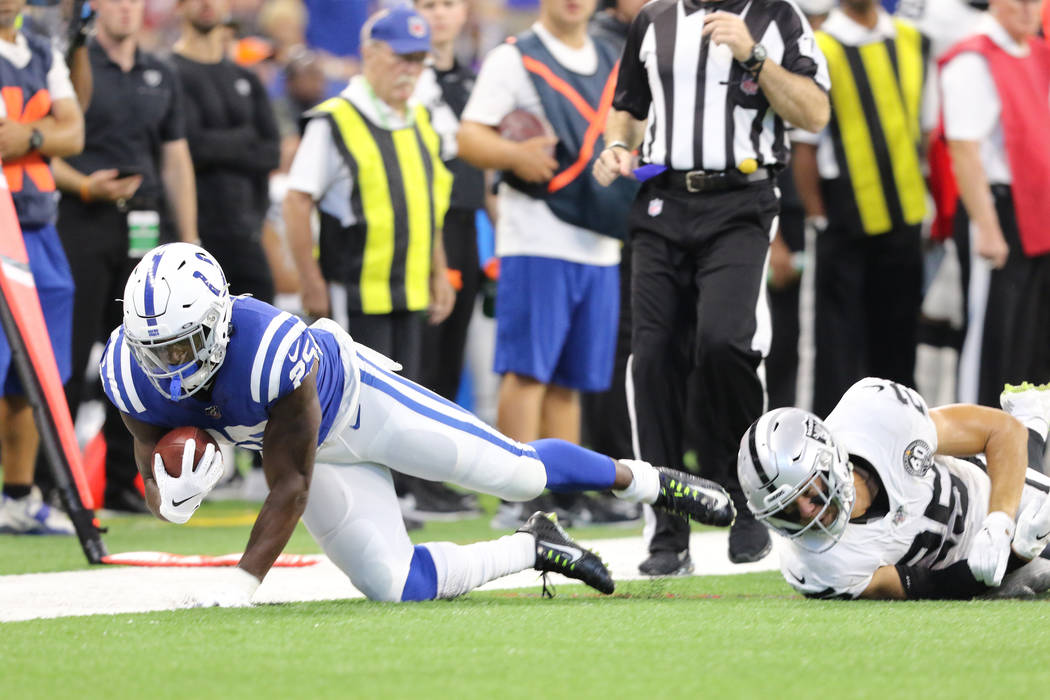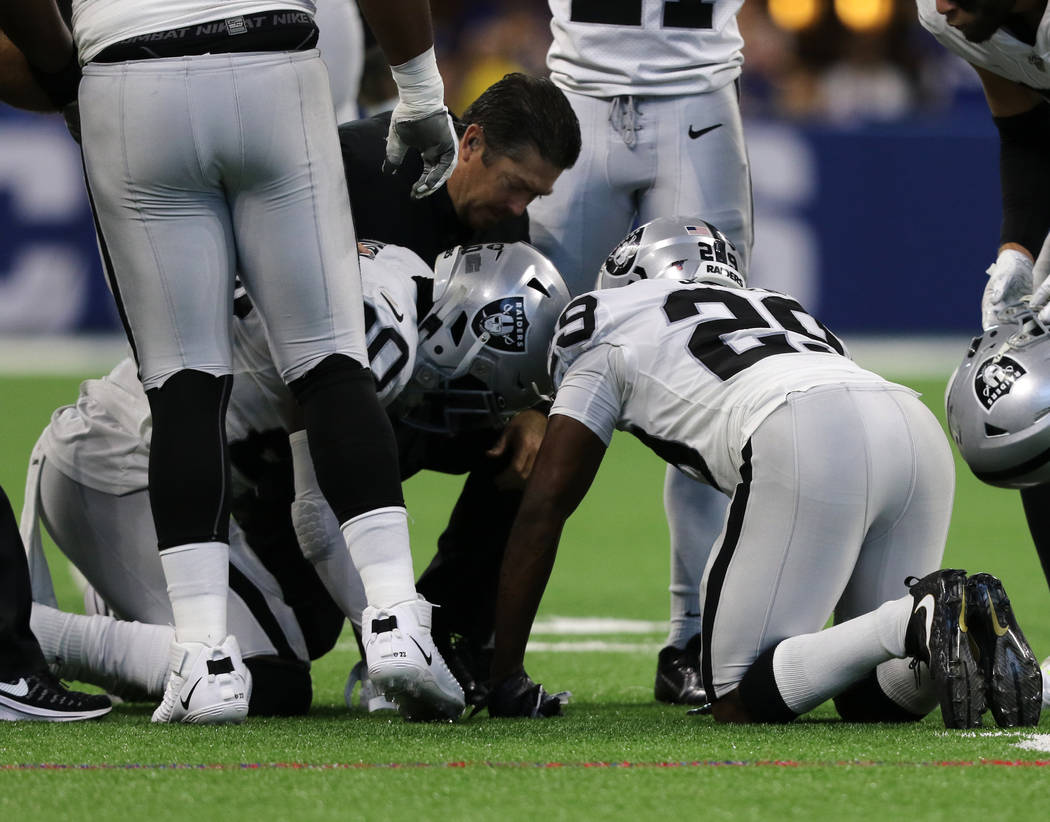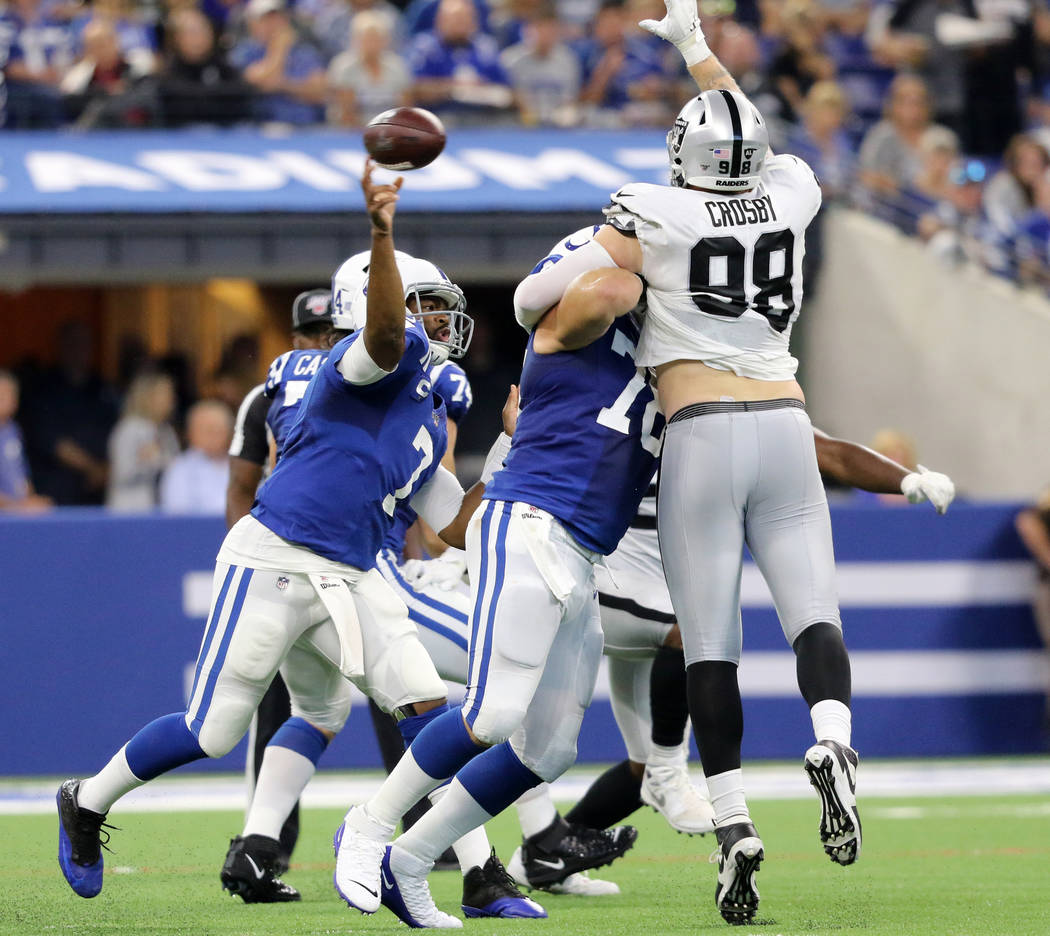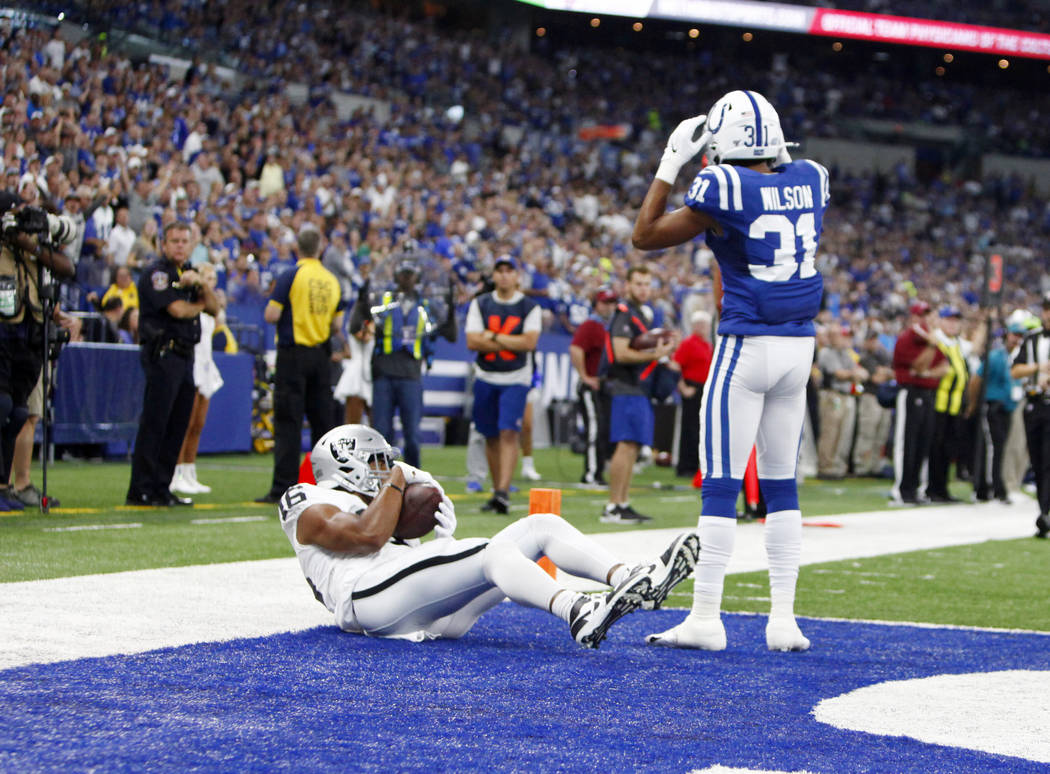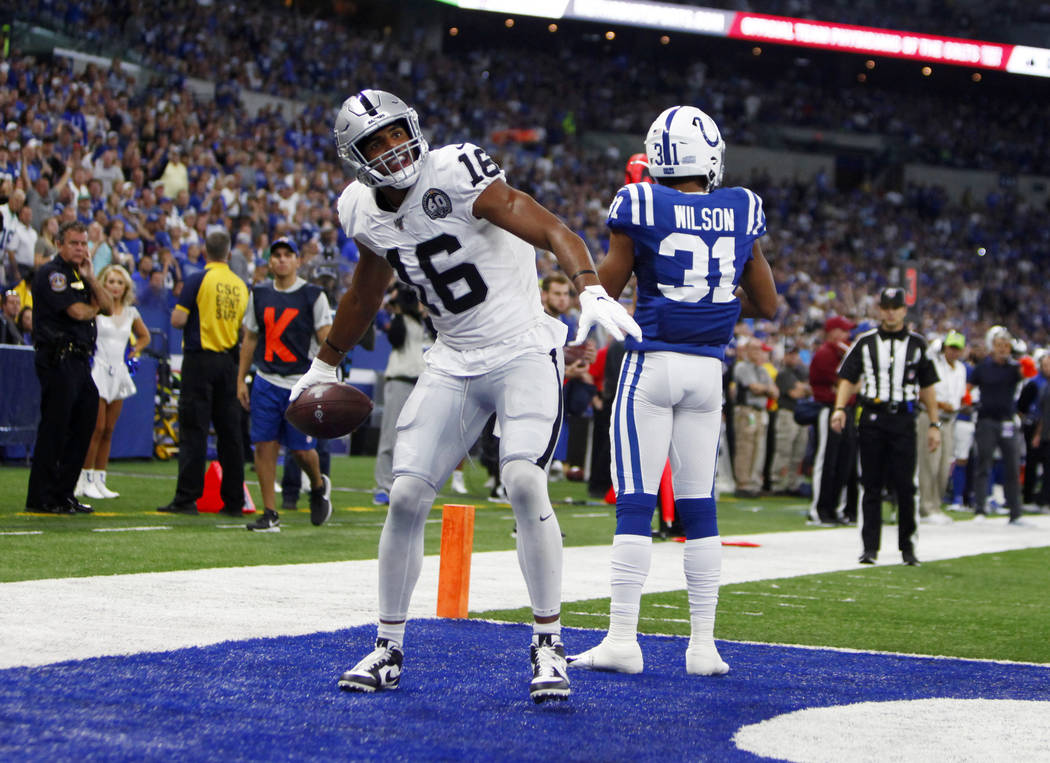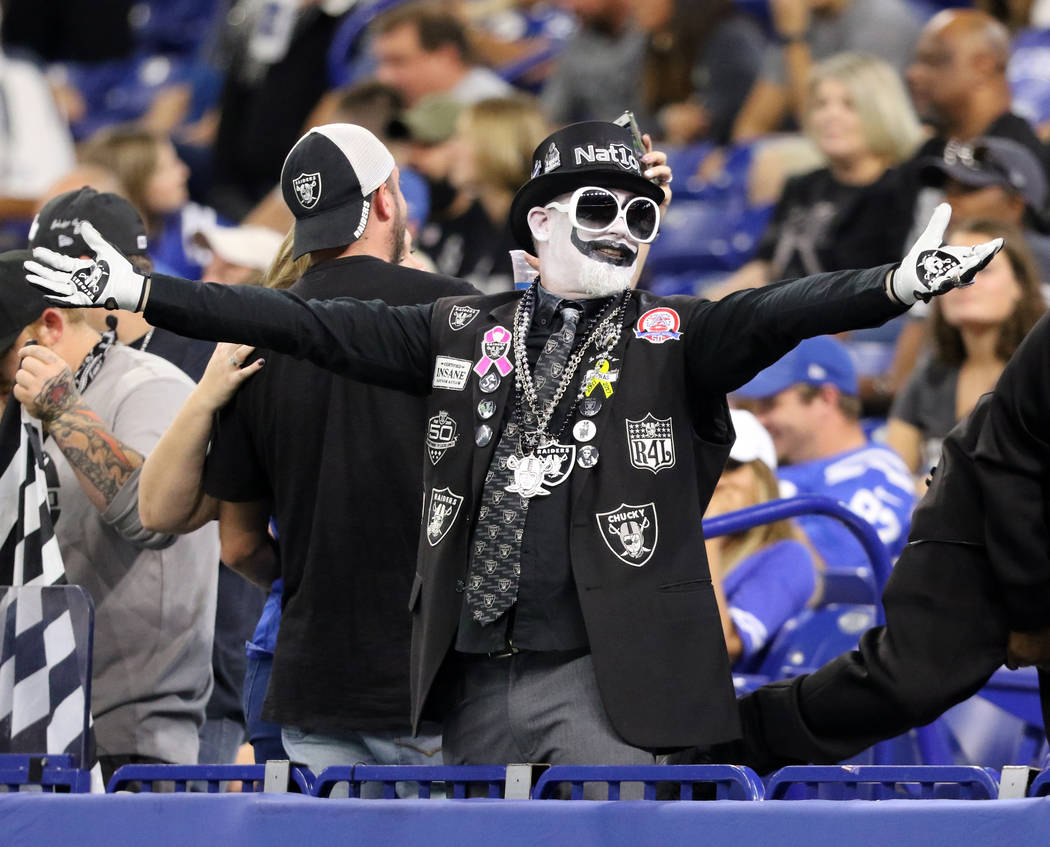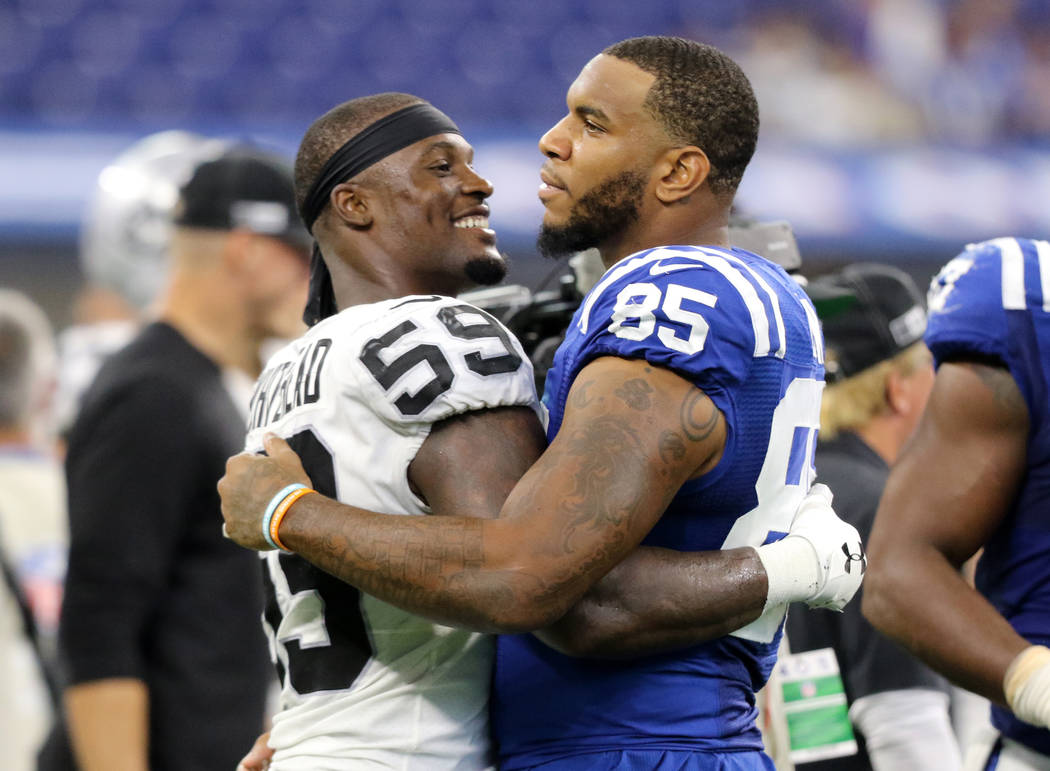 INDIANAPOLIS — The Raiders started fast and were able to maintain their lead throughout, coming away with a 31-24 victory over the Indianapolis Colts on Sunday to even their record at 2-2.
"That was a great win for us against a very good team on the road," Raiders coach Jon Gruden said.
Facing their second straight 10 a.m. body-clock start, the Raiders nevertheless began the game with touchdowns on their first two possessions. Rookie tight end Foster Moreau caught the first TD of his career on an 18-yard reception to cap a 10-play, 75-yard opening drive. And speedy wide receiver Trevor Davis — acquired in a trade just over a week ago — put the Raiders on the board again with a creative 60-yard end-around.
The Colts challenged in the second half, scoring a touchdown on a 90-yard drive in the fourth quarter to cut the Raiders' lead to 24-17. But on Indianapolis' following possession, safety Erik Harris took an interception 30 yards for a touchdown, effectively removing all doubt.
Here are three key takeaways from Sunday's win:
1. Scoring early, often
The Raiders are a team built to win by playing from ahead, and they were able to do so Sunday by establishing an early lead.
Quarterback Derek Carr started out hot as the Raiders built a 14-0 lead on their first two drives. He completed nine of his first 11 passes for 84 yards and a touchdown.
Even after Carr and running back Josh Jacobs fumbled an exchange that led to the Colts' first score, the offense recovered well, driving 76 plays in 11 yards for a TD to go up 21-7.
With a 21-10 halftime advantage, the Raiders were then able to play ball-control offense in the third quarter with a 16-play, 82-yard drive that took 9:12 off the clock. The Raiders would have liked for that possession to end in a touchdown instead of a field goal. But it was still a good display of how the Raiders can win by taking time off the clock.
"It was as good a drive as I've been associated with to start the second half," Gruden said.
2. Jacobs the closer
Jacobs has been an important factor in each matchup this season and has now set a franchise rookie record for rushing yards through his first four games with 307. He finished Sunday's contest with 79 yards rushing on 17 carries and had 108 total yards from scrimmage.
While the Raiders have said they want to get Jacobs more involved in the pass game — clearly with good reason, as he caught both of his targets for 29 yards — Jacobs seemed most proud of how he was able to close the game.
The Colts were down by seven and had all their timeouts with just over a minute left as the Raiders got the ball on their own 19. It was a situation where everyone in the stadium knew Jacobs was about to run it, and the Raiders had to be successful regardless.
Jacobs appears to relish those opportunities.
"It's definitely a lot of pride, just as a running back from the standpoint that you can be relied on to close the game," Jacobs said. "And it was a close game at the end, so it was just definitely huge for us."
Gruden continues to say that Jacobs is primed to be a star.
"As long as I don't screw it up, he's going to be one hell of a player," Gruden said.
3. Gruden's proud of win
Gruden has won 101 regular-season games as an NFL head coach — plus five more in the postseason, including Super Bowl XXXVII. But with all the adversity the Raiders faced on Sunday, Gruden felt this win was as special as any of them.
"I'm as proud of this win as any one I've ever had before," Gruden said.
Gruden cited the tough travel schedule, wide receiver J.J. Nelson's injury, right guard Jordan Devey's injury and middle linebacker Vontaze Burfict's ejection as challenges the Raiders had to overcome to win.
More Raiders: Follow at vegasnation.com and @VegasNation on Twitter.
Contact Myles Simmons at msimmons@reviewjournal.com or 702-383-0350. Follow @MylesASimmons on Twitter.