Raiders defender returning to friends — but not fans — in Buffalo
Updated September 14, 2023 - 3:35 pm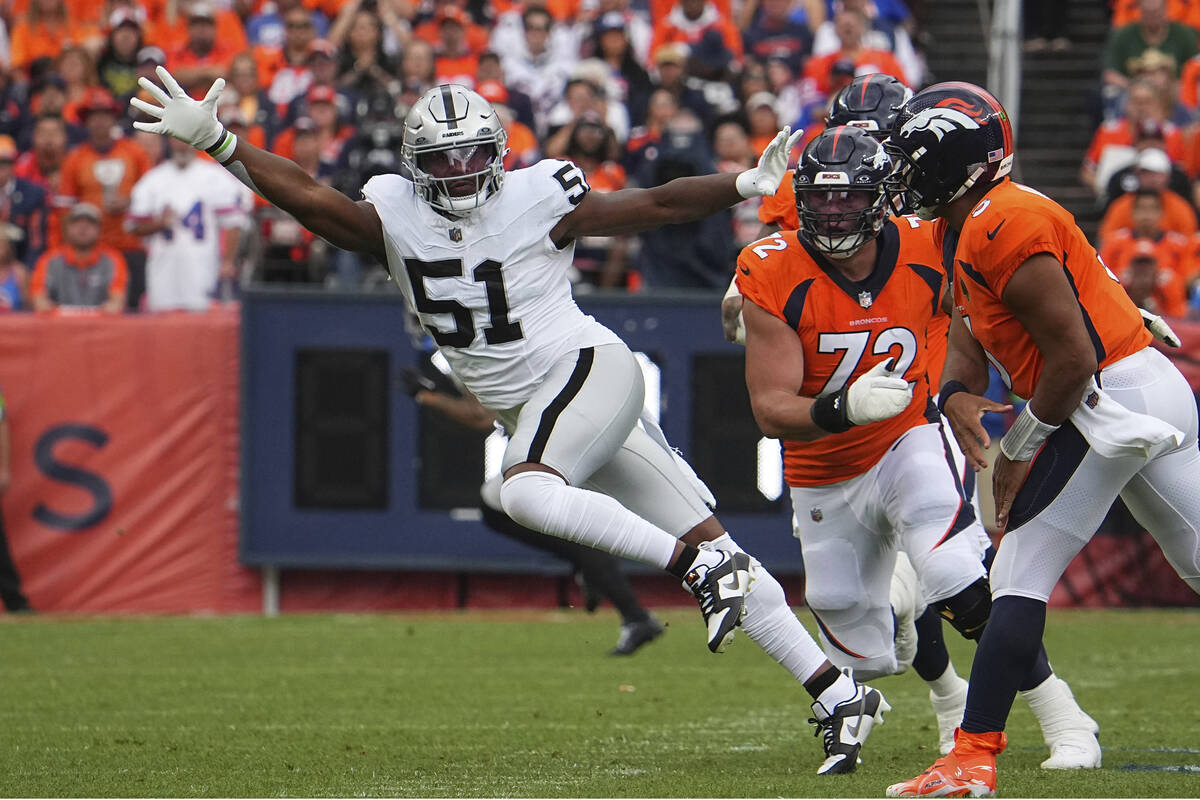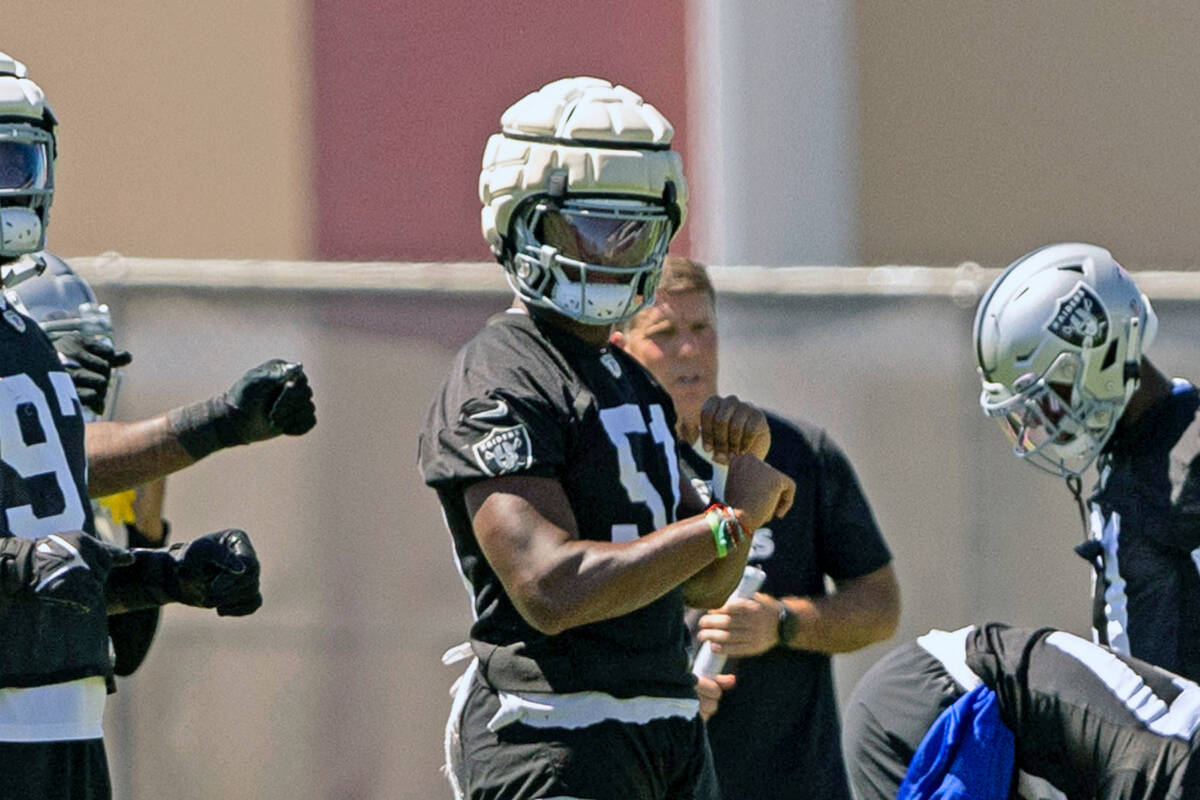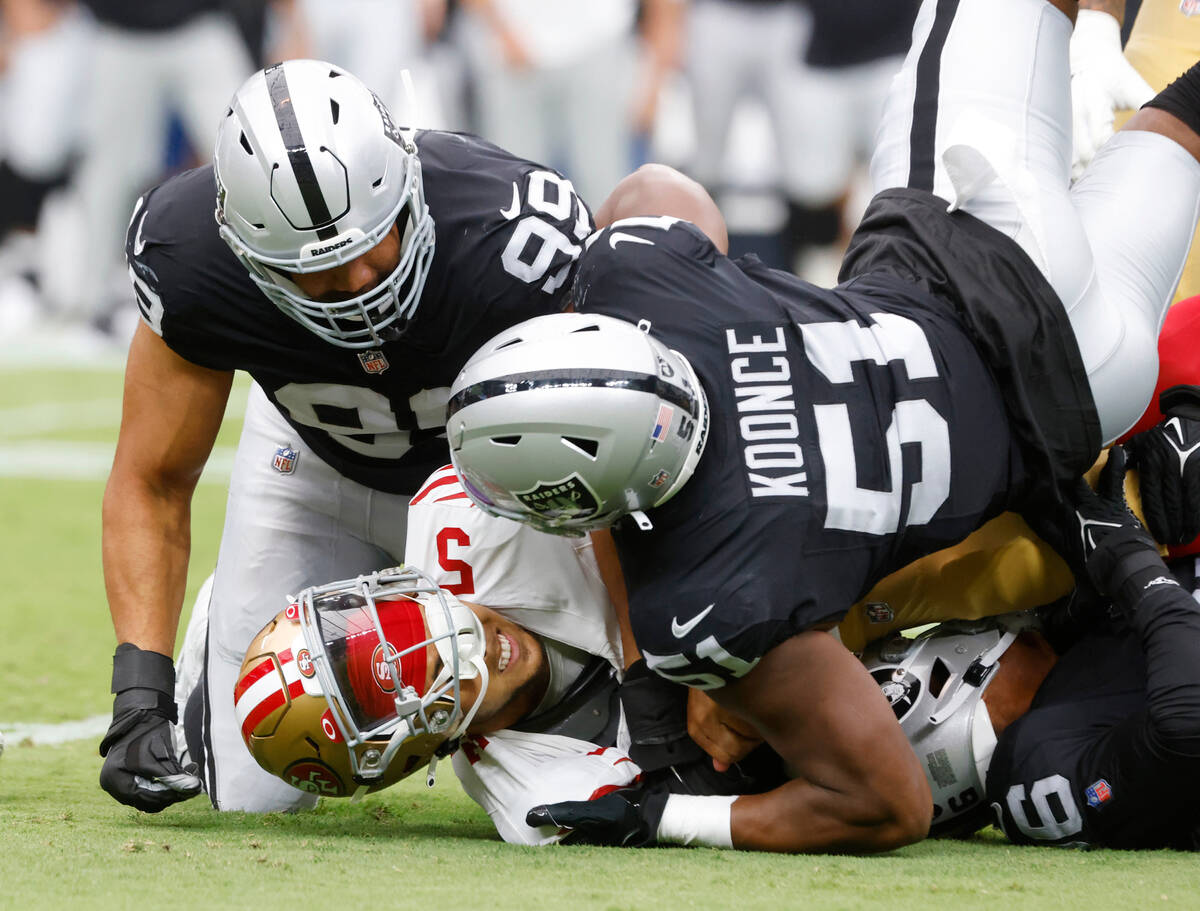 WHITE SULPHUR SPRINGS, W.Va. — Malcolm Koonce has already heard from family and friends around Buffalo this week as he prepares to play an NFL game for the first time in his college town.
Not all of them will be cheering for the Raiders when they play the Bills on Sunday in Orchard Park, New York.
"They may support me a little bit, but all the people I know in Buffalo made sure I knew they're Bills fans," the defensive end said after Thursday's practice at The Greenbrier. "That Bills mafia is legit."
He's about to see it firsthand for the first time. Even though Koonce played four seasons at the University of Buffalo, where he was a two-time all-conference performer, he has never seen a Bills game in person at Highmark Stadium.
"It's definitely going to be surreal," Koonce said. "It's weird because we did a lot of indoor practices at the Bills' indoor facility (next door), and I always wondered how it would feel to actually play in the stadium."
He will finally get to do it at a good time in his development. The 2021 third-round draft pick feels as comfortable as he has since entering the NFL and is being rewarded for it.
He played a career-high 17 defensive snaps and 84 percent of the special teams plays Sunday against the Broncos.
He didn't get in the box score but recorded a hurry on a Russell Wilson pass attempt and was praised for his effort.
"He's a guy that wears a lot of hats for us and does a lot of different jobs," coach Josh McDaniels said. "Had some pressure on the passer and did his job, I'd say for the most part, in the running game and in the pass rush. Malcolm is a young, improving player that we're looking for some things out of in both areas."
It's not a coincidence he is seeing the field more. Koonce said he felt as if he was in a constant learning cycle his first two seasons with different systems each year.
There were times when it would feel as if he had some things figured out only to find out he wasn't quite there.
Koonce didn't make his NFL debut until the 12th game of his rookie season. He recorded a sack in each of his first two games but doesn't have another one in the 21 games he has played since.
"The moments come and go," he said. "At one point, you think you have it, and then you go watch the film and realize you don't have it at all. It's a process."
Stability seems to have helped. His second year in defensive coordinator Patrick Graham's system is off to a strong start.
"I feel more like myself," the 25-year-old said. "Now I feel like I understand what I have to do, and I can just go do it."
That all starts in the summer. Koonce has dedicated himself to improving, and his teammates have taken notice.
"He did a great job this offseason," star defensive end Maxx Crosby said. "He had great OTAs and a great (training) camp. He's just going to keep getting better and better with more reps, and he's earned those. He's been working so hard for a long time, but especially this year. He's taken a big leap. I love what he's doing."
Koonce feels it but knows he's far from a finished product.
"I don't think I'm close to where I can be at all," he said. "I know I have a lot of growing to do."
But he has made progress and plans to prove it to people in Buffalo — whether or not they're cheering for the Raiders.
Contact Adam Hill at ahill@reviewjournal.com. Follow @AdamHillLVRJ on X.
Up next
Who: Raiders at Bills
When: 10 a.m. Sunday
Where: Highmark Stadium, Orchard Park, N.Y.
TV: KLAS-8
Radio: KRLV-AM (920), KOMP-FM (92.3)
Line: Bills -8½; total 47