Raiders' defense overhauled, but still work in progress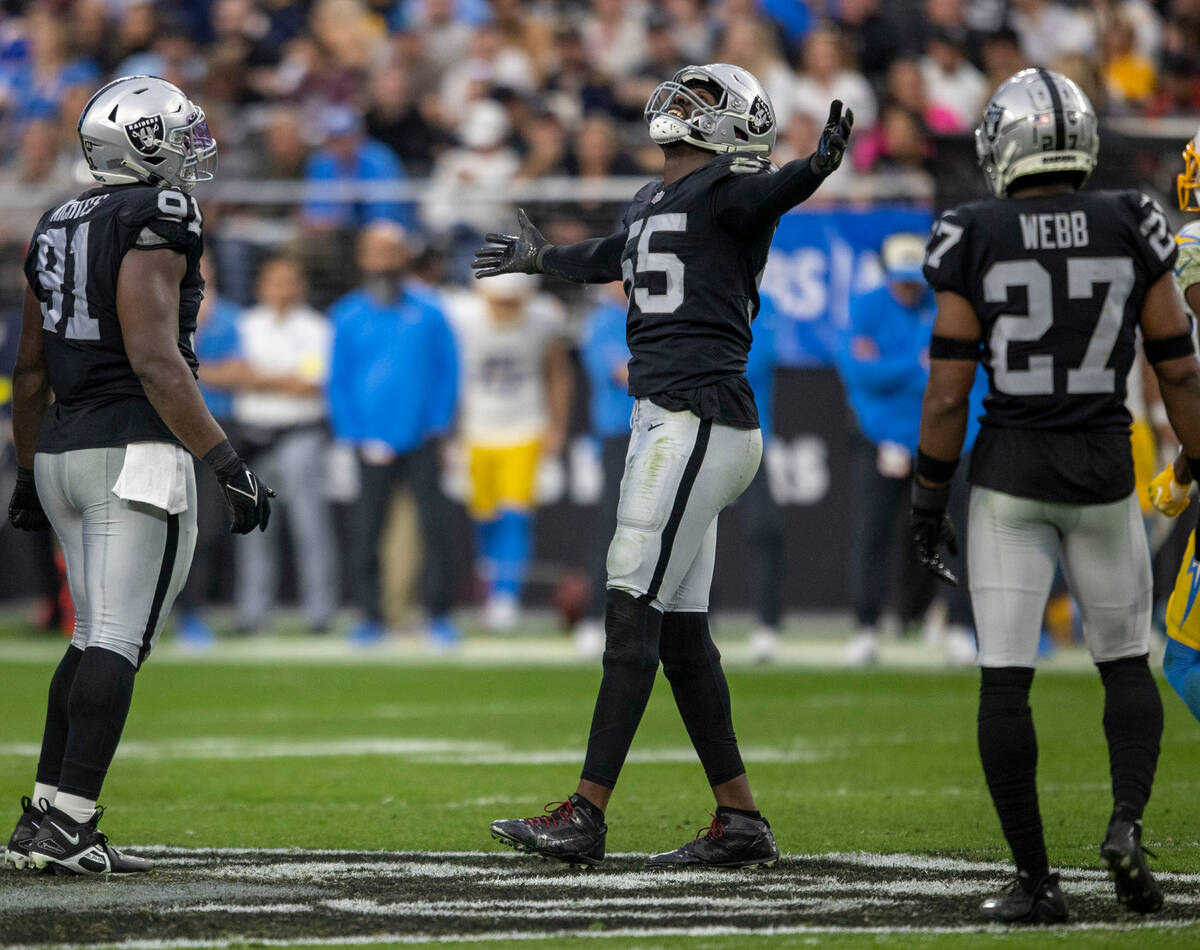 The Raiders have undergone significant personnel changes on defense in the past year.
Rightfully so. It has been a downright bad unit, with NFL rankings of 32nd, 24th, 30th, 26th and 26th in points allowed in the past five seasons.
An inability to execute effective defensive drafts, coupled with poor decision-making in free agency, have been the primary culprits.
Of the group coach Josh McDaniels and general manager Dave Ziegler inherited 16 months ago, only dominating defensive end Maxx Crosby and young prospects Nate Hobbs (cornerback), Tre'von Moehrig (safety) and linebacker Divine Deablo still factor into the starting equation. And in the case of Hobbs, Moehrig and Deablo, each faces a season in which taking big steps forward will ensure their long-range future with the team.
This offseason alone, the Raiders added 14 defensive players through the draft and undrafted free agency and nine through free agency. It remains a group in transition.
In the second of a two-part series, here's a position-by-position look at the revamped defensive depth chart:
Defensive end
Starters: Maxx Crosby, Chandler Jones.
In reserve: Tyree Wilson, Jordan Willis, Malcolm Koonce, Adam Plant, George Tarlas, Brock Martin, David Ebuka Agoha.
The lowdown: Crosby delivered another Pro Bowl-caliber season in 2022, and given his work ethic and talent, expect him to continue to take his game to higher levels. Jones was a disappointment last season after being signed in free agency, but it's worth noting that 28 of his 47 quarterback pressures and four of his five sacks came in his final five games. He was playing his best football when an elbow injury sidelined him for the final two games.
The Raiders hope the addition of Wilson in the first round of the draft will provide Jones with immediate assistance in terms of snap counts, allowing them to lower his usage in the hope of getting a higher rate of return. Wilson will also spell Crosby, who played a career-high 1,082 snaps last season. There will be times when they are on the field together to potentially create a three-pronged pass-rush effect.
Time is running out for Koonce, who has not lived up to expectations after being drafted in the third round in 2020. Willis is a capable veteran reserve player who should factor into the rotation.
Defensive tackle
Starters: Bilal Nichols, Jerry Tillery.
In reserve: Neil Farrell, Adam Butler, Matthew Butler, Byron Young, John Jenkins, Nesta Jade Silvera.
The lowdown: This unit has undergone a complete overhaul, and the group's success is predicated on the young players added through the past two drafts making impacts.
Young, a third-round pick out of Alabama, has a chance to earn a significant role, perhaps even as a starter, as a movable piece along the line who can anchor the run defense while potentially adding some pass-rush ability.
Second-year players Farrell and Butler essentially took redshirt years as rookies and need to make their moves in 2023. If they do — and if Young produces — it changes the entire dynamic of the interior of the line alongside Nichols and Tillery.
Jade Silvera, a seventh-round pick from Arizona State, also has a chance to earn a role.
Linebacker
Starters: Robert Spillane, Divine Deablo, Luke Masterson.
In reserve: Darien Butler, Curtis Bolton, Amari Burney, Kana'i Mauga, Drake Thomas.
The lowdown: The Raiders had their eyes on two linebackers in the early rounds of the draft, but other pressing needs and the manner in which the draft unfolded, meant missing out on Jack Campbell and Drew Sanders.
Spillane arrived via free agency and replaces Denzel Perryman as the starter and defensive leader. Next to him is Deablo, whose sophomore season was cut to eight games because of a forearm injury, and Masterson, an undrafted free agent who was starting by season's end.
Of those three, remaining on the field on known passing downs comes down to who can pass-cover best, and while Deablo has the skill set, he has to prove it. Until further notice, linebacker pass coverage is a concern.
Burney, drafted in the sixth round out of Florida, is a converted safety who has a chance to work his way into the mix.
Keep an eye on this position, as it might be an area the Raiders try to upgrade.
Cornerback
Starters: Brandon Facyson, Nate Hobbs.
In reserve: Duke Shelley, David Long, Amik Robertson, Tyler Hall, Jakorian Bennett, Sam Webb, Bryce Cosby, Ike Brown, Jordan Perryman, Azizi Hearn.
The starter opposite Hobbs is uncertain, with free-agent additions Shelley, Long and Facyson in the mix along with Bennett, a fourth-round pick out of Maryland. Webb, who impressed as an undrafted free agent, and Robertson, who delivered the best season of his career last year, also profile as potential starters, so expect a training camp battle to determine roles.
No matter who starts, the Raiders are hoping the slew of newcomers and young players they brought back can eventually form a deep and dependable unit. Hobbs, in particular, is a potential star if he can rebound from an injury-plagued season.
Keep an eye on Hall, who could push for the slot cornerback role.
Safety
Starters: Marcus Epps, Tre'von Moehrig.
In reserve: Isaiah Pola-Mao, Christopher Smith, Jaquan Johnson, Roderic Teamer, Jaydon Grant.
The lowdown: Epps was added through free agency after playing a significant role on the Eagles' Super Bowl defense. He's expected to be a stabilizing veteran presence in an otherwise young unit.
Moehrig, drafted in the second round in 2021, never got untracked after suffering an early-season injury that slowed his transition to the new scheme under coordinator Patrick Graham. The playmaking tools are there, but the Raiders want him to play with more confidence and assertiveness.
Smith, a fifth-round pick out of Georgia, could push Moehrig for a starting job or, at the least, earn a role in three-safety looks. Pola-Mao, an undrafted free agent who worked his way onto the field as a rookie, could be featured in situational packages that take advantage of his blitz skills and playmaking ability.
Contact Vincent Bonsignore atvbonsignore@reviewjournal.com. Follow @VinnyBonsignore on Twitter.