Raiders' Derek Carr finds work elsewhere in lax preseason
August 25, 2018 - 7:41 pm
Updated August 25, 2018 - 7:46 pm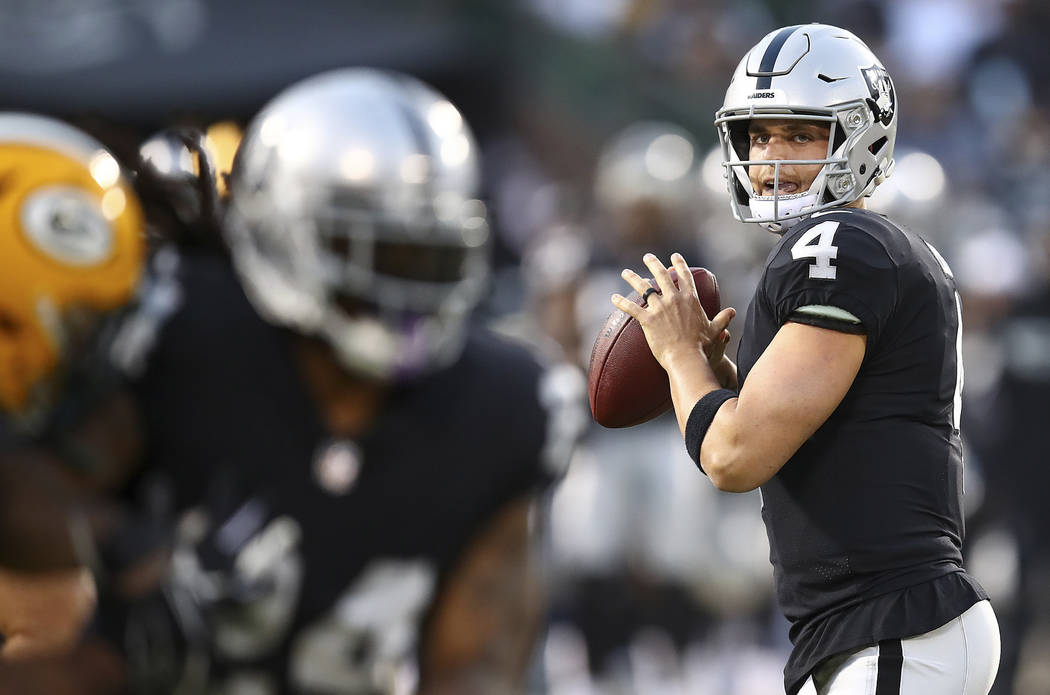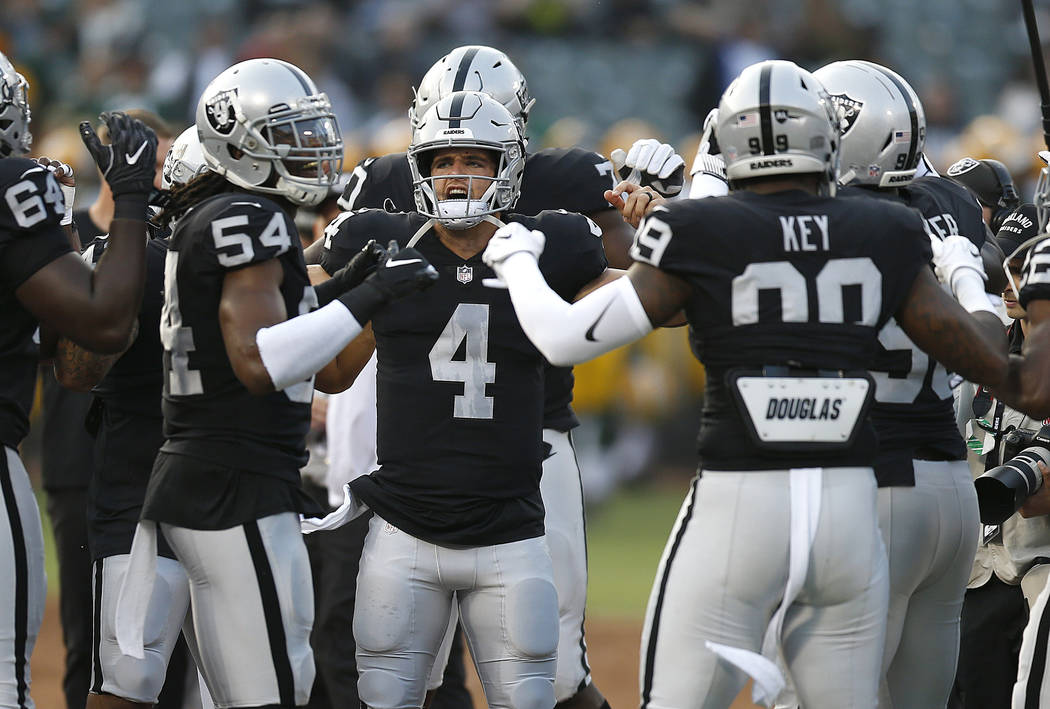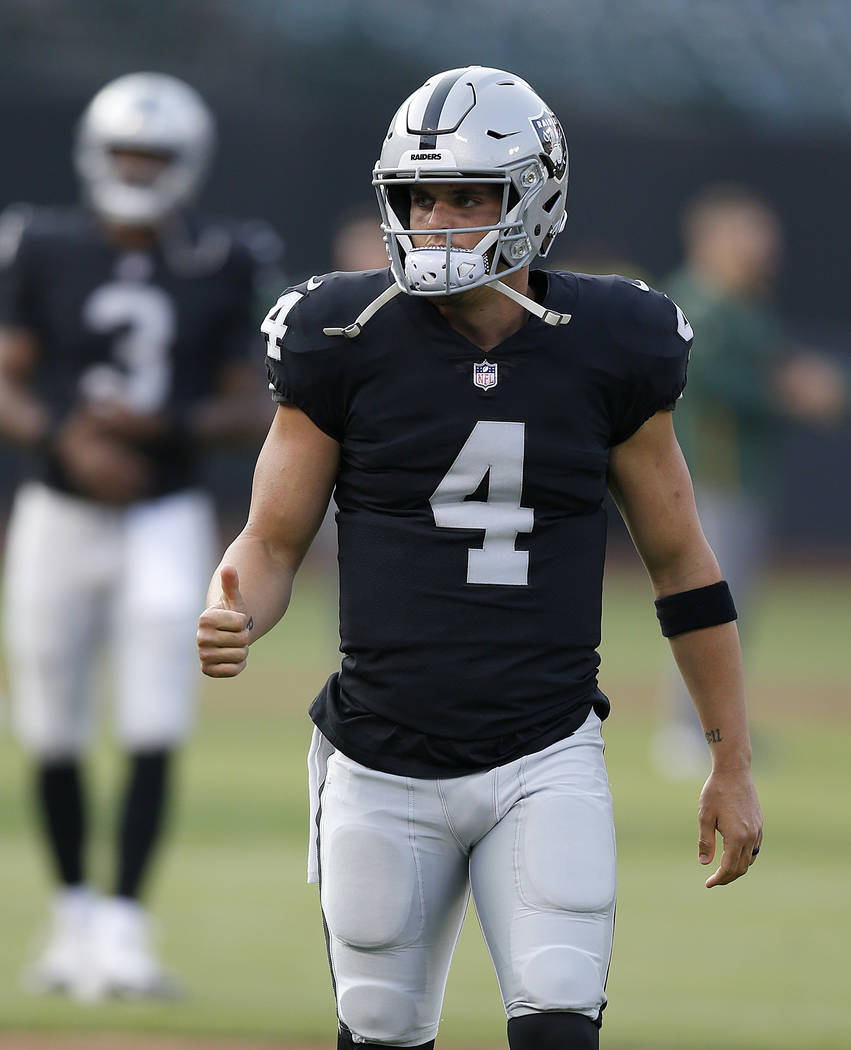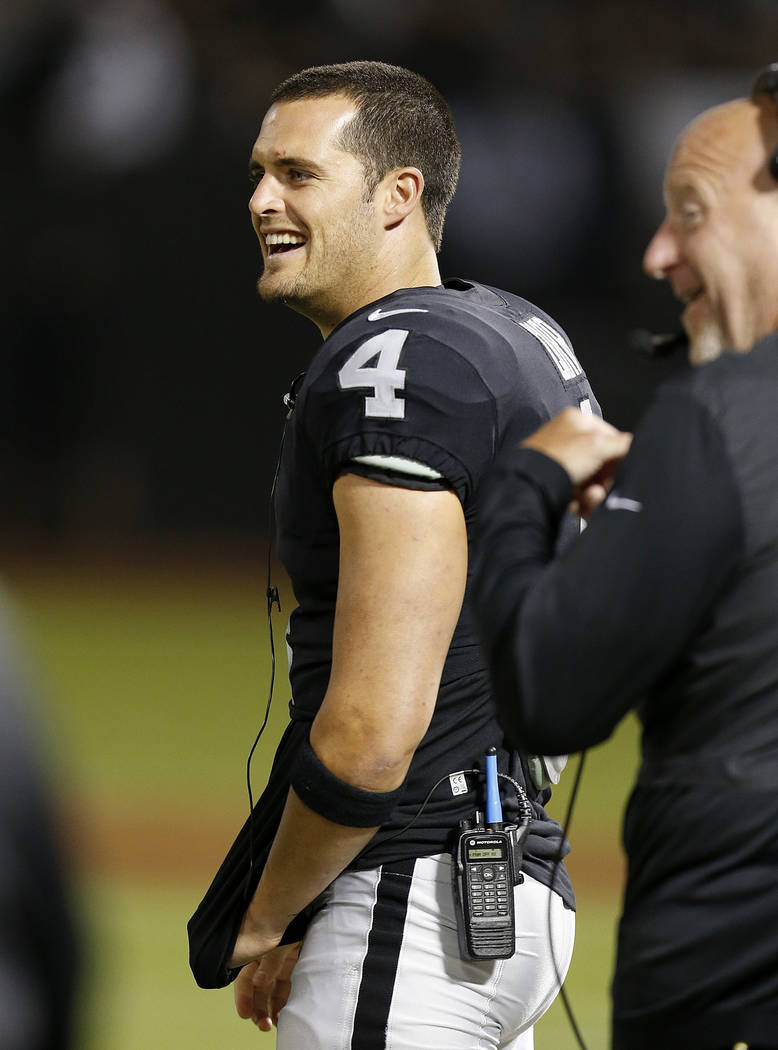 OAKLAND, Calif. — Derek Carr is not complaining.
He took six offensive snaps in the first exhibition, zero in the second and seven in the third. He won't see any in Thursday's finale at the Seattle Seahawks, the 13-snap preseason workload the lightest of his NFL career.
This new usage is all right by him.
The Raiders quarterback has been challenged more in practice and meetings under coach Jon Gruden. Those sessions involve a heavy amount of protection adjustments and audibles at the line of scrimmage, the sort of thing the offense doesn't showcase in August. And so, after Friday's 13-6 win over the Green Bay Packers, Carr said he doesn't mind seeing a low amount of game work.
He finds his work elsewhere.
"Obviously it's different because I don't play as much as before," Carr said. "But we get so many things done in practice. It's very tough. It's gamelike (with) the kinds of things I need to see and feel. Going out there (Friday) and being able to get hit a couple times, move in the pocket and find throws — you don't need too much of that in the preseason, but just to get a few plays in here and there is good.
"If we practice at speed the way that we do, I feel that you can go out there in preseason and play a couple plays and be ready for the season."
Carr's preseason workload largely has decreased as he's gained NFL experience.
He took 45 snaps in 2017, 74 preseason snaps in 2016, 89 in 2015 and 78 as a rookie in 2014. He missed the third exhibition in 2014 to a rib injury.
Kicker clarity to come
The Raiders are unsure if Eddy Pineiro will be ready to start the season.
They hope to find out soon.
Pineiro, an undrafted rookie who is expected to handle the team's kicking duties, suffered a groin injury Aug. 15 before a training camp practice. He since has missed two exhibitions and yet to resume practice. Gruden said Friday that Pineiro will be re-evaluated this week.
"I don't know how long the injury is going to take," Gruden said.
Mike Nugent, 36, has served as the kicker the past two exhibitions. He is 3 of 4 on field goals, his miss a wide-left attempt from 49 yards versus the Packers.
Notable
■ Gruden is all for player safety, he said Friday night. But he takes issue with a new rule designed to further that effort, or at least that rule's enforcement. Raiders safety Marcus Gilchrist was flagged 15 yards for lowering his helmet to initiate and make contact with Packers tight end Lance Kendricks. It came on a play in which Kendricks plowed through Gilchrist along the sideline. "I am going to be supportive of all the rules and everything else," Gruden said. "I don't want to confuse these football players. This is tackle football. I am not sure if I understand that call (Friday). I do understand the rules … but that doesn't mean I understand that call."
■ The team's No. 2 quarterback was expected to be either Connor Cook or EJ Manuel. It might be neither. Gruden was asked during Fridays' postgame news conference whether his backup quarterback was on the 90-man roster today. "I don't know," he said. "We are going to continue to work and see who is available."
■ Wide receiver Griff Whalen exited Friday with a toe injury, a source said. X-ray and MRI results were negative, and he was able to walk in a protective boot. Still, he probably will miss Thursday's exhibition for precautionary reasons.
■ Rookie cornerback Nick Nelson dealt with apparent left hamstring discomfort in the second half and did not return. It was the result of muscle cramping, a source said.
■ Gruden commented Friday for the first time since safety Obi Melifonwu, a 2017 second-round pick, was waived-injured. He cleared waivers and is now on injured reserve. It appears likely the Raiders will release Melifonwu once healthy. Cornerback Daryl Worley already has assumed Melifonwu's jersey No. 20. "I think the No. 1 ability is availability," Gruden said. "He's been unavailable. Look, it's probably best for him and it's best for us to get somebody in here that can help us on the field."
More Raiders: Follow all of our Raiders coverage online at reviewjournal.com/Raiders and @NFLinVegas on Twitter.
Contact reporter Michael Gehlken at mgehlken@reviewjournal.com. Follow @GehlkenNFL on Twitter.