Raiders' Donald Penn moves from left to right tackle
August 14, 2018 - 3:44 pm
Updated August 14, 2018 - 8:20 pm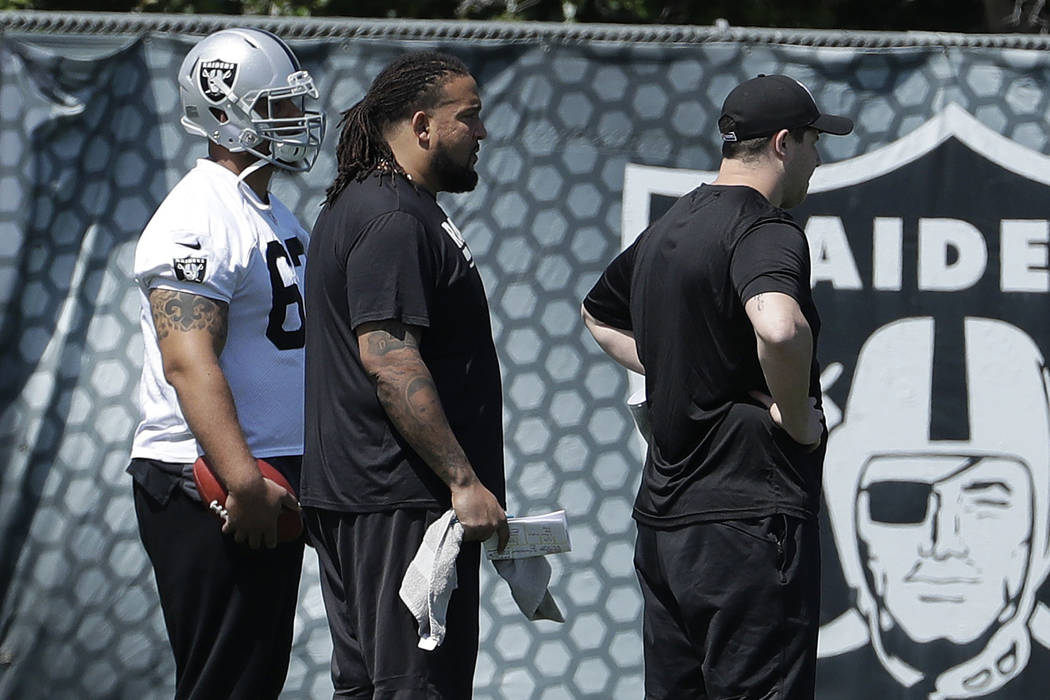 NAPA, Calif. — Donald Penn walked to the huddle Tuesday morning and assumed his usual place, a spot where he has started more than 100 games, a location where he's earned three Pro Bowl selections, a region he's called home for the bulk of an 11-year NFL career.
His old spot.
Well, this is awkward.
"The first time we went out there, he started walking to the left side," quarterback Derek Carr said. "We kinda just looked at him and waited until he got to the right side. It'll be all right."
Said Penn: "I'm like, 'Oh (shoot). My bad. Let me go over there.'"
Forgive Penn for the force of habit. A day after accepting a contract restructure that ostensibly was a pay cut in design, the Raiders offensive tackle practiced for the first time since undergoing December foot surgery. He took first-team reps at right tackle instead of his customary left tackle.
A new price one day. A new position the next.
As much as could be expected, he seems to be handling the exploratory switch in stride.
The 35-year-old acknowledged Tuesday it will be a process to grow comfortable at right tackle. For months, he has worked to learn coach Jon Gruden's offense with the expectation he would be on the left side. But with rookie first-round pick Kolton Miller working exclusively at left tackle, he's been asked to adjust.
Penn said that, when hearing some audibles Tuesday, he initially interpreted his assignment as a left tackle. Before at least one play, he placed his left hand in the grass, caught himself and switched to his right. As he works to develop a rhythm, there is the matter of physical conditioning, too.
"I need to get into that good shape," Penn said. "I'm in good shape now, but I'm not in football shape."
Penn appears determined to do what is required.
The Raiders drafted Miller on April 26 and Brandon Parker, a third-round choice, the next day. The veteran quite easily could have huffed and puffed publicly about wanting out of Oakland, about demanding a trade. Rather, he moved enough past any frustration phase to serve as a mentor for both rookies.
While injured, he offered advice in meetings and between drills during practice.
Miller played some right tackle at UCLA, but the team thinks the 22-year-old has enough on his plate from a technique and overall comfort standpoint when adjusting to the NFL. Turning his world backward today with a position switch was not a preferred option. Thus, Penn was flipped. The Raiders will evaluate the arrangement before anything is finalized for the Sept. 10 opener versus the Los Angeles Rams.
The position switch was discussed during Penn's contract discussions. Before the 9:15 a.m. start of Tuesday's practice, the team notified him the flip would begin that day.
"They talked to me about trying it out, about seeing how I would feel over there," Penn said. "I told them, 'I'm willing to do whatever it takes to help this team win, and if you feel like that's going to be in the best interest of the team, I'll do it.' Today it felt very awkward and rusty. But I need time to develop.
"I don't know if that's going to be a permanent thing or not yet, but it is something we're testing out, and I told them we're all for it. We've got a young kid over there who's doing a lot of good things."
Contact reporter Michael Gehlken at mgehlken@reviewjournal.com. Follow @GehlkenNFL on Twitter.