Raiders fall to Titans in Oakland
Updated December 8, 2019 - 6:07 pm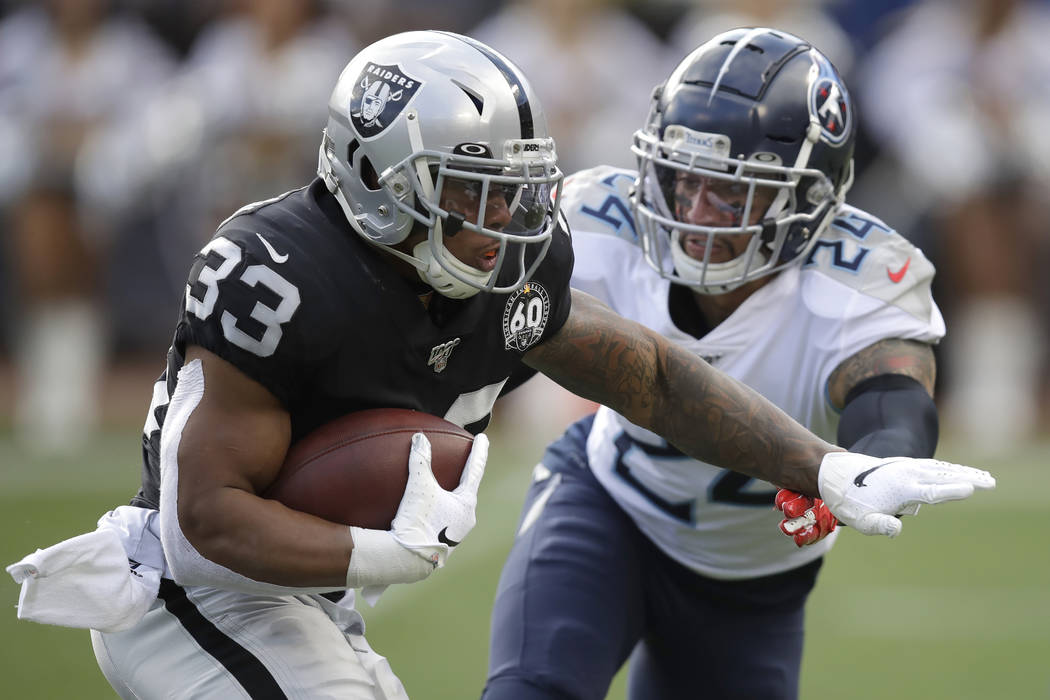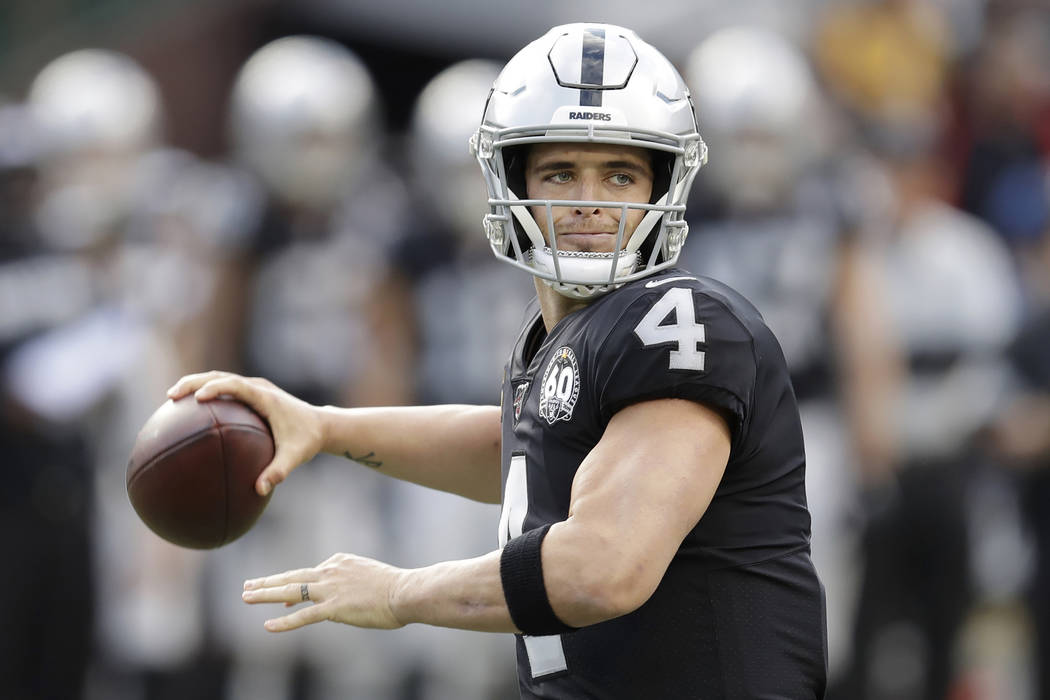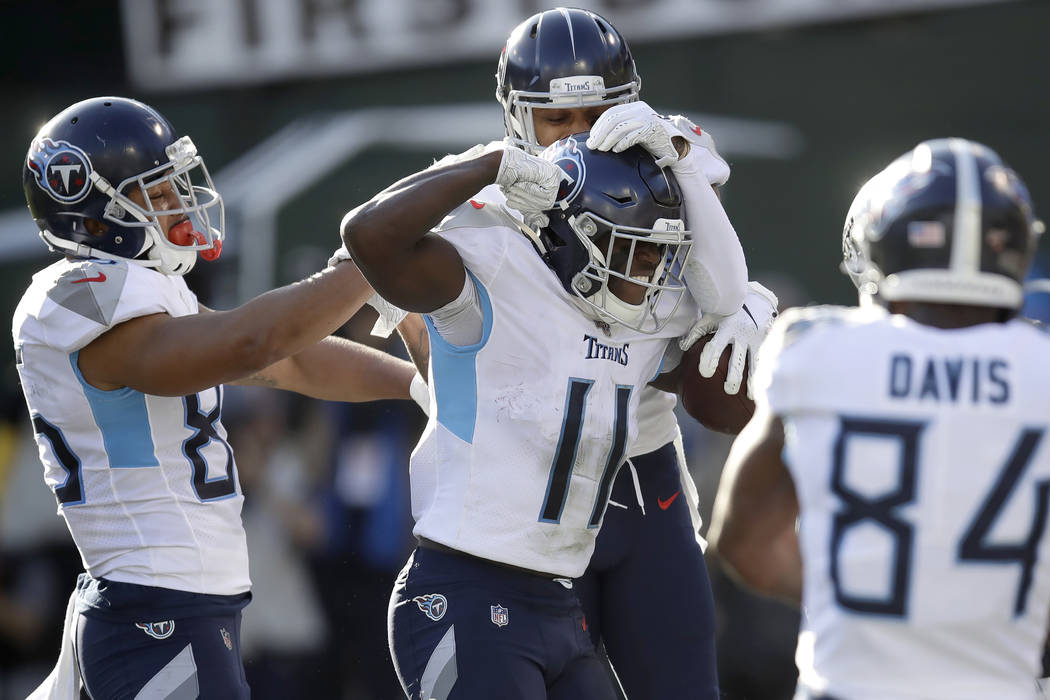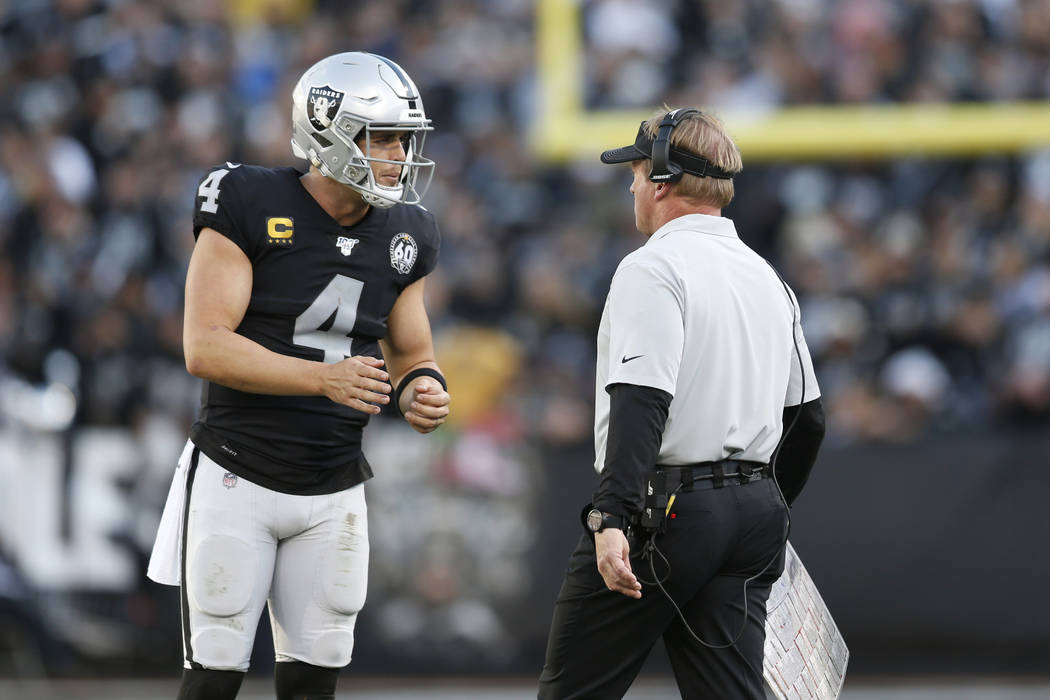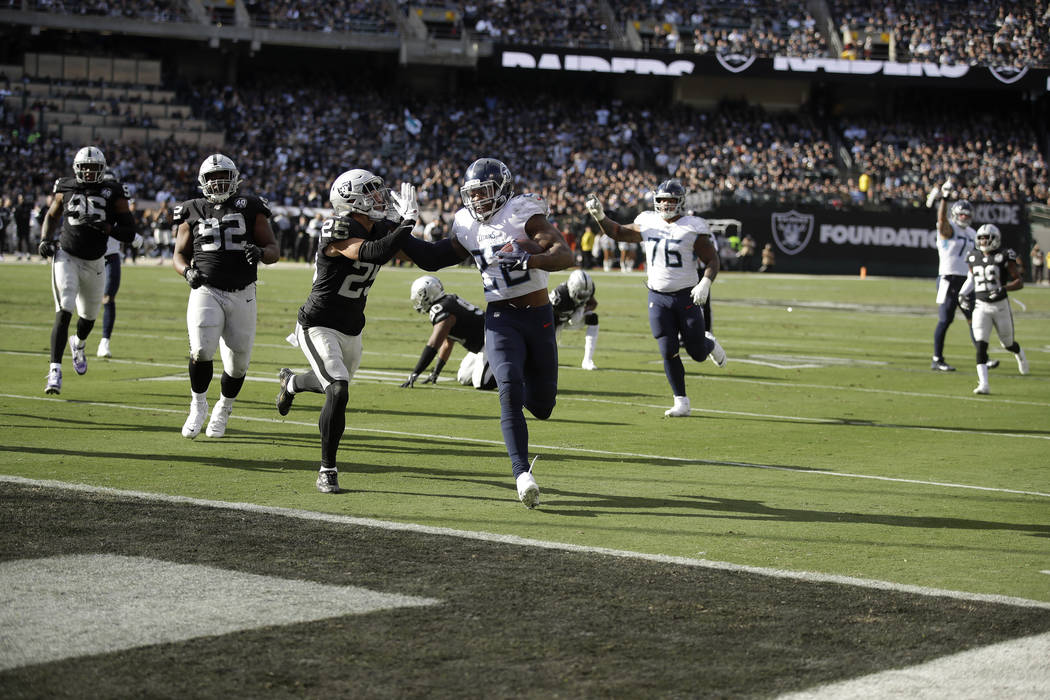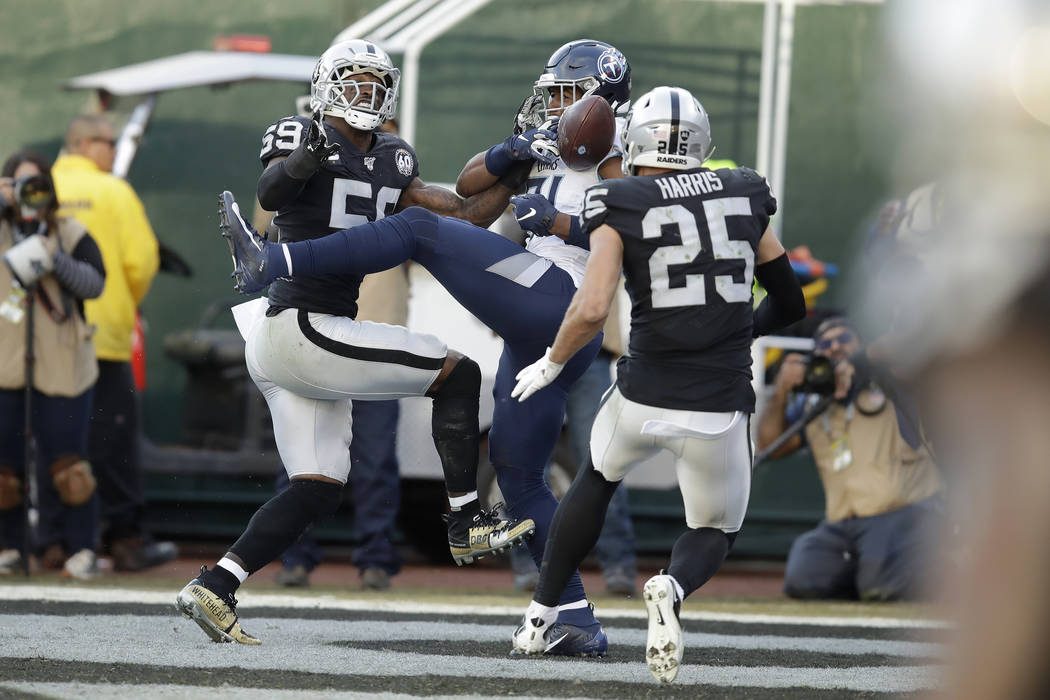 OAKLAND, Calif — The Raiders are still mathematically alive for the NFL playoffs, but it's essentially going to take a miracle for them to reach the postseason after falling to the Tennessee Titans 42-21 on Sunday at Oakland-Alameda County Coliseum.
The loss pushes the Raiders (6-7) two games behind the 8-5 Pittsburgh Steelers and Titans in the race for the AFC's final wild-card berth. Oakland needs to sweep its final three games, and the Titans and Steelers must lose theirs.
Here are three takeaways from the loss:
Raiders defense didn't show up
A week after giving up just 259 yards to the Kansas City Chiefs, the Raiders' defense went missing against the Titans, who piled up 552 yards and mounted four touchdown drives of 84 yards or more.
The Raiders braced all week for Titans running back Derrick Henry and the unrelenting Tennessee run game, but in devoting so much attention to Henry, it opened the field for quarterback Ryan Tannehill.
The former Dolphins castoff, working in a comfortable pocket and against a defense that had trouble keeping up with the nine targets he utilized, was brilliant while completing 21 of 27 passes with completions of 91, 42, 39 and 24 yards.
Coupled with Henry's 103 rushing yards, the Titans' offense was essentially unstoppable while continually freeing up wide-open receivers and running through Raiders tacklers. The Titans punted once.
"A lack of execution," Raiders linebacker Tahir Whitehead said bluntly. "That's what's been hurting us the last few weeks. Tackling, getting the ball on the ground, whether it's yards after the carry, yards after the catch. We just didn't do a good enough job of getting them to the ground and staying on top of the routes."
Said Raiders coach Jon Gruden: "You're not going to beat anybody like that. We gave up a 90-yard touchdown pass. We missed tackles. They missed a field goal at the end of the half or they would have been ahead three more points. We'll take a good look at it. A lot of it had to do with their ability to make plays. They made some unbelievable plays."
Offense shuts down in second half
For one half, Derek Carr and the Raiders' offense picked up the defense to force a 21-21 halftime tie.
It set up what appeared to be an eventful second half.
That never happened, though, as Carr and the offense struggled to find their footing and could not take advantage of two opportunities to take the lead.
Of the Raiders' six second-half drives, they punted four times, had a fumble returned 46 yards for a touchdown and surrendered the ball on downs.
The result was a 21-point Tennessee scoring run that turned a close game into a blowout.
Once the Titans got the lead, they dropped six or seven defenders into deep field pass coverage, content with giving up underneath yardage but determined not to get beat for big plays.
"They definitely changed some stuff up, because we had a good beat on some things," Carr said. "And they tried to just keep everything in front of them. It gets annoying sometimes, especially when someone gets a lead. I think we saw a couple of times where I tried to pump fake and launch one deep, just trying to make a play."
Carr finished with 263 yards on 25 of 35 passing with two touchdowns.
Injuries mounting
In a continuation of a late-season run of injuries, the Raiders were without star running back Josh Jacobs and right tackle Trent Brown to start Sunday's game, then lost tight end Foster Moreau to a second-half knee injury. Gruden said Moreau could miss significant time.
Gruden conceded that the injuries are taking a toll on his young team.
"We miss (Hunter) Renfrow. We miss Trent Brown. We will miss Moreau. We miss (Vontaze) Burfict," Gruden said. "We miss Jonathan Abraham. We miss Karl Joseph. I'll keep going. But our guys are fighting."
Carr was having none of it.
"This game is next man up," he said. "Nobody cares who's playing. Nobody cares who's been here, who hasn't been here, how many guys have played this position or played that. I've learned that in my six years."
More Raiders: Follow at vegasnation.com and @VegasNation on Twitter.
Contact Vincent Bonsignore at vbonsignore@reviewjournal.com. Follow @VinnyBonsignore on Twitter.