Raiders fans have flashbacks at Los Angeles Memorial Coliseum
August 18, 2018 - 7:29 pm
Updated August 18, 2018 - 7:41 pm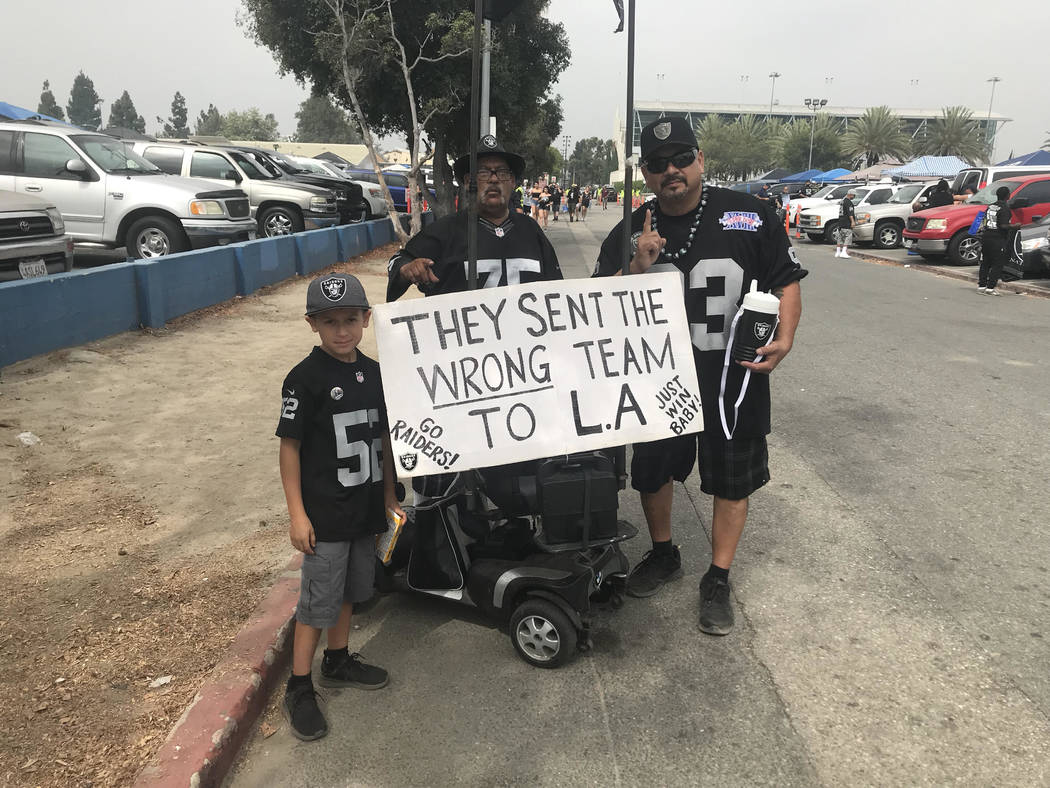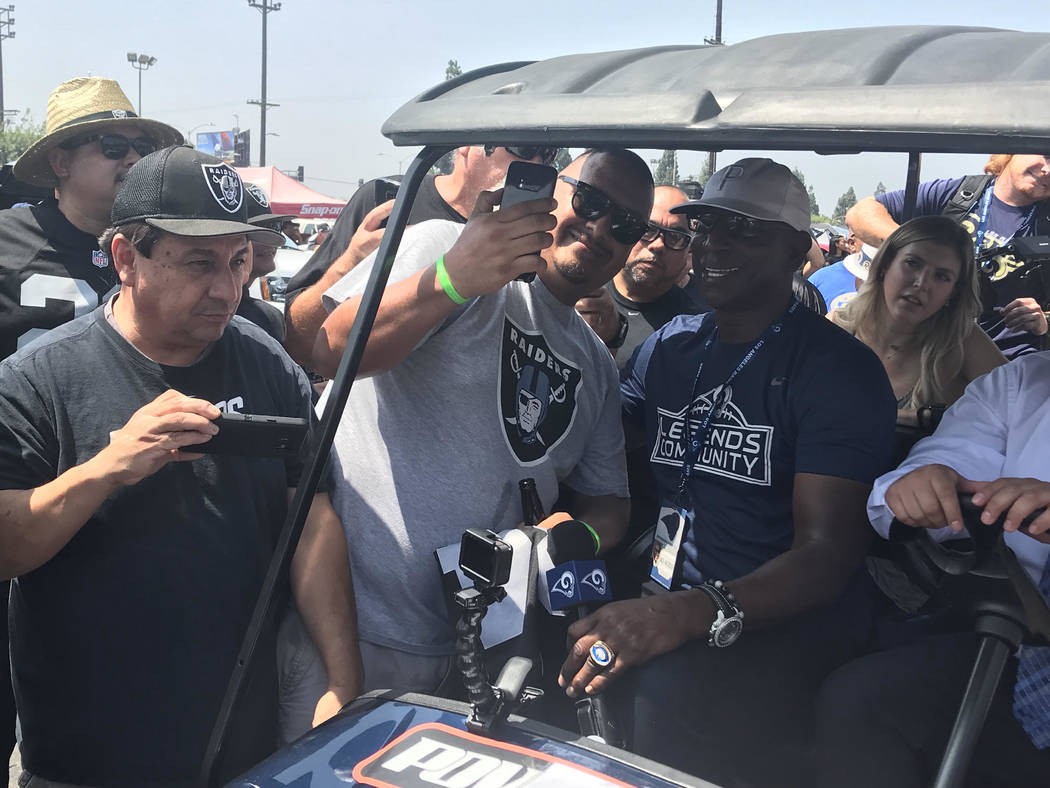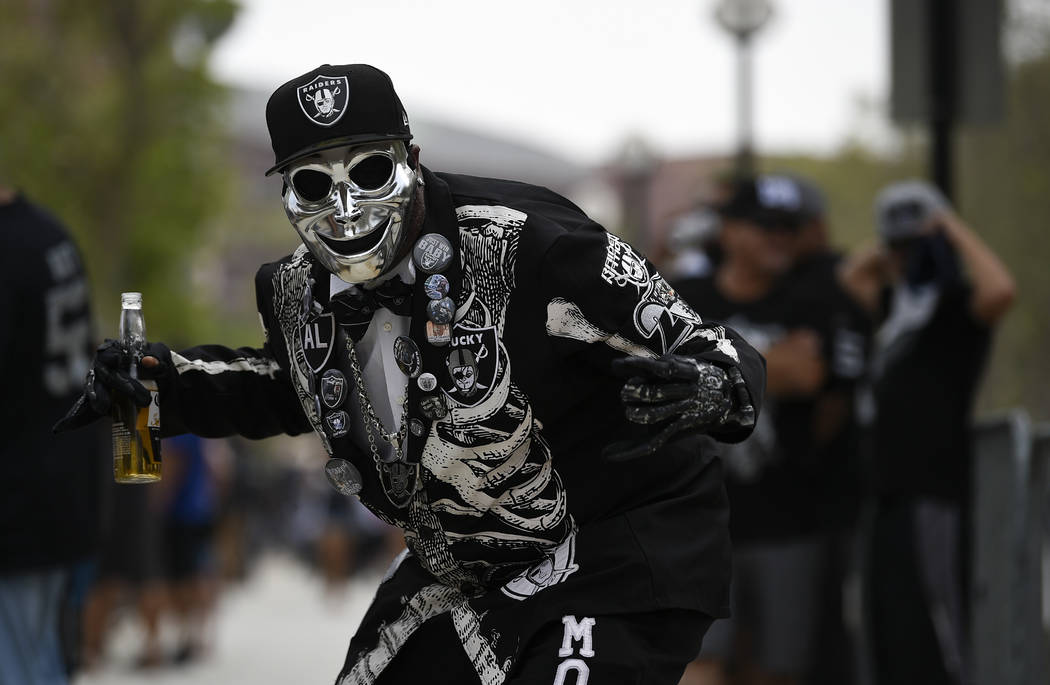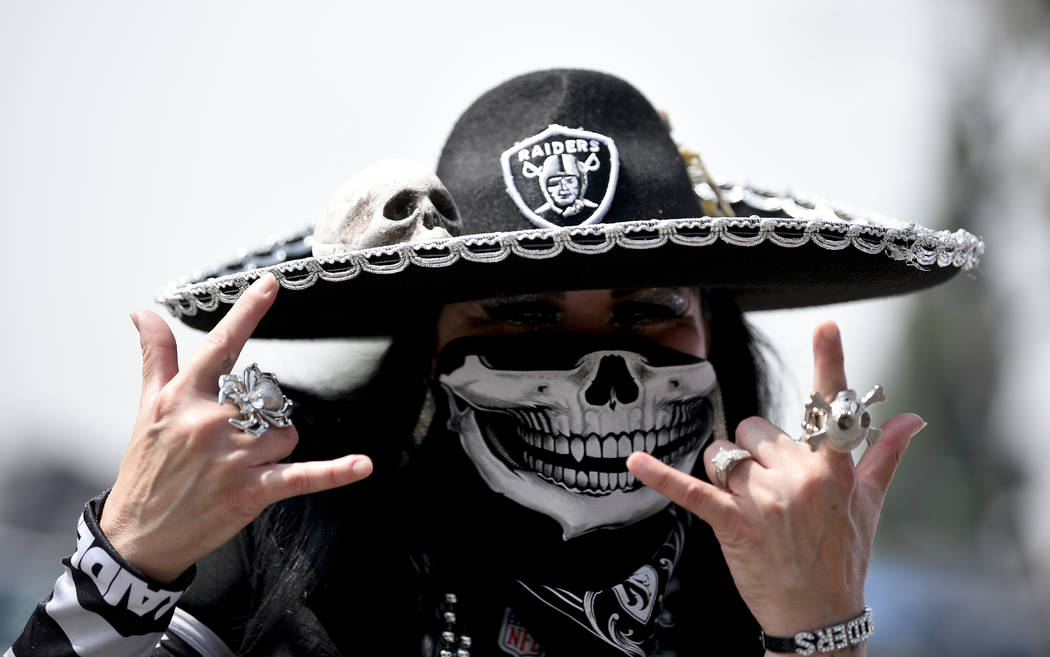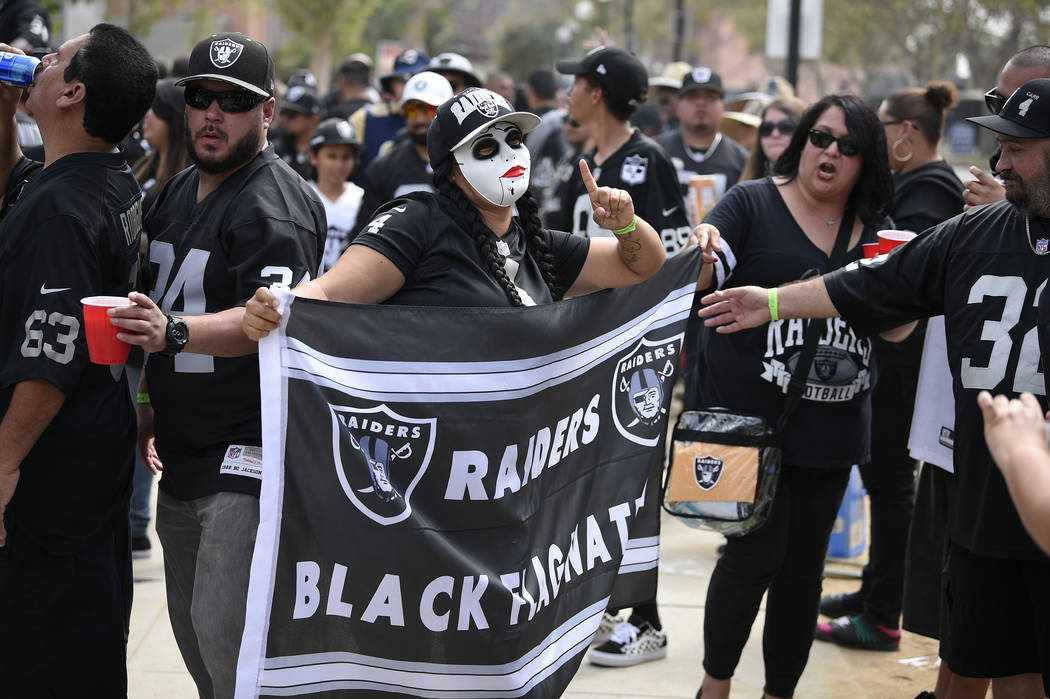 LOS ANGELES — Longtime Raiders fan Javier Yi set the scene before a reporter entered Lot 6 on Saturday at Los Angeles Memorial Coliseum.
"This is how it was just how it is now," Yi, 52, said while pointing at the tailgating area covered in silver and black. "This is like going back into time."
It was an afternoon of nostalgia for Los Angeles area Raiders fans who got to watch their beloved team return to the Coliseum for the first time since leaving the city for Oakland in 1994.
The Raiders lost 19-15 to the Rams at their old home in a preseason game. The memories that came rushing back to Raiders fans from Southern California were more important than the final score.
The Raiders played at the historic venue from 1982 to 1994 and won the city's only Super Bowl in 1983.
It's been 24 years since the Raiders left Los Angeles, but it didn't feel that way with the announced crowd of 69,037 being pro-Raiders.
The Rams' public address announcer asked multiple times "Whose house?" The response from the crowd sounded like "Raiders" each time despite the #RamsHouse banner hanging next to the iconic torch.
"It just tells you how strong Raider Nation really is," Raiders general manager Reggie McKenzie said. "Once a Raider fan, you're always a Raiders fan. They bleed silver and black."
Just walked through Lot 6 at the LA Memorial Coliseum. It's covered in silver and black. Spoke to Not Al Davis. Ran into Raider Storm and saw Eric Dickerson bombarded by Raiders fans #RaiderNation pic.twitter.com/LqqpjZcWUQ

— Gilbert Manzano (@GManzano24) August 18, 2018
McKenzie's first four years in the NFL were in Los Angeles with the Raiders.
McKenzie, who started as a rookie at linebacker in 1985, said not much has changed at the Olympic-style stadium besides the track that went around the field.
"It's like coming back home," said McKenzie, who still vividly remembers his first game at the Coliseum, a 31-0 victory over the New York Jets. "There's nothing like coming into the Coliseum, coming down that tunnel and then seeing the end zone and the pillars behind it."
Outside the stadium, the Raiders festivities remained the same as in the 1980s and 1990s inside Lot 6.
An Al Davis impersonator roamed, never breaking out of character. He had a long line of football fans asking for a photo.
"I wouldn't miss Raider Nation returning to the L.A. Coliseum for the world," said the actor playing the iconic Raiders figure.
Rams legend Eric Dickerson was refused passage when he tried to cruise through in a golf cart. The silver and black fans tried to convince Dickerson to join Raider Nation. No luck.
It was a lively, joyous atmosphere with no brawls in sight on the old stomping ground.
McKenzie is optimistic Los Angeles and Oakland Raiders fans will bring that same type of energy to Las Vegas when the team leaves California in 2020 and moves into a domed stadium next to the Strip.
"I think the combination of Oakland and L.A. will migrate to those games (in Las Vegas)," McKenzie said. "I think we're going to get a true Raiders fan base."
Raiders fans wouldn't let Rams legend Eric Dickerson drive by. They tried to get him to join #RaiderNation pic.twitter.com/wIzilSS9s1

— Gilbert Manzano (@GManzano24) August 18, 2018
Many Raiders fans from Oakland have vowed not to follow the team when they move to Southern Nevada, according to Faith Turner, a Raiders superfan known as Raider Storm.
It was clear Saturday that Raiders fans from Los Angeles didn't give up on the team even two decades after its departure. McKenzie believes the majority of Oakland fans will continue to cheer for the Raiders.
"I think they're going to stay with us, I really do," he said. "They gave no indication that they're not going to support the Raiders, that's for sure. I think they're going to continue to support and be even more supportive."
Jon Gruden probably will be with the Raiders when they move to Las Vegas. He signed a 10-year, $100 million contract in January to coach the team.
Gruden felt the love Saturday.
"It was awesome being back here," Gruden said. "(The Raiders) have history here, a championship history here. There's still a lot of fans that remember those teams, and rightfully so."
Contact Gilbert Manzano at gmanzano@reviewjournal.com. Follow @GManzano24 on Twitter.