Raiders fans wonder: Who will play QB against the Chargers?
Updated September 29, 2023 - 3:14 pm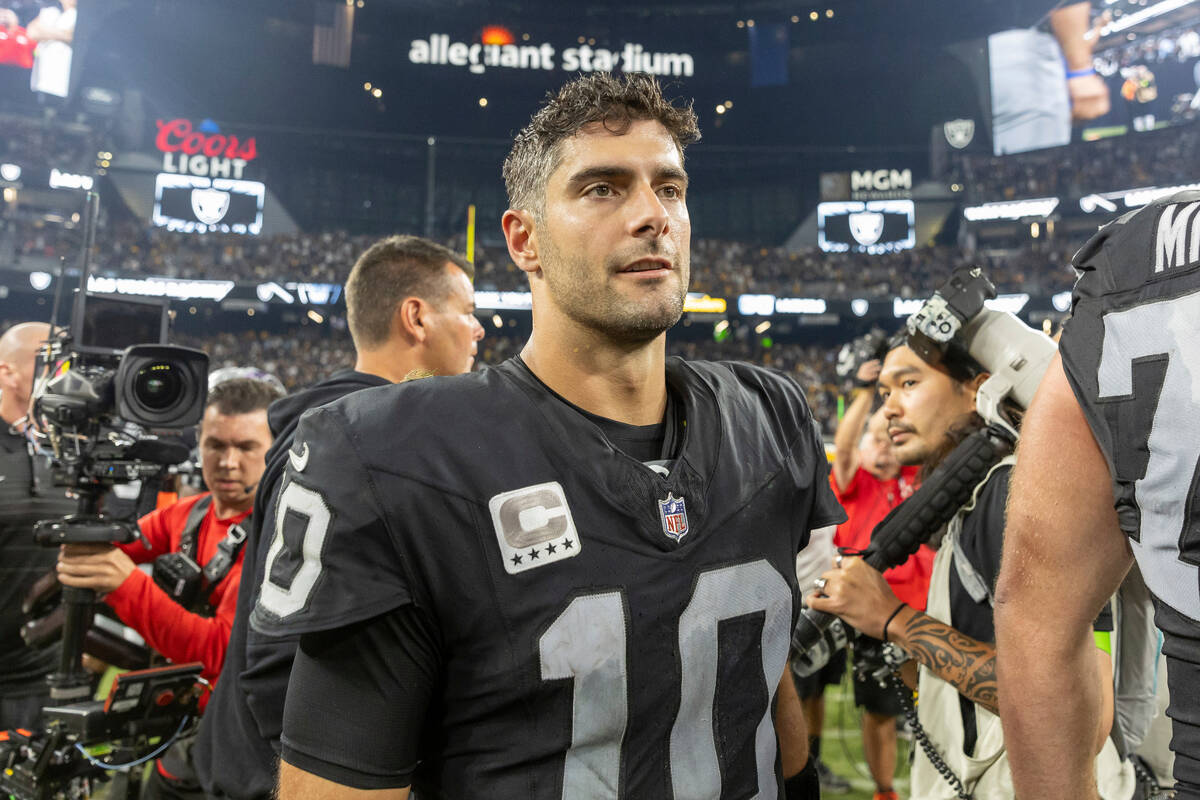 After losing two straight games to fall to 1-2 on the season, the Raiders face a formidable task traveling to Los Angeles to face the Chargers. At stake is an opportunity to pull even on the season or fall into an all-too-familiar hole just one month into the season.
Their fans have plenty of questions about where things stand.
Here is a sample of what arrived in this week's mailbag:
Eddie Diaz (@Eddie_Diaz_17): Is Jimmy Garoppolo a game-time decision, or will we have an answer before Sunday on who will be under center?
VINCENT BONSIGNORE: Chances are there will be an unofficial official declaration before game day. If Garoppolo doesn't board their flight to Los Angeles, the club has to alert the NFL that he isn't making the trip, which obviously means he will not play on Sunday.
If there is no word that Garoppolo isn't making the trip, that is a pretty strong indication he will be good to play against the Chargers, even though they might not officially make that declaration.
Bottom line, one would have to ask why he would make the trip unless he is good to play.
Gilbert Gonzalez (@ggonz_94): Is Maxx Crosby good to go for Sunday?
VB: The Raiders' defensive end was back on the practice field on Friday after getting the day off on Thursday, and Raiders coach Josh McDaniels hinted that sitting Crosby was more cautionary with the knee injury than anything else. Chances are he plays.
Mark Holmlund (@MarkHolmlund): Is the fact that Jimmy Garoppolo seems only to look for Davante Adams and Jakobi Meyers a function of the play calling, or does he not think or want to distribute the ball to other players like Hunter Renfrow?
VB: Play calling has something to do with it, and it seems Renfrow is further down on the read list than those two. It's obvious that Renfrow is getting open and should have gotten more targets to this point. But for whatever reason, Garoppolo just isn't getting through his read progressions in order to check it to Renfrow as the third option.
LetsArgueRaiders (@BertoSmerdo): Will the Raiders give rookie Aidan O'Connell a shot finally? Or do the Raiders need more games for Jimmy Garoppolo to prove himself?
VB: The Raiders didn't sign Garoppolo to the contract they did simply to kick him to the curb three games into the season. Has he played up to his standard? No. But the Raiders believe he will eventually settle down and play to his normal level. Barring injuries, he is their quarterback. Aidan O'Connell's time will come down the line.
Todd Stevens (@stevens8129): Why haven't we seen Nesta Jade Silvera active? It seems like he was more disruptive than the other tackles.
VB: Chances are Silvera gets some run at some point this season. The rookie from Arizona State was impressive during training camp and the preseason, and he showed there is something to work with. For now, the Raiders plan to stick with the veterans, along with rookies Tyree Wilson and Byron Young on the defensive line.
Contact Vincent Bonsignore at vbonsignore@reviewjournal.com. Follow@VinnyBonsignore on X.