Raiders' Gruden sets record straight on taking 'game back to 1998'
March 26, 2018 - 12:02 pm
Updated March 26, 2018 - 8:44 pm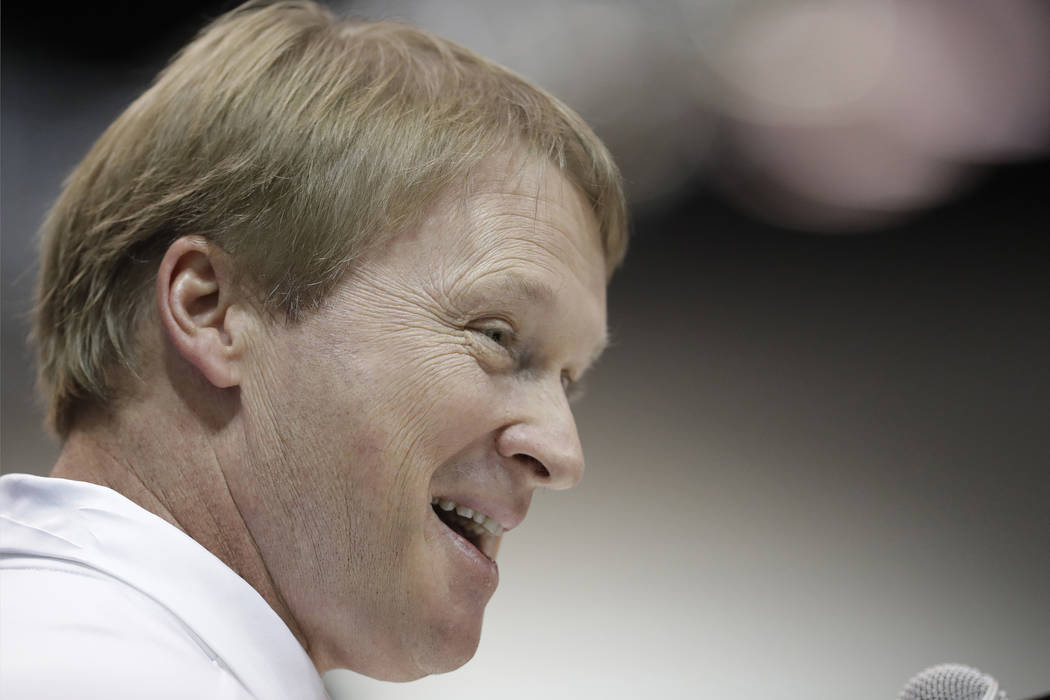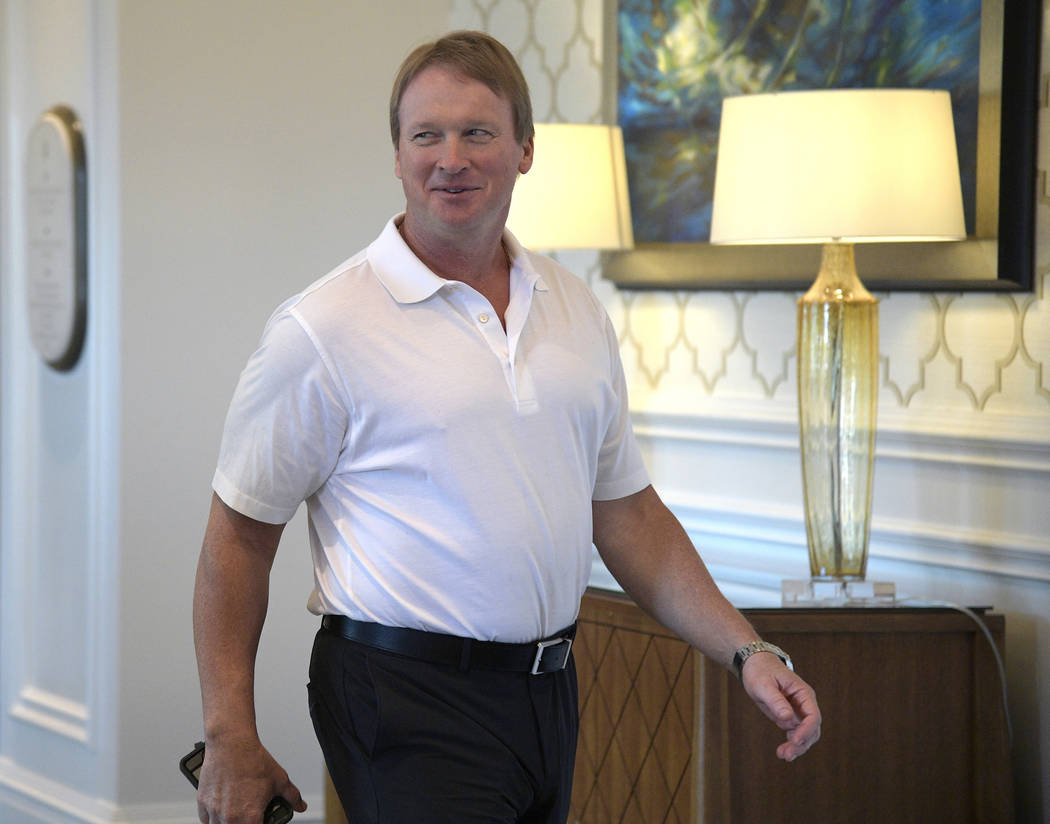 ORLANDO, Fla. — Jon Gruden wore a silver watch around his left wrist Monday. He kept a cellphone inside a pocket of his black dress pants. At the corner of the hotel hallway in which he stood, a flat-screen television scrolled through images of the Raiders' stadium project.
"Opening in 2020," a sign read. "Las Vegas Stadium."
The Raiders coach shook his head and then made something clear.
Of course he knows what time it is.
At the NFL combine in late February, Gruden was asked about analytics. A portion of his answer — "Man, I'm trying to throw the game back to 1998" — drew not only chuckles from reporters but questions as to whether Gruden was, so to speak, with current times. He clarified his remark and the front office's power structure Monday during a conversation at the annual NFL meetings.
Gruden is coaching in the NFL for the first time in a decade. He dismissed the notion he's either unaware or unwilling to adapt to how the game has evolved.
"We got more analytics than probably any (other) team in the league," Gruden said. "We have all the gimmicks and gadgets, and we're going to have a DJ on the practice field. We're going to throw bubble screens and RPOs (run-pass options). We're going to have all the statistical data that everybody else has.
"But when I say 1998, I'm going to do this very similar to how I did it then (when first joining the Raiders). We're going to bring in a lot of free agents that are going to help us send a message, set the tone. We did it (in 1998) with Richard Harvey and Anthony Newman and Elijah Alexander and Eric Allen. We brought in a lot of guys who were pros that love football, that will compete and fight for the Raiders. That's kinda what I meant, 'taking it back to 1998.'"
To that end, the Raiders were busy in free agency.
Once the contract of safety Reggie Nelson is finalized, the team will have re-signed four of its unrestricted free agents and added 16 other players this month. Among the Raiders' earliest moves in free agency, they signed blocking tight end Derek Carrier and fullback Keith Smith. They also re-signed Lee Smith, another tight end whose primary use is as a run blocker.
If some were running with Gruden's "1998" from February, those March transactions offered a pair of orange slices, a cup of water and a friendly gust of wind at the Mile 10 marker. This is despite the team later trading fullback Jamize Olawale to the Dallas Cowboys days after Keith Smith signed.
"We did re-sign a blocking tight end (Lee Smith) who's been on the team for three years," Gruden said. "We did hire a fullback, but we traded our fullback, basically, for this fullback. I'm not going to argue with people. They can type what they want, say what they want, and I'll be respectful of it. But I know what I'm trying to do."
And he knows who is making decisions. It's not one person.
Gruden has a 10-year contract. His three coordinators are under three-year deals. No NFL team offers more newfound stability on its coaching staff than the Raiders. As such, it is only natural the franchise make decisions on an organizational basis, looking to fit talent to schemes.
On Sunday, owner Mark Davis told reporters something to that effect, calling Gruden's vision "most important (when) building what type of team we've got," he said. "That vision and that direction is going to be helpful to (general manager) Reggie (McKenzie) more so than not. I think they'll work together very well."
On Monday, Gruden stressed that final point.
"We're going to work together," he said. "Who has that 51 percent, I think, ultimately depends on who is the most right. If Reggie's right, we're going to go with Reggie. If we feel I'm right or someone else is right, you don't have to be the head coach or GM to help get us to make a move or decision. We're all mature, grown people, and I think I speak for just about every organization that's here."
Here in 2018.
Contact reporter Michael Gehlken at mgehlken@reviewjournal.com. Follow @GehlkenNFL on Twitter.