Raiders hit rock bottom in 33-8 loss to Patriots in Mexico City
November 19, 2017 - 4:36 pm
Updated November 20, 2017 - 6:15 am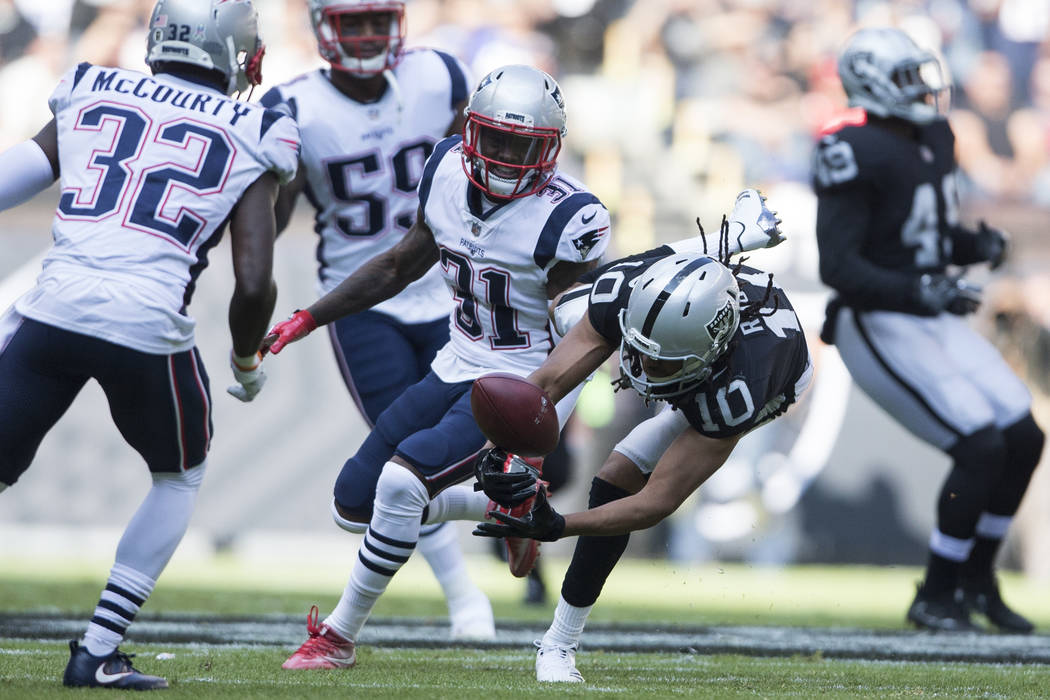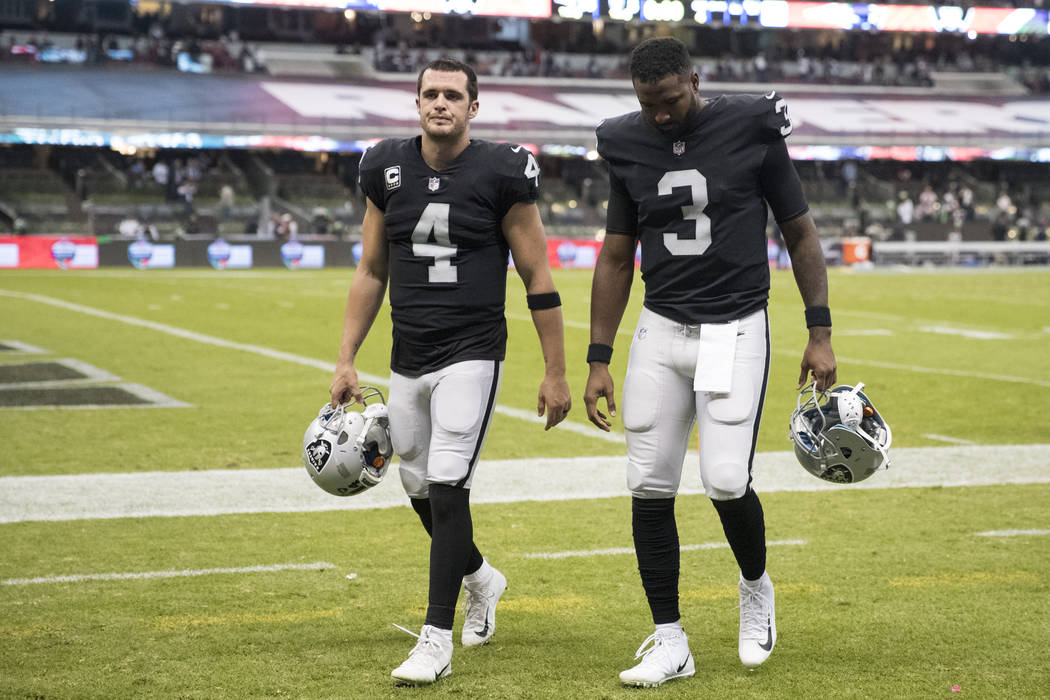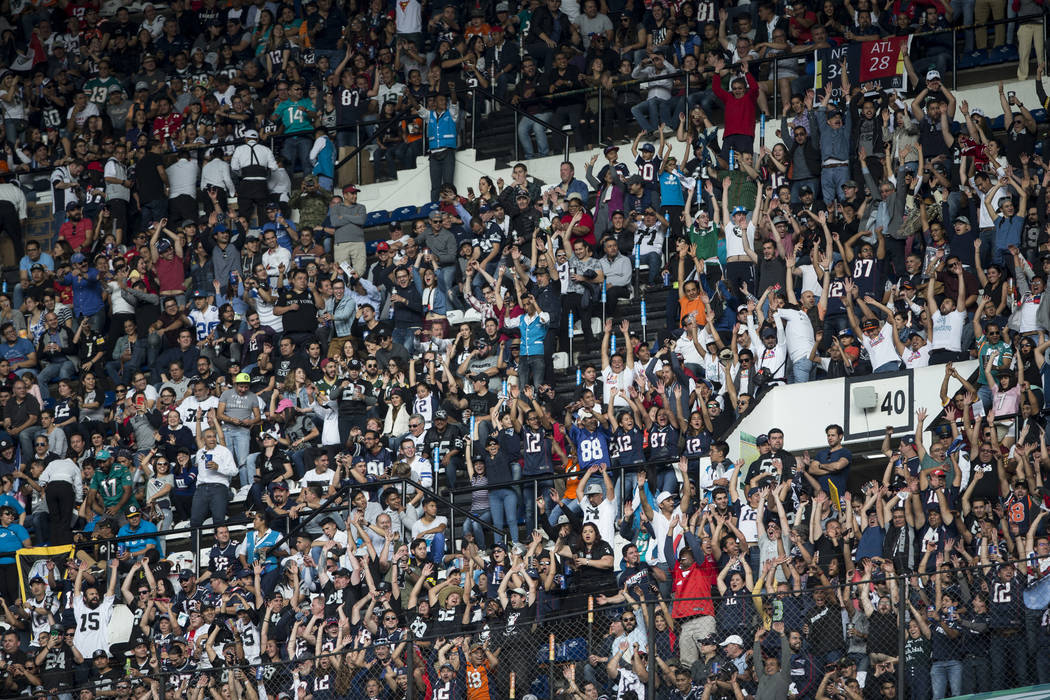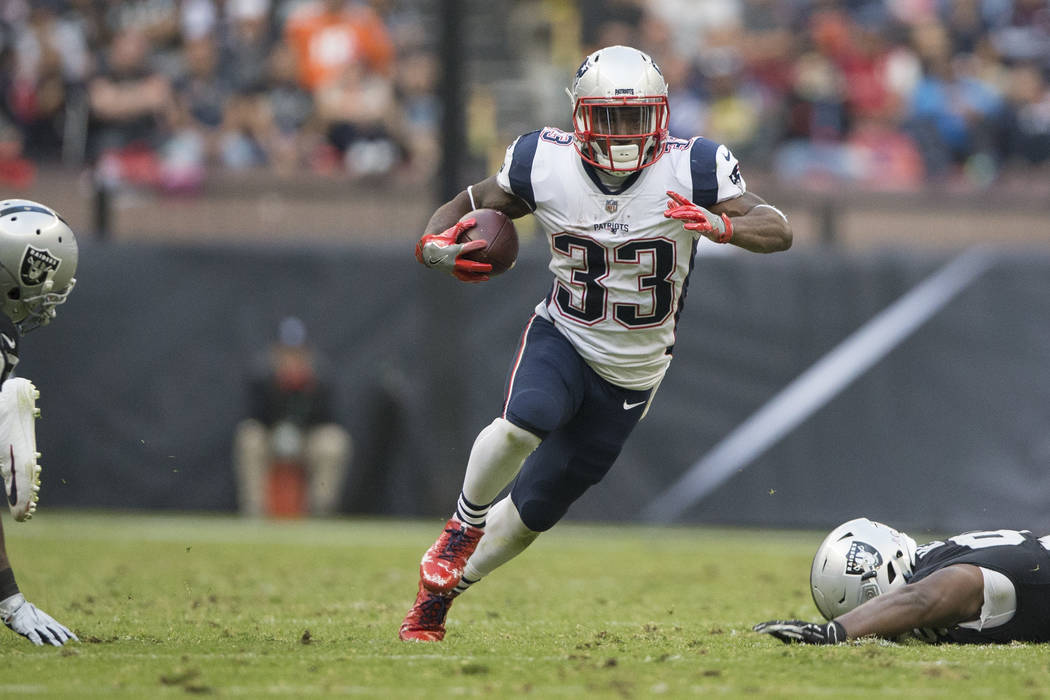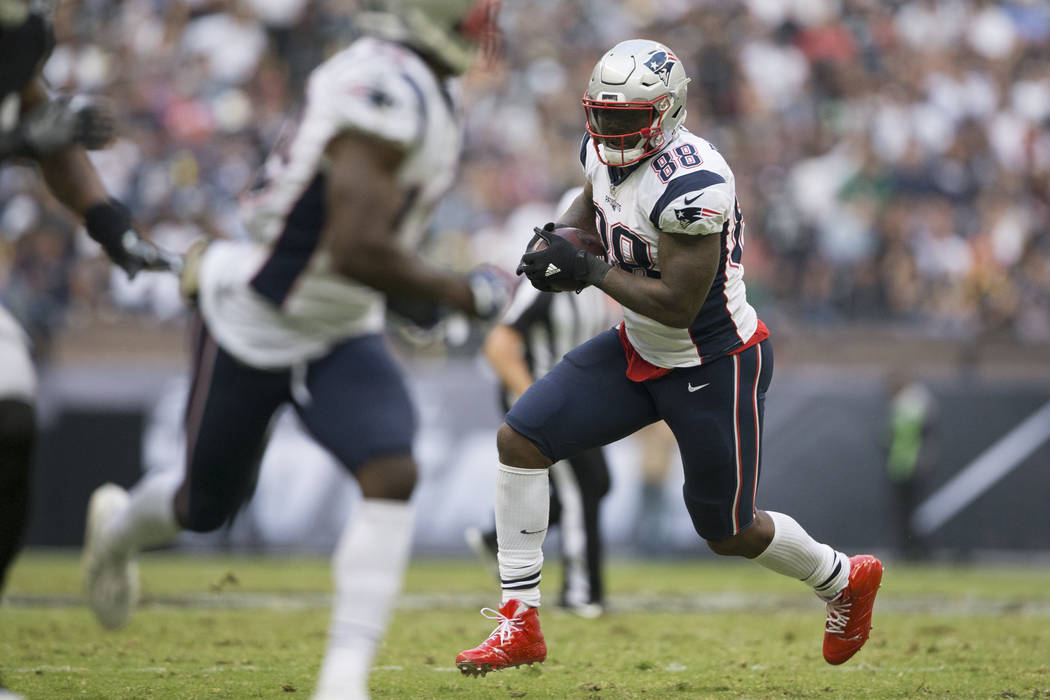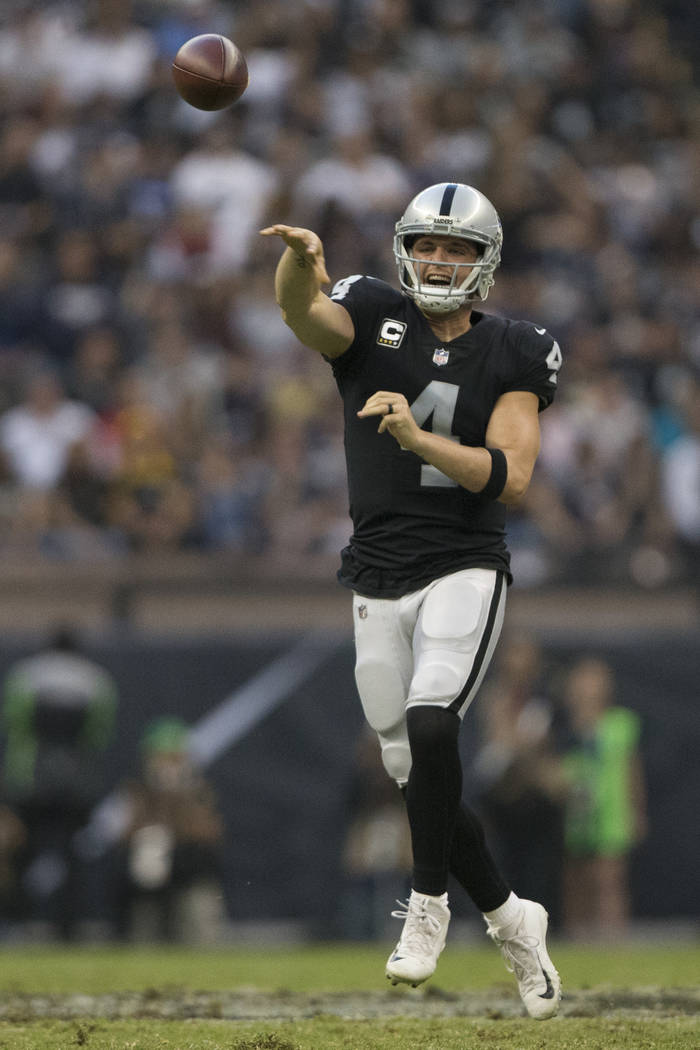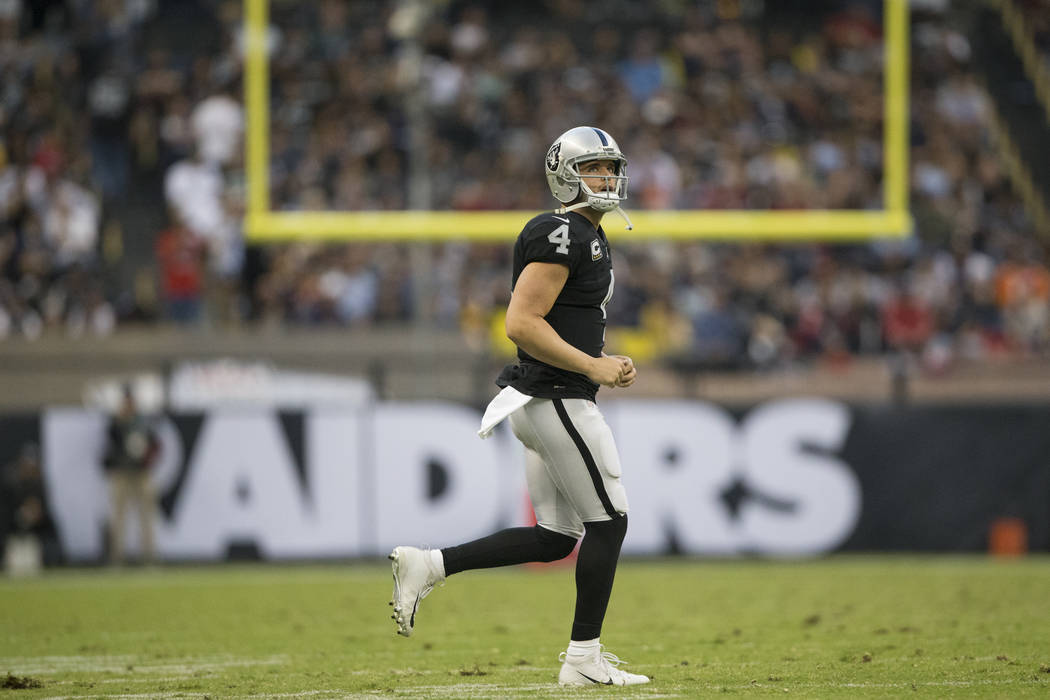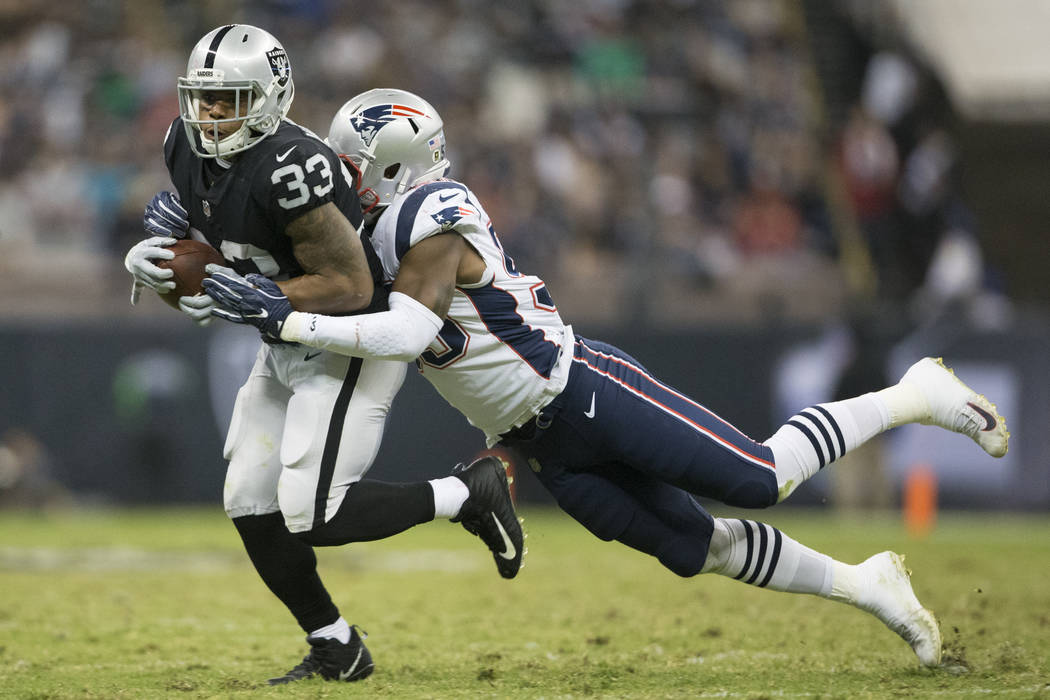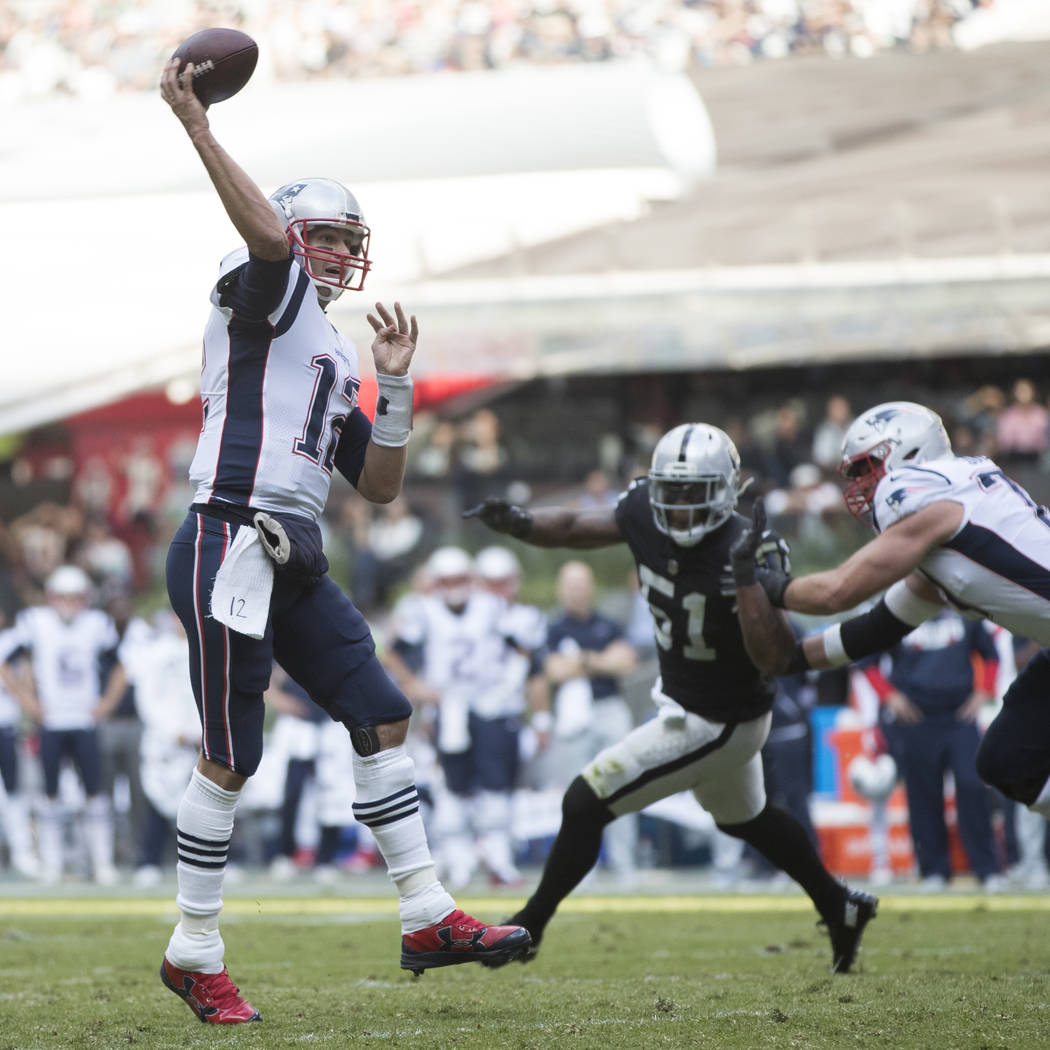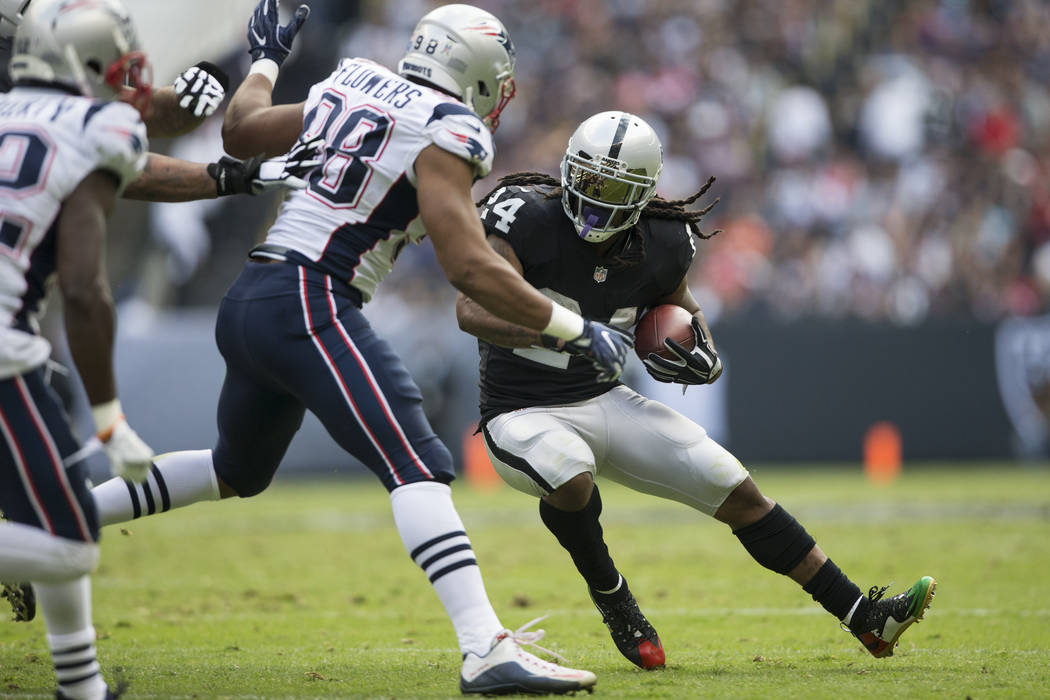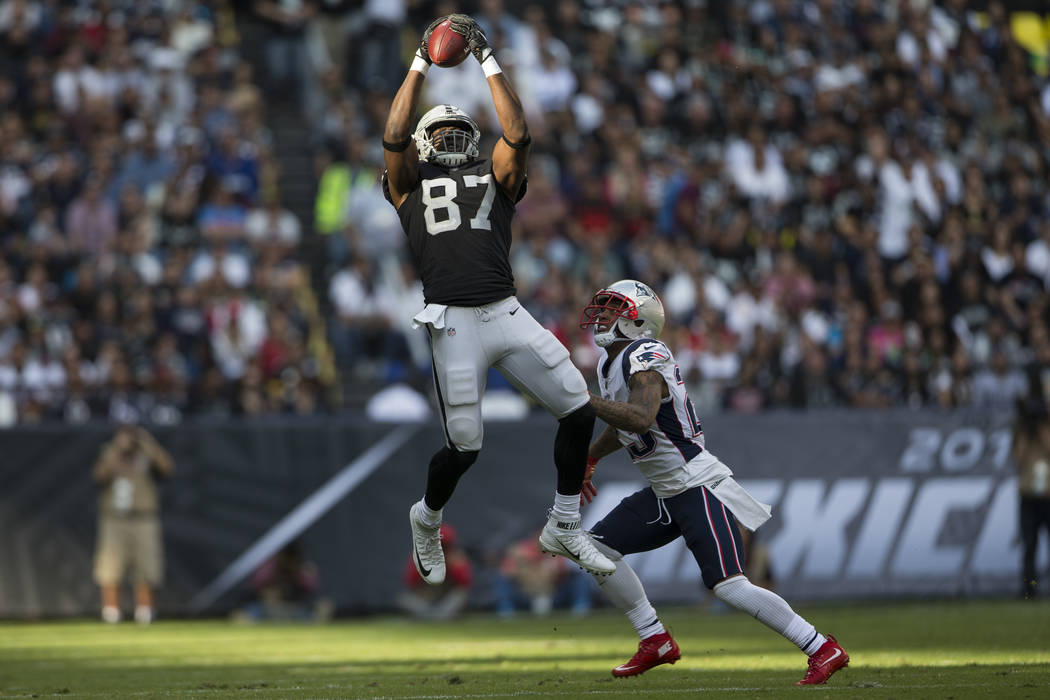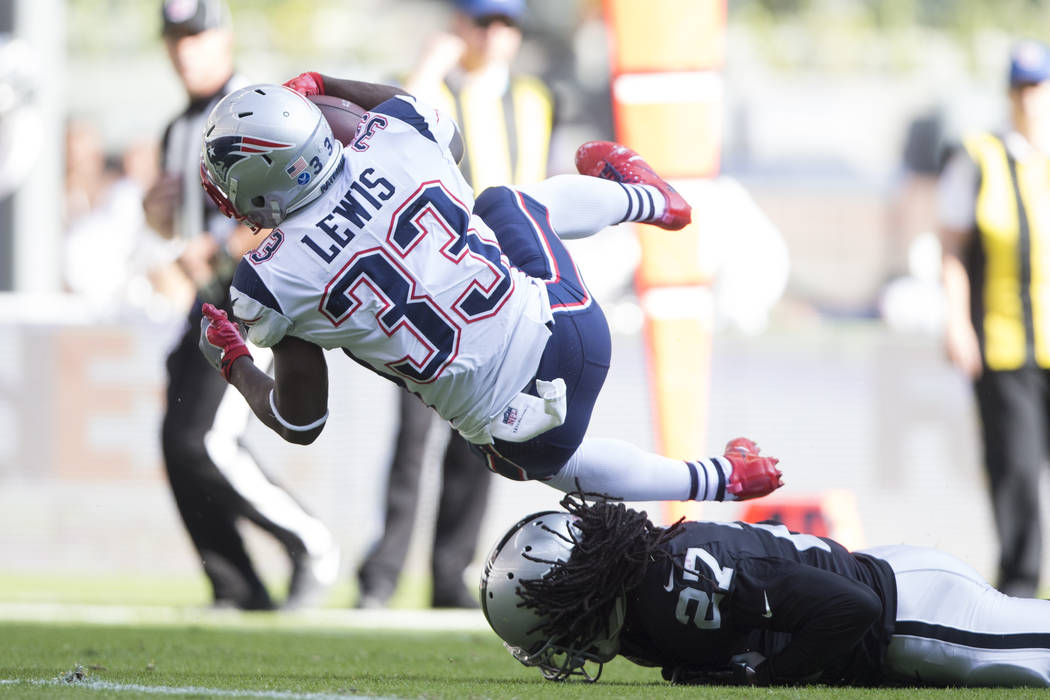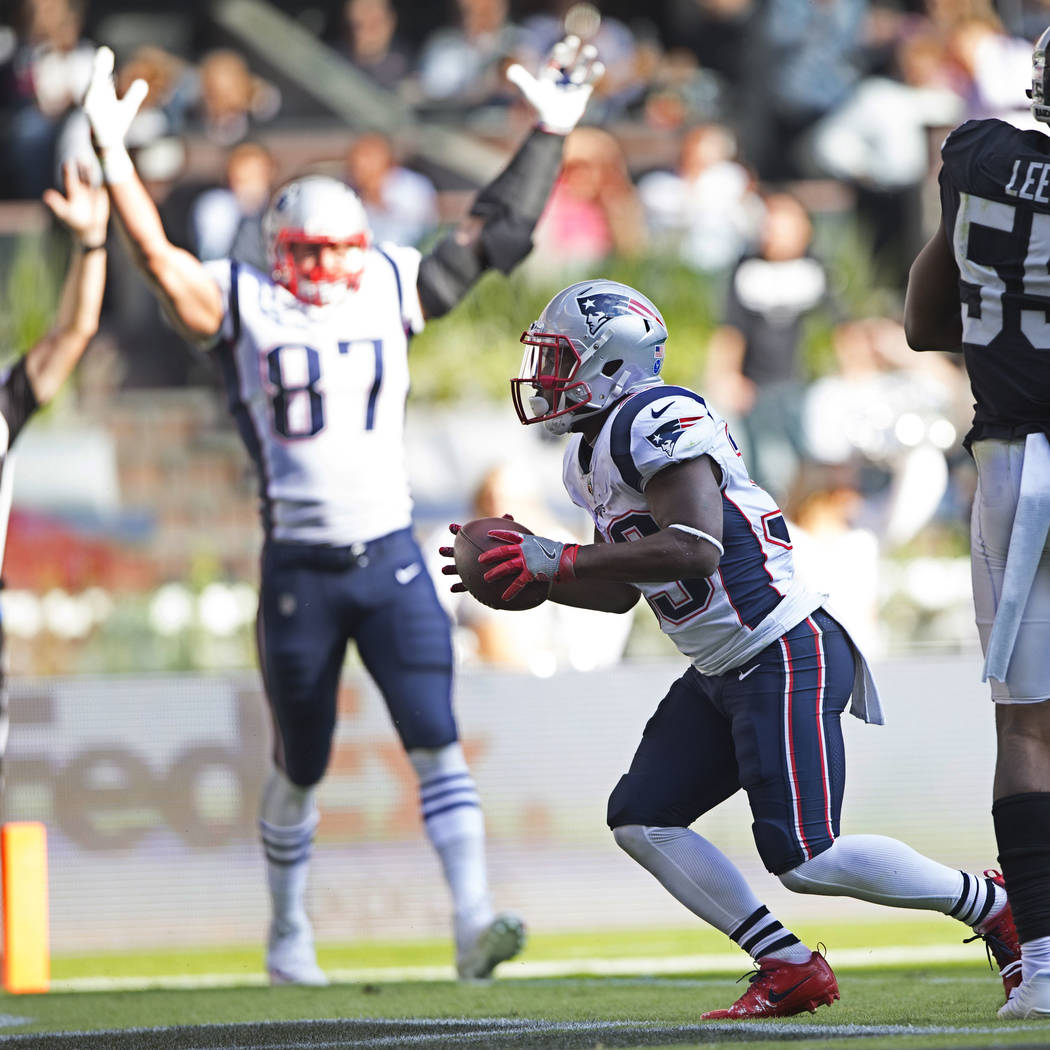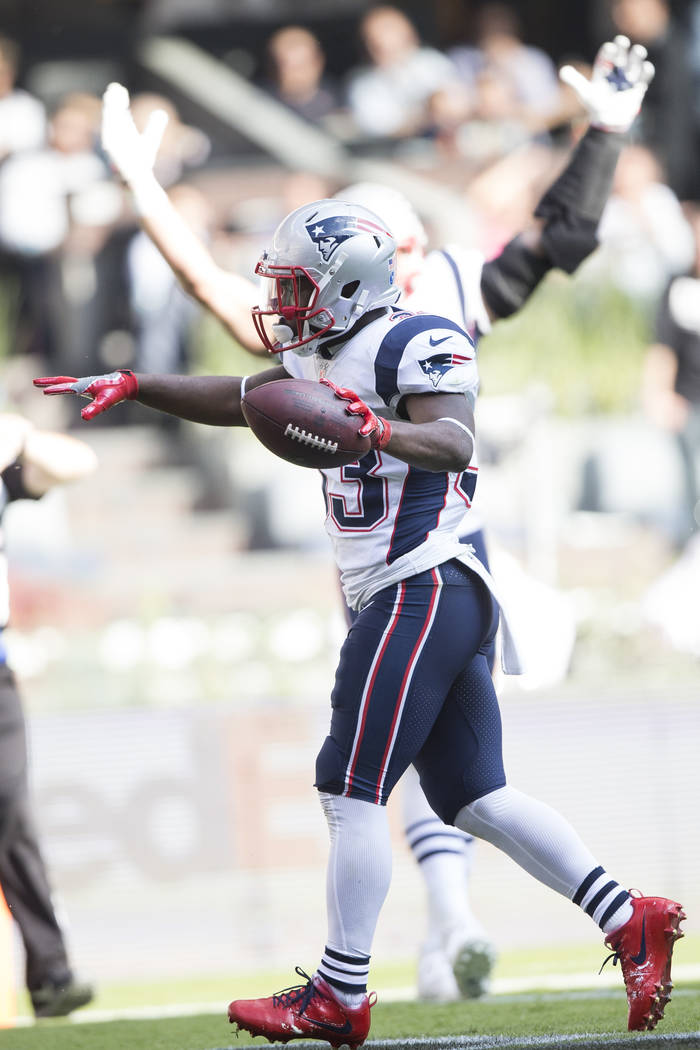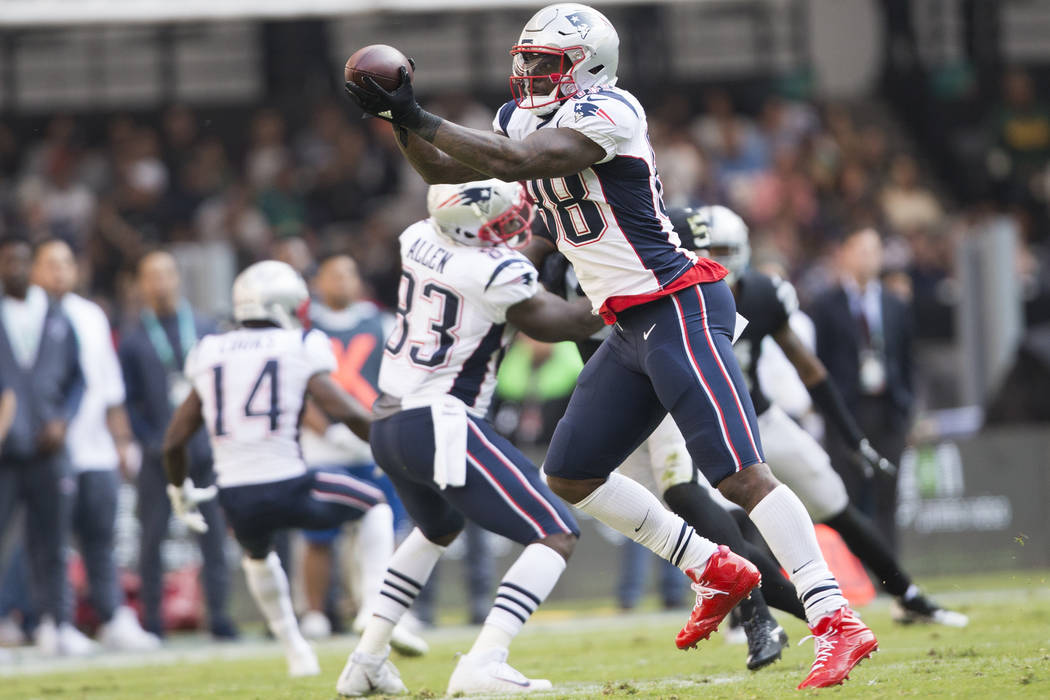 MEXICO CITY — A couple drops here. A drop tipped for an interception there. A fumble lost in the red zone. A stuffed-fourth-and-1 run. Costly penalties. An overall failure to avoid negative plays against a franchise whose trophy case was built upon capitalizing on them.
This came after a bye week no less.
The Raiders traveled to 7,200-plus feet altitude, just to hit rock bottom.
It did not surprise Sunday to see an undermanned defense, one that made Jay Cutler look like Tom Brady two weeks earlier, struggle against the man himself. Of greater concern — but not surprise at this point — was an offense that spent its bye week scouting its own deficiencies only to falter in a 33-8 defeat to the New England Patriots at Estadio Azteca.
Brady completed his first 12 passes. He finished 30-of-37 for 339 yards and three touchdowns.
The Raiders failed to compensate for his production, trailing 30-0 through the first three quarters. Their eight points scored were the fewest with Derek Carr at quarterback since a 52-0 loss to the St. Louis Rams on Nov. 30, 2014, during his rookie year.
"We did a good job moving the ball," left guard Kelechi Osemele said, "but kind of what's been happening a few times this year, we played a good opponent that made us pay for our mistakes. We turned the ball over; we can't do that at this level and not expect a team, especially a team this good with Tom Brady, to take advantage of that. We weren't really able to help our defense at all because we kept stalling, kept turning the ball over."
Wide receivers Seth Roberts, Johnny Holton and Michael Crabtree each had a drop in the first half.
Roberts' came on a third-down pass to end the Raiders' opening possession.
He committed a false start to begin the next one and, most costly of all, fumbled in the second quarter at the Patriots' 3-yard line.
The latter miscue thwarted the Raiders' best shot at a first-half score, and it came with enough time to allow New England to attempt a successful 62-yard field goal in the thin air.
Instead of trailing perhaps 14-7 at halftime, the Raiders were down 17-0.
The deficit grew to 24-0 when, on the third play of the second half, Brady hit wide receiver Brandin Cooks for a deep 64-yard touchdown past safety Obi Melifonwu, whom the team played out of position at left cornerback.
Carr completed 28 of 49 passes for 239 yards, one touchdown and an interception. The pick came on the Raiders' second drive because of Holton's drop.
A deep throw bounced off Holton's upper shoulder-lower helmet area and into the air, an easy interception that safety Duron Harmon converted.
Oakland's defense had just surrendered a 15-play, 82-yard touchdown drive in which New England went uptempo, gassing some Raiders players early. Back onto the field they went, although it was the only one of the Patriots' first eight possessions Sunday that did not end with a score.
The Raiders finished with 344 total yards, 76 fewer than the Patriots on 13 more plays.
"The hard thing for us is we actually felt like we moved the ball well as a unit," Carr said. "We just didn't score. Whether it was a turnover, we had the matchup long to Johnny that we wanted and then things happened. There's little things in there that we felt like we were seeing it right, we had a good plan moving the ball, those kind of things, but then especially the (fumble in the) first half, that one killed us. Going down there and then we're not trying to do wrong, we turned it over."
Oakland actually controlled its own playoff destiny to start the game. The Kansas City Chiefs lost 12-9 to the New York Giants, opening the door for the Raiders to earn an AFC West title if they won their remaining games.
With the loss, the Raiders again will need help for a playoff chance.
That is moot when they cannot help themselves.
Contact reporter Michael Gehlken at mgehlken@reviewjournal.com. Follow @GehlkenNFL on Twitter.