Raiders hope 'Football Gods' answer prayers for turnovers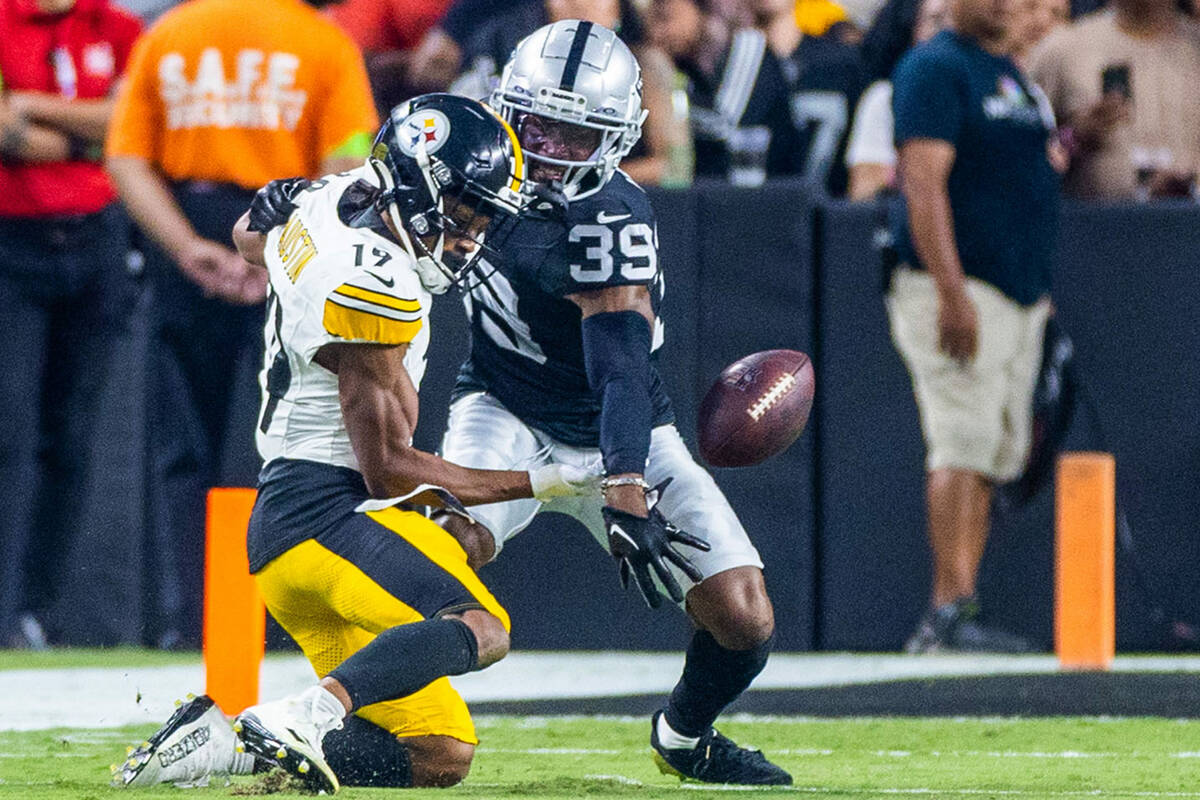 It was difficult to talk to anyone involved with the Raiders defense this offseason and not hear the rallying cry about finding ways to force more turnovers
Those words have not translated into results on the field, though.
After finishing last in the NFL with 13 takeaways last season, the Raiders have yet to force any through three games.
If that trend continues Sunday when they play at the Los Angeles Chargers, the Raiders would become just the fifth team in the Super Bowl era to record zero takeaways through the first four games of the season. The New York Giants also can join that group in Week 4.
"We've got to keep at it, obviously," coach Josh McDaniels said. "Sometimes they come in waves, and we're just waiting for our wave.
"We blitzed a bunch on Sunday (in a 23-18 loss to the Pittsburgh Steelers). We had a number of guys punching at the ball and attempting to strip the ball. We had a chance to get our hands on one or two. We're making efforts to do all those things … I know our guys are. I'm seeing them on the field do it."
Cornerback Nate Hobbs said after Sunday's game that he believes the "Football Gods" will eventually reward the Raiders if they continue to play hard. McDaniels was more tangible in his assessment.
"We've got to make it happen," he said. "We've got to go make plays, make disruptive plays, create situations where people are under pressure or duress to try to force them to get loose with the ball or throw it to us. We had a number of opportunities (Sunday) and got our hands on some footballs."
A dropped interception that most likely would have been returned for a touchdown by Marcus Peters was the most glowing example.
It was in the first half and could have changed the game completely, as is often the case with pivotal turnovers. The Raiders have seen it firsthand, turning the ball over three times in each of the past two games and losing both.
Defensive coordinator Patrick Graham thinks the focus on generating takeaways is going to pay off at some point.
"Always trust the process," he said. "Find ways to practice the habits and make sure we are attacking the ball … and make tweaks where you can to see if we can get more opportunities."
One way to force the issue is to try to pressure the quarterback more. The Raiders tried blitzing more often Sunday, sending at least one extra pass rusher on 33.3 percent of Pittsburgh's dropbacks after doing so 21.6 percent of the time in Week 1 and 30.8 percent in Week 2, according to Pro Football Focus.
The Raiders haven't seen the desired results. Despite being 14th in the league in blitz percentage at 27.4 percent, they are 30th in pressure percentage at 14.2 percent.
They might have to dial that back this week against the Chargers because quarterback Justin Herbert has torched teams that try to send extra rushers.
Herbert went 32 of 38 for 306 yards and three touchdowns when Minnesota sent five or more players into the pass rush in a 28-24 win Sunday, becoming the first quarterback in the league's Next Gen Stats era, which dates to 2016, to throw for more than 300 yards against the blitz in a game. He sits atop the league with an 80.8 completion percentage and 356 passing yards against the blitz.
That means the Raiders will need more from their defensive line, including first-round pick Tyree Wilson, who played just 11 snaps Sunday. McDaniels said part of the problem was Wilson was sick during the week, but the entire season has been a struggle after he missed most of the summer because of a foot injury.
Wilson has been credited with one pressure on 55 pass-rush snaps.
"Just keep getting acclimated to the league in terms of the different sets he's going to see, the different looks from the offense," Graham said of where Wilson can improve. "And then just working on his own craft, both in the run game and pass game. Then, for most young players, improving their strength and endurance throughout the season. Getting used to NFL football is just a different animal."
Contact Adam Hill at ahill@reviewjournal.com. Follow @AdamHillLVRJ on X.
Up next
Who: Raiders at Chargers
When: 1:05 p.m. Sunday
Where: SoFi Stadium, Inglewood, Calif.
TV: KLAS-TV 8
Radio: KRLV-AM (920), KOMP-FM (92.3)
Line: Chargers -5½; total 47½