Raiders, Josh Jacobs remain in contract holding pattern
Updated April 11, 2023 - 7:34 pm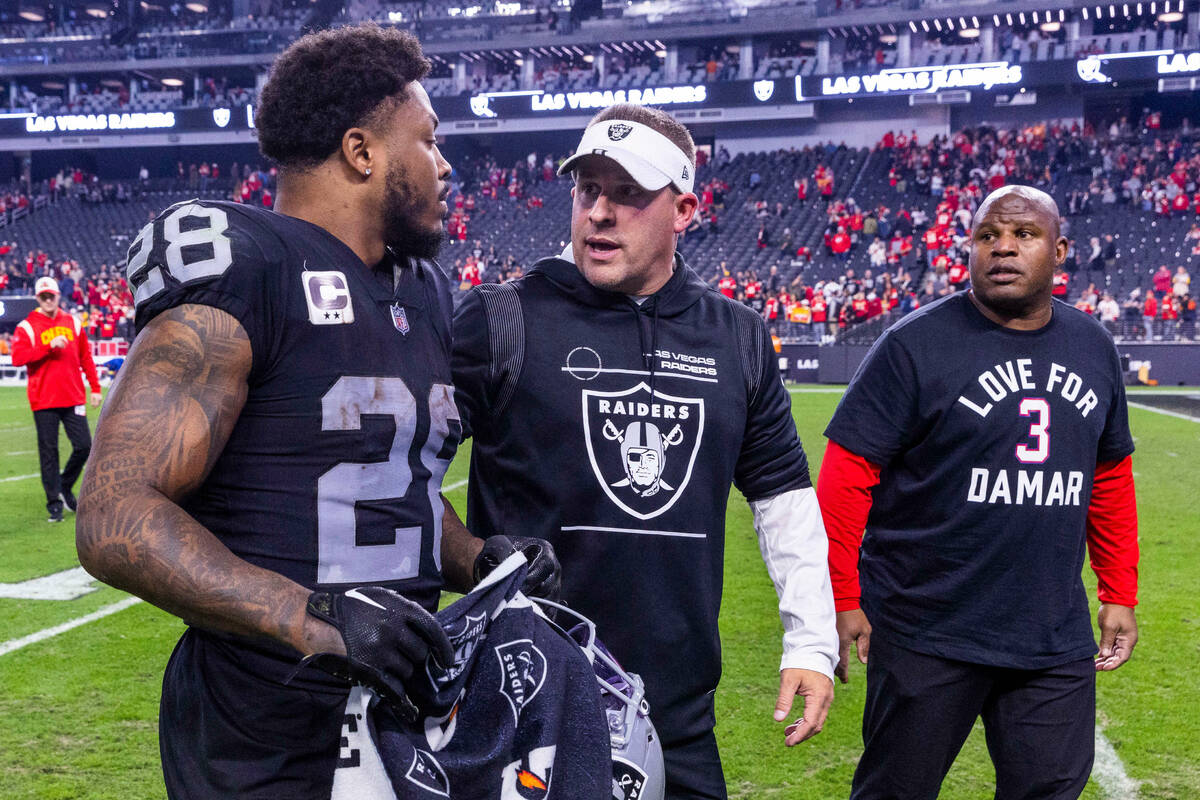 For reasons completely out of Josh Jacobs' control, the impeccable timing he displayed in delivering a career season while leading the NFL in rushing goes only so far in securing a new long-term contract with the Raiders.
The former Alabama star is one of the undisputed hearts and souls of the Raiders. And not-so-long ago the breakthrough year he produced in 2022 while playing on the final year of his contract would have guaranteed him a lucrative new deal.
Unfortunately for Jacobs, he is caught right smack in the middle of the NFL's reluctance to reward running backs with high-priced second contracts.
Jacobs joins fellow running backs Saquon Barkley and Tony Pollard in the NFL's new world order, as each produced more than 1,000 yards rushing in the last year of their contracts in 2022, only to be hit with the franchise tag by their respective teams this offseason rather than sign long-term extensions.
In each player's case, the opportunity exists for them to come to terms with multi-year deals with their teams. But the deadline to do so is July 17. At that point, they will have to play the 2024 season on the running back franchise tag valued at $10.09 million.
Jacobs and the Raiders have not yet engaged in any meaningful talks, although that could change at any moment. With so much focus on the upcoming NFL draft, it stands to reason both sides will reconvene after the draft to try to find some common ground.
By all measures, Jacobs has earned himself a pay raise after rushing for more than 1,000 yards in three of his first four NFL seasons, including the 1,653 yards he produced last season.
In the meantime, he earned some big-time admiration from Raiders owner Mark Davis.
"He was the heart of our team last year," Davis said at the NFL owners' meetings. "There is no question about it in my mind. He came to play every day and is a tough, tough, tough guy. I am just really proud of him. He was a Raider."
His timing was perfect, as it came on the heels of the Raiders opting against picking up the fifth-year option of his rookie deal, which was set to go into effect in 2023. As a result, he's already earned himself a $2 million pay increase from the $8 million he would have gotten on the fifth year of his rookie contract to the $10.09 million of the franchise tag.
On the other hand, Jacobs understandably wants more in guaranteed money and longevity relative to the one-year franchise tag.
And therein lies the holding pattern he and the Raiders find themselves in.
It seems unlikely Jacobs will match or surpass the contract numbers of recent running back free agents like Christian McCaffrey (four years, $64 million, $36.3 million in full guarantees), Alvin Kamara (five years, $75 million, $34.3 million in full guarantees) or Derrick Henry, who signed a four-year deal for $50 million with $25 million in full guarantees.
Not to say Jacobs isn't worthy of being paid among the top running backs in the league. It's just that each of those contracts now feels outdated relative to how the NFL views running backs. More to the point, how the league views paying running backs.
This offseason is the perfect example as Jacobs, Barkley and Pollard are not getting the financial love they probably expected.
The recent history of Raiders general manager Dave Ziegler and coach Josh McDaniels suggests they are in line with the preeminent thinking around the NFL about running back compensation.
That isn't to suggest they don't value the run game; it's just that their years in New England reveal a run-game philosophy typically predicated on a committee of backs rather than one overly dominant back.
In fact, it was presumed the Raiders would follow that approach in McDaniels' first season at the helm last year, especially after signing multiple backs during free agency and adding two more through the draft.
To his credit, Jacobs was so good statistically and so physically durable that he rendered any thought of a running game by committee moot. In doing so, he earned the respect of Raiders' decision-makers and the big pay raise that came with it.
What it hasn't meant — yet, anyway — is a long-term deal.
And while the Raiders might be interested in adding a guaranteed $6 million to the $10.09 million Jacobs is guaranteed for this year, — but spreading it out over the next two years in what would essentially amount to a two-year, $16 million contract — would Jacobs be open to that?
It all adds up to an eventful next few months. Although the longer this goes, and the longer Jacobs' NFL running back colleagues remain in their own stalemates, you have to wonder if Jacobs and the Raiders simply punt on a new contract this year and revisit the situation next offseason.
Contact Vincent Bonsignore at vbonsignore@reviewjournal.com. Follow @VinnyBonsignore on Twitter.