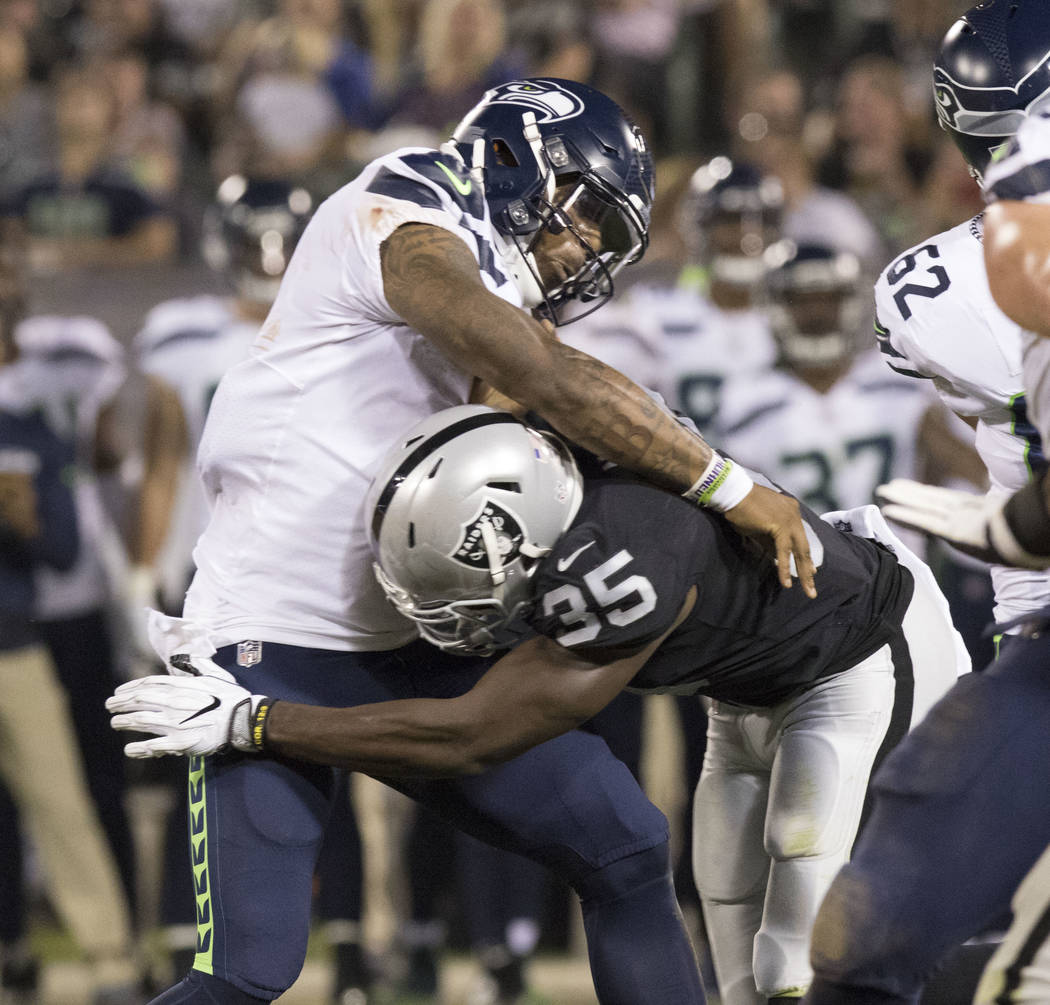 OAKLAND, Calif. — The official box score from Greenville College's season opener in 2016 listed the attendance at 500.
The crowd, if it can be called one, watched its football team host Millikin, a fellow Division III school, at a stadium small by high school standards. The bleachers at Francis Field are positioned only behind the home sideline. None are elsewhere in the stadium; trees and grass are the backdrop to the visitor bench.
This is where Nicholas Morrow began.
Look at him now.
The undrafted rookie linebacker, who missed a portion of the spring because of Greenville's academic calendar, survived Saturday's NFL roster reduction to earn a spot with the Raiders, a source said. Morrow played safety in Greenville, Illinois. His athleticism equipped him to develop into a capable coverage linebacker in the Raiders' sub-packages.
No matter what happens next, what occurred Saturday is an accomplishment.
Morrow made an initial roster that saw other linebackers try and fail. Jelani Jenkins, the Raiders' only defensive signing in free agency this offseason, did not make the 53-man roster. Shalique Calhoun, a 2016 third-round pick, did not make it. Neither did LaTroy Lewis, an undrafted rookie who totaled three sacks this preseason and returned a fumble for a touchdown.
Morrow knows better than to celebrate too much. There's a chance his roster spot is short-lived.
The Raiders are known to be scouring the waiver wire, as 31 other NFL teams tightened Saturday from a 90- to 53-man roster. Most of the players cut are eligible to be claimed off waivers at 9 a.m. Sunday.
Oakland's front office is looking for upgrades across its roster, but linebacker is a position of emphasis. The team parted with leading tackler Malcolm Smith in free agency and didn't re-sign Perry Riley in March. Fifth-round pick Marquel Lee is the only linebacker investment of consequence in 2017 who remains.
It is possible the Raiders will add a linebacker and waive Morrow in a corresponding move.
Should that occur, Morrow's feat Saturday will be impressive nonetheless.
The official box score from the Raiders' season opener in 2016 lists the paid attendance at 73,028. The crowd cheered its New Orleans Saints with the sort of intensity that makes the Mercedes Benz-Superdome one of the most difficult NFL venues in which to play. Today, Morrow is on the doorstep of playing for a team whose season opener Sept. 10 against the Tennessee Titans will be played in front of almost 70,000 in Nashville.
He's come a long way.
More Raiders: Follow all of our Raiders coverage online at reviewjournal.com/Raiders and @NFLinVegas on Twitter.
Contact reporter Michael Gehlken at mgehlken@reviewjournal.com. Follow @GehlkenNFL on Twitter.