Raiders LB preserves grandfather's legacy while forging his own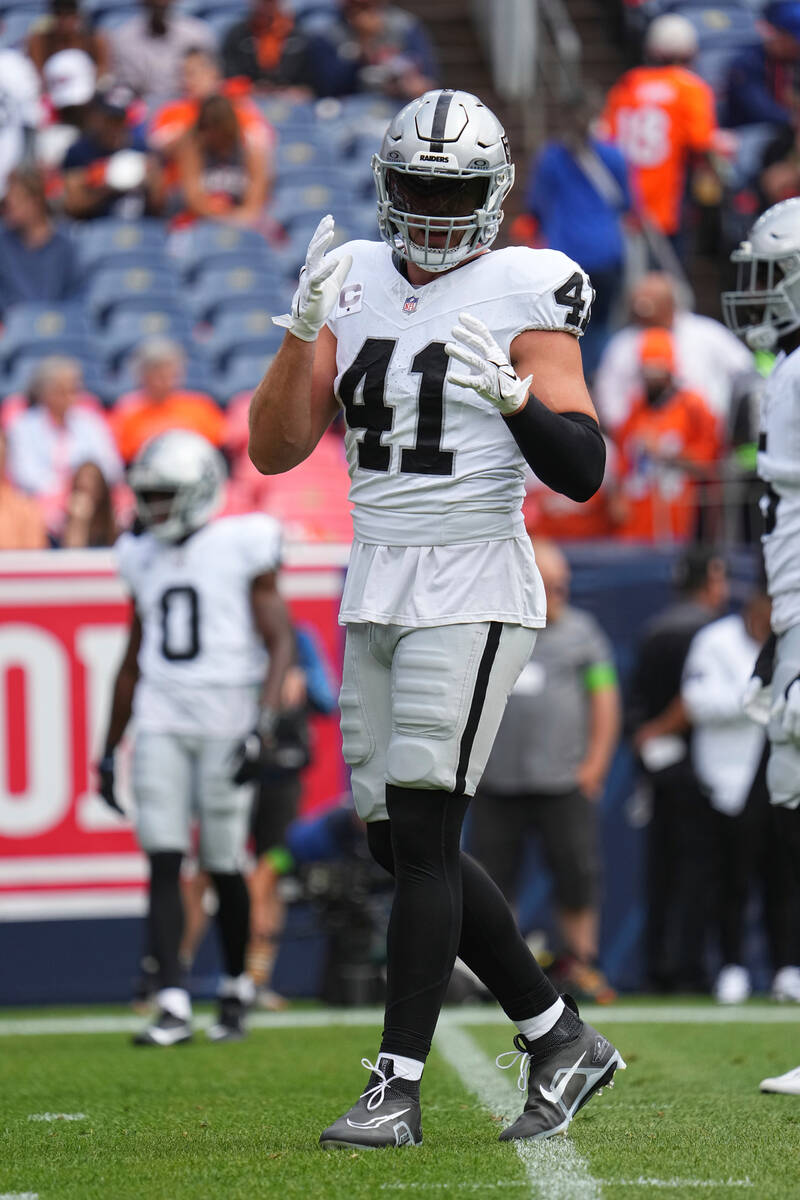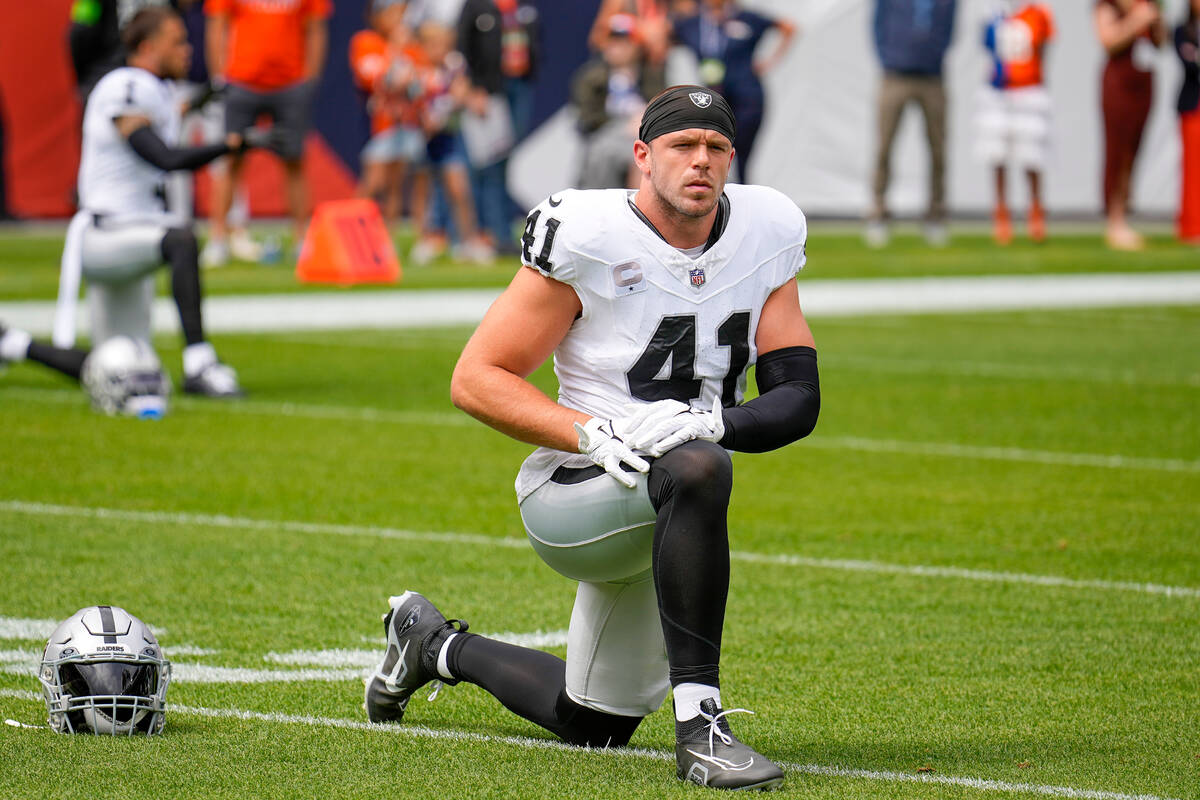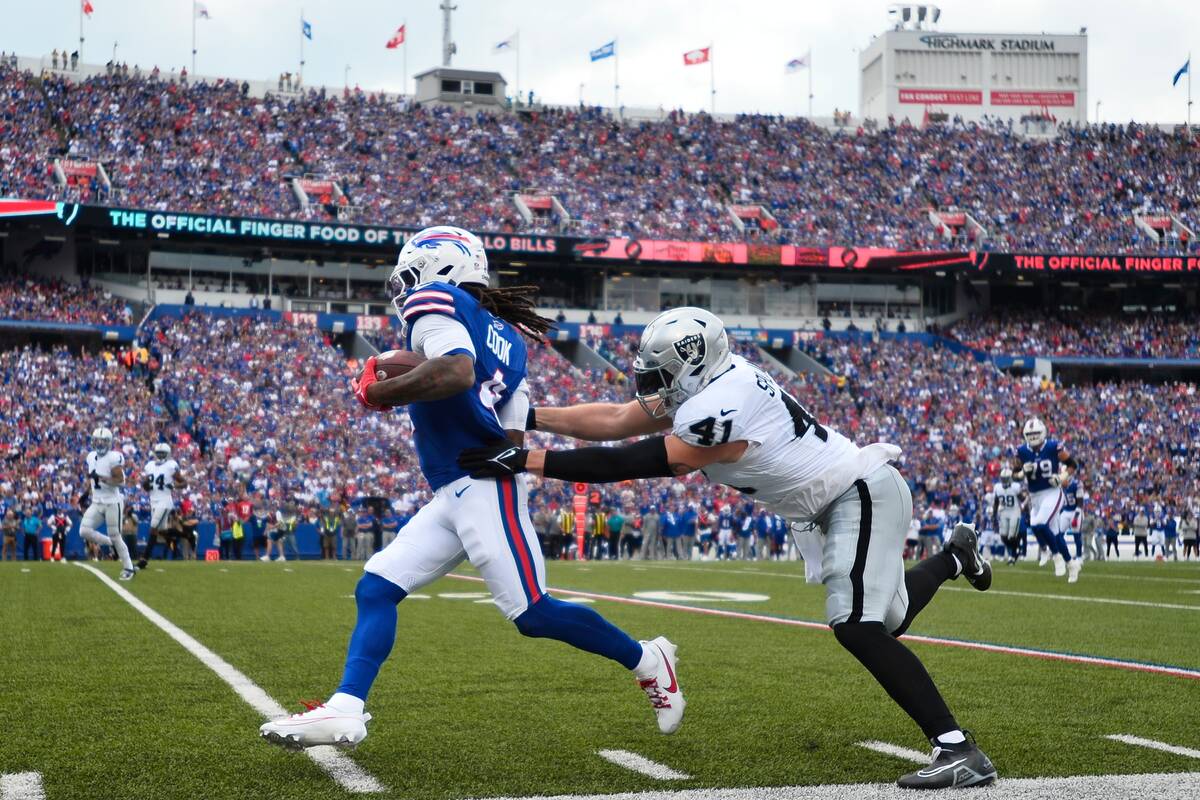 Johnny Lattner's Heisman Trophy sits inside a glass case in Fenwick High School's entryway, aptly framed by wooden paneling for passersby to admire.
Above it hangs the Friars' logo. To the right in bronze hangs Lattner's four-paragraph biography, "The Pride of Fenwick." To the left rests a copy of a cover of Time magazine featuring him in a golden leather helmet and navy blue jersey, his eye black accentuating the determination Robert Spillane inherited.
"Really an amazing man," said Spillane, a 27-year-old linebacker representing the Raiders and his suburban Chicago hometown of Oak Park, Illinois. "Seeing his jersey at Fenwick High School when I went to school there, I knew I looked up to him and wanted to be like him one day."
That, he knew well before he went to school there, too.
Spillane sports No. 41 for the Raiders as an ode to Lattner, his maternal grandfather, a Notre Dame halfback, defensive back, return specialist and in 1953 the recipient of the most prestigious trophy in sports. Lattner wore the same number the following season for the Pittsburgh Steelers, with whom his grandson played the past four seasons — and against whom he'll man the middle for the Raiders on "Sunday Night Football" at Allegiant Stadium.
Undrafted in 2018 after four seasons at Western Michigan, Spillane mirrors his late grandfather's resolve — evolving from a seldom-used special-teamer into a rotational defender into a full-time starter this season for the Raiders.
As a free agent in March, Spillane signed a two-year contract and hasn't missed a defensive snap while serving as a captain for the first time. He leads the team in tackles through the first two games (12 solo, nine assisted), accounting as well for one of its three sacks.
"The guy, he works hard. He busts his ass. He's a student of the game. He's physical, and it's awesome to see how much he's grown," said Spillane's cousin, Ryan Smith, formerly a tight end for Miami (Ohio) University and one of his best friends.
"Our family is just so proud of him … We're there every step of the way with him, and we try to be at as many games as we can."
Heisman Trophy heritage
A mountain of muscle standing 6 feet, 1 inch and weighing 229 pounds with buzzed brown hair and a shy, contagious smile, Spillane said he wrangled 17 tickets for family members to see the Raiders play the Steelers. His cohort is close-knit and as feverish for football as he is — reflecting the passion for the sport that Lattner would sprinkle among his 26 grandchildren during the informal games he'd anchor as all-time center.
Not all of them love football as much as Spillane, whose mother, Gretchen, was one of eight born to "Papa John" and Peggy in suburban Chicago. But Lattner would attend their extracurriculars all the same: With the unmitigated vigor he'd bring to Spillane's games, be them basketball, football or others far more informal.
"Whether it was a game or a recital or a graduation, he was there. He was supporting the family," Spillane said of Lattner, who died in 2016 at age 83.
And so Lattner was stationed somewhere in the stands every Friday night, watching Spillane, Smith and three other grandchildren play together, leading his alma mater to glory on the gridiron. Spillane, according to former Friars coach Scott Thies, reminded previous generations of Fenwick alumni of the former Fighting Irish star as a running back offensively and linebacker defensively with his uncanny instincts and two-way ferocity.
Said Thies, Fenwick's athletic director: "He's the type of kid who would cut his finger off to play the next play."
That much hasn't changed.
When former Western Michigan coach P.J. Fleck recruited Spillane, he asked him repeatedly about what beyond football he loved.
"Football."
Besides that?
"Football"
Anything else?
"Football."
Fine by Fleck.
"He's the epitome of what you'd think Johnny Lattner's grandson would be," said Fleck, now in his seventh season as Minnesota's coach. "He was tough. He was hard-nosed. He was selfless. He was a leader. He was a great teammate."
That, too, hasn't changed.
Making his own name
He was also a Mid-American Conference champion in 2016, having sealed a 29-23 victory over Ohio — and an unbeaten regular season — with an interception in the final minute of the conference championship game.
But Spillane wasn't an NFL draft pick in 2018 despite two selections to the All-MAC team, stirring within him questions about his future in football — as momentary as they may be. The Minnesota Vikings would invite him to a three-day tryout that May, assigning him three repetitions in total and sending him home to dance with his doubts: "Is my NFL journey going to be one weekend long?"
The Tennessee Titans contacted Spillane the following week, extending an invitation to their three-day tryout and thereby ensuring his journey would last at least one more weekend. He was on the next plane to Nashville from Chicago O'Hare International Airport.
This weekend marks the 55th for Spillane that features an NFL game.
Two in 2018 for Spillane with the Titans would lead to four years with the Steelers, for whom he would start 16 games and record 128 solo tackles. The Raiders played at Pittsburgh in December, offering coach Josh McDaniels a firsthand evaluation of his new defensive play-caller.
"Had an opportunity to see … his physicality, his toughness, his intelligence, passion for football, the way he plays and competes on every play," McDaniels said. "They asked a lot of him, and so do we. … Excited to continue to grow with him, and obviously our team feels the same way about him."
As does his family. As does Fenwick, to which he returned in July — hosting a free football camp and reconnecting with his roots as the unquestioned starter for the first time in his NFL career. His grandfather's NFL career ended after one Pro Bowl season, two years in the Air Force and one devastating knee injury sustained in a service exhibition.
In some ways, Spillane's is just beginning.
"I haven't won a Super Bowl. I haven't made a Pro Bowl. I haven't accomplished my dreams yet," Spillane said. "I still go out there every day looking to get better, looking to grow and looking to help my teammates be successful."
Contact Sam Gordon at sgordon@reviewjournal.com. Follow @BySamGordon on X.