Raiders lose final game in Oakland to Jaguars
Updated December 15, 2019 - 6:33 pm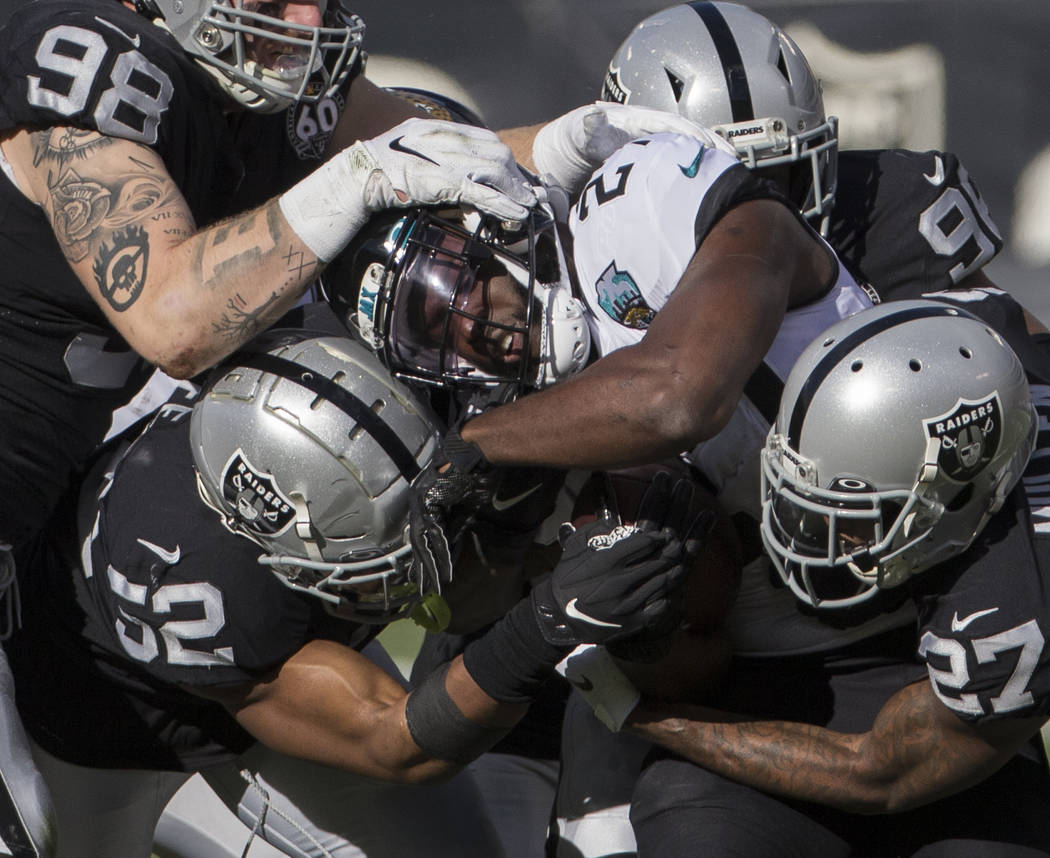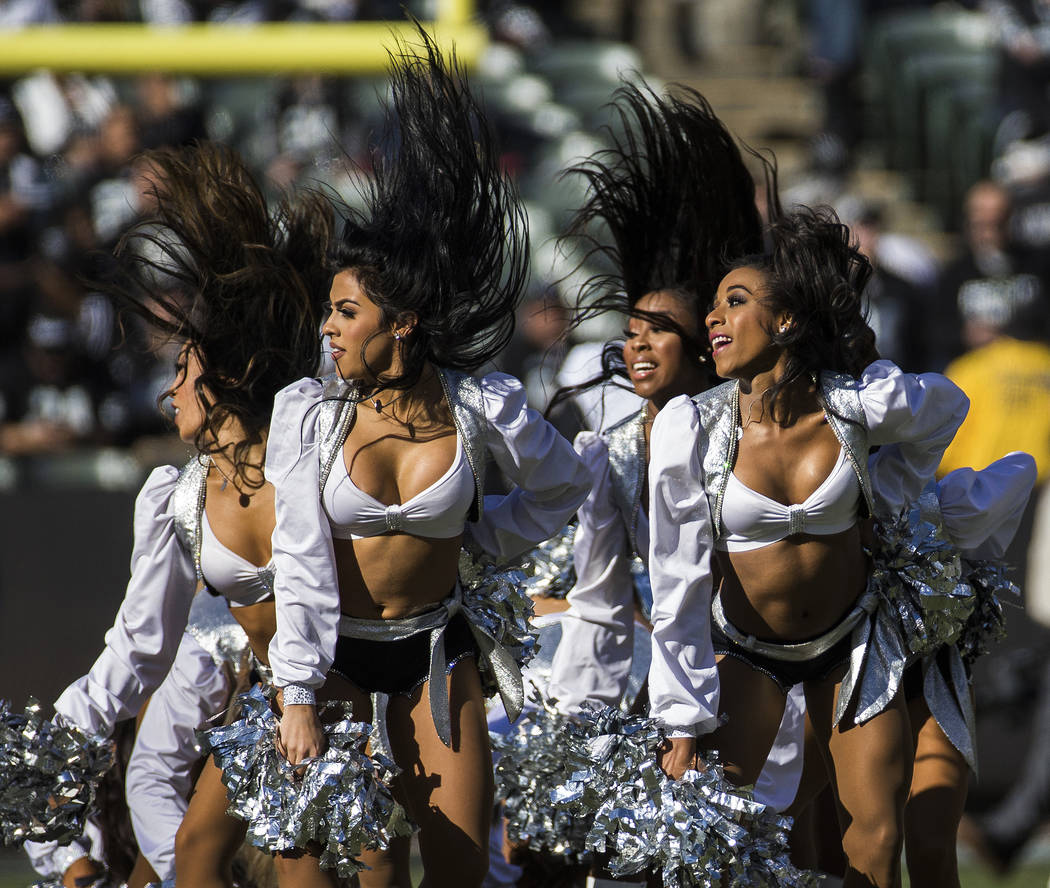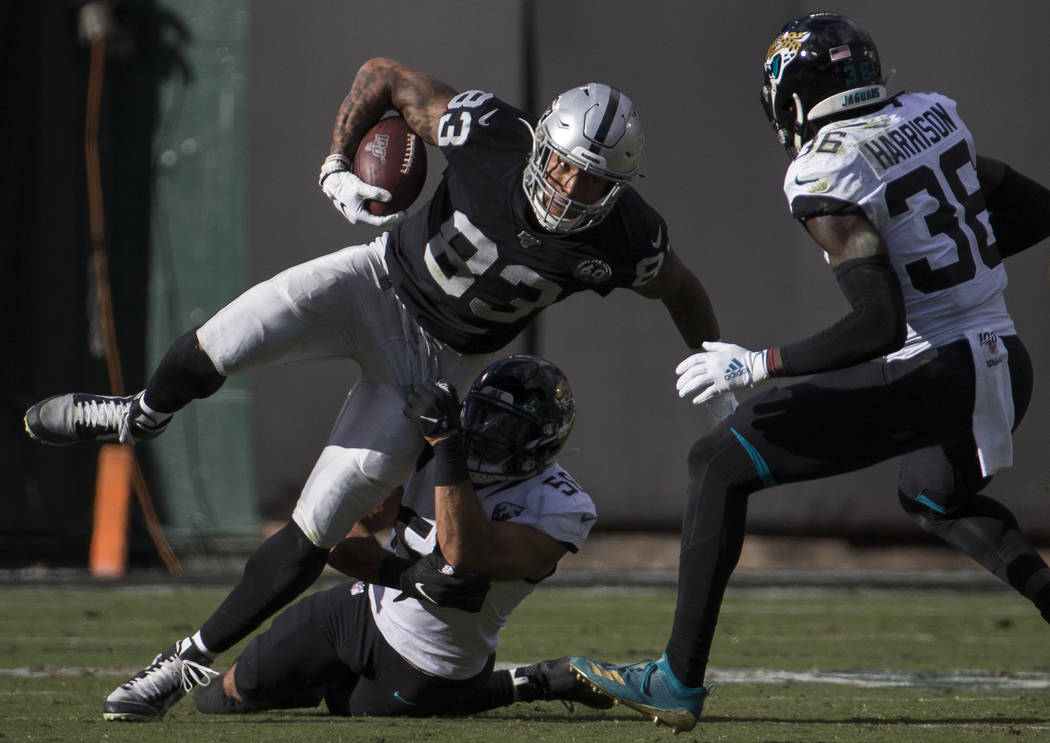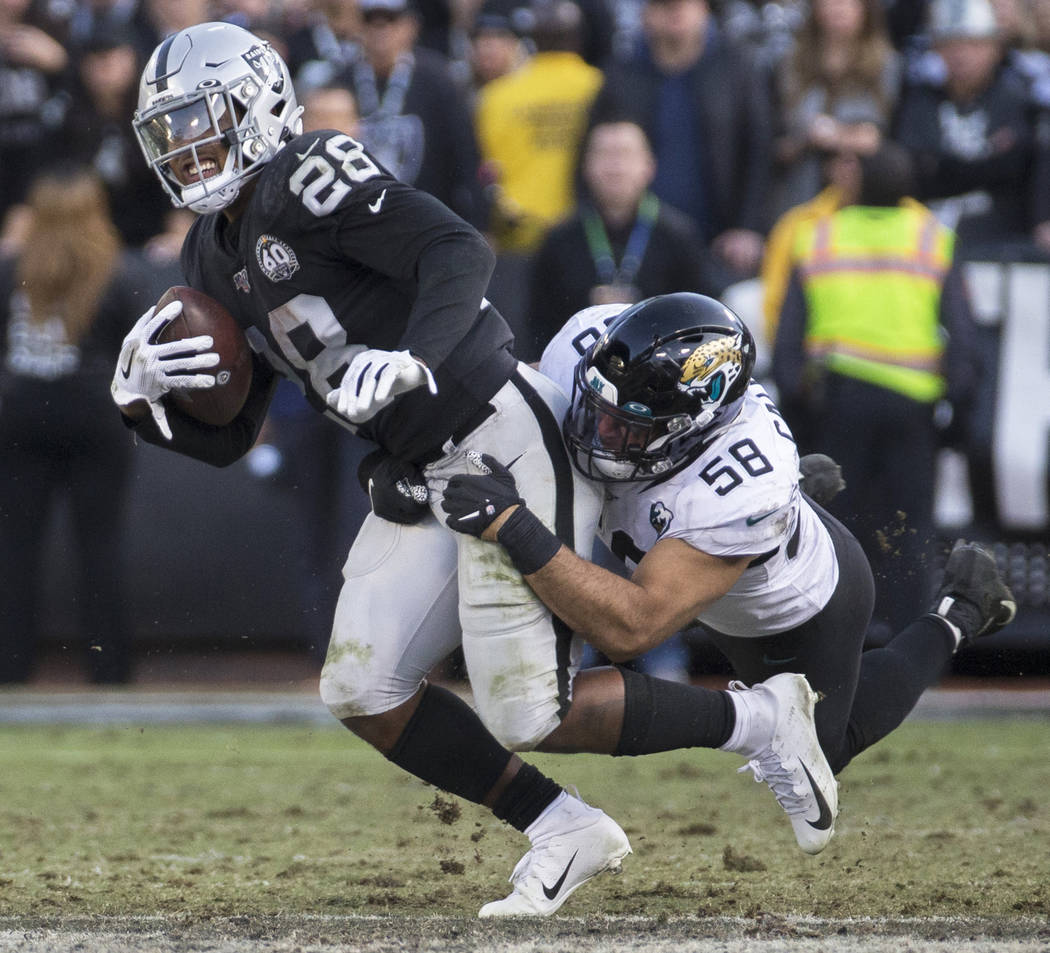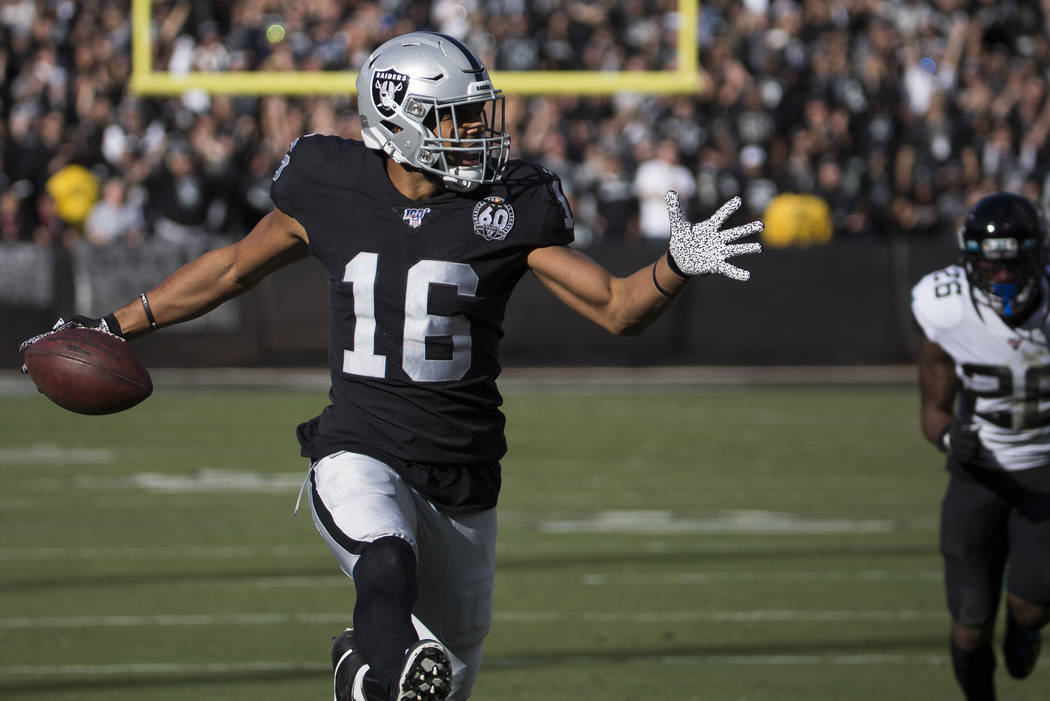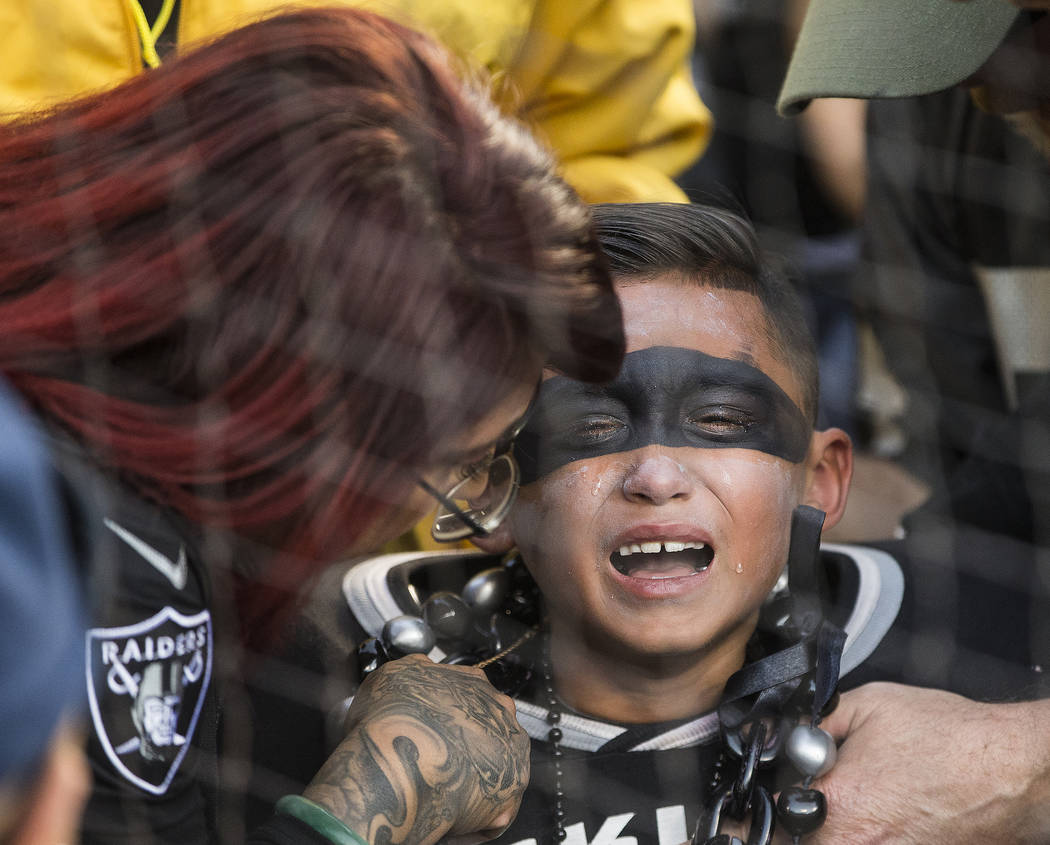 OAKLAND, Calif. — With emotions high and their slim playoff hopes on the line, the Raiders self-destructed over the final two minutes of their last game at Oakland-Alameda County Coliseum on Sunday. The result was a bitter 20-16 loss to the Jacksonville Jaguars to all but eliminate them from postseason contention.
A 4-yard touchdown throw from Jacksonville quarterback Gardner Minshew to Chris Conley with 31 seconds remaining completed the Jaguars' comeback win, although the Raiders' shoddy play helped Jacksonville overcome a 10-point deficit over the game's final six minutes.
That included the Raiders' offense going scoreless in the second half and kicker Daniel Carlson failing to convert a 45-yard field goal with 1:44 left after getting a second chance when his miss from 50 yards was negated when the Jaguars were called for running into the kicker.
Here are three observations after the Raiders' fourth straight loss:
Offense again disappears in second half
The Raiders' scoreless second half was their second straight. They've been outscored 34-0 over their last four third quarters. So it's no surprise the Raiders have lost four games in a row.
Sunday's second-half woes were especially glaring. The Raiders, who are now 6-8, built a 16-3 lead in the first half and appeared in control until the fourth quarter. But in need of a drive that could produce one more score, preferably a touchdown to put the game away, the Raiders came up short.
"We've got to finish the deal on offense," Raiders coach Jon Gruden said. "We had a couple of opportunities to do that and we failed to do so."
Said quarterback Derek Carr: "We can all play better. But it's on me. It's my fault. And I'll get it right."
Carr was being diplomatic. He was merely one part of a second-half breakdown that included the offensive line allowing three of the four sacks the Raiders surrendered and a blatant dropped pass by Tyrell Williams on third-and-11 with 1:55 remaining. If Williams hangs on, he had a chance to pick up the first down or, at worst, set up Carlson for a shorter field goal.
"Just frustrating, we've got to figure out what's going on," Williams said.
Josh Jacobs is bright spot
After missing last week's loss to the Tennessee Titans with a fractured right shoulder blade that has plagued him for five weeks, rookie running back Josh Jacobs returned Sunday and finished with 89 yards on 24 carries. He now has the Raiders rookie record in rushing yards, 1,150 yards, and touchdowns, seven.
"That guy's surprised me a lot in his career, early on, but I'm not surprised by him anymore." Carr said. "Anything that guy does it's like, that's Josh. He's a great player, tough kid, and going forward he's gonna have a great career."
Said Gruden: "Jacobs is the real deal, and he's going to get better and better."
Devastated locker room
Prior to Sunday's fourth-quarter meltdown, the Raiders were 67-2 when leading by at least 10 points with six minutes to play. And they were 102-5 throughout their history at Oakland-Alameda County Coliseum when they led by 10 or more points after three quarters.
Their failure to hang onto the lead left them in disbelief. Especially on the very day they wanted to close out their last game in Oakland by giving their fans a win.
"Absolute shock," said tight end Darren Waller, who finished with 122 yards on 10 receptions. "We thought we were in supreme control."
Instead, the Raiders gave up two touchdown drives over the last 5:54 to lose in stunning fashion.
"We had the game in our hands," said rookie defensive end Maxx Crosby. "We didn't finish, didn't do enough to win. Yeah, it hurts."
More Raiders: Follow at vegasnation.com and @VegasNation on Twitter.
Contact Vincent Bonsignore at vbonsignore@reviewjournal.com. Follow @VinnyBonsignore on Twitter.