Raiders lose QB Derek Carr for 2-6 weeks with back fracture
October 2, 2017 - 3:58 pm
Updated October 2, 2017 - 10:55 pm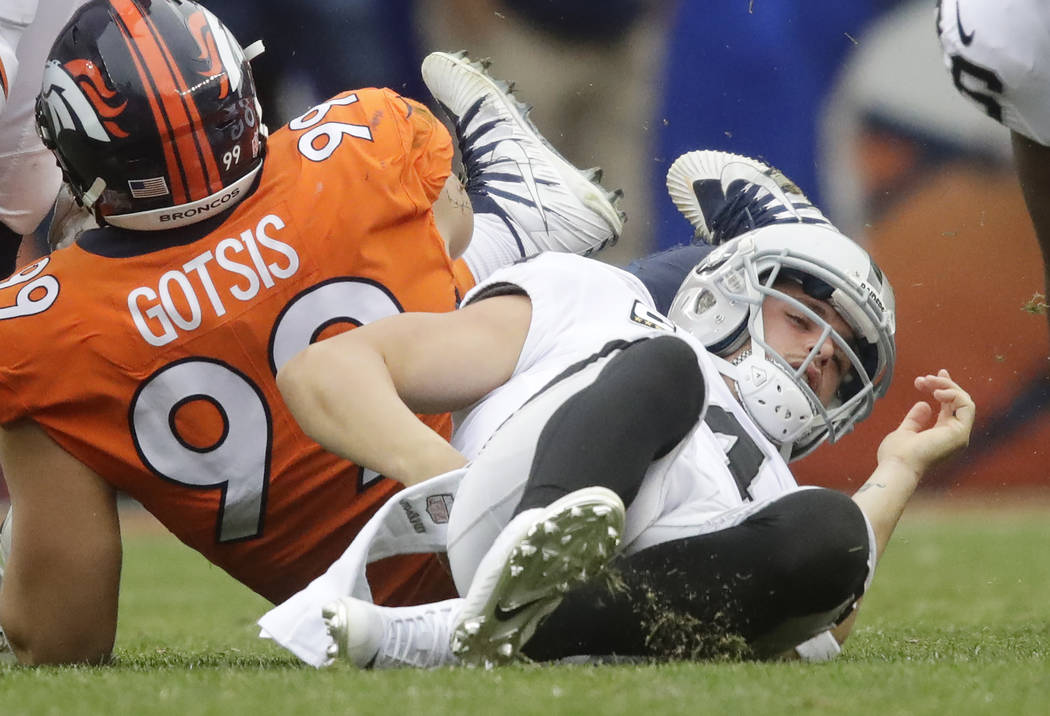 ALAMEDA, Calif. — Derek Carr underwent X-rays Sunday afternoon. Those left the Raiders encouraged. He had an MRI on Monday morning. Those results were inconclusive. On Monday afternoon, a CT scan was performed to give the team a final sense of their quarterback's back injury and status.
Now they know.
Carr is expected to miss Sunday's game against the Baltimore Ravens. He suffered a transverse process fracture in his lower back when sacked in the third quarter of a 16-10 loss to the Denver Broncos, coach Jack Del Rio said Monday. The injury carries a recovery timetable of two to six weeks.
Del Rio relayed the information he had Sunday during his postgame news conference.
He called the ailment "back spasms."
"I've got to clarify a medical report," Del Rio said Monday. "Yesterday I told you Derek had suffered spasms, and he was indeed spasming. The reason is he has a transverse process fracture. There's a real good chance he'll miss this week. … I got that information about 10 minutes ago. … I just got off the phone with him. He said he's sorry. Great kid. He'll bounce back.
"I told him the team will take care of business while he's healing. Just get healed up. When he can come back, he'll come back. That's the story now on that injury. It ended up being something that caused the spasms. We took a good look (with) several tests, and the last one came back with that being the case."
EJ Manuel is set to start against the Ravens. The Raiders' schedule follows with two divisional games, first Oct. 15 against the Los Angeles Chargers and then Oct. 19 versus the Kansas City Chiefs. The latter is a "Thursday Night Football" game. All three are at home.
In 2014, quarterbacks Cam Newton and Tony Romo both missed one week with a transverse process injury. That offers some hope Carr has a chance to appear in the upcoming AFC West slate, but Carr's situation is unique and will be treated as such.
In the meantime, it'll be Manuel, who completed 11 of 17 passes for 106 yards in Denver. He narrowly led a comeback before he threw an interception with less than two minutes remaining.
"There's some definite positive, encouraging signs that we can build on," Del Rio said. "Obviously, it's always a big blow to lose a good player, a key player and your quarterback. The good news is he's not gone for the year. We'll get him back. It could be as short as two weeks. It could be longer, we'll see. We'll deal with that as it goes. Certainly, the way EJ played (Sunday) was uplifting."
It was a process diagnosing Carr.
He reported spasms after absorbing an apparent left knee to the back from Broncos defensive lineman Adam Gotsis. He walked to the Raiders' sideline where he was evaluated inside a blue medical tent. He then walked to the locker room area for further examination.
"The timeline, it was first the X-ray (Sunday), and it doesn't look like anything," Del Rio said. "Then the MRI (on Monday) morning, and it still looks good. And then, 'Eh, let's be sure. We didn't have a really good look at this area.' Then the CT scan revealed the problem."
Contact reporter Michael Gehlken at mgehlken@reviewjournal.com. Follow @GehlkenNFL on Twitter.