Raiders mailbag: How soon could O'Connell become starting QB?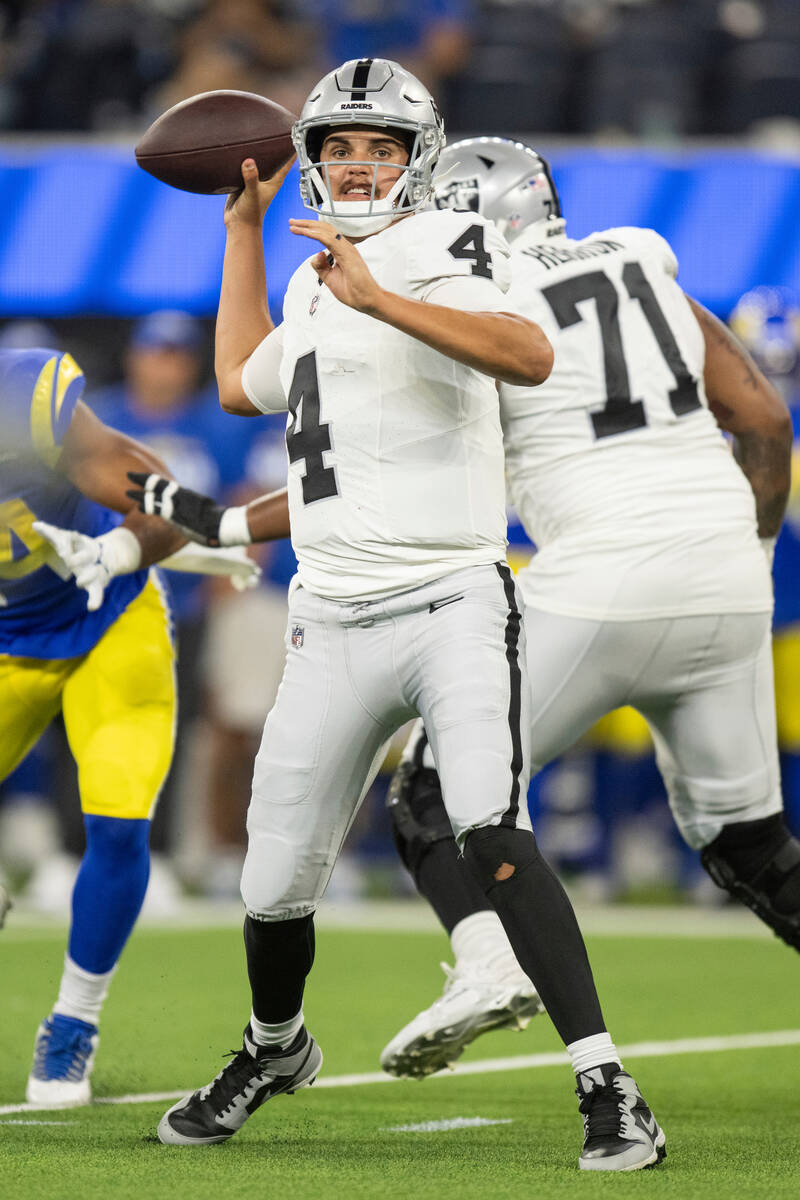 Roster cutdown is less than a week away, and Raiders fans have questions.
Here is a sampling of what arrived in this week's mailbag:
Noelito (@PupuseroGuapo): Given Aidan O'Connell's amazing preseason showings, is there any chance he could be considered a starter sooner rather than later? Or is it too soon for him to be placed front and center?
VINCENT BONSIGNORE: There is no doubt the rookie quarterback from Purdue has been impressive. And that has been a constant throughout training camp and going all the way back to the spring.
Fans are now getting a glimpse of what has been apparent for a while now: O'Connell is a poised, mature prospect who sees the field extremely well and delivers accurate, on-time balls.
Behind the scenes, the Raiders are thrilled with their fourth-round pick.
However, they understand, as does O'Connell, that this is the first leg of a deliberate process to build him into an eventual starter. The Raiders are comfortable that they can compete with Jimmy Garoppolo as their starting quarterback while building for a future that might include O'Connell as his successor.
The next few hurdles to clear are O'Connell getting a better handle on the playbook and proving he can be relied on as the primary backup. Everyone will find out if that's the case soon enough if Garoppolo suffers an injury.
TheRaiderRoom (@TheRaiderRoom): Is it safe to say this front office is set on this current linebackers room?
VB: The sense is they are comfortable with their collection of starting and backup candidates. However, the club has made no secret it is on a constant quest to upgrade the roster, so if an intriguing player becomes available on cutdown day or beyond, the Raiders would not hesitate to make a new addition.
Matthew Sepp Fryer (@SeppyD): Who will be returning punts in Week 1?
VB: The Raiders have a few candidates who could get the job, with rookie Tre Tucker and veteran DeAndre Carter the most likely.
If both make the club, as expected, Carter may get first dibs because of his veteran status and proven reliability. But Tucker is someone the club really likes on multiple levels, and his explosiveness is so good the Raiders might want to get him those touches through the course of games.
Al (@AlYourPal12): Are the Raiders tanking this season for (Southern California quarterback) Caleb Williams?
VB: No.
The Raiders believe there is enough talent to field a competitive team, one that, if health permits, could end up knocking on the door of the playoffs. Think the Seahawks or Giants of last season.
Contact Vincent Bonsignore at vbonsignore@reviewjournal.com. Follow @VinnyBonsignore on X.