Raiders mailbag: Jon Gruden's potential feud with Tom Cruise
August 23, 2018 - 10:29 am
Updated August 23, 2018 - 3:24 pm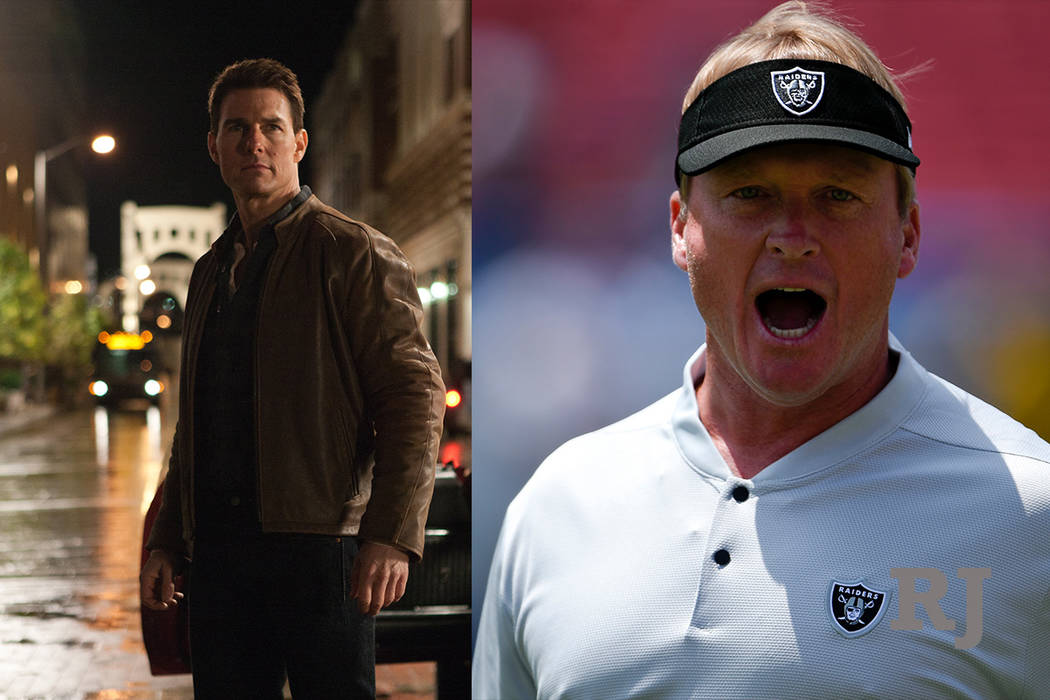 Want to be a part of the RJ Raiders mailbag? Send NFL writer Gilbert Manzano your Raiders questions and hot takes. Tweet him @GManzano24 or email gmanzano@reviewjournal.com. Thank you to everyone who participated this week. Here's the latest mailbag:
Let's attempt to play out the scenario when movie star Tom Cruise first finds out about the random shots Raiders coach Jon Gruden took at him this week to defend his 10-year, $100 million contract.
It's Monday morning and Cruise opens his laptop with a cup of coffee. He Googles himself to see the box office numbers for his latest Mission Impossible film titled "Mission: Impossible — Fallout." Nice touch with the em dash.
Cruise, 56, pats himself on the back for another action movie that grossed more than $200 million worldwide. But then another story catches his attention. No, it's not the one about Scientology.
He clicks on the TMZ story that reads, "Gruden insults Cruise for no apparent reason."
After spitting his coffee, Cruise shouts: What did I ever do to that guy?
OK, maybe it didn't go down like that, but Cruise has to be wondering why?
Here's what Gruden told Peter King recently about his critics calling him overpaid:
"Well, I never thought Tom Cruise, never thought his movies were any good, but he's making plenty of money. There's a lot of things that I don't understand. No disrespect to Tom Cruise. I'm sure he's a great actor. But you know what? You just go about your life as hard as you can. You try to find something you love and you do the best you can at it. I never got into coaching for the money."
Shots fired! Seriously, why, Chucky?
Remember when Gruden canceled the final training camp practice last week? He probably spent the day watching the new Mission Impossible film, and he did not leave the movie theater a happy camper.
We might never know why Gruden unleashed digs at the "Risky Business" star. But that won't help Gruden shake the overpaid labels. He has to win games for the silver and black.
"The Raiders are not a good team and Gruden is overpaid," Charles Adler said in an email. "If the Raiders think he is worth $10 million a year, then (Patriots' Bill) Belichick, who I dislike, is worth $30 million."
It's way too early to judge Gruden's historic coaching contract, but so far the players approve of him and his first draft class is off to a hot start during preseason. Only time will tell.
Let's just hope Cruise is on the Los Angeles Rams' sideline for the season opener against the Raiders on Sept. 10. Please don't let this feud end.
How many running backs make the final 53 roster? — JChuck Mullaney (Facebook)
If a general manager is in need of a running back, he should camp in front of the Raiders' headquarters. A reliable running back might be coming out soon with a box full of personal items.
The Raiders have a logjam with five talented running backs. It's highly possible only four make the cut.
Marshawn Lynch is safe, of course. The competition is between Doug Martin, Jalen Richard, DeAndre Washington and Chris Warren III.
This decision was probably made easier after Washington recently underwent arthroscopic knee surgery. He won't play in Friday's preseason game against the Green Bay Packers and it's unknown when he'll return.
Washington has shown flashes of being a versatile back, but Gruden wants grinders and he gets that with the physical undrafted rookie Warren.
For some weird reason, Martin's name never comes up when discussing cuts. He's like the team's secret weapon no one is allowed to mention.
Expect Lynch, Martin, Richard and Warren to be on the Raiders' running back depth chart past the Sept. 1 cuts. Washington will be stopped by a general manager waiting in Alameda.
How many interceptions will Derek Carr throw this year? — Mike Padovani (Facebook)
Here are Carr's interception numbers in his first four NFL seasons starting with his rookie year: 12, 13, 6, 13.
The year Carr only threw six interceptions was when he was an MVP candidate in 2016 and led the Raiders to the playoffs.
I'll guess Carr throws 10 interceptions with most coming early in the season. He's learning a new offense and will get a lot of responsibility at the line of scrimmage.
Ten picks might be low enough to keep Gruden happy.
There are other teams out there that are in worse shape — Steve Ahern (Email)
He's gotta be talking about the secondary, right? It can't get worse than last year's unit that only managed five interceptions all year and none during the first 10 weeks.
There's a lot of optimism for improvement, especially at cornerback with Gareon Conley and free-agent acquisition Rashaan Melvin.
I find it strange how confident the Raiders are with Conley producing at a high level this season after only appearing in two games his rookie year and was injured again during training camp.
The Raiders did the right move by adding insurance with signing Dominique Rodgers-Cromartie on Wednesday. He can help if Conley or Melvin struggles, or move him to safety, which has a lot of question marks.
We'll see how much this secondary has improved when they face Packers quarterback Aaron Rodgers for a half on Friday.
More Raiders: Follow all of our Raiders coverage online at reviewjournal.com/Raiders and @NFLinVegas on Twitter.
Contact Gilbert Manzano at gmanzano@reviewjournal.com. Follow @GManzano24 on Twitter.