Raiders' playoff chances triple to 13 percent in 2 weeks
November 13, 2017 - 3:14 pm
OAKLAND, Calif. — The more the Raiders win, the more promising their playoff outlook will become.
This statement is fairly obvious. It's also trackable.
According to fivethirtyeight, a statistics-driven analytical website, the Raiders entered Week 9 with a 4 percent chance of qualifying this season for the playoffs. The team then defeated the Miami Dolphins on Nov. 5, received some help from elsewhere in the AFC and rested this weekend during a bye.
Per the same data reference, the Raiders' likelihood has since more than tripled to 13 percent.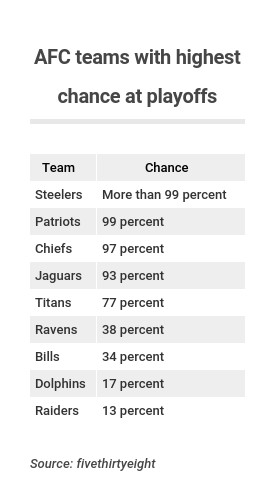 Progress. Of course, much more is needed.
The Raiders (4-5) will travel Saturday for a Sunday game in Mexico City against the New England Patriots (7-2). The latter has won its division 13 of the past 14 years and owns a 99 percent likelihood to return to the playoffs following the 2017 regular season.
New England is one of eight AFC teams today with a higher chance at the playoffs than the Raiders. Only one, the Kansas City Chiefs (97 percent), are in the Raiders' division. Oakland currently owns the same postseason likelihood as the Denver Broncos (7 percent) and Los Angeles Chargers (6 percent) combined. Both have a 1 percent chance of winning the AFC West, having fallen to 3-6 with Sunday losses.
At 6-3, the Chiefs are two games ahead of the Raiders. They have a 94 percent likelihood of an AFC West title. Oakland has a 3 percent shot. These percentage-point projections, according to fivethirtyeight, are based on "100,000 simulations of the season."
Certainly, the Raiders have a tough docket down the stretch.
After the Mexico trip, two games in Oakland immediately follow versus the Broncos and New York Giants. Those squads have a combined record of 4-14, although the Broncos defeated the Raiders on Oct. 1. The competition then stiffens, as Oakland plays three of its final four regular-season games away from the Bay Area between the Chiefs, Dallas Cowboys (home), Philadelphia Eagles on Christmas Day and the Chargers on New Year's Eve.
Relatively few of those 100,000 simulations likely had the Raiders defeating New England.
On Sunday, an opportunity awaits to brighten a still-dark playoff picture.
Notable
■ Raiders players received a fourth consecutive off-day Monday, a break length that is required in the 2o11 collective bargaining agreement for any team on bye. The Raiders will return to practice on Tuesday.
Contact reporter Michael Gehlken at mgehlken@reviewjournal.com. Follow @GehlkenNFL on Twitter.