Raiders' playoff hopes squashed in Stidham's debut as starting QB
Updated January 1, 2023 - 10:03 pm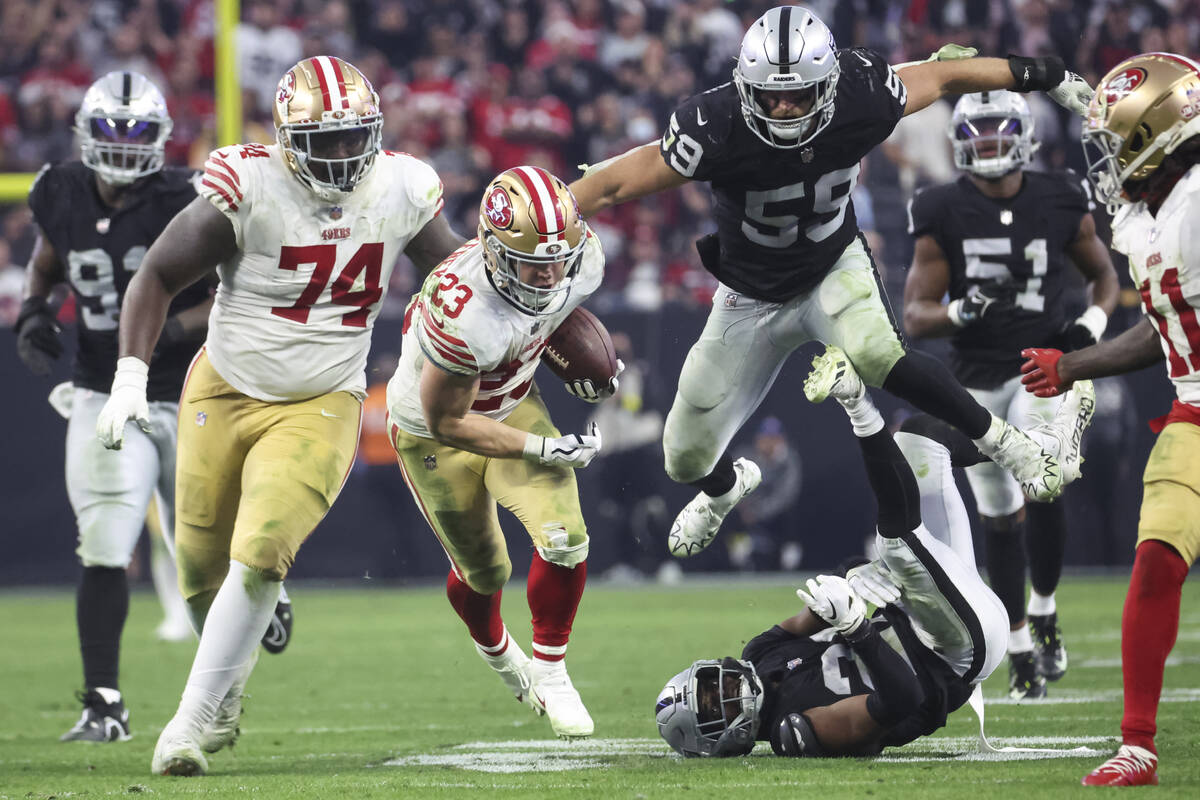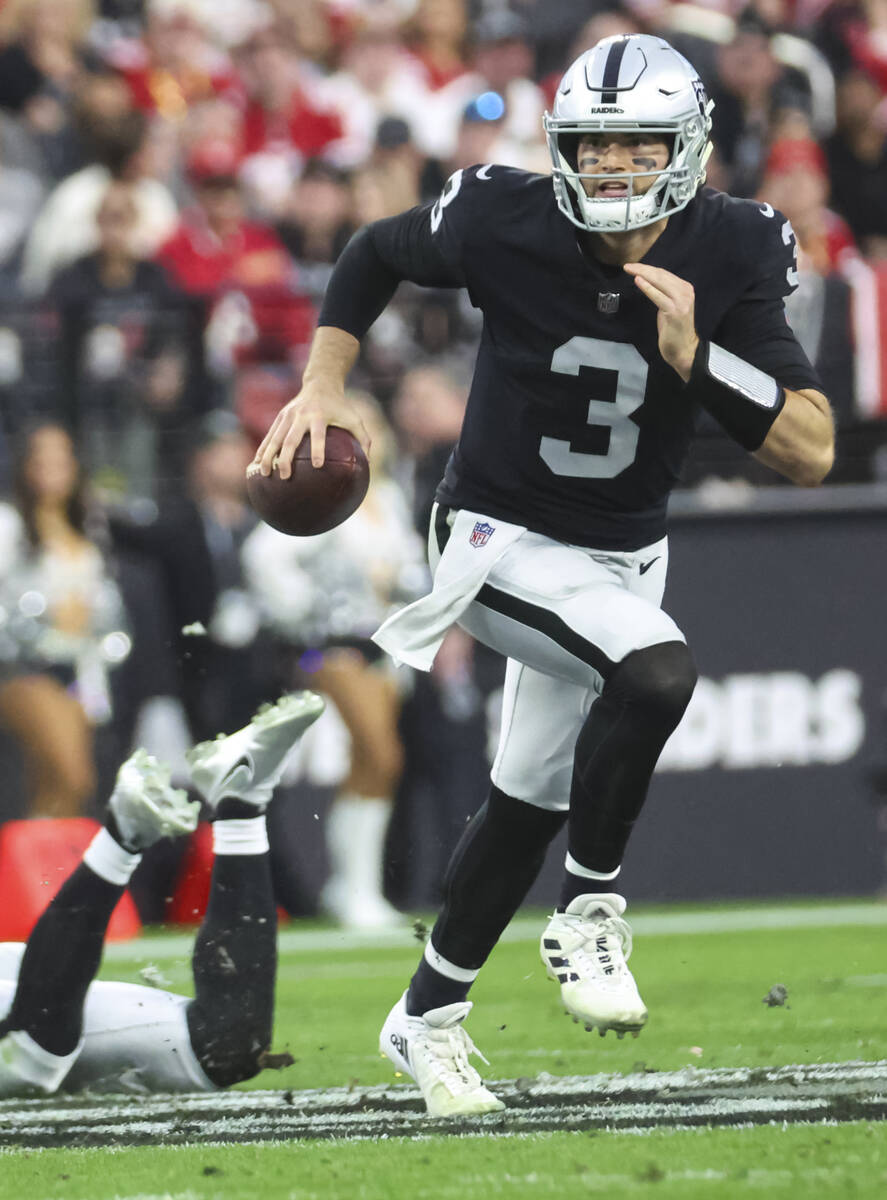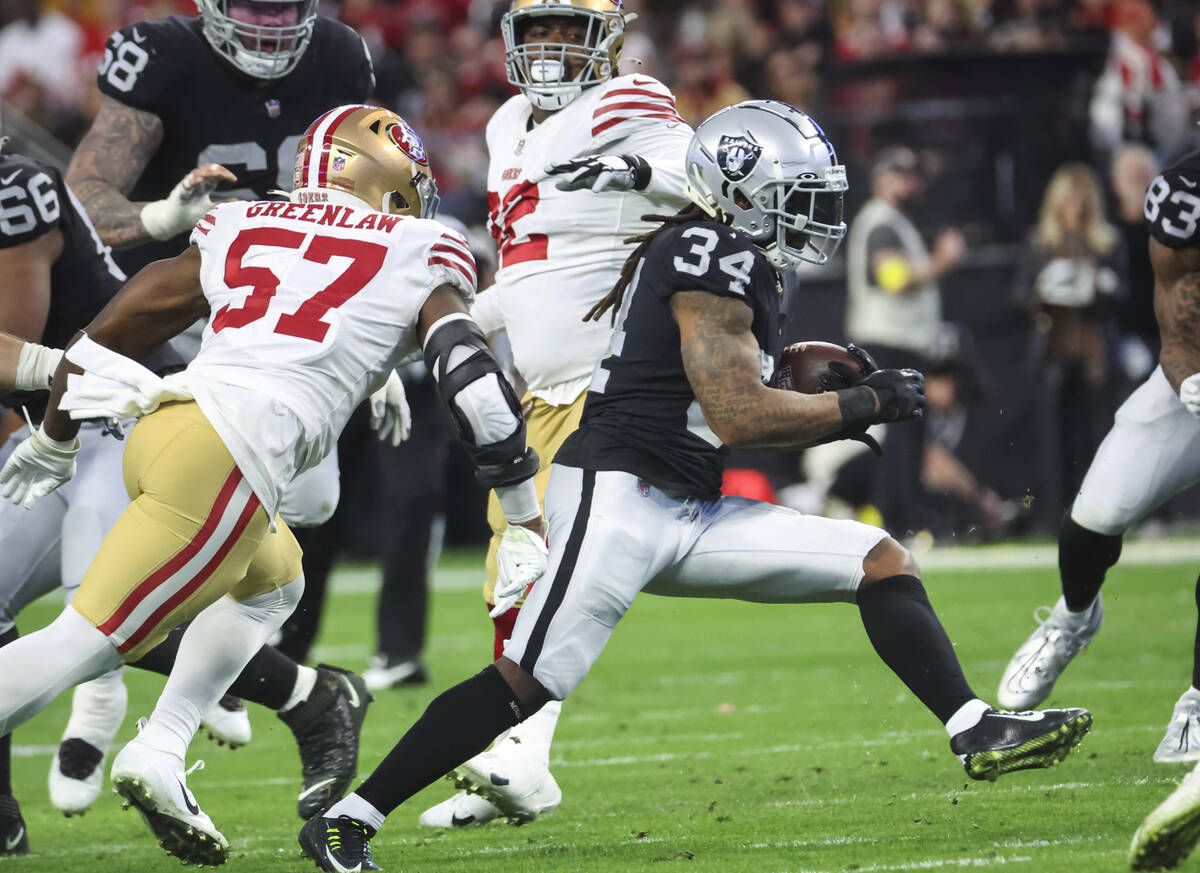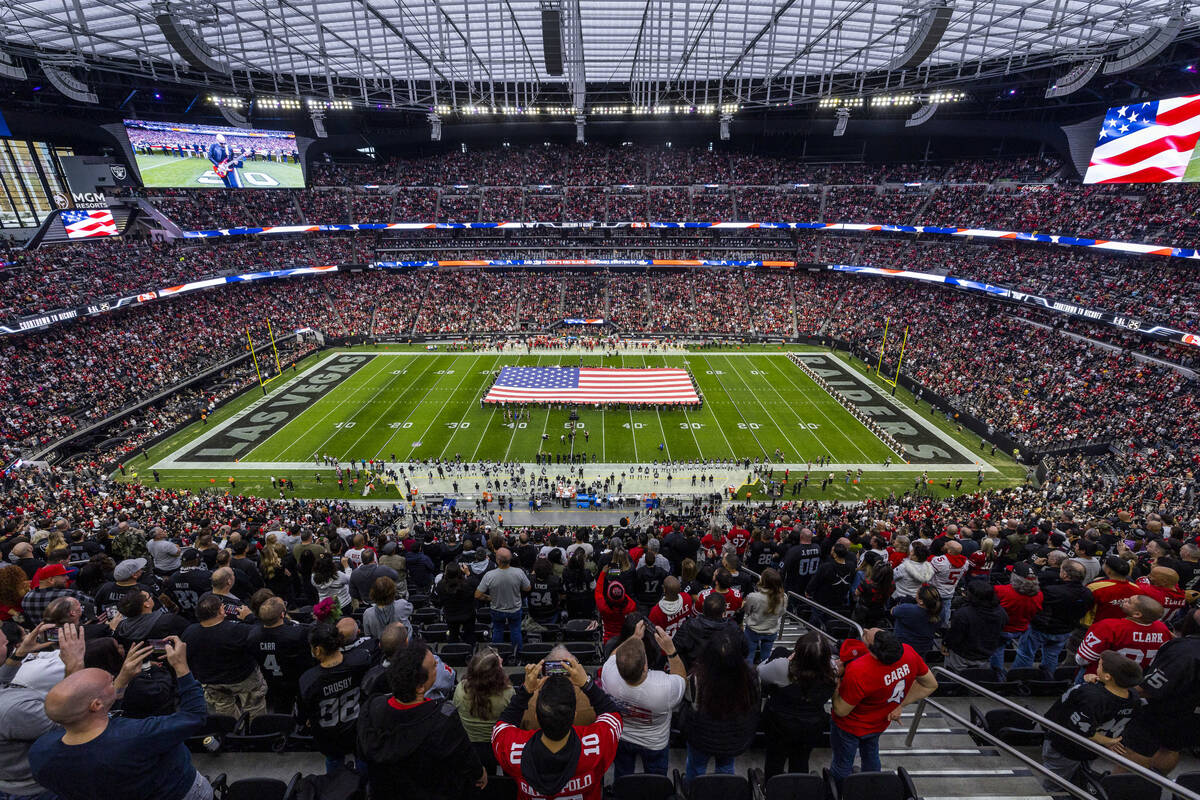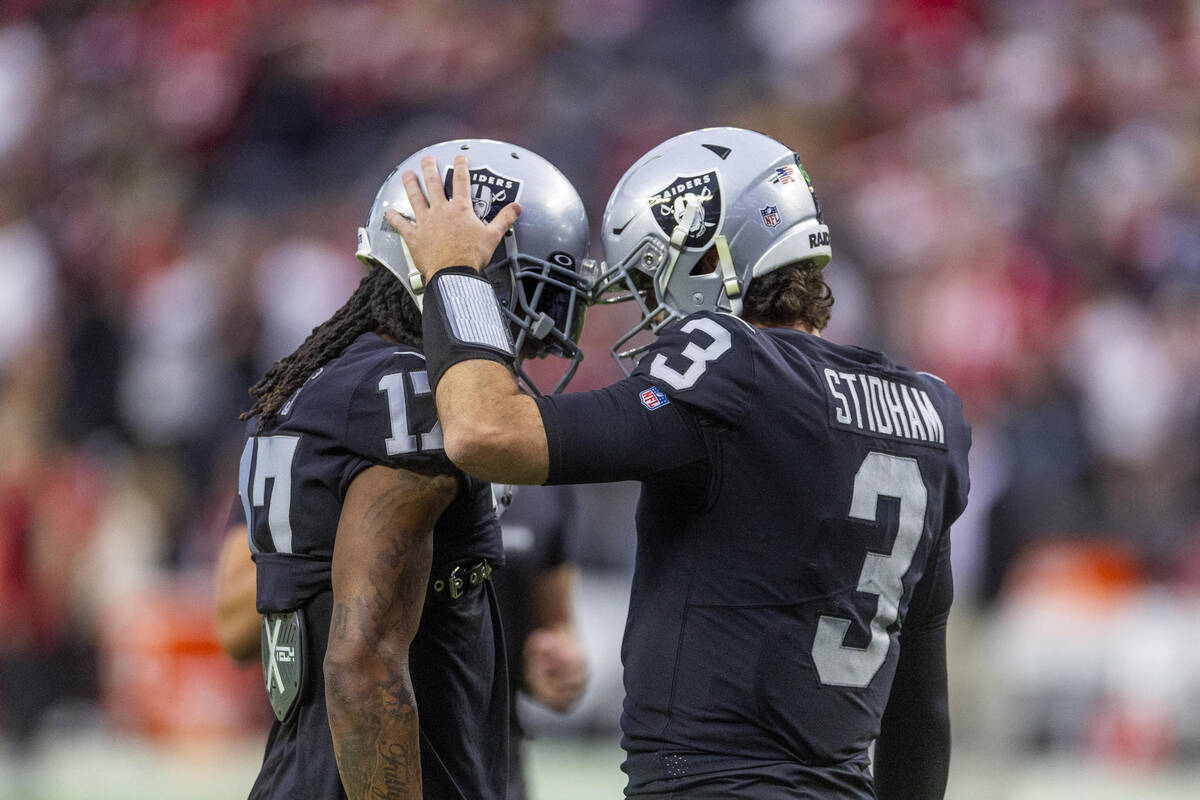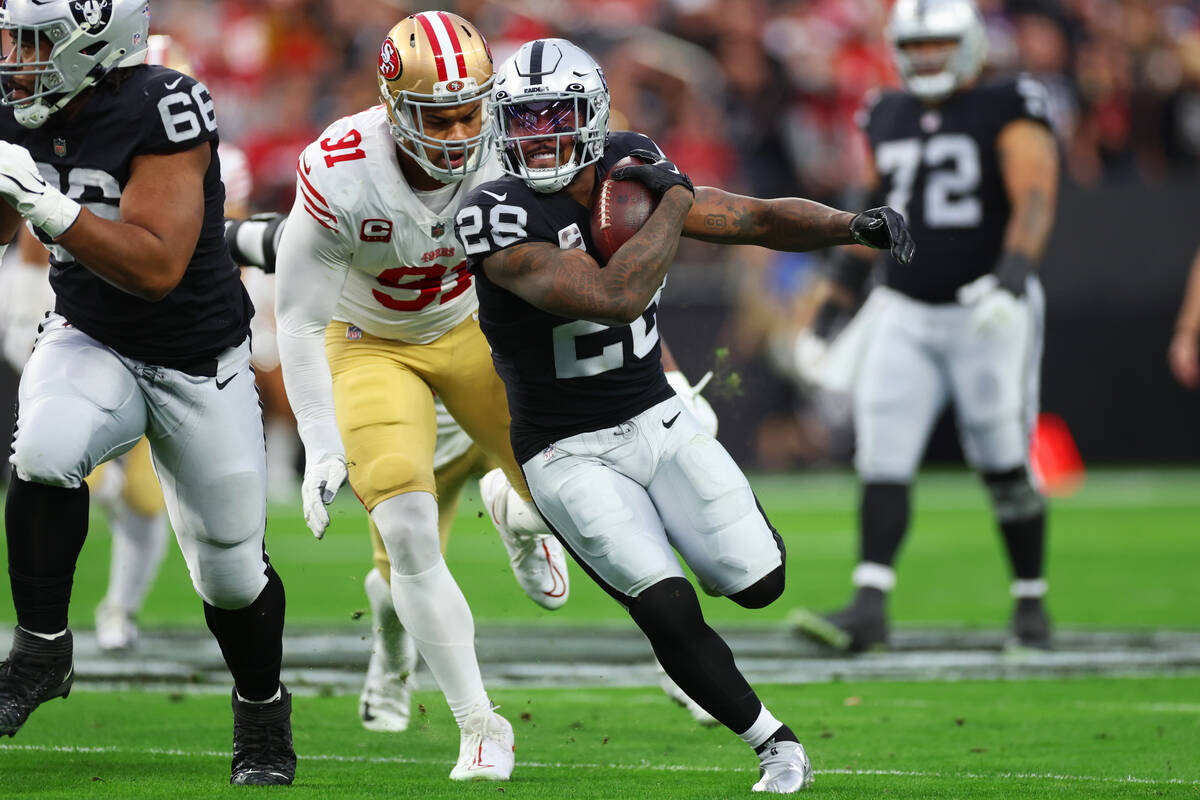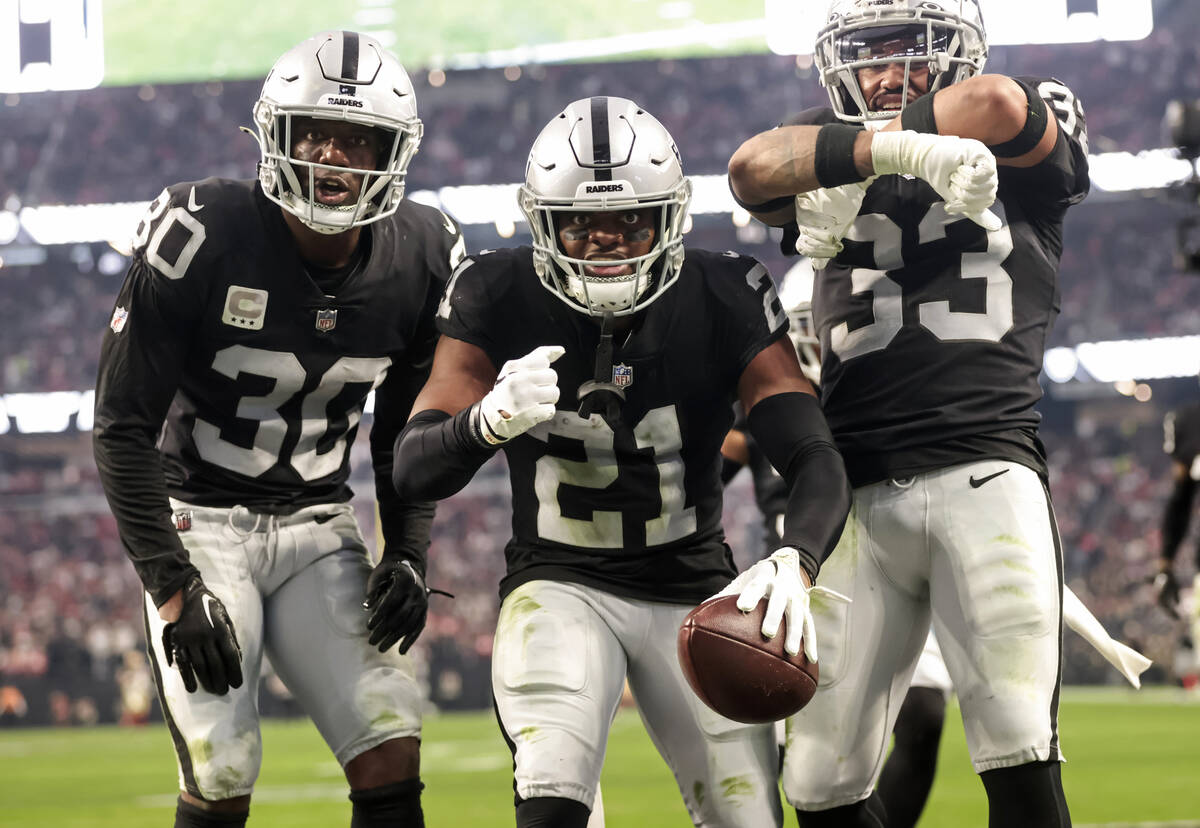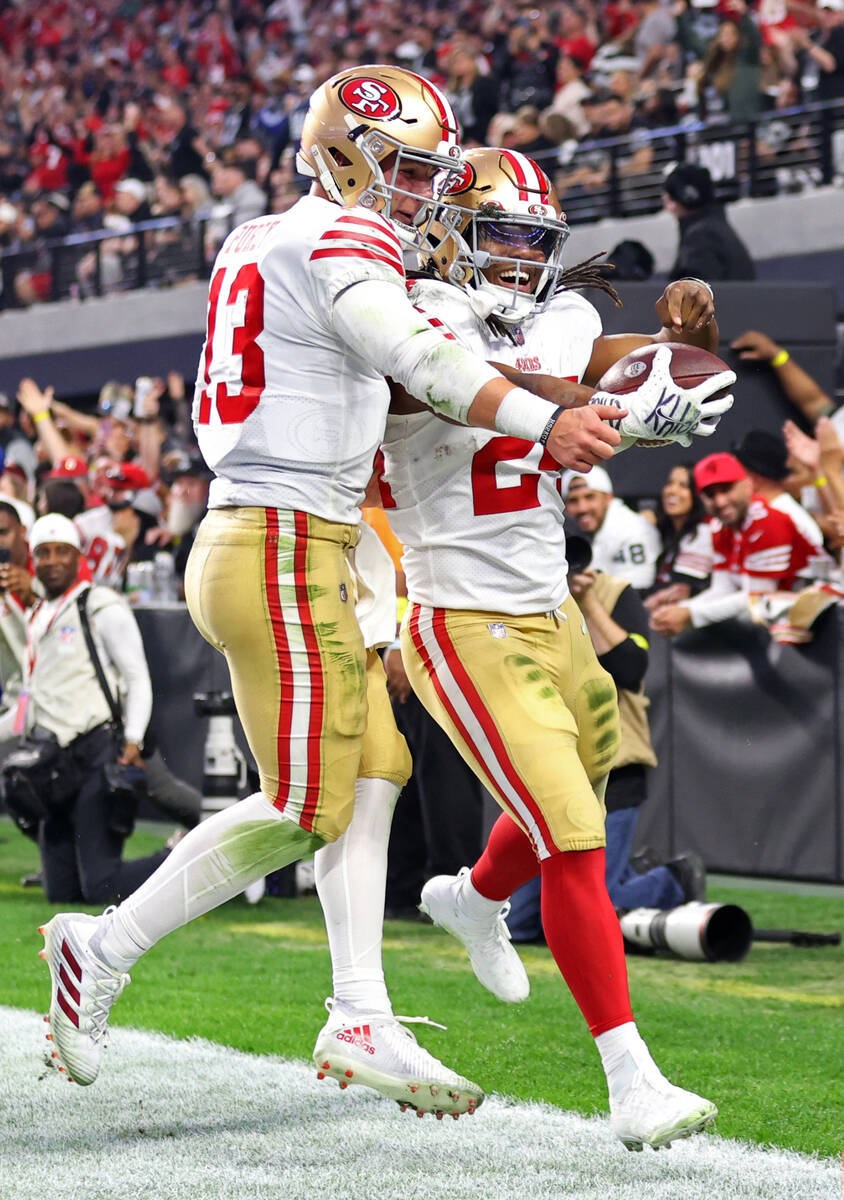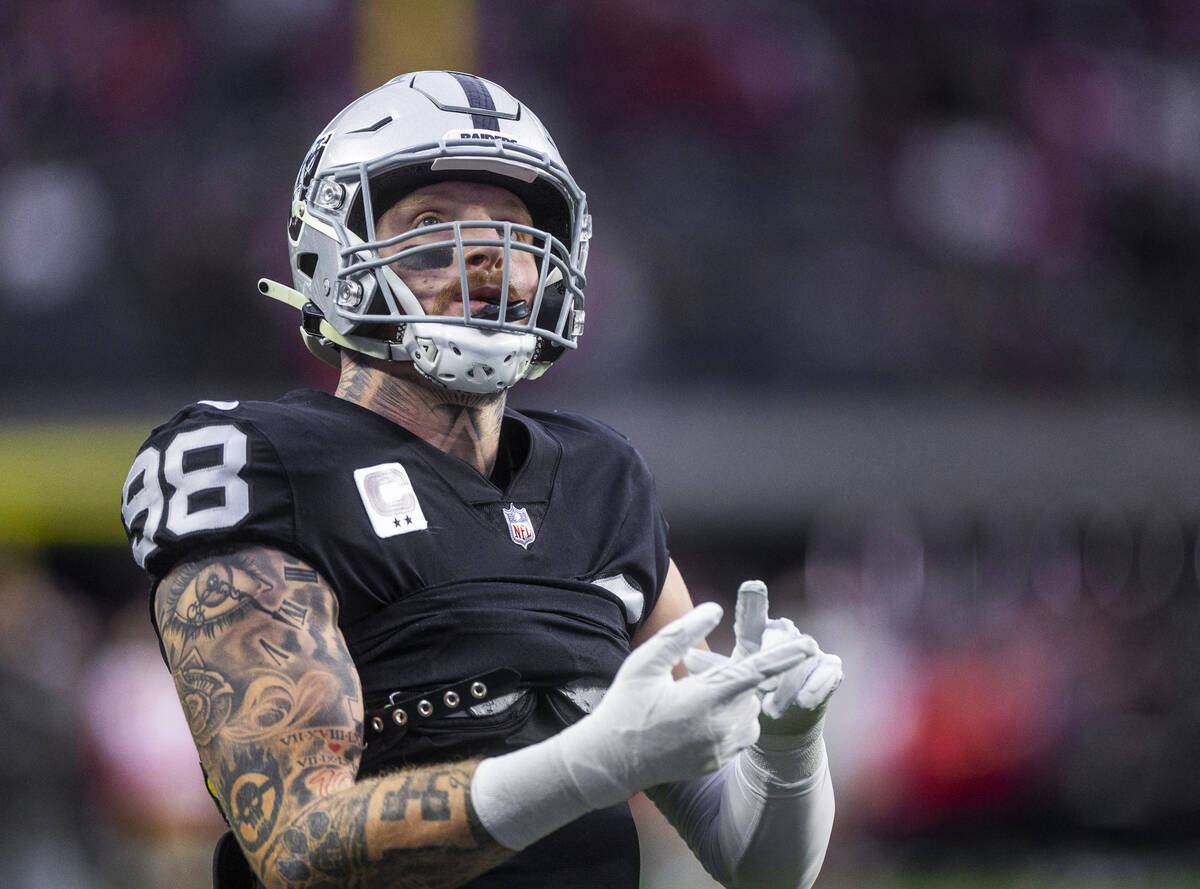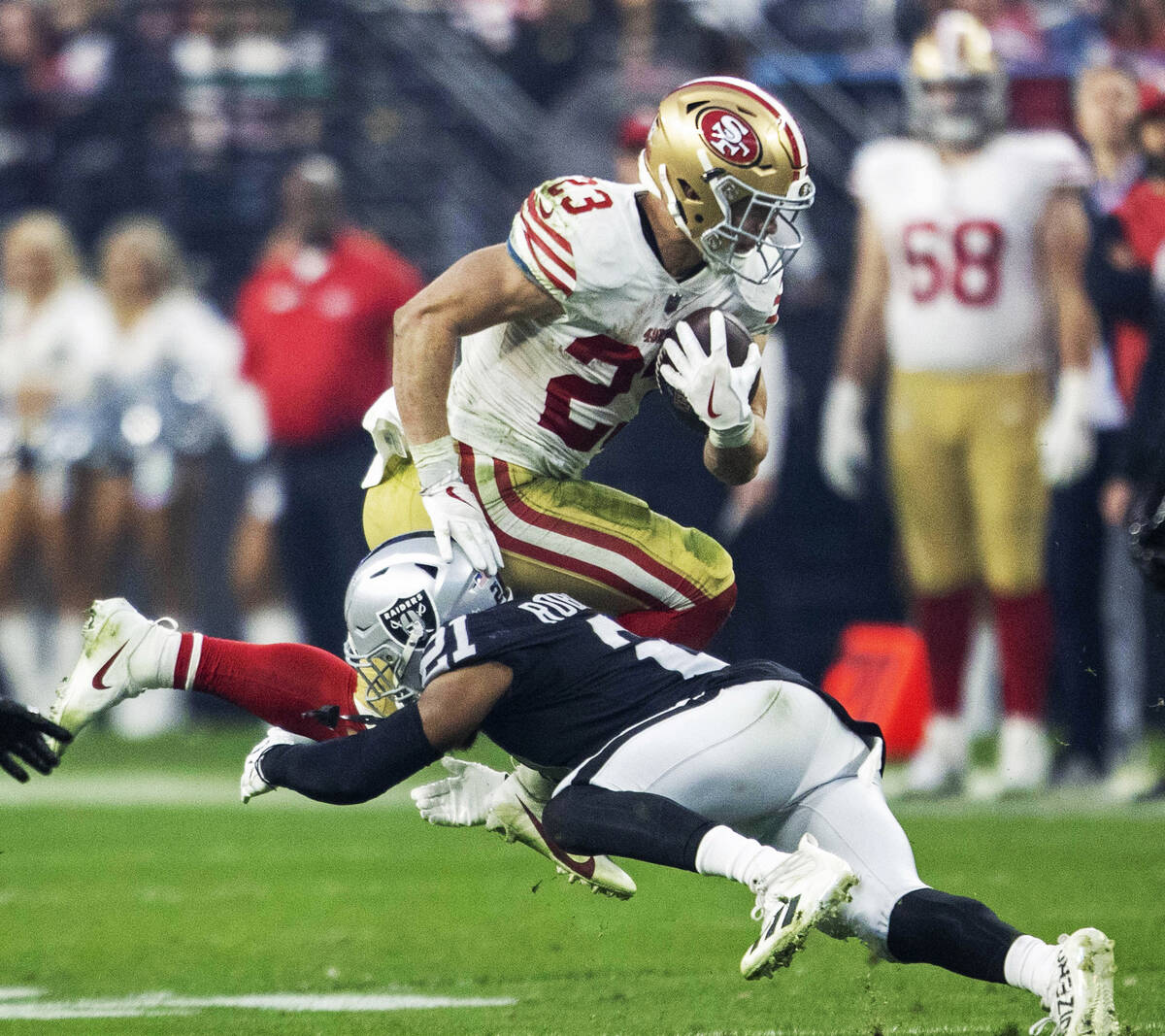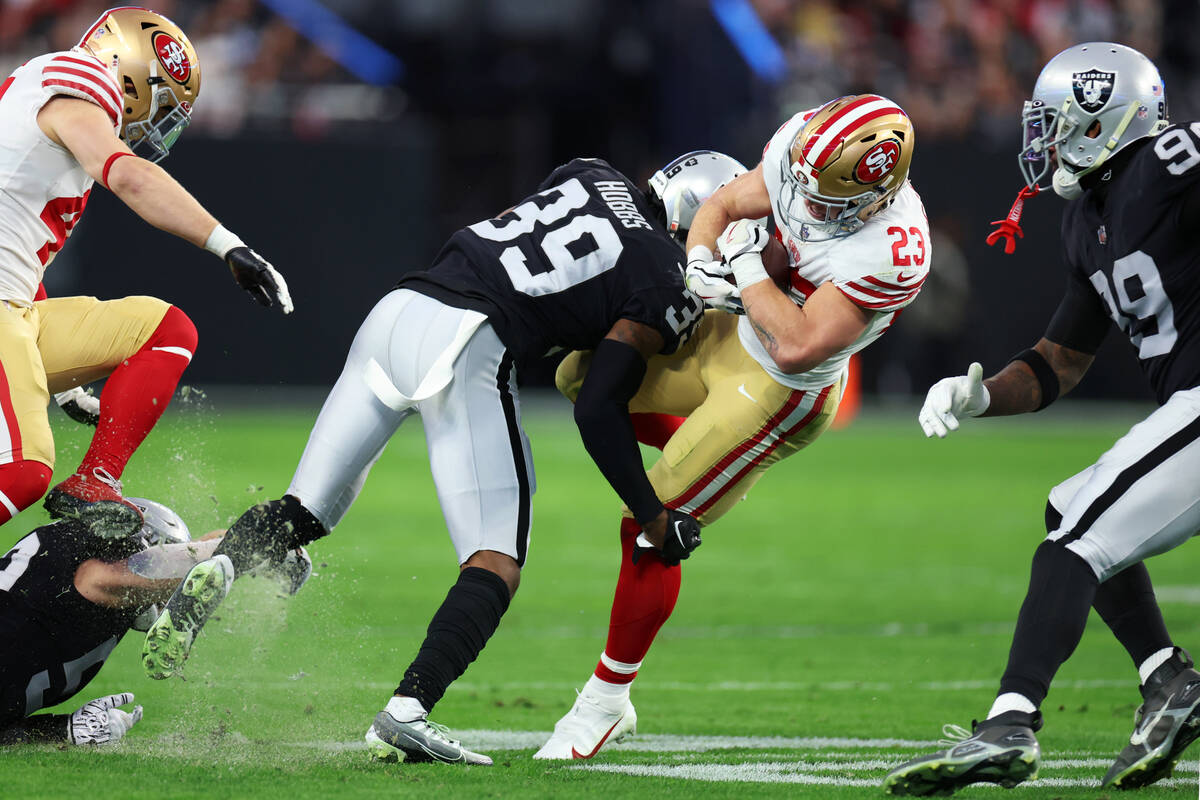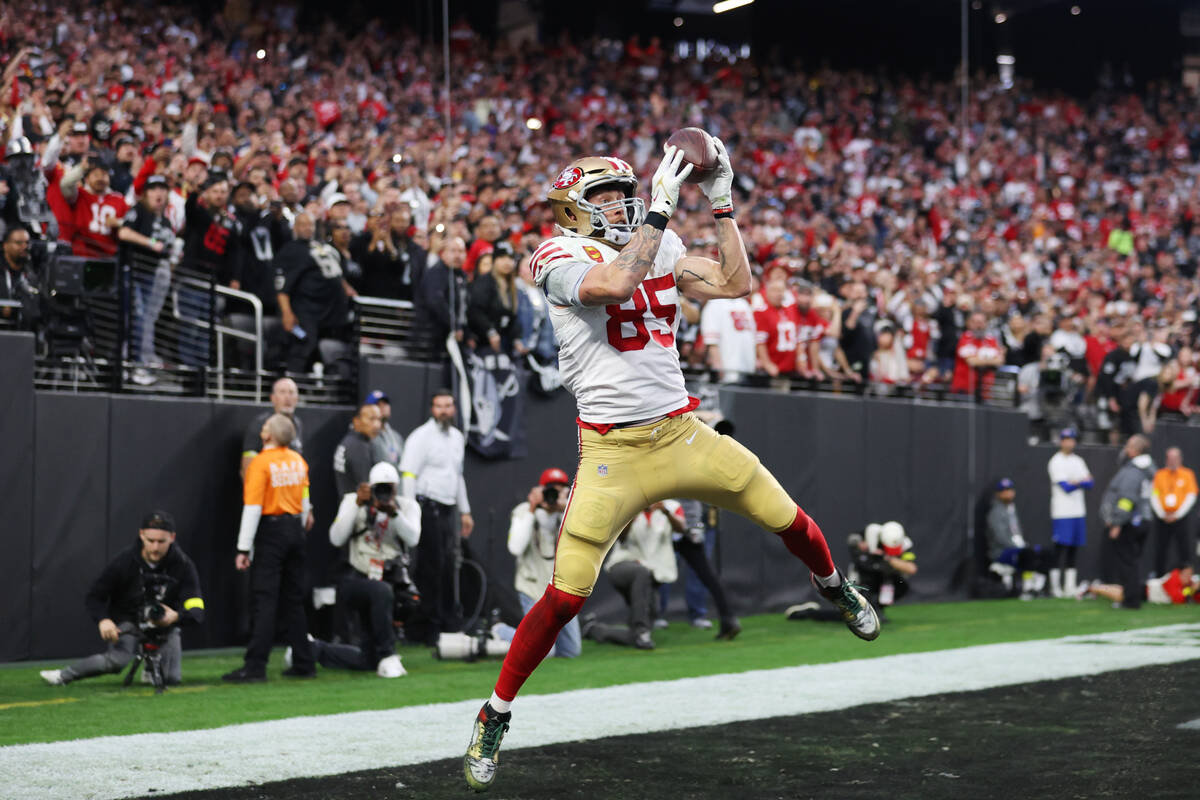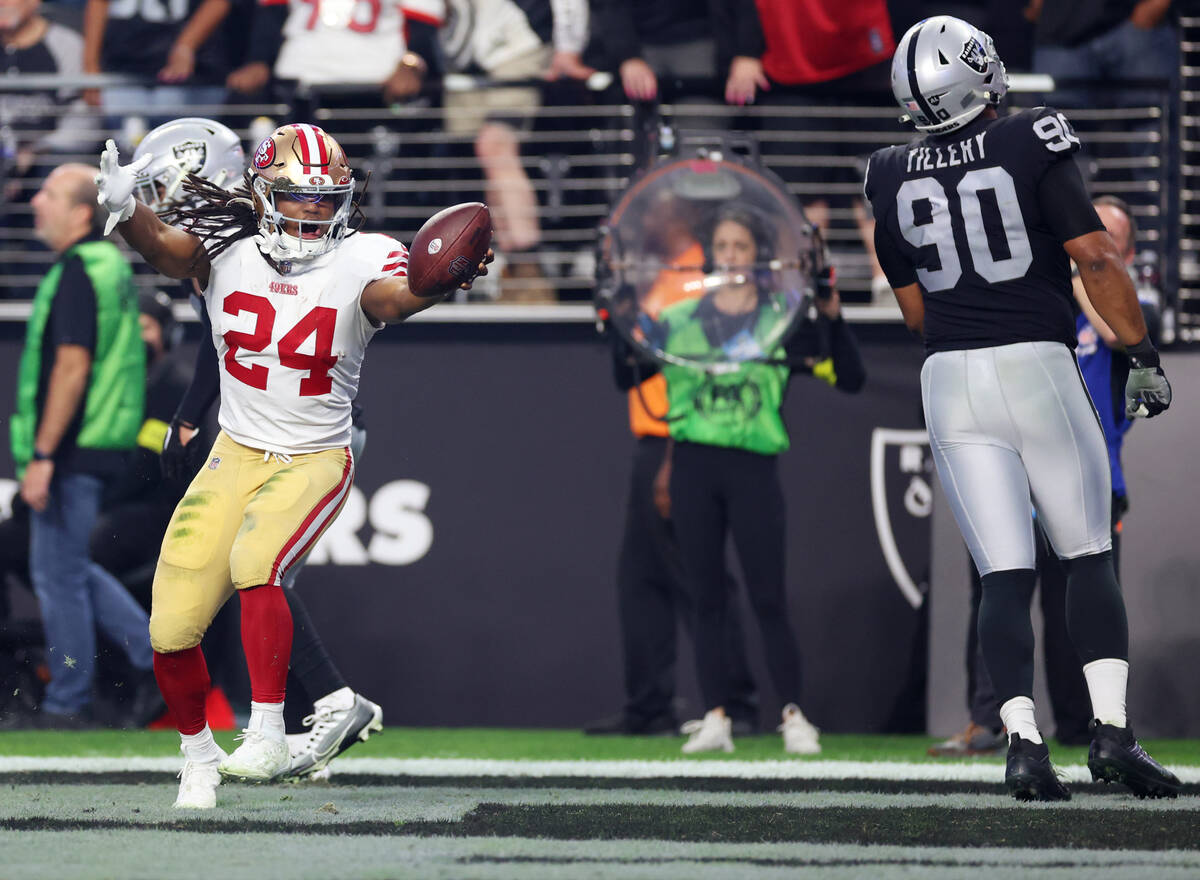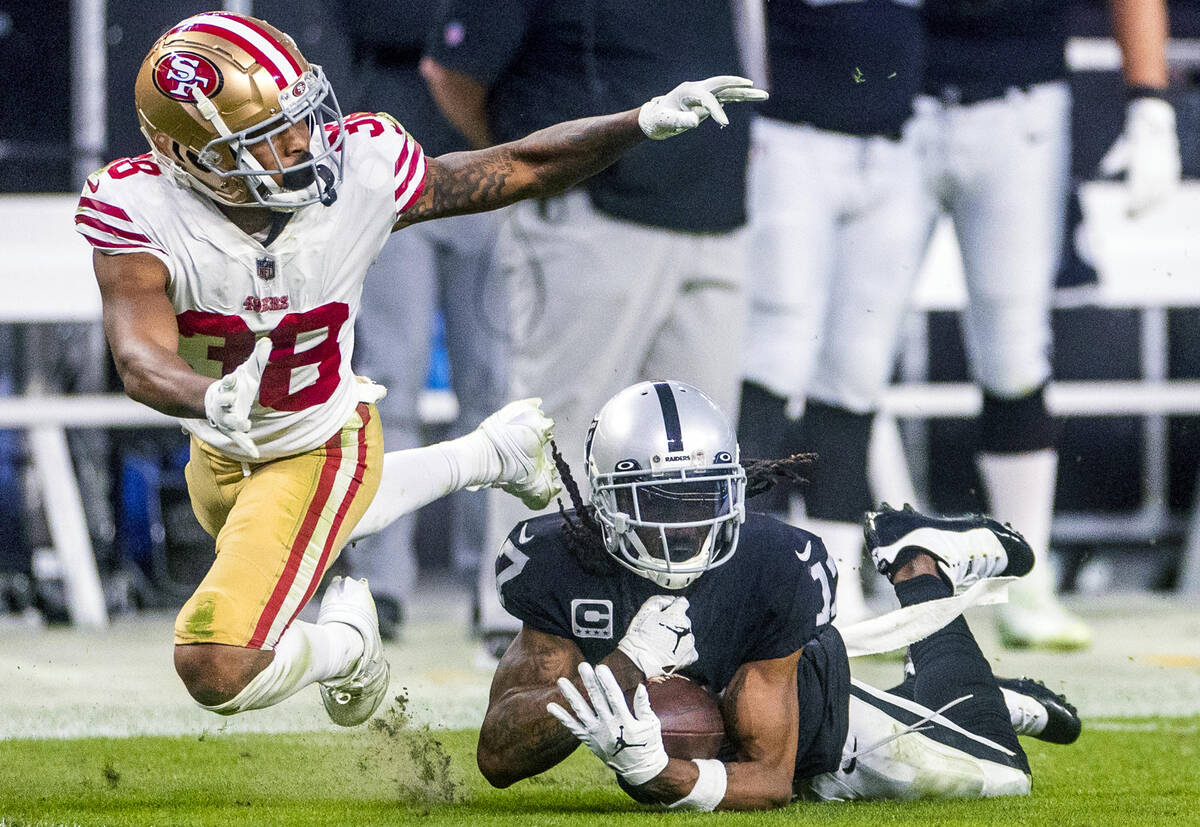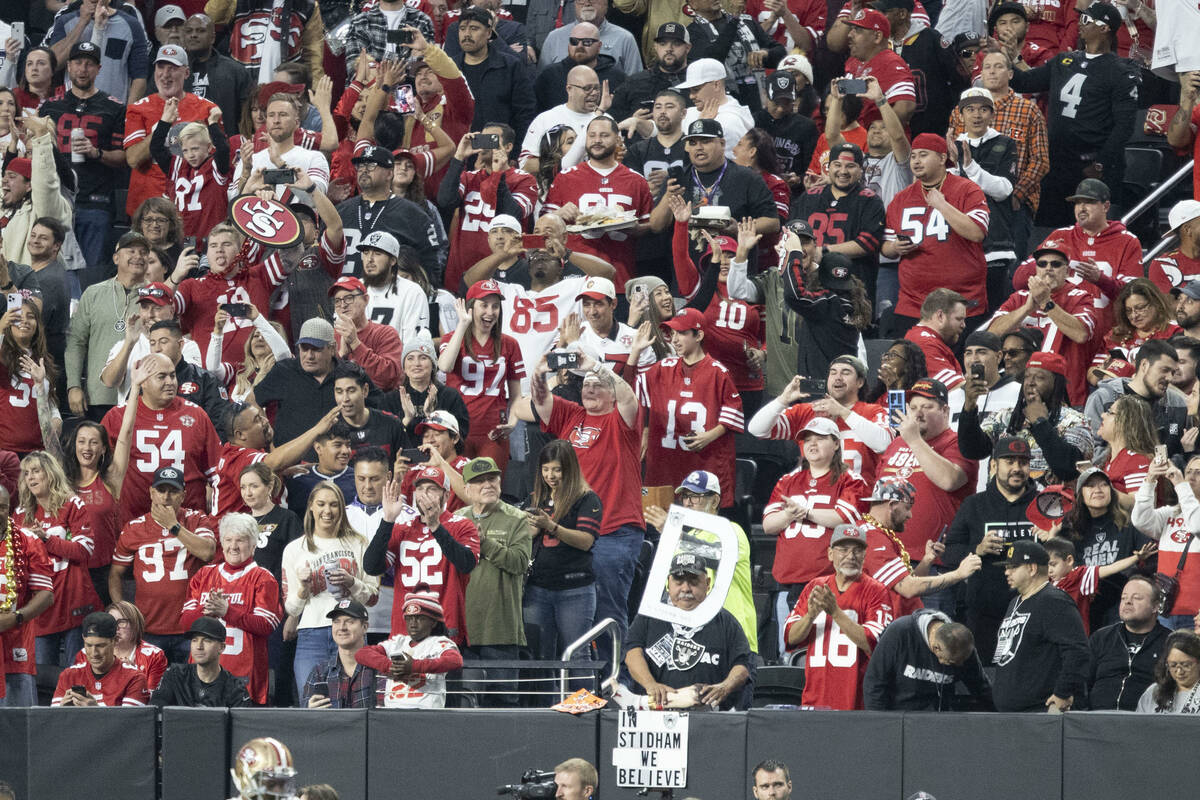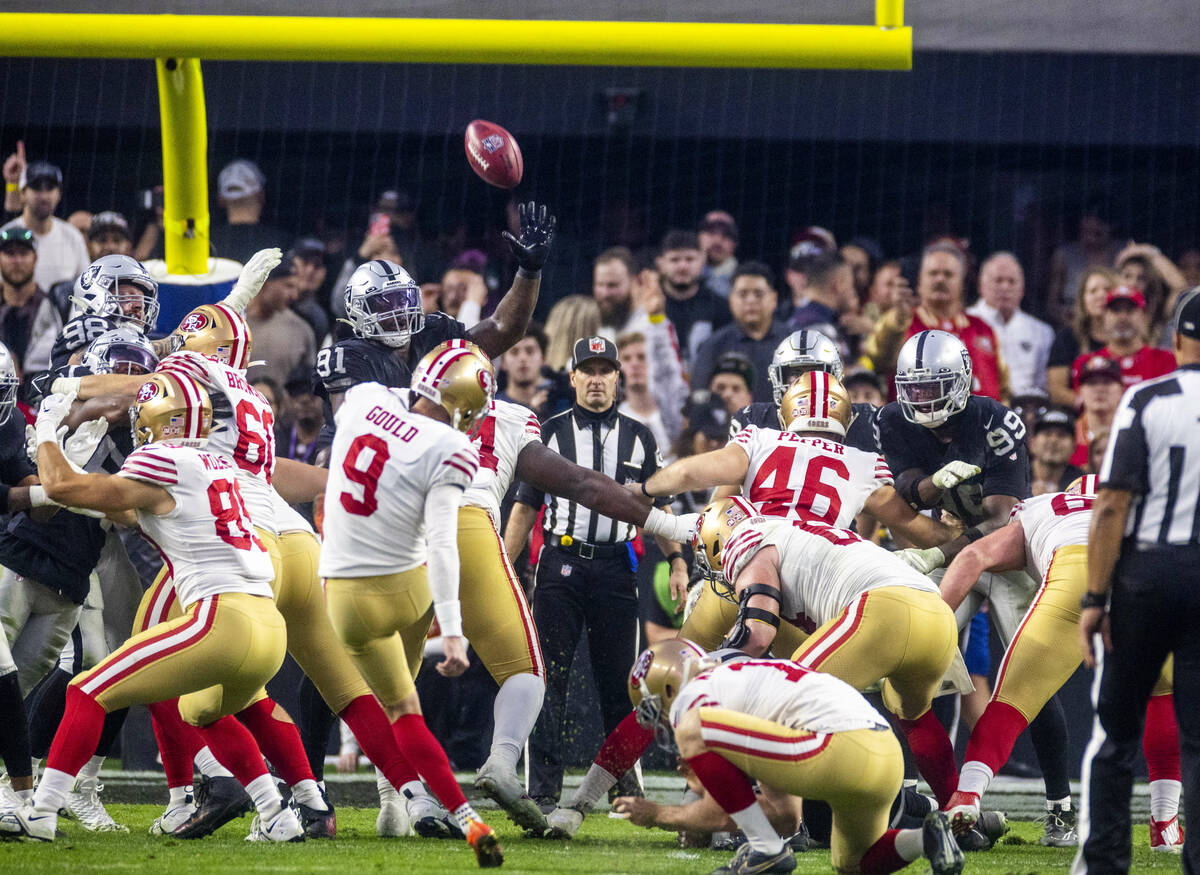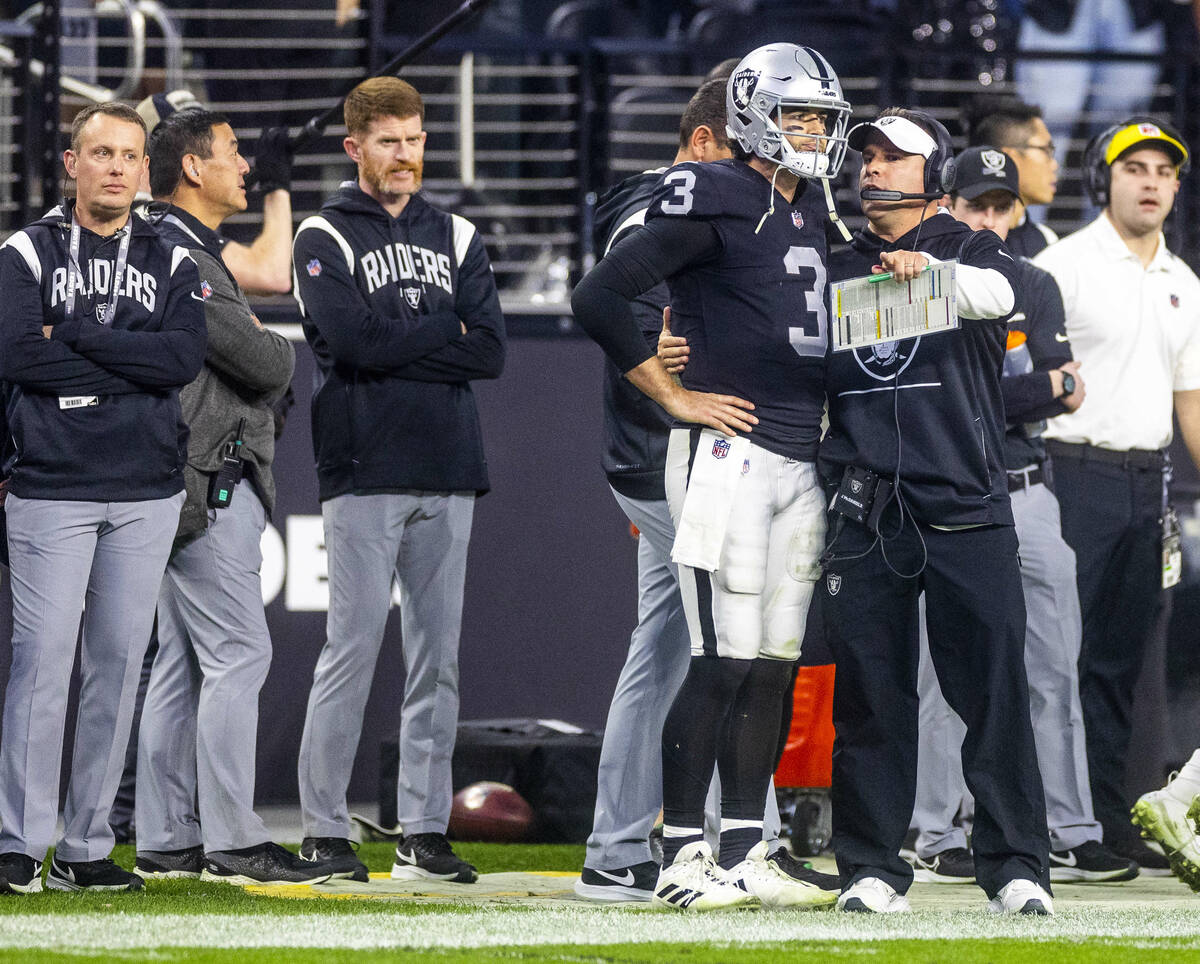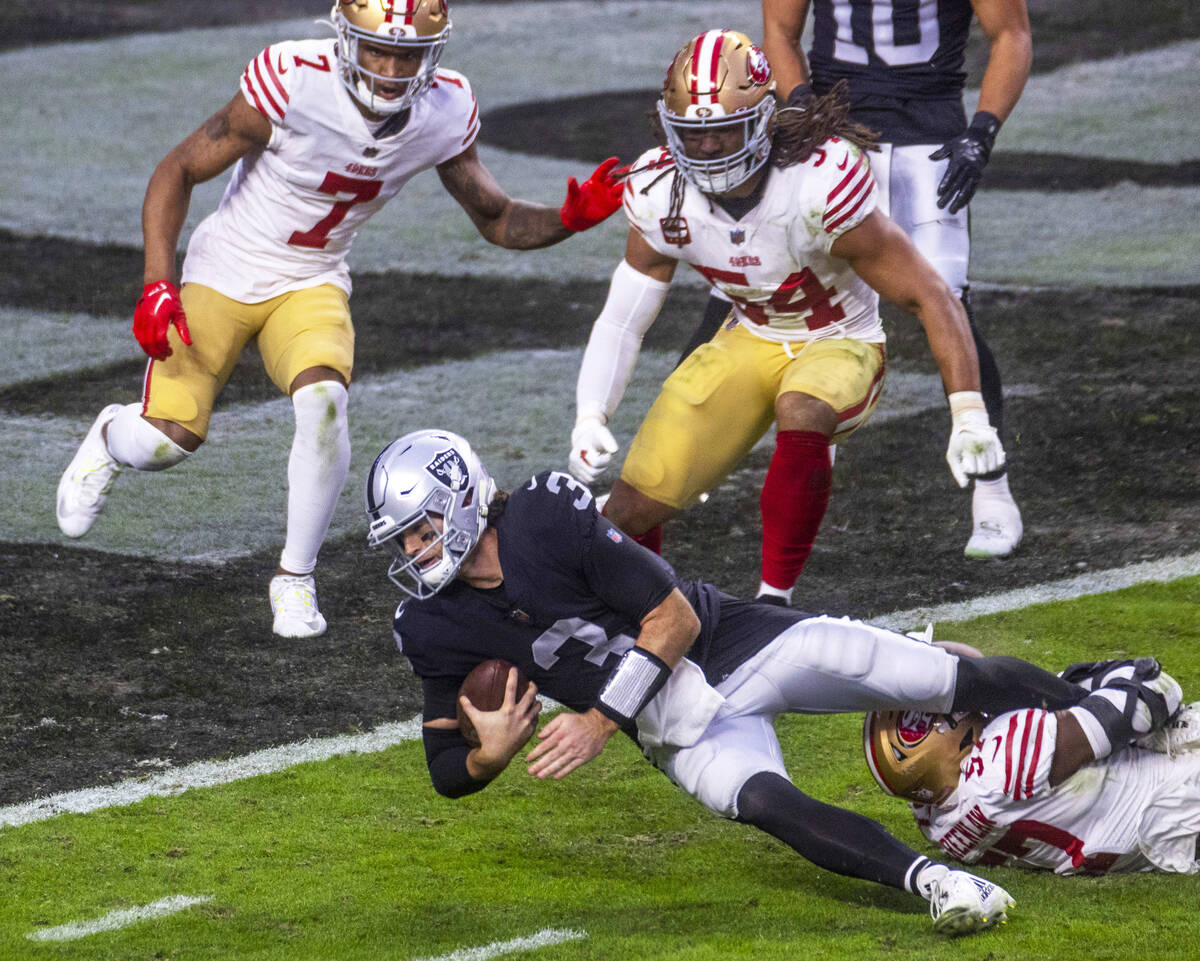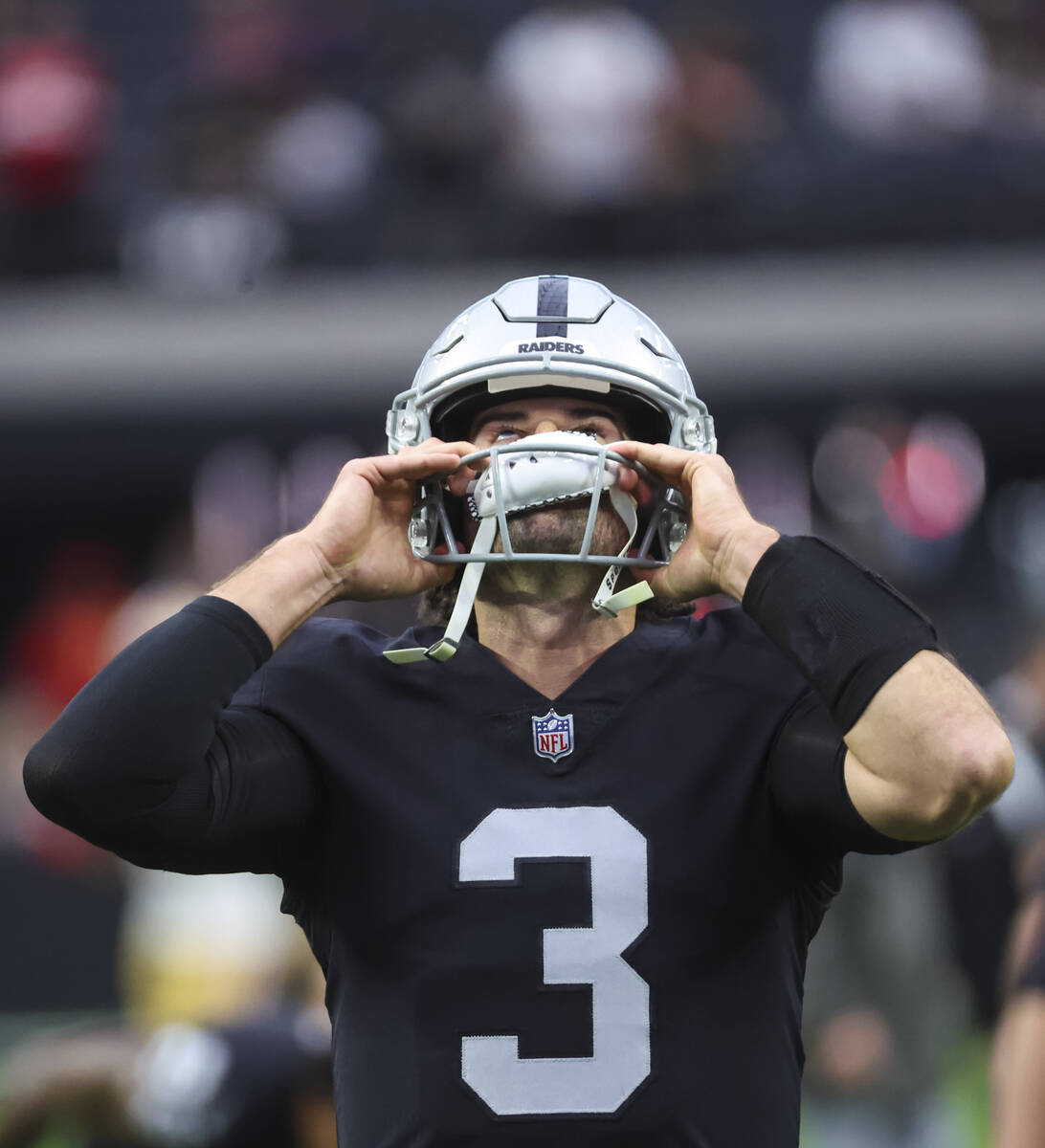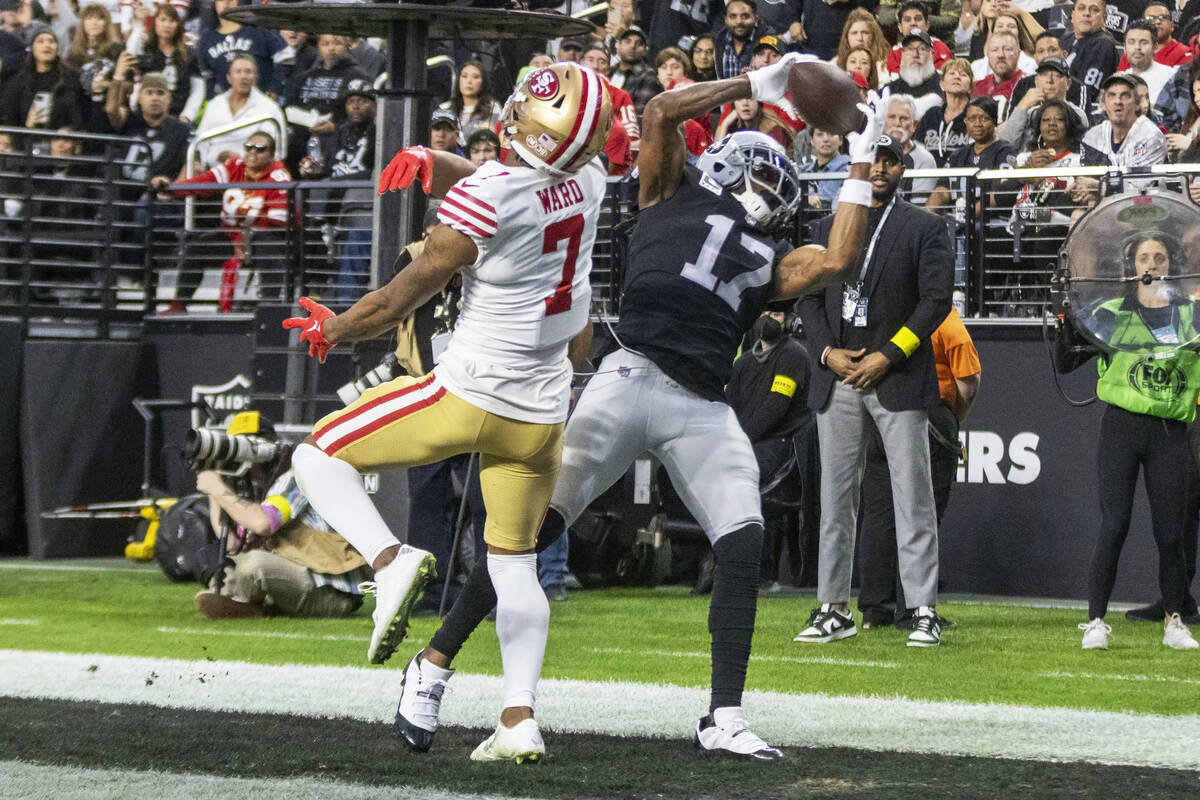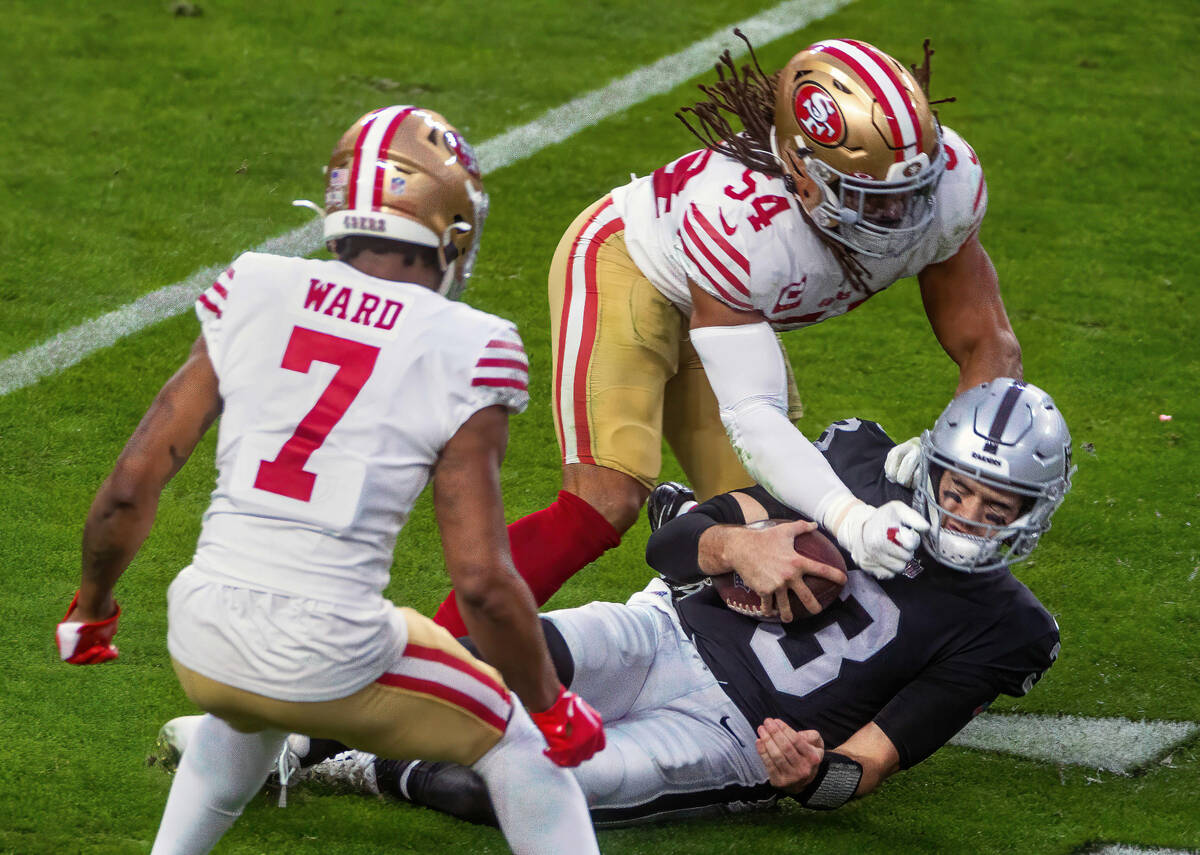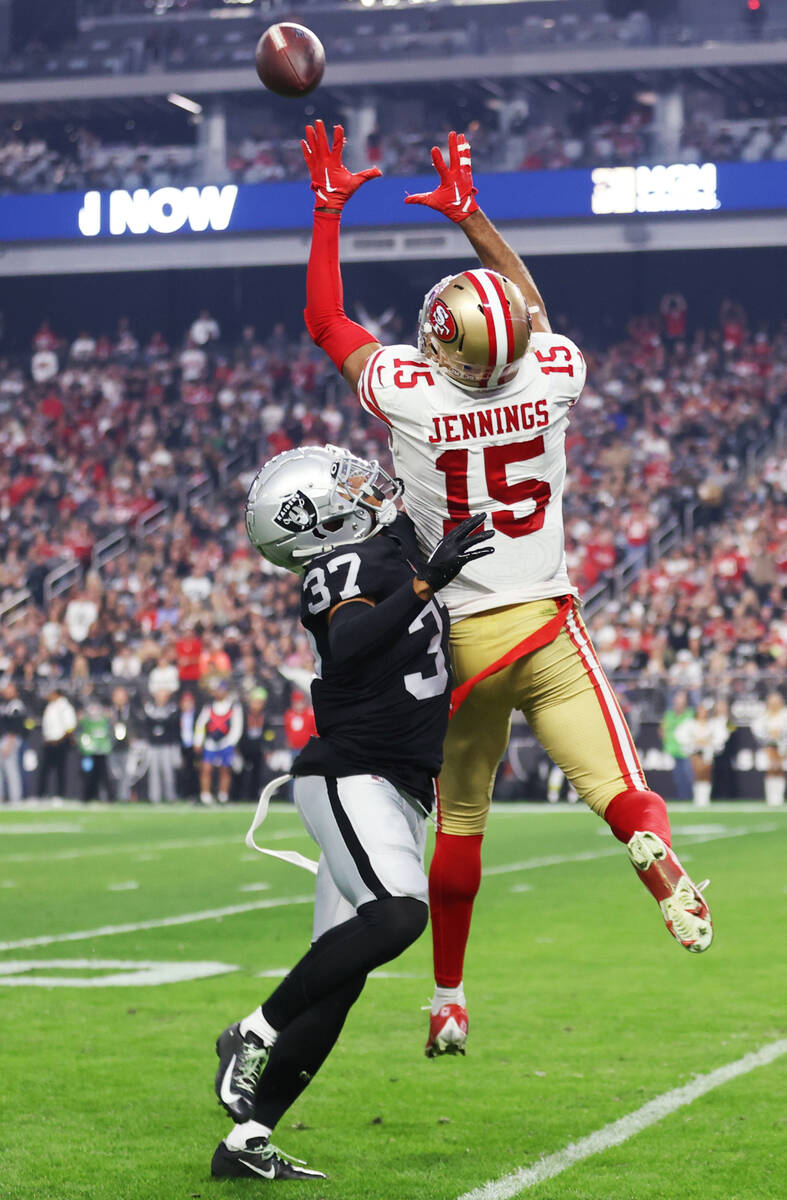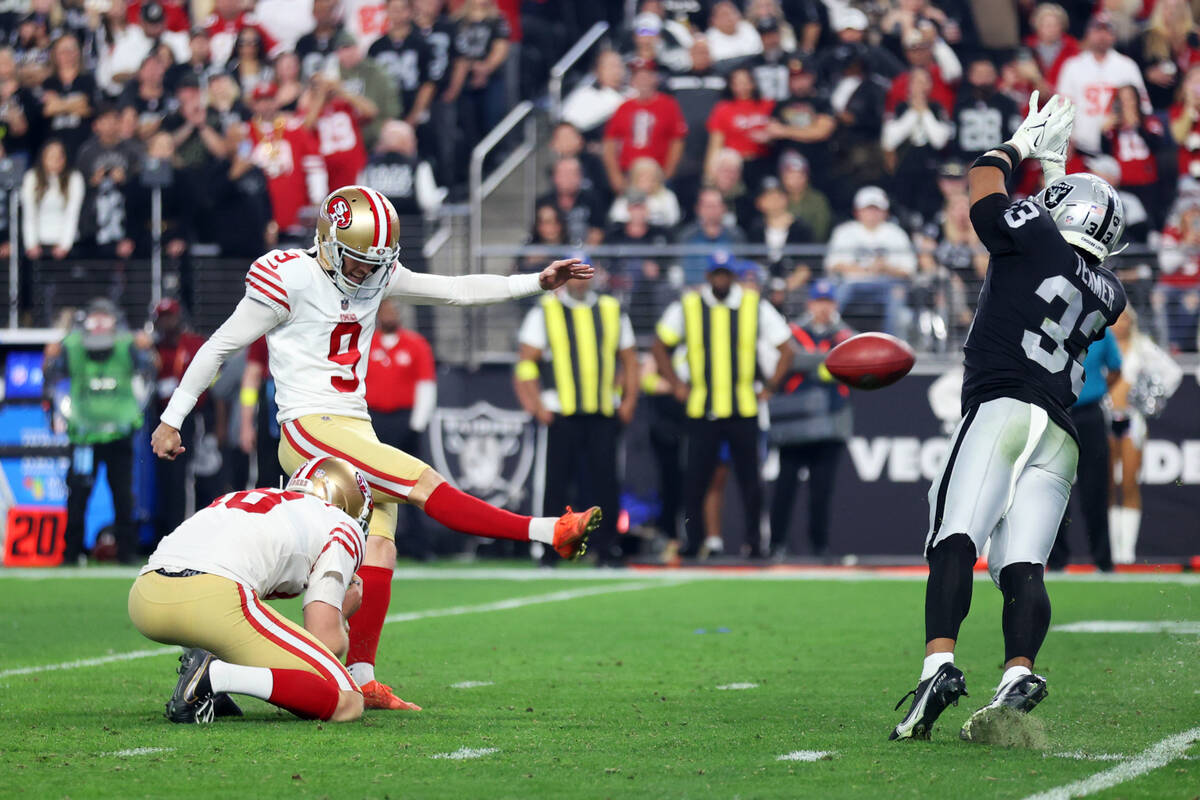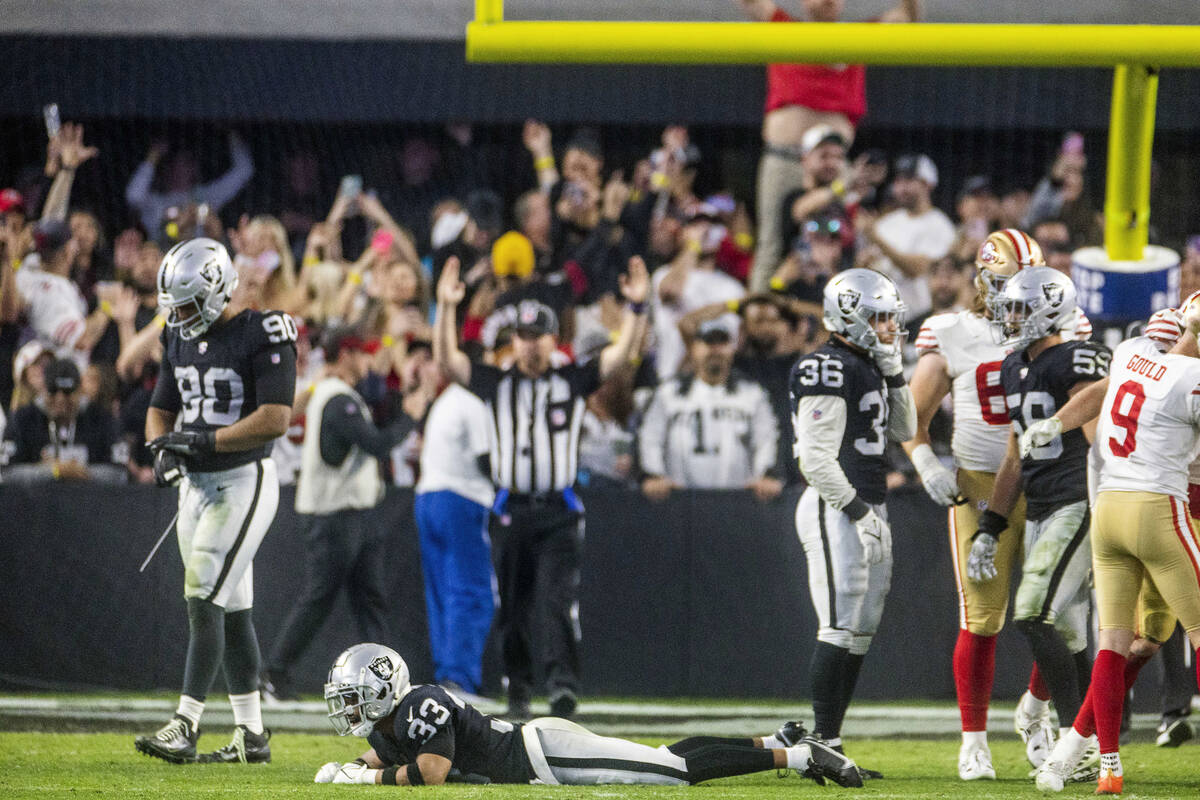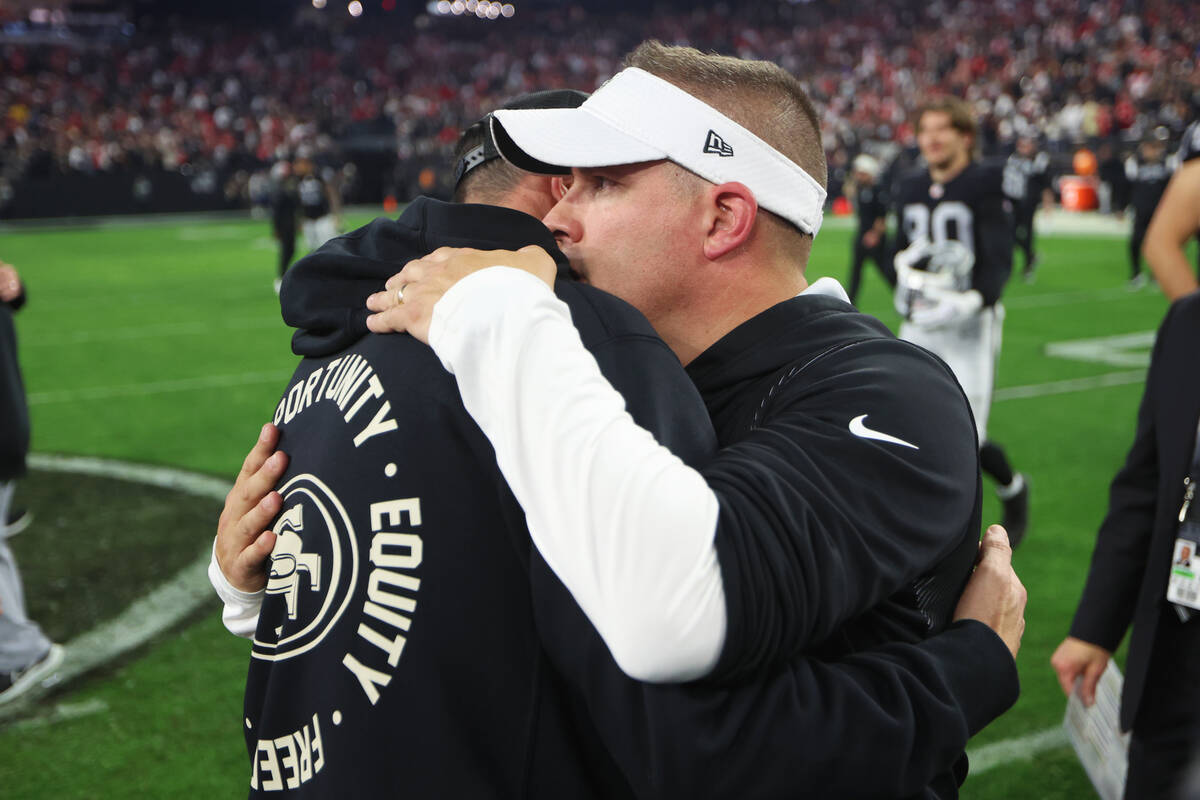 The inevitability of it all didn't lessen the sting for the Raiders.
Their playoff hopes had been on life support for weeks, and the slow crawl to their ultimate demise only prolonged a fate that could be seen a million miles away.
That it came Sunday in a 37-34 overtime loss to the 49ers at Allegiant Stadium wasn't so much a surprise as a painful reminder of the missed opportunities in the past 17 weeks.
And, ultimately, what could have been had they simply taken care of business during so many moments of prosperity.
Not even a gallant effort by quarterback Jarrett Stidham, who was making his first NFL start while taking over for Derek Carr, the longtime face of the franchise who was benched last week, could alter the reality of the Raiders' current state.
They are, quite frankly, a team just good enough to hang with the best the NFL has to offer, but not ready to consistently win the close games they keep finding themselves in. The Raiders (6-10) played their 13th one-score game and are 4-9 in them. They also have blown double-digit leads on a record-breaking five occasions, including the 10-point advantage they built against the 49ers.
"You can't win until you keep from losing," said veteran safety Duron Harmon, a three-time Super Bowl champion. "As generic as that is, it's what it is. You have to do all the little things right, at the end of the game, because the little things turn into big things."
From an overall talent, maturity and football intelligence standpoint, the Raiders aren't there.
Credit to Stidham for a brilliant performance while completing 23 of 34 passes for 365 yards and three touchdowns. In doing so, the Raiders pushed a legitimate Super Bowl contender into overtime, matching them point for point and big play for big play.
Even Stidham's mistakes, which included the interception he threw in overtime in which 49ers defensive end Nick Bosa pushed left tackle Kolton Miller into Stidham's lap just as he was releasing a long pass, were no fault of his own.
The interception by Tashaun Gibson put the 49ers in position for Robbie Gould to kick the game-winning 23-yard field goal.
But faced with a complicated set of circumstances, Stidham was ready for the challenge. And if he keeps it up in the season finale against the Chiefs on Saturday, he might just play his way into the Raiders' long-term quarterback picture.
"Jarrett played his ass off," Raiders defensive end Maxx Crosby said. "I got a ton of respect for him."
As effective as Stidham was, though, it didn't matter when weighed against some of the Raiders' most pressing issues.
The clarity of that is not lost on the key decision-makers. And as they formulate their offseason to-do list, Sunday's events served to crystalize the need for a deeper, more talented defense and upgrades along the offensive line.
The defense, which was missing five starters, surrendered 454 yards, including 121 rushing yards to Christian McCaffrey, 101 receiving yards to Brandon Aiyuk and the 24-14 second-half lead.
Meanwhile, the offensive line was responsible for both of Stidham's interceptions, including the tipped ball they allowed to defensive end Kerry Hyder that fell into Drake Jackson's hands.
Those are tasks for general manager Dave Ziegler and coach Josh McDaniels, whose decision-making in the next five months will go a long way in determining whether the Raiders can start winning more of these close games.
Or whether 2023 will be a repeat of 2022.
Inside a frustrated locker room, though, the talk was not about personnel changes or beefing up the offensive and defensive lines. It was about the need to heed the harsh lessons this season has served up.
"Attention to detail," cornerback Nate Hobbs said. "Our record, people think we suck. But when they cut on that film, and if you watch the games, we're as good as anybody in the league. We just lose games by a couple of points. It teaches us the importance of every single play and snap."
Contact Vincent Bonsignore at vbonsignore@reviewjournal.com. Follow @VinnyBonsignore on Twitter.