Raiders president reflects on year of change for franchise
Updated September 20, 2023 - 2:00 pm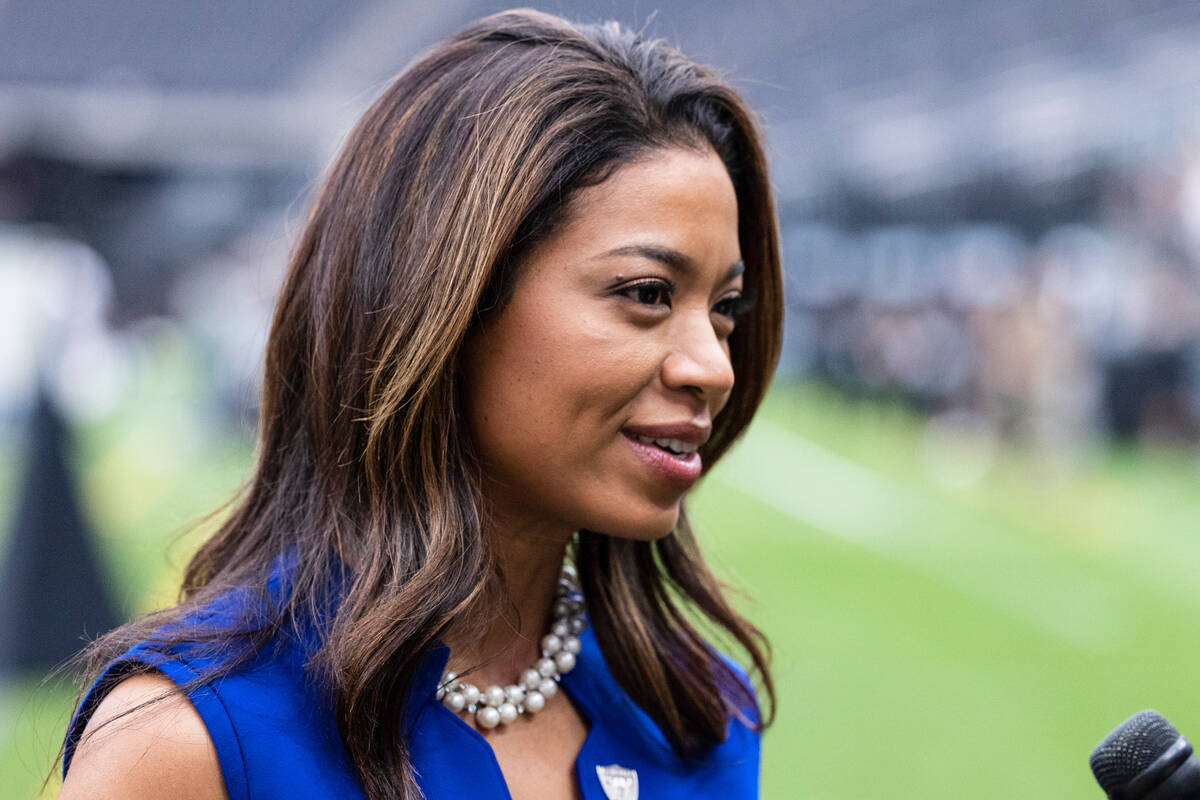 A little more than a year into her role as president of the Raiders, Sandra Douglass Morgan said her success is dependent on the team she's assembled around her.
Since assuming her role, Morgan, the first Black woman team president in NFL history, has helped to reshape the Raiders front office. In the last year the Raiders have hired a new chief operating officer, chief marketing officer and promoted from within a new senior vice president of human resources.
Former Raiders player Marcel Reece, who held various front office titles with the team following his football career, resigned in February from his role as chief strategy officer.
Taking the helm following a time of turmoil which included several longtime team executives either resigning or being fired, Morgan said she needed to get her team in place to execute her vision for the franchise.
"It really comes back to the people," Morgan told the Las Vegas Review-Journal Tuesday. "I really think it's important to communicate and focus on collaboration and understand what the goal is for the team. We're really focused on the future and that's what it's all about. To make sure we're going to have the best game day experience here (Allegiant Stadium) and to be able to support football with whatever they do and their success on the field as well."
After watching the Raiders move to Las Vegas from afar as she chaired the Nevada Gaming Control Board, Morgan has learned a lot from those who've long been with the team.
"I've been incredibly lucky to have such an amazing team of people around the Raiders," she said. "We have some people who have been here for a really long time from Oakland who understand what it means to be a Raider. Now it's helped me explain to us and the folks at home what exactly that means. Talk about a commitment to excellence, pride and poise."
The most impressive thing Morgan learned about the organization that she didn't realize before being hired was all the work the team has already done in the community.
"Seeing so much of what the Raiders have done since the move and the transition in 2020 has been truly incredible," she said. "That first season obviously being overshadowed with Covid was one thing, but everything from elementary school students, food insecurity, military and veterans, mental health, there have been so many different aspects that the Raiders have been involved in."
Continuing that work and evolving it, including more involvement with the Raiders Foundation, is one of Morgan's goals as she looks ahead.
"First and foremost giving back to the community that's given so much to us and the Raiders," Morgan said. "We want people to make sure that we're going to be woven into the fabric of the Las Vegas community. As I head into my second season, it is great to round out the leadership team to be able to establish and execute our vision and (Raiders owner) Mark's (Davis) vision as to what it means to be in Las Vegas as well."
Contact Mick Akers at makers@reviewjournal.com or 702-387-2920. Follow @mickakers on X.