Raiders put Chandler Jones on non-football illness list
Updated September 20, 2023 - 4:46 pm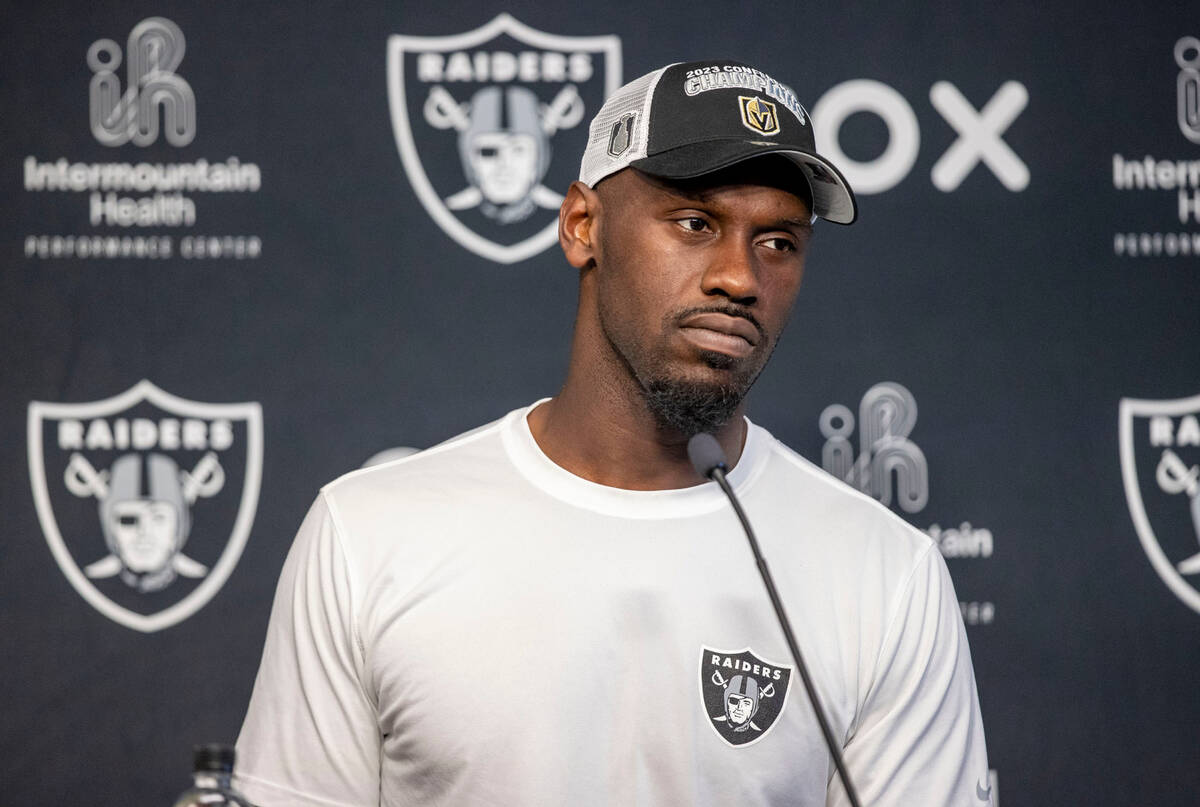 The Raiders placed veteran defensive end Chandler Jones on the non-football illness list Wednesday, nearly a month after a slew of disparaging posts about the club began showing up on his social media accounts.
As a result, the roster spot Jones has been occupying for the past three weeks now opens up. He has been away from the club for nearly a month, and his absence has been felt in the first two games.
The non-football illness list works almost exactly like the injured reserve list in that players are obligated to sit out at least four games.
The Raiders did not immediately fill Jones' roster spot.
The bizarre turn of events began in early September when a slew of angry posts from Jones showed up on his Instagram account. The gist of his outburst was that the Raiders had locked him out of their facility, and he could not get coach Josh McDaniels or general manager Dave Ziegler on the phone. After deleting those posts, he continued to vent on social media on a near-daily basis.
The Raiders have treated the situation as a personal matter, including Wednesday when coach Josh McDaniels declined comment during his weekly news conference.
"I can't do anything about it at this point," McDaniels said when asked for an update on Jones. "We're just respecting that process and understand the situation, and that's really all I can say about it."
A sampling of his posts included one that read: "It's a shame that I am a top athlete with 112 sacks in the NFL and I have to go to a local gym to work out during the season for no apparent reason this is wild to me Josh and you know it you need to do what's right."
Jones also posted that he doesn't want to play for the Raiders if McDaniels and Ziegler are running the team, and would prefer defensive coordinator Patrick Graham as the head coach.
Those posts, along with a slew of others, were quickly deleted either by Jones or someone close to him. But the damage had been done.
And they painted a concerning picture of someone who is obviously going through a difficult time. Understandable, then, that the Raiders are trending lightly in how they publicly deal with such a personal matter.
With each passing week, though, it grew more and more impossible to ignore the challenging roster situation, especially while navigating the treacherous waters of such a difficult schedule to start the season.
Jones, who signed a three-year, $51 million contract in March 2022, was a disappointment in his first season, registering just 4.5 sacks.
Nevertheless, the Raiders have missed a player they were counting on to begin the season. His spot on the depth chart has been shared between third-year defensive end Malcolm Koonce and rookie Tyree Wilson. Neither has made a significant impact.
Koonce has one tackle and one quarterback pressure in 44 snaps. Wilson, the seventh overall pick in the NFL draft, has played 70 snaps while registering one tackle and one pressure.
Wilson missed organized team activities and most of training camp recovering from a foot injury he suffered in November at Texas Tech and was expected to be brought along slowly. The plan was for him to be an understudy to Jones and replace him as the starter next season.
Contact Vincent Bonsignore at vbonsignore@reviewjournal.com. Follow @VinnyBonsignore on X.
Up next
Who: Steelers at Raiders
When: 5:20 p.m. Sunday
Where: Allegiant Stadium
TV: KSNV-3
Radio: KRLV-AM (920), KOMP-FM (92.3)
Line: Raiders -2½; total 43