Raiders QB Derek Carr sees Mexico City as home-field advantage
November 15, 2017 - 6:55 pm
Updated November 15, 2017 - 7:54 pm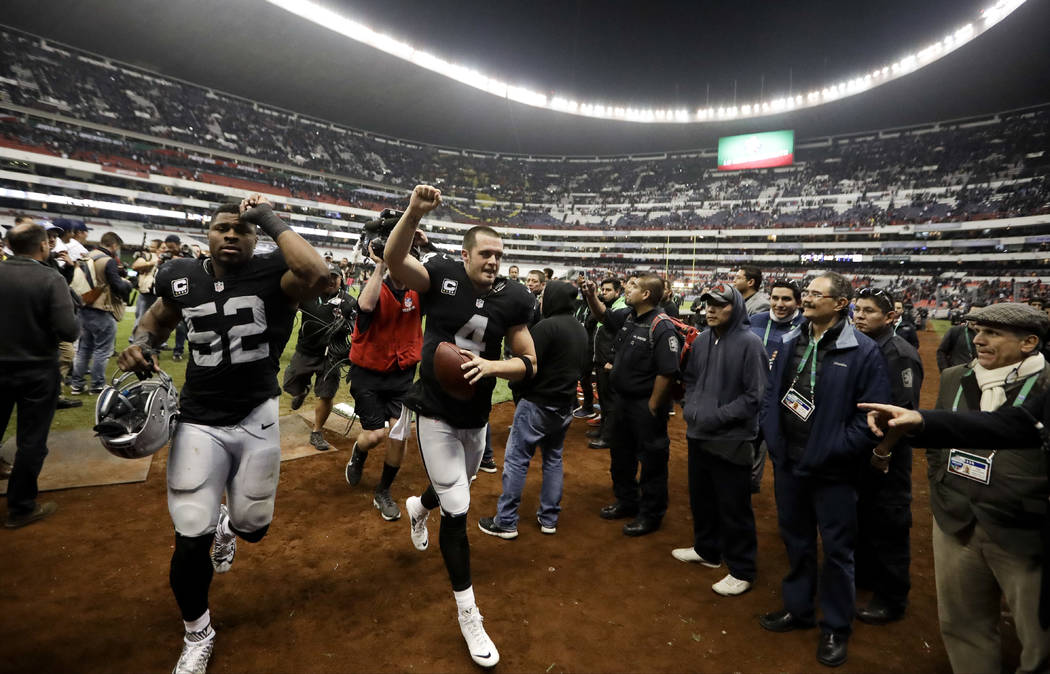 ALAMEDA, Calif. — Maybe the Raiders aren't missing out on a home game after all.
Granted, the team will be playing about 2,000 miles from Oakland this Sunday when they play the New England Patriots in Mexico City. But Raiders quarterback Derek Carr still sees the trip as a home game.
He would know after last year's 27-20 win there over the Houston Texans.
"It felt like a big-time home game," Carr said Wednesday. "The atmosphere is a playoff atmosphere. It's loud … They want us to win. You can tell by looking in the stands how many Raider fans were there that it's definitely a home game for us."
In last year's game at Estadio Azteca, the Raiders had some unusual fan support. Then-Texans quarterback Brock Osweiler occasionally had laser pointers directed at his eyes when he dropped back to pass.
Carr was not targeted by the lasers.
"I'm not worried about the laser pointers," Carr said jokingly. "I think that's for the other guys."
Carr missed Las Vegas ceremony
He missed it.
Seeing what works on offense or defense? Go back and watch the film. Wondering what happened in last week's loss or win? Go back and watch the film.
A stadium groundbreaking ceremony was held Monday in Las Vegas.
If Carr is to see it, he'll have to watch the film.
"To be honest? I didn't know it was happening until I saw it pop up on the phone and I was like, 'Oh, they did it,'" Carr said. "I was not paying attention."
Notables
— Tackle Donald Penn (non-injury related) and cornerback David Amerson (foot) missed practice on Wednesday.
— Guard Gabe Jackson (ankle), linebacker Cory James (knee), tackle Marshall Newhouse and fullback Jamize Olawale (hamstring) were limited in practice.
— Coach Jack Del Rio is not sure if cornerback Gareon Conley needs surgery after being placed on injured reserve. "That's for the doctors to determine," Del Rio said Wednesday. "I'm just coaching the guys that I have, but I know we really hoped we could get him."
Contact reporter Chris Booker at cbooker@reviewjournal.com. Follow @Bookerc94 on Twitter.