Raiders regain one cornerback Monday, lose another
Updated August 13, 2018 - 8:24 pm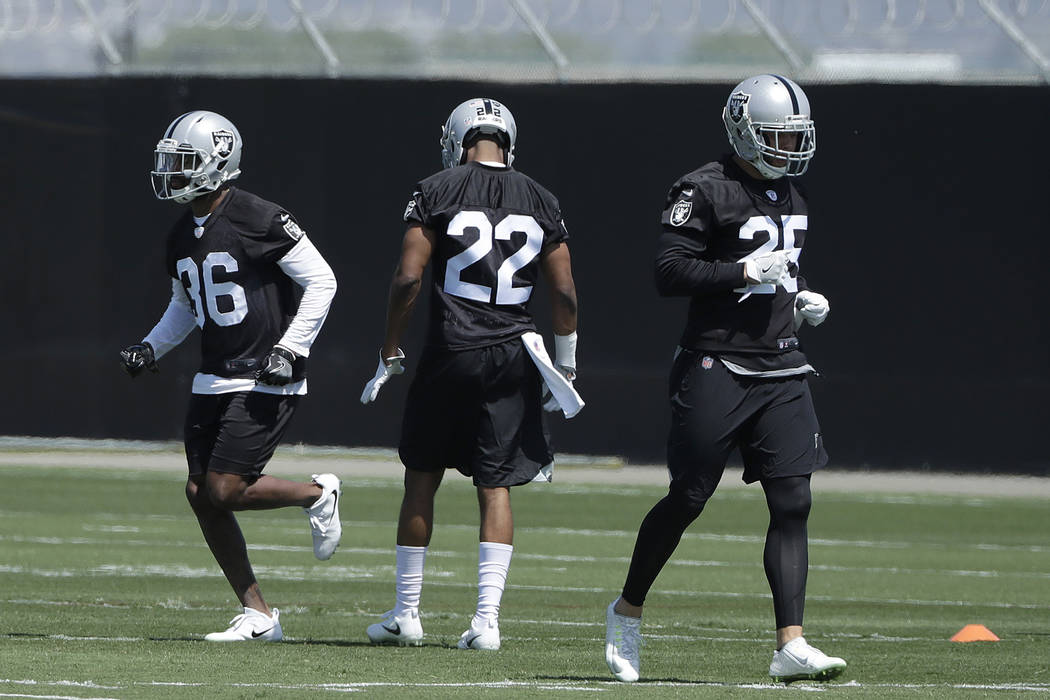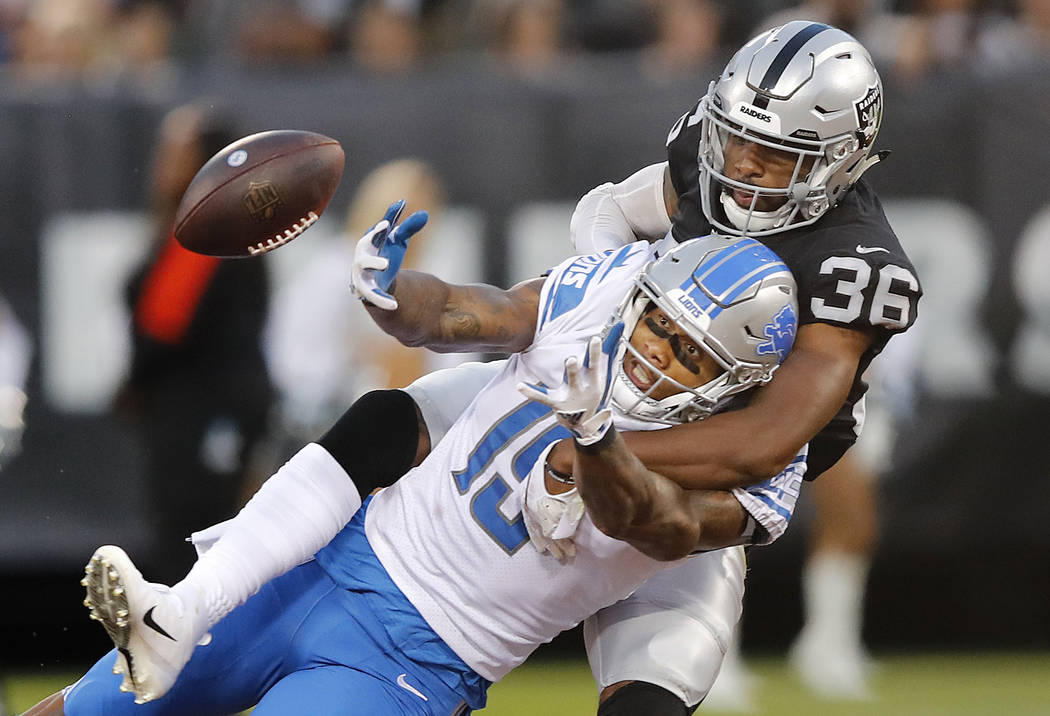 NAPA, Calif. — The Raiders have yet to conduct a full training camp practice with their top three cornerbacks.
Monday represented the best chance in weeks. A freak collision spoiled it.
Rashaan Melvin, Gareon Conley and Daryl Worley shared a practice field for the first time since a hip injury forced Conley to exit camp's opening session on July 27. Conley returned Monday morning, but the trio again were reduced to a duo when Melvin and Worley collided while in coverage during a 7-on-7 period.
Worley took the worst of the hit.
He was evaluated on the field about a minute before he arose, able to walk to the team's medical area under his own power. The incidental hit occurred as offensive and defensive linemen collaborated for what was intended to be a far more physical pass-rush period.
As it turned out, the day's most forceful impact occurred in the Raiders' secondary.
"That happens in football," coach Jon Gruden said. "You know, we're hoping everybody's all right. I'll have an update later.
"Obviously, Daryl left practice."
Nonetheless, Conley represented a positive development, jumping in with the first-team defense. A shin injury forced the 2017 first-round pick to miss all of camp as a rookie, so this marked his first time participating in a padded practice in Napa.
Gruden was pleased with his recovery, this time from a hip injury.
"It's great to see Gareon out there," Gruden said. "He healed quicker than anybody expected. It's a credit to him and our training staff. We need him to get some work. … I was surprised he had the full pads on, honestly. We limited him. We'll give him more and more each day as he gains some confidence being back on the field with pads on."
'Headache'
Wide receiver Martavis Bryant missed Monday's practice with what Gruden termed a "headache."
Little additional context was made available. Teams are not required to report if a player suffers a concussion, be it during practice or in a game. It is unclear if Bryant is in the league's concussion protocol or whether his symptoms Monday were isolated.
Bryant played 13 snaps Friday in the Raiders' 16-10 exhibition win over the Detroit Lions. He was targeted four times, recording one 18-yard catch on a crossing route from quarterback Connor Cook.
"He's got a headache somewhere," Gruden said. "He's in his room. He's got a headache. Hopefully, he gets well soon."
Notable
■ Right tackle Breno Giacomini, safety Marcus Gilchrist, safety Obi Melifonwu, tight end Pharaoh Brown, wide receiver Seth Roberts and defensive end Fadol Brown were among the Raiders players who missed Monday's practice. Giacomini has missed the bulk of training camp with a knee injury. Ian Silberman and David Sharpe have rotated at first-team right tackle in his absence.
■ No update was available on Melifonwu. He hasn't practiced since Aug. 6. "He's still injured," Gruden said. "Still being evaluated. He's being looked at. I don't have anything official." Melifonwu is dealing with an apparent lower-body injury. The 2017 second-round pick underwent knee and hip surgery last August and December, respectively.
Contact reporter Michael Gehlken at mgehlken@reviewjournal.com. Follow @GehlkenNFL on Twitter.