Raiders report card: Offense, coaching struggle in loss
Updated October 1, 2023 - 6:27 pm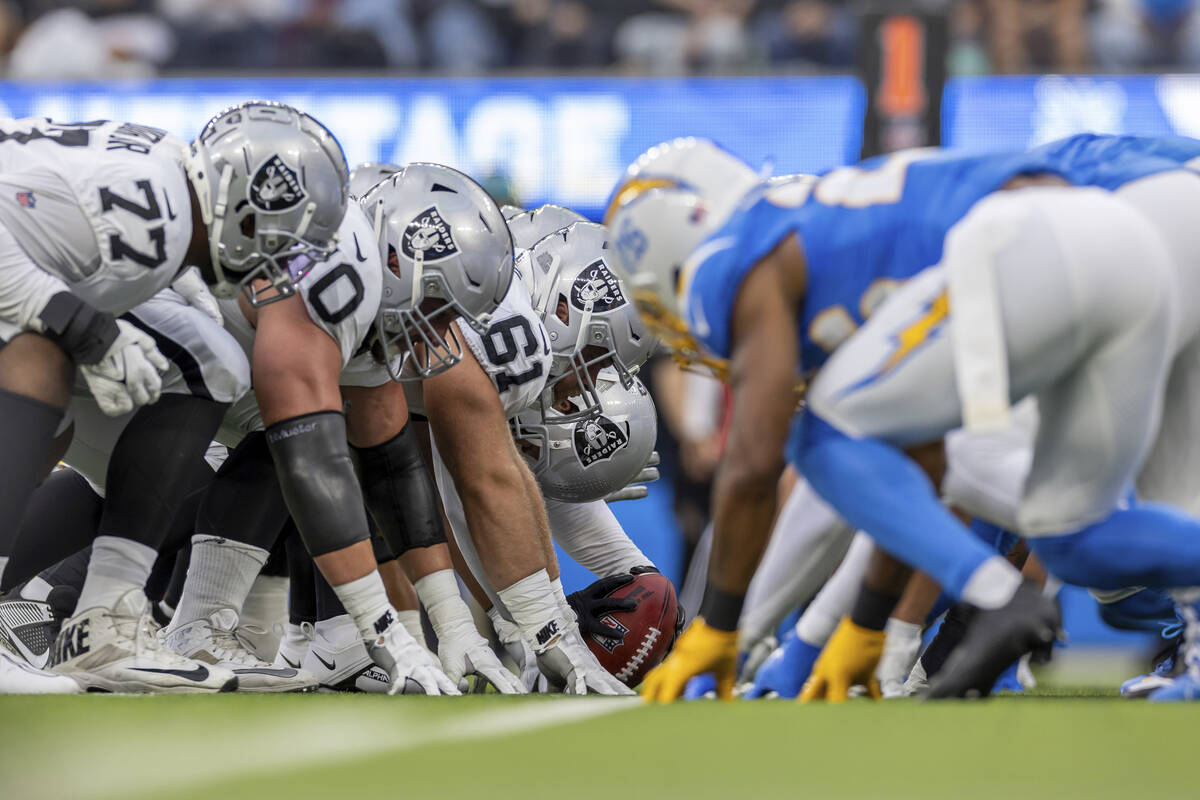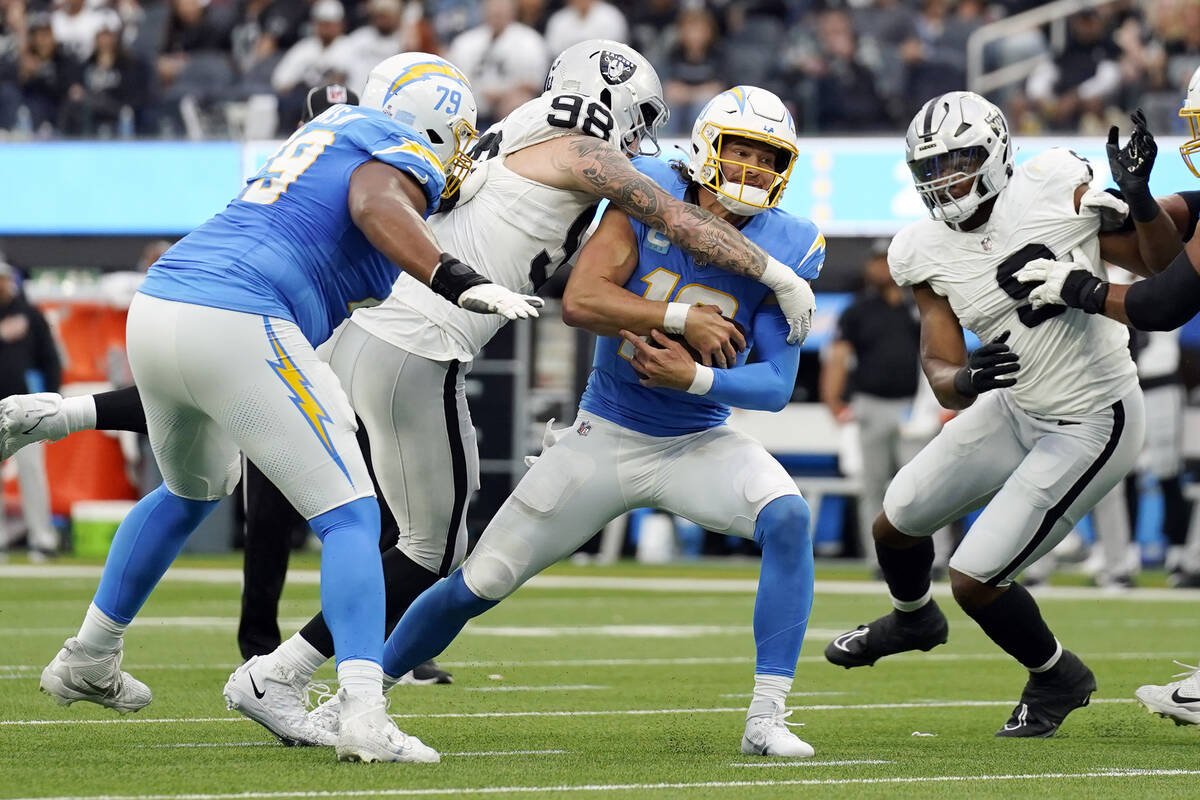 How the Raiders performed in a 24-17 loss to the Los Angeles Chargers on Sunday at SoFi Stadium in Inglewood, California:
Offense: D
First start in the NFL or not, you can't turn the ball over three times — two of which the opponent cashed into touchdowns — and expect to win. But that's what rookie quarterback Aidan O'Connell did with two fumbles and an interception. The offensive line did him no favors, allowing seven sacks, six from former Raiders star Khalil Mack. Davante Adams (eight catches for 75 yards) was hurt in the second quarter when O'Connell threw behind him. Adams left the game with a shoulder injury but returned later in the quarter. Josh Jacobs ran for 58 yards and caught eight passes for a team-leading 81 yards. O'Connell finished 24 of 39 for 238 yards and one critical interception on first-and-goal from the 3 with the Raiders trying to score late and tie the game.
Defense: C
Struggled early, was better late, had far too many critical penalties and again missed far too many tackles. Maxx Crosby totaled two sacks, and safety Tre'von Moehrig had an interception for the Raiders' first forced turnover of the season. One of the dumber plays you will see came from tackle Jerry Tillery in the second quarter, when he hit Chargers quarterback Justin Herbert out of bounds and was ejected from the game. The Raiders did a decent job against Herbert, who went 13 of 24 for 167 yards with one touchdown and the one pick. He also rushed for two touchdowns. But the Chargers rushed for 155 yards, many coming from those early missed tackles.
Special teams: A
How many times have we said this — when your best player is your punter in AJ Cole, something is terribly wrong. But he was great again, averaging 53.8 yards on five kicks, with a long of 70, and pinning three inside the 20. DeAndre Carter added a 40-yard return, and Daniel Carlson made his only field-goal attempt (22 yards).
Coaching: D
Josh McDaniels made the correct call in starting O'Connell, but the coach has a team that is undisciplined at critical times. He also overthought the room yet again on first-and-goal from the 3 with his team trailing by seven in the final minutes. Instead of involving Jacobs, who had started to find running lanes, McDaniels chose to have O'Connell sprint out and throw. His timing was off in relation to the route, and the pass was intercepted.
Ed Graney, a Sigma Delta Chi Award winner for sports column writing, can be reached at egraney@reviewjournal.com. He can be heard on "The Press Box," ESPN Radio 100.9 FM and 1100 AM, from 7 to 10 a.m. Monday through Friday. Follow @edgraney on X.