Raiders report: Former 1st-round pick wreaks havoc with 6 sacks
Updated October 1, 2023 - 8:47 pm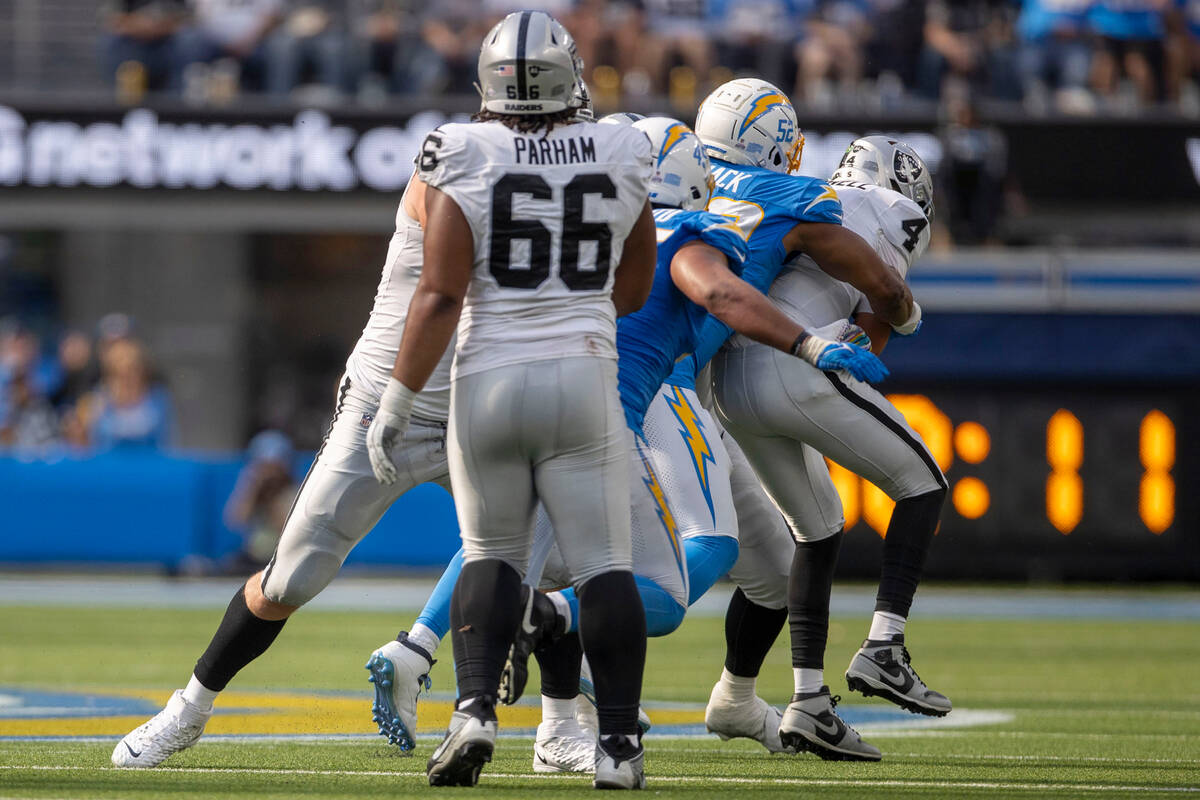 INGLEWOOD, Calif. — Chargers linebacker Khalil Mack stopped short of saying he was on a mission after recording six sacks against the team that drafted him with the fifth pick of the 2014 draft.
"I wouldn't say it's something extra (going against them), but it is what it is," Mack said of ruining the Raiders' day in a 24-17 win Sunday at SoFi Stadium.
Mack gave Raiders rookie quarterback Aidan O'Connell a bit of a "Welcome to the NFL" moment.
"We had time to get there. We had a young guy back there thinking a lot, you could tell," Mack said. "And he made some mistakes, especially when it came to ball security. We knew (O'Connell) was inexperienced, but they also got (wide receiver Davante Adams and running back Josh Jacobs), and so we had to be on point."
Otherwise, Mack wasn't keen on celebrating his accomplishments after etching his name in the Chargers' record book with his six-sack performance.
His teammates were more than willing to do that for him.
"Legendary," rookie edge rusher Tuli Tuipulotu said. "That was fun to watch."
Mack set the team record with his six sacks and joined former Chiefs linebacker Derrick Thomas as the only players since the sack became a stat with at least five in two games.
"That was everybody working together," Mack said. "Everybody knowing the mission, knowing what we had to do being without (defensive stars Joey Bosa and Derwin James)."
According to Next Gen Stats, Mack had 10 pressures and a pressure rate of 28.6 percent against his former team.
"He's a great player," Raiders coach Josh McDaniels said. "There were a number of snaps where there were multiple people assigned to him and him only, and to be able to do some of the things that he did, give him credit. He has a great motor. We jammed him, chipped him, hit him in the ribs. We did everything we could try to do to disrupt him."
Chargers coach Brandon Staley was equally impressed with Mack.
"This guy is one of the best edge players of a generation," he said. "He is still that guy, and he just showed everybody."
The Raiders have not had six sacks as a team since a Nov. 10, 2011, game against the Chargers.
Held in check
The Raiders limited the Chargers to 167 passing yards, largely by containing star receiver Keenan Allen.
A week after he torched the Vikings for 18 catches and 215 yards, Allen finished with three catches for 32 yards and one touchdown.
Much of that responsibility was on Amik Robertson, who filled in for an injured Nate Hobbs in the slot.
"I knew that was going to be the outcome of that matchup," Robertson said. "The coaches came up with a good game plan."
Robertson learned Saturday that Hobbs was likely to miss the game, but it didn't change his routine.
"I prepare myself each and every day," he said. "If it's three reps or 40 reps, my job is to be a pro and be prepared whenever my number is called."
Early in the game, that meant coming up in run support to make a tackle on Joshua Kelley for a 5-yard loss. Robertson was picked in coverage on Allen's first catch, and his second reception came on a quick hitch. The touchdown came when Robertson was off him on a switch.
But there was no solace for Robertson in playing well in spurts.
"We have to get back in the lab," he said. "You enjoy the wins or think about the losses for 24 hours, but we have to move on to the next week."
Finally
The Raiders got their first forced turnover of the season when Tre'von Moehrig intercepted Chargers quarterback Justin Herbert in the third quarter.
But it wasn't all good news on the play, as Robert Spillane was called for a blindside block that wiped out a long return. The Raiders ended up punting on the drive.
They were in jeopardy of becoming just the fifth team since the merger to not record a turnover in the first four games.
Contact Adam Hill at ahill@reviewjournal.com. Follow @AdamHillLVRJ on X.