Raiders report: Jimmy Garoppolo being evaluated for concussion
Updated September 24, 2023 - 10:34 pm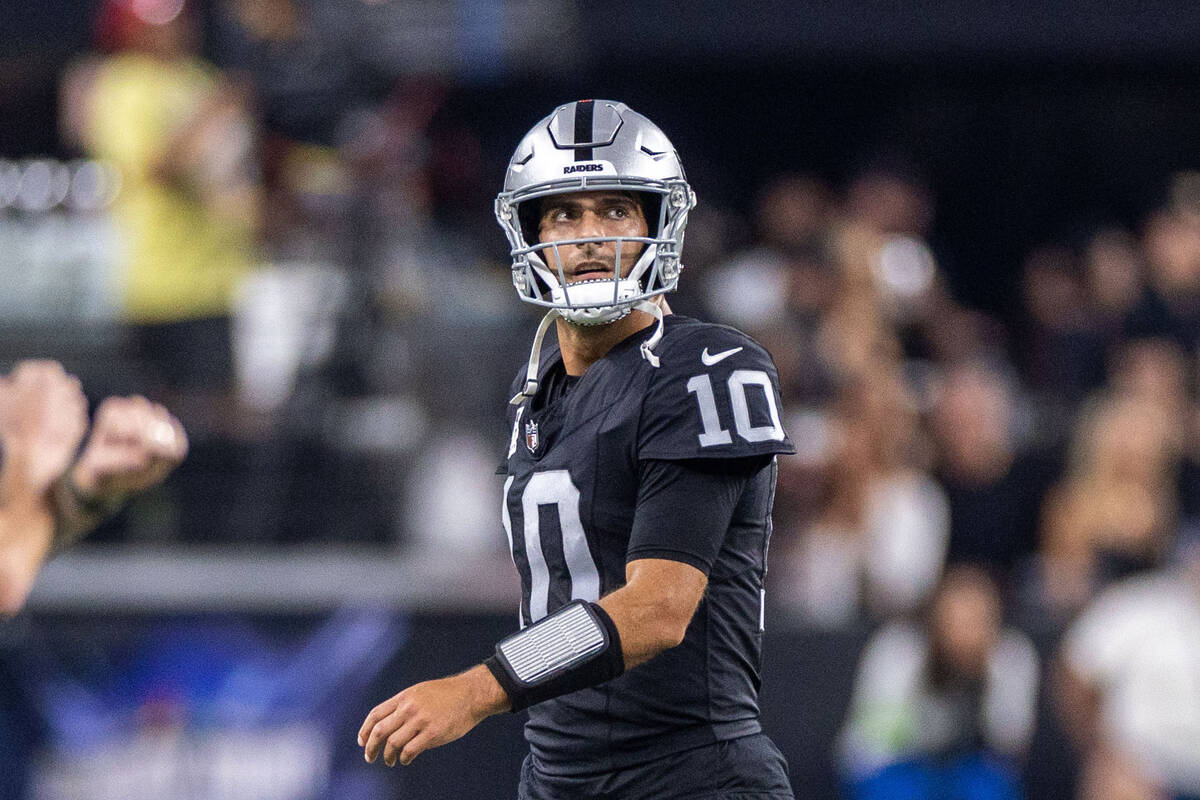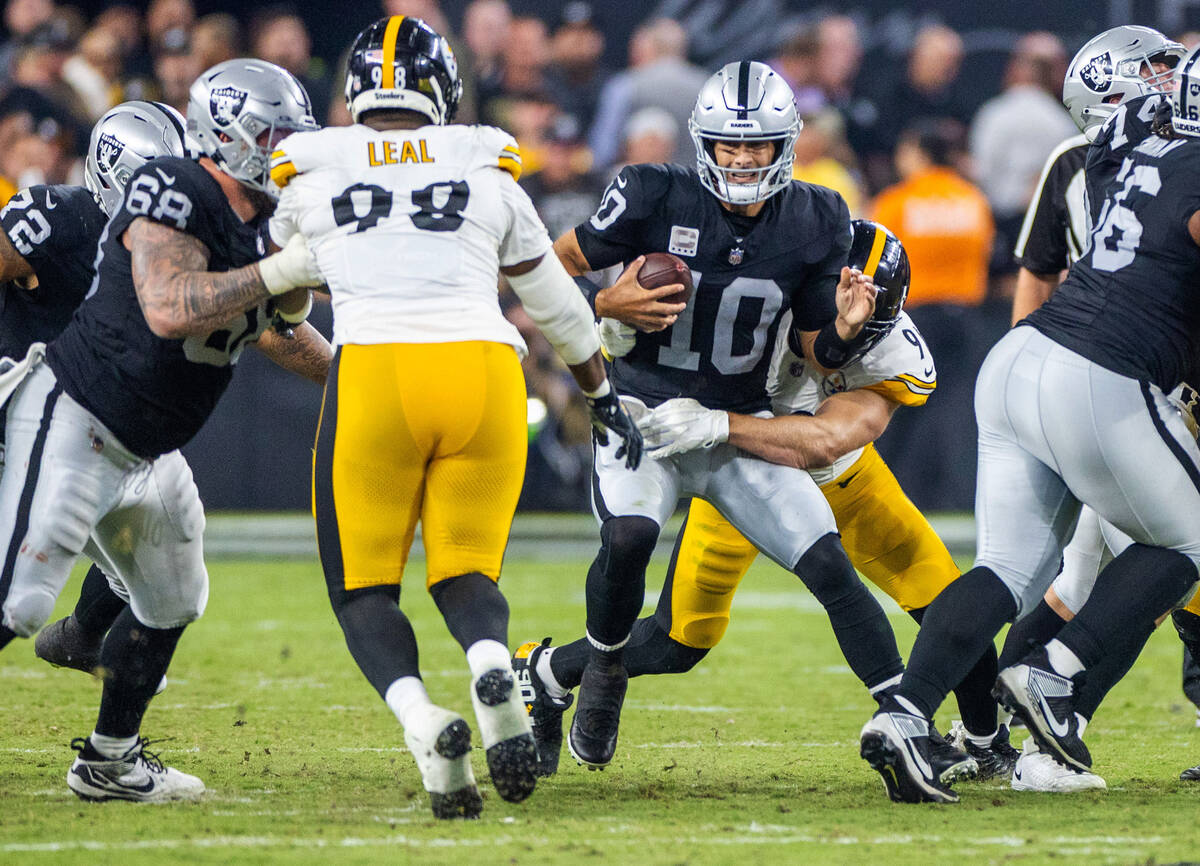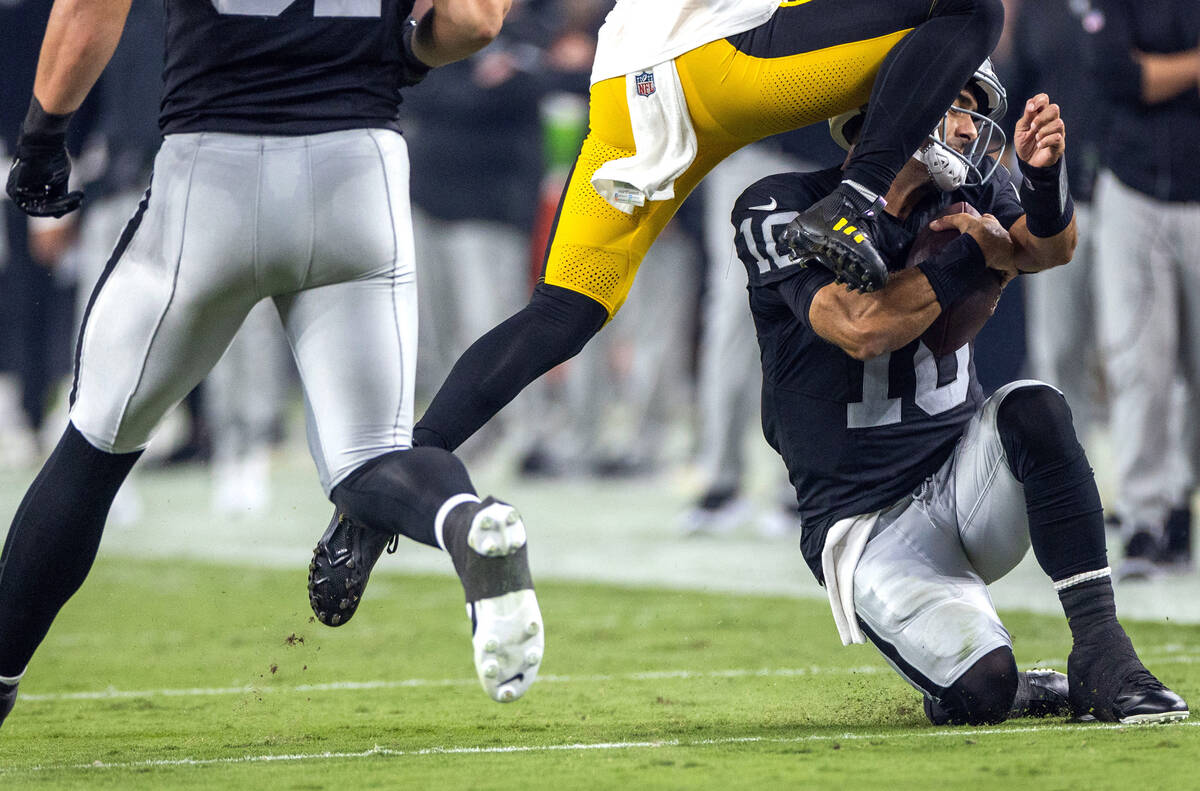 Raiders quarterback Jimmy Garoppolo might have left the field Sunday with more than just another loss.
The team announced after the game that Garoppolo would be unavailable to speak to the media because he was being evaluated for a concussion after a 23-18 loss to the Pittsburgh Steelers on "Sunday Night Football."
There was no word on the results of the evaluation as of late Sunday.
Garoppolo, who did not exit the game, was seen in the Allegiant Stadium locker room chatting with teammates afterward.
He took several big hits, including one that was flagged for a personal foul with 6:58 remaining. On the play, Minkah Fitzpatrick's helmet connected with Garoppolo's, and his head then appeared to bounce off the ground. He threw a touchdown pass to Davante Adams three plays later.
Garoppolo also limped off the field after being bent backward in a pile on a sack on the final offensive snap of the first half.
He threw three interceptions and leads the NFL with six in three games in his first season with the Raiders.
Garoppolo finished 28 of 44 for 324 yards and two touchdowns, nearly engineering a comeback victory after the Raiders fell behind 23-7. They got the ball back with 12 seconds remaining on their 15-yard line, but Garoppolo's first-down pass was intercepted.
Almost doesn't count
One of the biggest rallying cries for the Raiders leading up to this season was a renewed emphasis on forcing turnovers.
All of that focus has yet to yield any results.
The Raiders were not able to generate any takeaways Sunday and have still not forced a single turnover this season.
They are minus-7 in turnover differential through three games, tied with the Vikings for worst in the league.
"It's definitely frustrating," cornerback Nate Hobbs said of the defense's inability to generate big plays. "And I feel like a lot of that is my fault. Because there are plays I'm almost making when I look back on film. It's frustrating, but the football gods are going to repay you if you keep going hard and keep pushing."
There have been several close calls, including on Sunday. Cornerback Marcus Peters dropped what looked like an almost certain pick-six in the first half.
"We're right there, but close doesn't count," Hobbs said, talking about the season overall. "You have to execute. Just trying to do something is never enough. When you execute properly is when you win games."
Hobbs said the defense and team are still confident despite back-to-back losses.
"It's definitely disappointing, but it's a 17-week season," he said. "In Week 15 or 16, we're not going to be talking about this game whether we won or lost. It's my third year, and I understand the third game doesn't make or break you. Of course you want that win every time, but it really matters in late October and November what type of ball you're playing."
Tough matchup
Raiders right tackle Jermaine Eluemunor drew the difficult assignment of having to block star Steelers pass rusher T.J. Watt for much of the night.
It didn't always go well.
Eluemunor entered the game having allowed just one pressure in the first two games of the season and hadn't allowed a sack since last season. He was leading all right tackles in the NFL by allowing pressure on just 2.1 percent of his pass-blocking assignments.
That changed Sunday, as Watt recorded six pressures on 29 pass-rush snaps when matched up with Eluemunor, according to Next Gen Stats. Watt had two sacks on those 29 opportunities.
Contact Adam Hill at ahill@reviewjournal.com. Follow @AdamHillLVRJ on X.