Raiders report: Josh Jacobs shaking off rust after lost offseason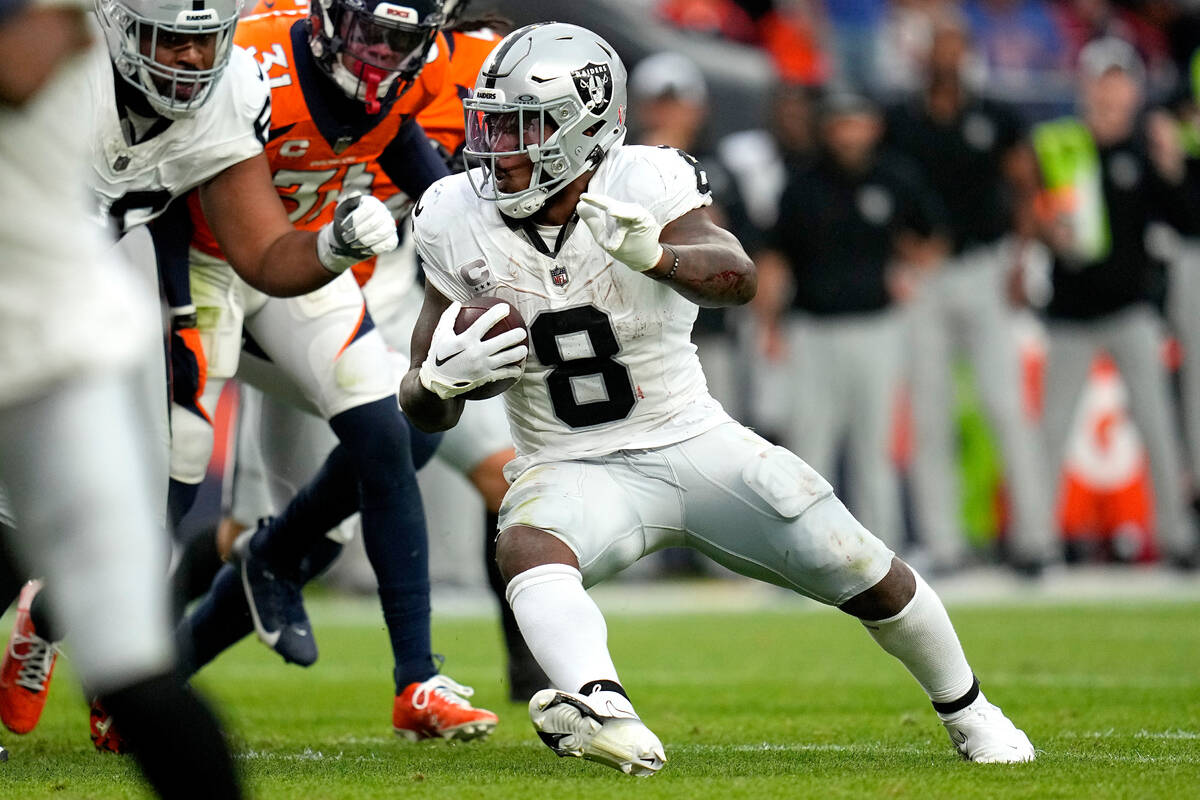 DENVER — Josh Jacobs wasn't about to accept a reduced workload even if there might have been a few occasions that his body was saying otherwise.
"It's elevation, and I did get tired on a couple plays," he admitted after a 17-16 win over the Denver Broncos on Sunday at Empower Field at Mile High. "I have to sell myself out on that."
Yet on several occasions when Jacobs spotted a replacement trotting onto the field, he waved them back to the sideline.
"I wasn't really supposed to play this much, but I'm a competitor," he said. "I get in that mode."
The numbers weren't spectacular, but the Raiders were glad to have one of their stars back on the field. Jacobs, wearing No. 8 for the first time, ran for 48 yards on 19 carries and caught two passes for 23 yards. He also made some nice downfield blocks, but the 2022 NFL rushing leader admitted there might have been some rust after missing nearly the entire offseason because of a contract issue.
"We had a lot of runs that were really close," said Jacobs, who has been practicing with the team for just more than a week. "I have to knock the rust off. There were a few plays where I feel like I tripped up a little on plays that I know I could have made or reads that I was just a little late on. It's going to come to me working at practice after not being here in the offseason."
Zamir White was the only other running back to get a carry, getting 2 yards on his only opportunity. Ameer Adbullah was targeted in the passing game on a throw that was tipped and intercepted in the end zone.
It might not have been in the game plan to give Jacobs such a high percentage of usage, but coach Josh McDaniels said it was dictated by unique circumstances.
"Those guys went in there and did a few things," he said. "It was a very strange game. Very strange. Seven total possessions and five in the first three quarters.
"I think we had 12 runs and 12 passes at halftime, and then play it from there as you will. The play count never really got that high. (Jacobs) was ready to go, and we'll only get better."
Rules are rules
Quarterback Jimmy Garoppolo appeared frustrated when the league's neutral spotter pulled him from the game to check on a possible concussion before a first-and-goal play in the first quarter.
"I was pretty upset because we were driving and off to a good start," Garoppolo said. "I didn't feel like I needed to come out, but that's the NFL rule."
Brian Hoyer came in and handed off to Jacobs twice. Garoppolo emerged from the medical tent as the Raiders broke the huddle for the third-down play, prompting McDaniels to call timeout to put him in the game.
It proved to be the right call. Garoppolo threw a touchdown pass to Jakobi Meyers on the next play to put the Raiders ahead 7-0.
Tackling the misconception
Cornerback Nate Hobbs is confident in his own tackling ability, but he wasn't so sure about rookie cornerback Jakorian Bennett.
He knows now.
"I knew he was a dog and could cover, but he was tackling his butt off," Hobbs said. "I'm really proud of that dude."
Hobbs finished with 12 tackles, and Bennett made seven despite the common perception about modern NFL cornerbacks often shying away from contact.
"I'm a dog, too," Hobbs said. "Wherever the ball is, I'm getting there. What happens happens, and you all saw what happened."
Bennett said he tries to make plays in all phases.
"I guess they know now," he said of any doubters. "I was just trying to play my role. It's part of the game. You have to be willing to tackle. If I see the ball, I'm going to get it."
Rolling the dice
Sean Payton began his Broncos coaching career the same way he started the third quarter of Super Bowl 44 with the New Orleans Saints — calling for an onside kick.
This time, it didn't work the way it did in the Saints' victory over the Indianapolis Colts. The Broncos recovered the kick, but it was ruled they touched the ball before it had gone 10 yards.
Payton said it wasn't a spur of the moment decision.
"It was something we had seen on film," he said. " It wasn't like a random (decision). We just felt like we saw a leverage opportunity, and we wanted to take advantage."
Contact Adam Hill at ahill@reviewjournal.com. Follow @AdamHillLVRJ on X.