Raiders report: Where is the team practicing this week?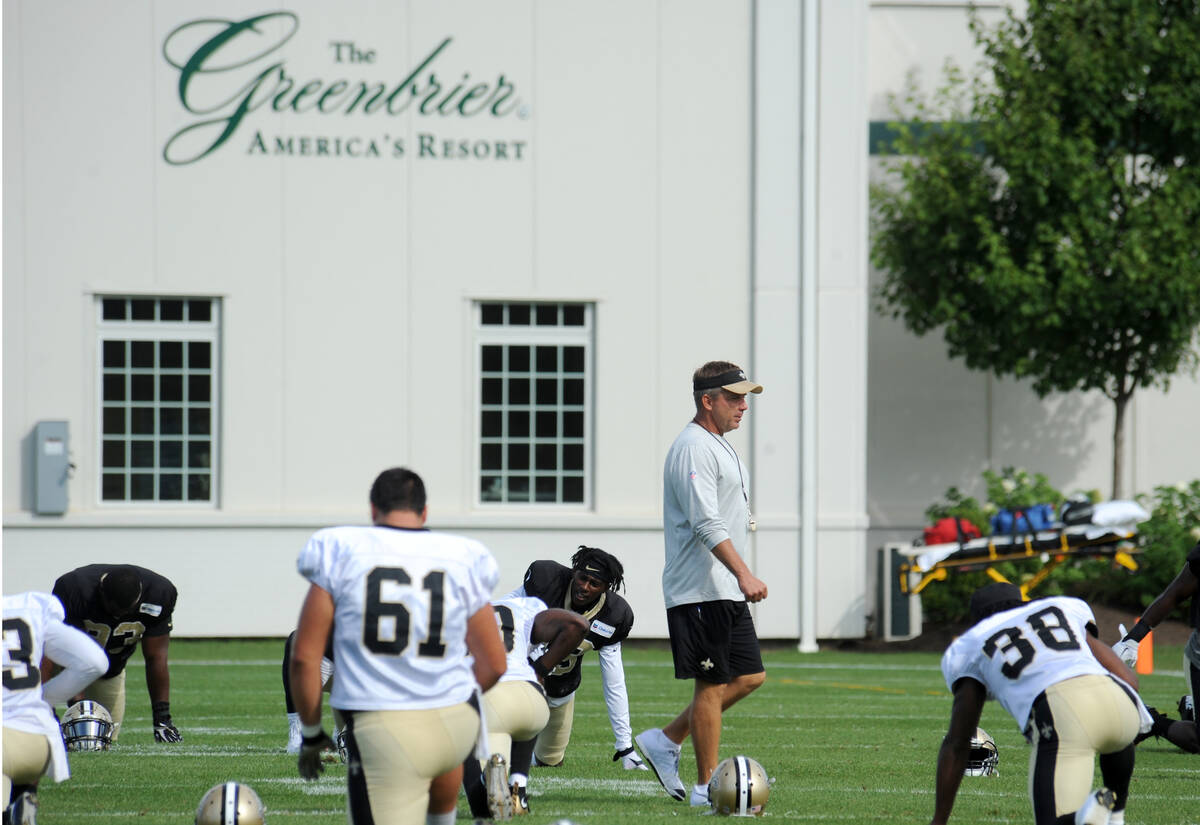 WHITE SULPHUR SPRINGS, West Va. — The special teamers went fishing on their day off Tuesday. Fullback Jakob Johnson went on a hike to the secluded mountain lodge. Other players just enjoyed the facilities from the bowling alley to the tennis courts.
Raiders team headquarters for the week have been relocated to a remote Allegheny Mountain resort called The Greenbrier, which sits on more than 11,000 acres and is the site of an underground bunker that could have served as an emergency bunker to house Congress during the Cold War.
There are also a lot of trees.
"It's good to just get time with your brothers, a little bit of bonding and seeing a different part of the world that I would not have seen, I can guarantee you that, had I not been dragged out here for the week," wide receiver Davante Adams said with a laugh. " But I love it, I mean, it's beautiful, it's very green."
The pre-Civil War property has a casino, restaurants, retail stores and a state-of-the-art athletic training facility that was born out of a conversation at a PGA tournament at the resort between Greenbrier owner Jim Justice and then-New Orleans Saints coach Sean Payton. Justice, now the West Virginia governor, suggested the property would be perfect for an NFL training camp. The project began a short time later, and the Saints moved a portion of their camp to the resort in 2014.
Since then, several NFL and college teams have held practices or training camps at the venue, and it is now fairly common for West Coast teams with back-to-back Eastern road games to relocate to The Greenbrier for the week in between.
"Being on the West Coast, you have choices to make once the schedule comes out and you find out how many East Coast early games you're going to play and how you're going to adapt to that," Raiders coach Josh McDaniels said Wednesday. "Some teams come on Friday, some teams come early like we've done."
The Raiders played in Denver on Sunday and will head to Western New York to play the Buffalo Bills this Sunday, so they chose to set up shop in the remote green hills of West Virginia.
"It's kind of perfect in terms of being able to come in and get a lot of work done," said McDaniels, who also has been here with the New England Patriots. "It's a great setup for anybody. You get acclimated to the time zone, you get acclimated to potentially weather, whether it's humidity that we don't have in Vegas or some kind of wet weather could be a factor. It just gives us an opportunity to do those things by Sunday."
It's also a chance to continue to build team chemistry, particularly with spirits high after a Week 1 victory.
"It's a long season," McDaniels said. "We know we've got to go through a lot of battles and handle adversities and those types of things, and it's always better to handle those things when you really appreciate and have an affection for the people that you're doing it with. I've seen a lot of that already."
Injury report
Adams (foot) did not participate in Wednesday's practice, but the fact that he spoke to reporters indicates the injury won't keep him out of Sunday's game.
Quarterback Jimmy Garoppolo was limited with an ankle injury, and wide receiver Jakobi Meyers remains in concussion protocol.
Receiver DeAndre Carter (knee) and safety Tre'von Moehrig (thumb) sat out the session. Defensive end Chandler Jones remains away from the team because of personal issues.
Contact Adam Hill at ahill@reviewjournal.com. Follow @AdamHillLVRJ on X.