Raiders' revamped wide receiver room showing promise at camp
Updated July 29, 2023 - 9:43 pm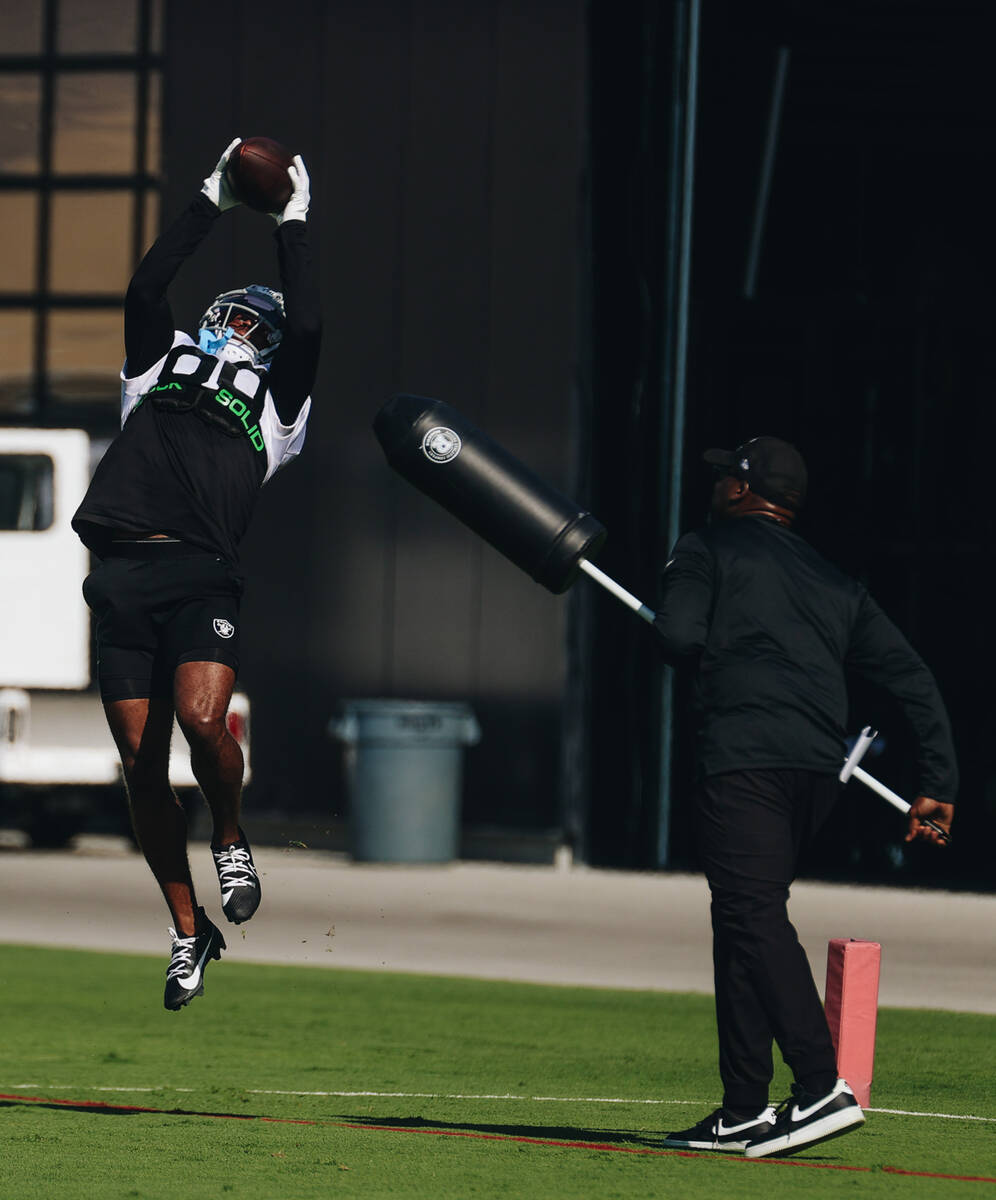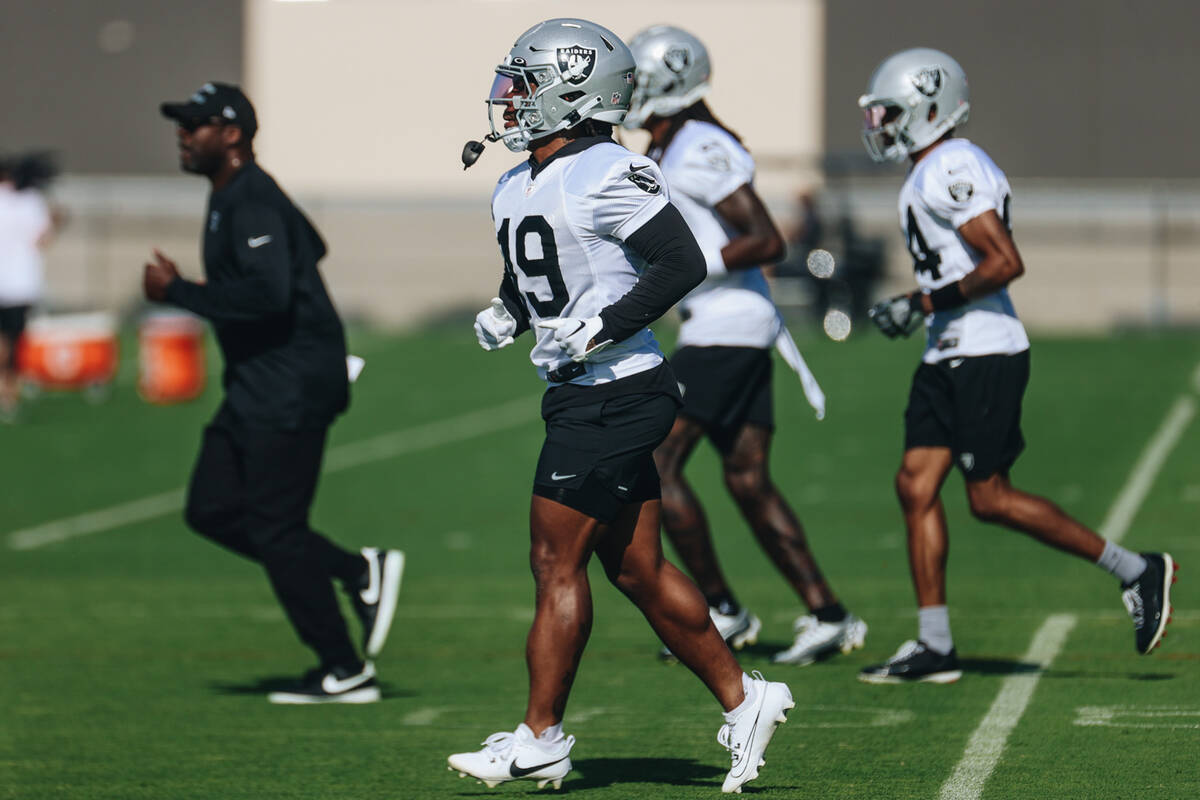 At various points during Raiders training camp this week, Davante Adams, Hunter Renfrow and Jakobi Meyers were on the field at the same time, sometimes bunched together on one side of the ball.
The same was the case with various combinations of Renfrow and Meyers and free agent addition DeAndre Carter and third-round draft pick Tre Tucker — all of whom were matched with one another during seven-on-seven and 11-on-11 work.
The images squash, for the moment, an offseason narrative.
For anyone wondering if the additions of Meyers, Philip Dorsett and Carter and the selection of Tucker meant a diminished role for Renfrow, or even opened a door for him to move on to another team, the early glimpse suggests otherwise.
As Saturday showed — when Meyers and Renfrow not only co-existed but flourished alongside each other, and Tucker and Carter were activated in manners ranging from sweeps to screens to downfield throws — there might be enough balls to go around to feed the Raiders' retooled wide receiver room after all.
Even with Adams getting his expected targets and new tight ends Michael Mayer and Austin Hooper being featured parts of the pass game.
The Raiders dramatically retooled their wide receiver and tight end rooms this season. Adams, Renfrow and seldom-used receivers D.J. Turner and Keelan Cole and tight end Jesper Horsted return.
Out are Darren Waller, Foster Moreau and Mack Hollins, in are Mayer, Hooper, O.J. Howard, Dorsett, Meyers, Carter, Tucker, Cam Sims, Chris Lacy and Kristian Wilkerson
The goal was to add some much-needed speed and athleticism, increase the level of competition and create more favorable matchup possibilities.
As the first week of camp has shown, the competition is real. And the options are plenty.
"Like I don't just say it's fun because that's what I'm supposed to say. Like, I truly enjoy watching every guy in there compete," said Meyers, who caught 235 passes for 2,758 yards and eight touchdowns over the past four seasons in New England.
"Truthfully from the top down, there are some really talented players in that room," he added. "It's a lot of guys being slept on. Just watch them sleepers in the room, man. Them undrafted guys, they can ball, they're smart, they play hard, they do a lot of things right."
Renfrow has been a highlight at camp thus far, including 10 catches Saturday. He is already showing he can find his niche in this offense.
"I think when you have a lot of good players — at least some of the good teams I've been on, we've all pushed each other," Renfrow said. "Iron sharpens iron, and you get better and better and better. You see DeAndre make a play, and you go out there and want to make a play, or Tre, Davante Adams, whoever it is. You go see them do something spectacular, and you're like, 'Man that's fun,' and you want to go do that as well."
Boosting the receiving corps was a necessity after last season, when Waller and Renfrow missed significant time and the falloff to their backups was glaring.
The Raiders have 11 wide receivers in camp, a number that will get trimmed to as few as five by the time the 53-man roster is finalized. Just one week into camp, it's obvious some tough decisions are looming.
"It's not going to be easy," someone with knowledge of the situation pointed out.
The combination of Adams, Renfrow and Meyers, with some Tucker, Carter and Dorsett added in, should help create more exploitable matchups compared to last year.
Meyers, in particular, has caught the eye of teammates,
"I mean, he's just a pretty savvy guy to not be super old in the league," Adams said of the four-year veteran. "That's still pretty young in this league to know how to be able to be creative with your routes, but also be on time."
In particular, being on time with his quarterback.
"There's a lot of guys that get creative and do a lot of stuff within the route," Adams added, "but now a quarterback's waiting on him and it's a sack, and it's not the same rhythm as when everybody else is catching the ball."
Contact Vincent Bonsignore at vbonsignore@reviewjournal.com. Follow @VinnyBonsignore on Twitter.