Raiders secondary expected to be primary focus in NFL draft
Updated April 22, 2023 - 1:16 pm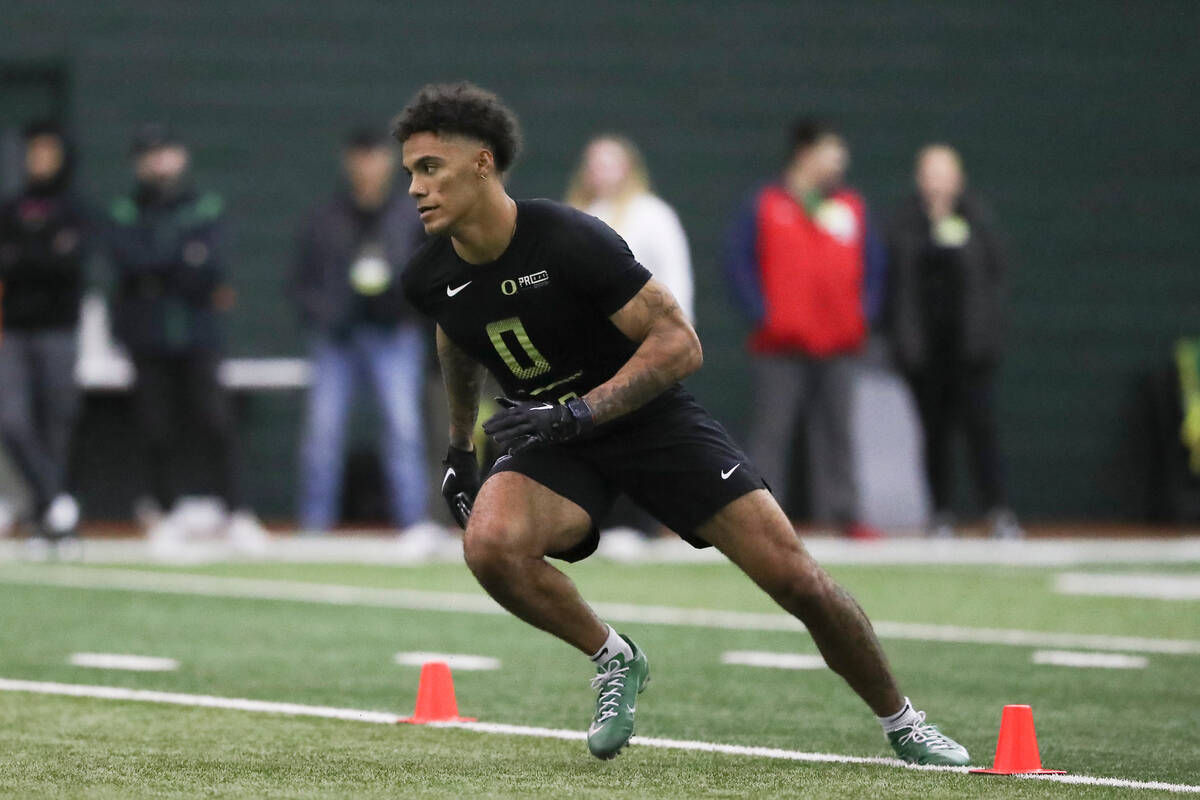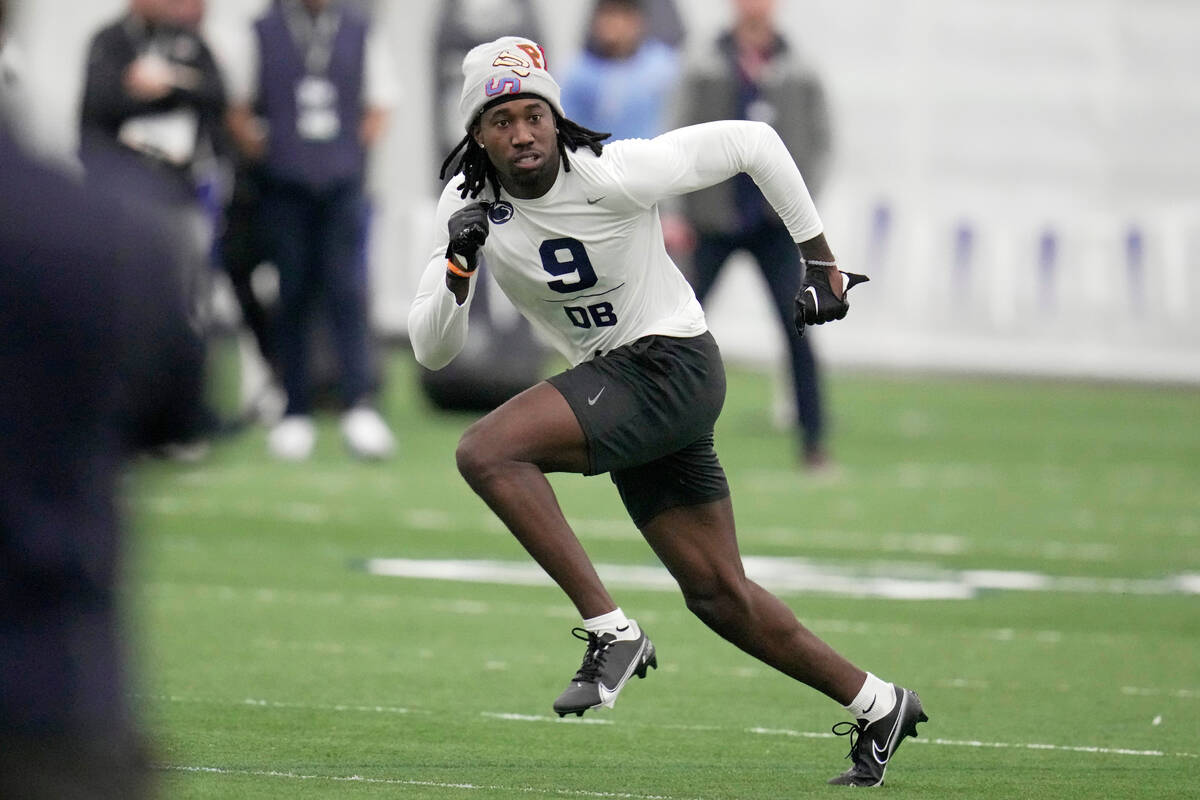 The consensus among most recent mock drafts is that the Raiders will select a cornerback with the seventh pick. Or they will possibly double up at that position and also look to add a safety.
Of all the pressing defensive needs, the secondary ranks among the most notable. Between the misses in previous drafts — cornerbacks Damon Arnette and Trayvon Mullen and safety Johnathan Abram come to mind — and the inconsistent second seasons of cornerback Nate Hobbs and safety Tre'von Moehrig last year, the Raiders need to add an immediate starter and more competition on the back end of their defense.
And they are clear in the key traits they are prioritizing.
"One of the biggest things is guys that can affect the capacity of making plays on the football," general manager Dave Ziegler said Friday. "That's a trait that you want to see, and it doesn't always materialize in college stats, because a lot of guys are asked to play a certain type of way, and that's part of the difficulty in maybe evaluating the position.
"You may watch a guy that maybe doesn't have much ball production because … he's playing 7, 8 yards off the ball. But then when you look at his athletic traits, his short area quickness, his explosive burst, his speed, that's the level of projection that you have to make."
Cornerbacks Devon Witherspoon from Illinois and Christian Gonzalez from Oregon make plenty of sense, with Joey Porter Jr. from Penn State an option should the Raiders trade back in Thursday's first round.
That's also why the Raiders allotted free-agent money to three cornerbacks and two safeties in the offseason. Cornerbacks Brandon Facyson, David Long and Duke Shelley and safeties Marcus Epps and Jaquan Johnson could figure into the secondary rotation in 2023, with Epps almost certainly as a starter.
Coupled with whatever additions occur through the draft, the secondary could look significantly different in the 2023 season compared to last year.
A close look at a group that has to take a big step forward:
Cornerback
Hobbs would solve a lot of problems if he bounces back from his shaky sophomore season and plays like he did as a rookie. The former Illinois standout finished 2021 among the top-10 graded cornerbacks, according to Pro Football Focus, with a grade of 79.1 out of 100. That mark fell to 60.9 last season, ranking 75th.
Some of Hobbs' struggles can be chalked up to the scheme change under new defensive coordinator Pat Graham, moving from slot corner to perimeter corner, and the broken hand he suffered that cost him six games.
Facyson is back with the Raiders after spending last season with the Colts. As of now, he's the starter opposite Hobbs.
But things could look a lot different after the draft. Shelley took off last season after moving from the slot to the perimeter for the Vikings, and coming off the best season of his career, he could add value when the Raiders turn to their nickel and dime personnel groups.
Long was drafted by the Rams in 2019 as a press-cover corner under Wade Phillips, but a scheme change the following season meant Long was playing more zone. He's been a contributor on some good Rams' teams, including their Super Bowl winner in 2021, and his man cover skills could be a good fit under Graham.
The Raiders also have hopes for second-year cornerbacks Sam Webb and Bryce Crosby, two undrafted free agents last year. And Amik Robertson is coming off his best season as he heads into the last year of his rookie contract.
Keep an eye on Tyler Hall, who worked his way from the practice squad to the 53-man roster and flashed whenever he got on the field. He's a strong candidate to win the starting job as the slot corner.
As far as the draft, Witherspoon, a tough, rugged man-cover corner and ferocious tackler, might be a better scheme fit than Gonzalez. Porter also fit the Raiders' scheme, though he might be a reach at No. 7.
Other corners to keep an eye on are South Carolina's Cam Smith, Maryland's Deonte Banks, Mississippi State's Emmanuel Forbes, Kansas State's Julius Brents, Michigan's DJ Turner, Georgia's Kelee Ringo, Miami's Tyrique Stevenson and Iowa's Riley Moss.
Safety
Much like Hobbs, injuries and a slow transition to a new scheme resulted in a step-back season for Moehrig, whose PFF grade fell from 72.5 as a rookie to 54.1 last season.
Epps was a key player on the Eagles' Super Bowl team last season, and the Raiders are counting on his leadership and experience for the back end of their defense.
Johnson adds depth and special teams help.
Roderic Teamer played well as a reserve with 40 tackles last season, and the Raiders think second-year safety Isaiah Pola-Mao has a chance to develop into a contributor.
Alabama's Brian Branch is the only safety expected to be drafted in the first round, but he would be a reach at No. 7. Beyond the first round, Texas A&M's Antonio Johnson, Alabama's Jordan Battle, Illinois' Sydney Brown and Quan Martin, and Georgia's Christopher Smith could be options.
Contact Vincent Bonsignore at vbonsignore@reviewjournal.com. Follow @VinnyBonsignore on Twitter.