Raiders show mixed results in preseason loss to Rams
August 19, 2017 - 10:10 pm
Updated August 20, 2017 - 1:18 am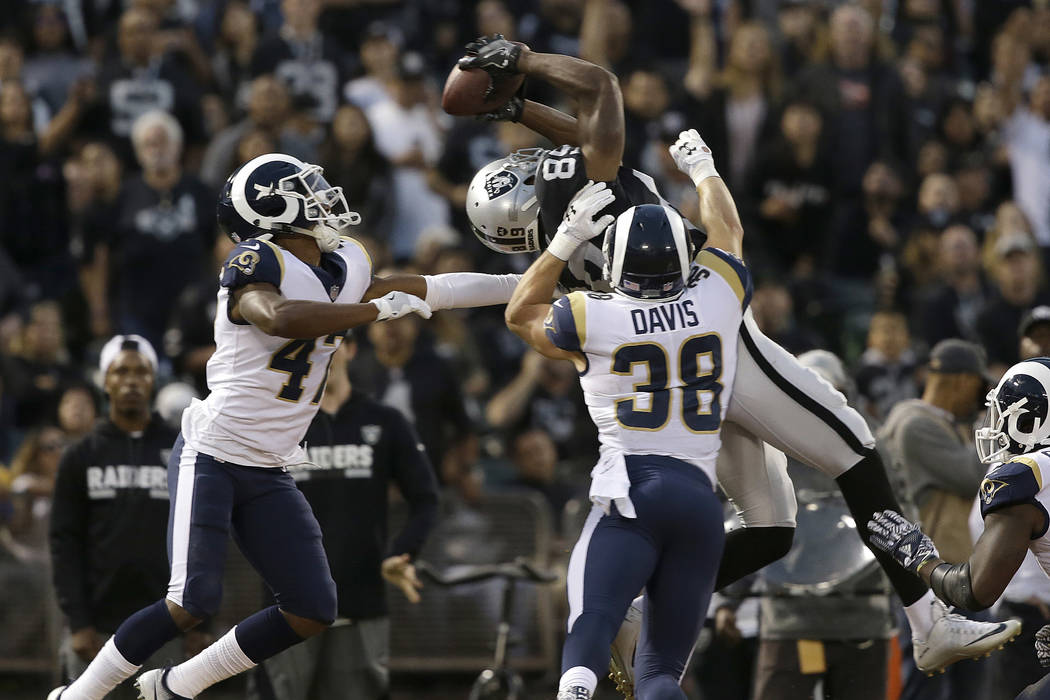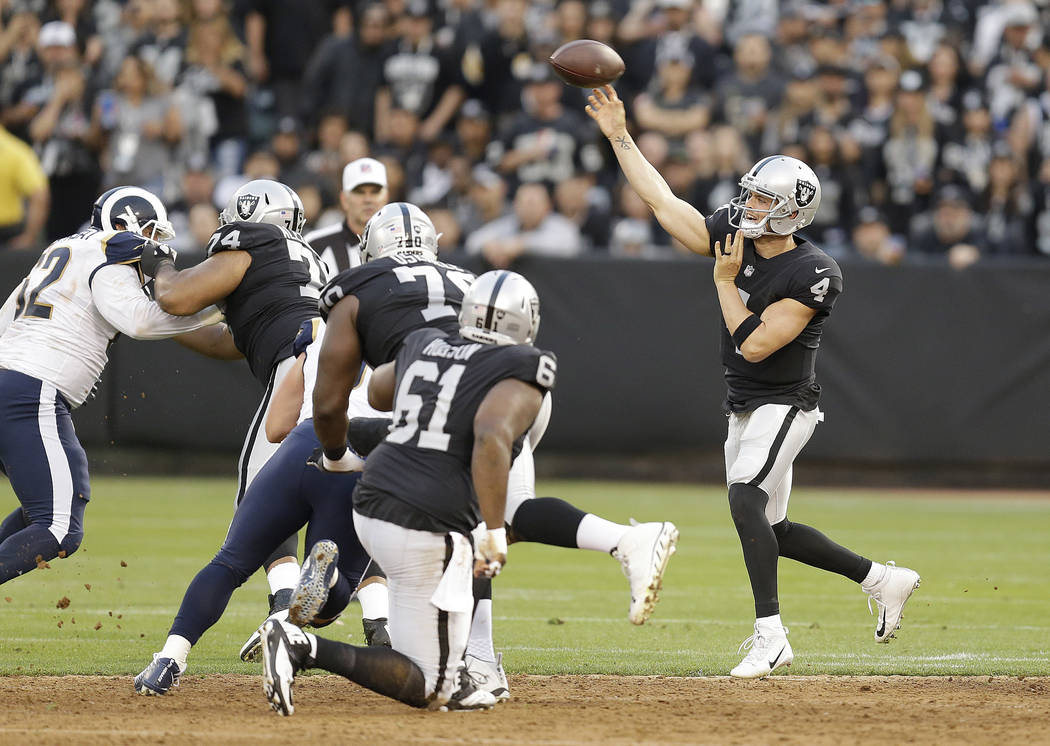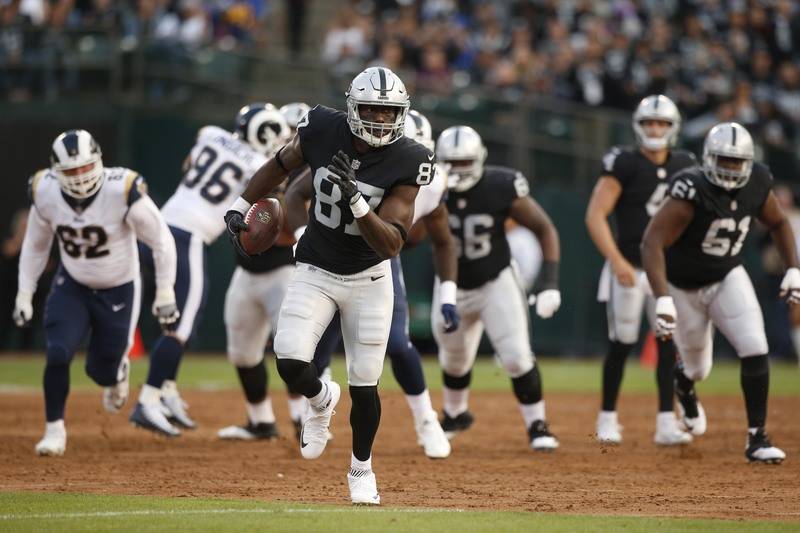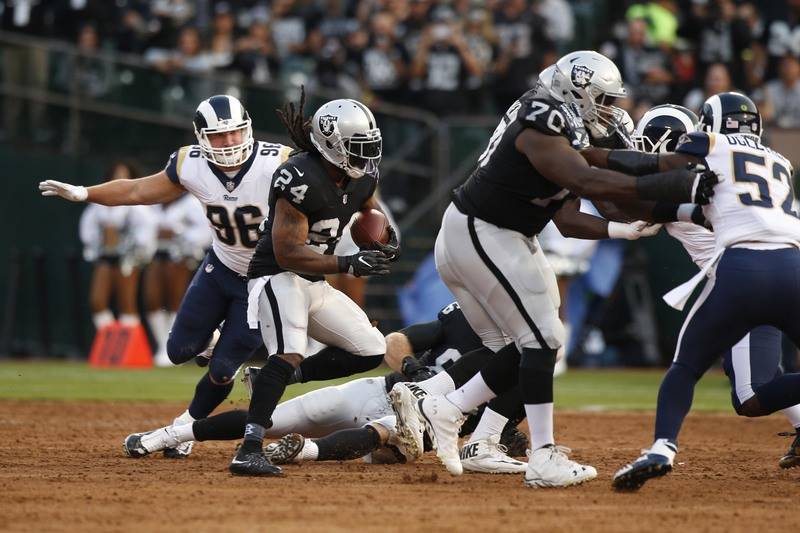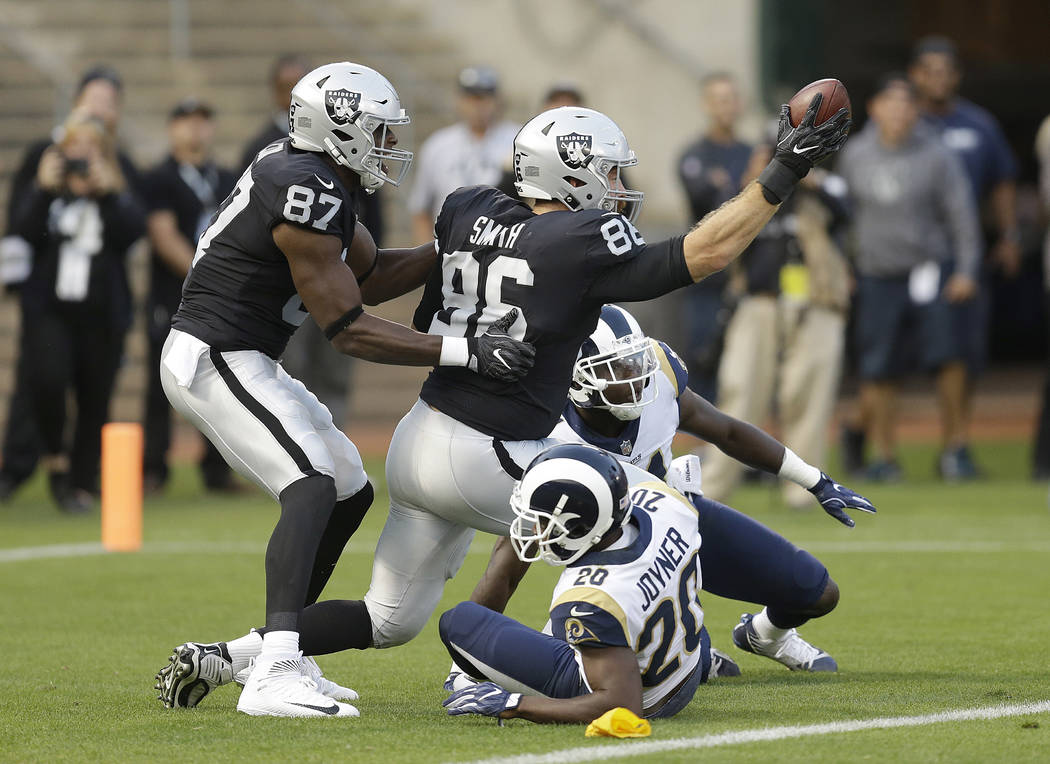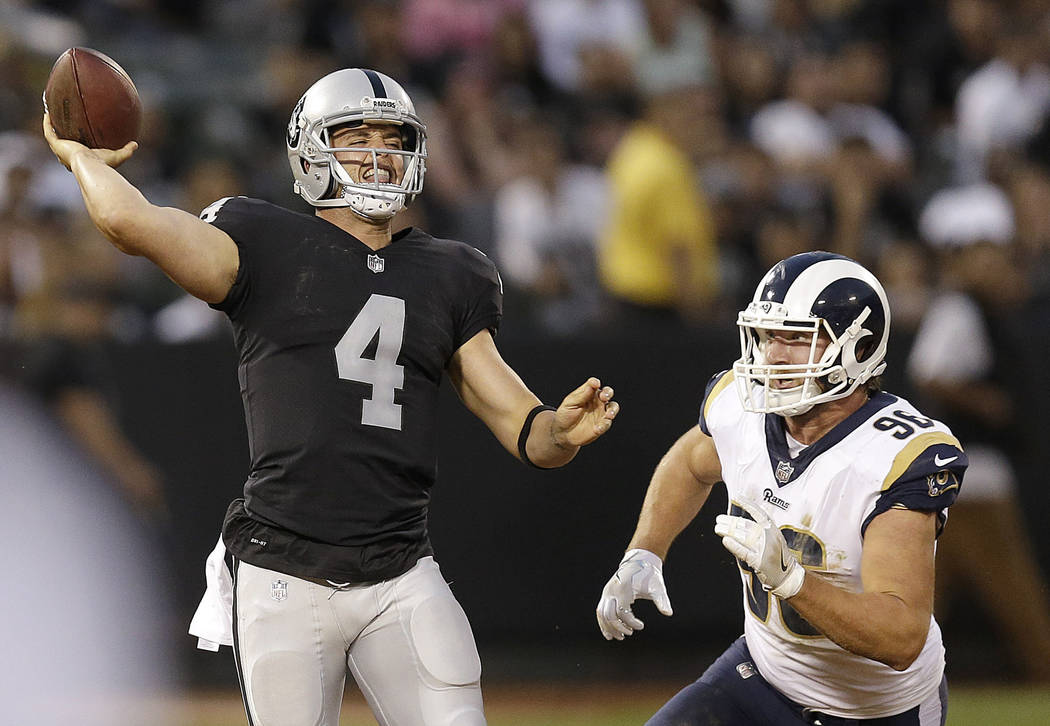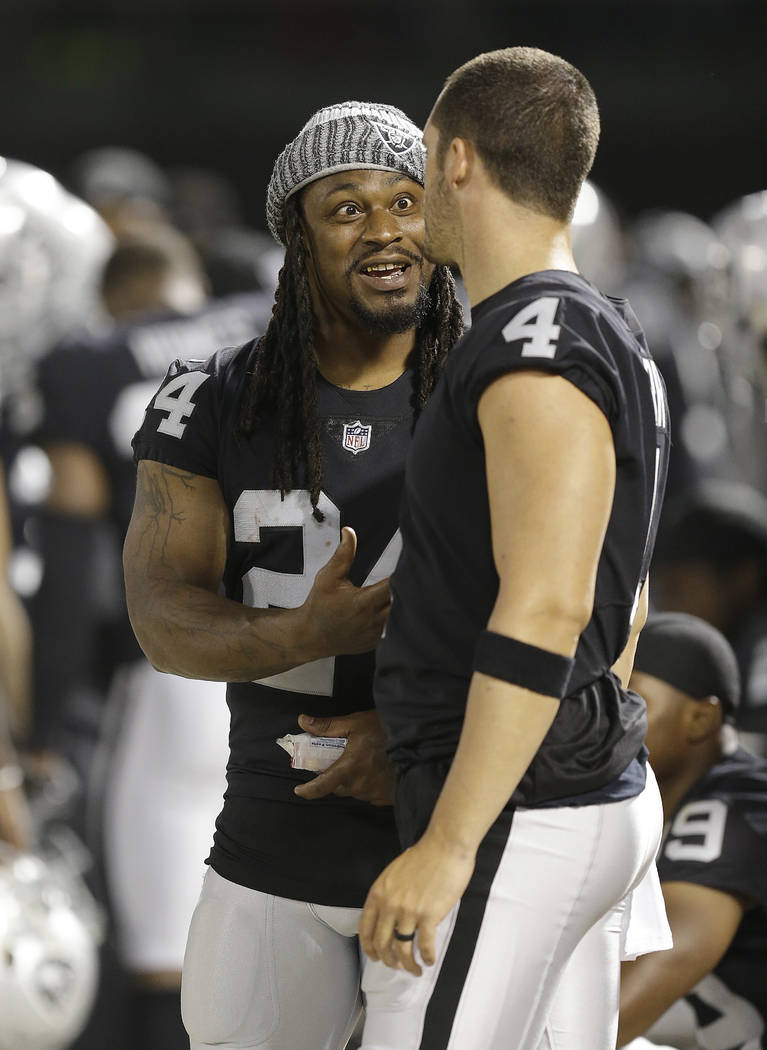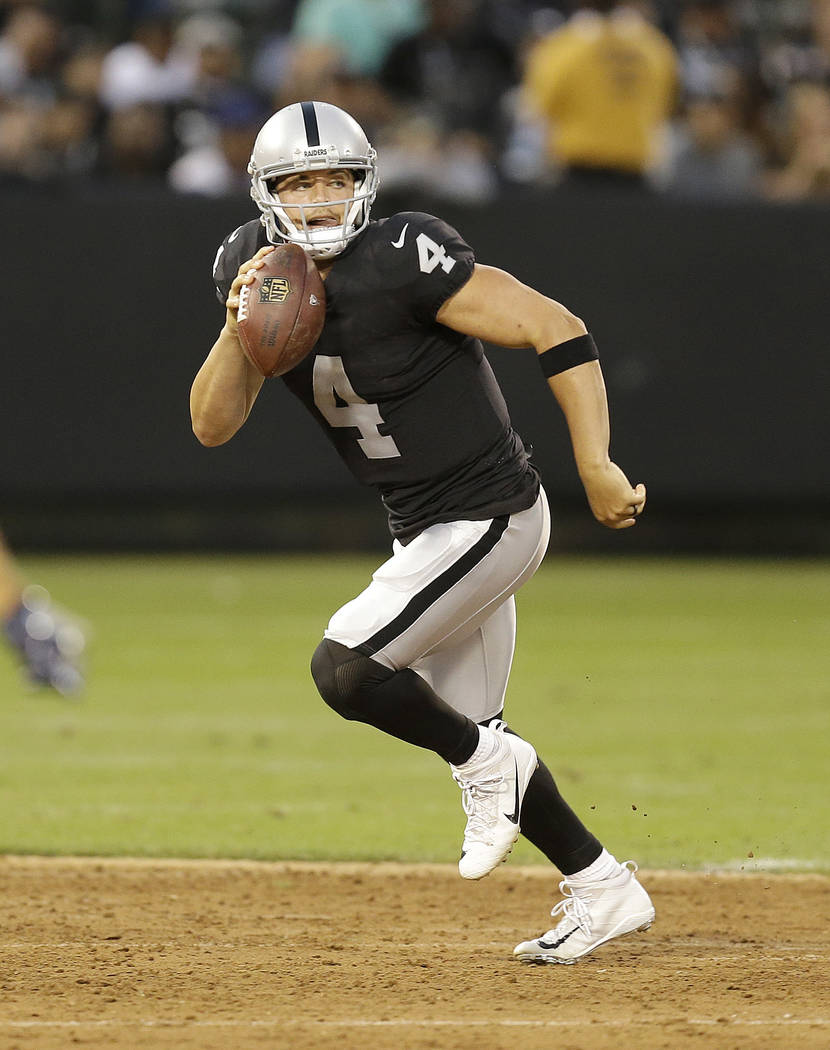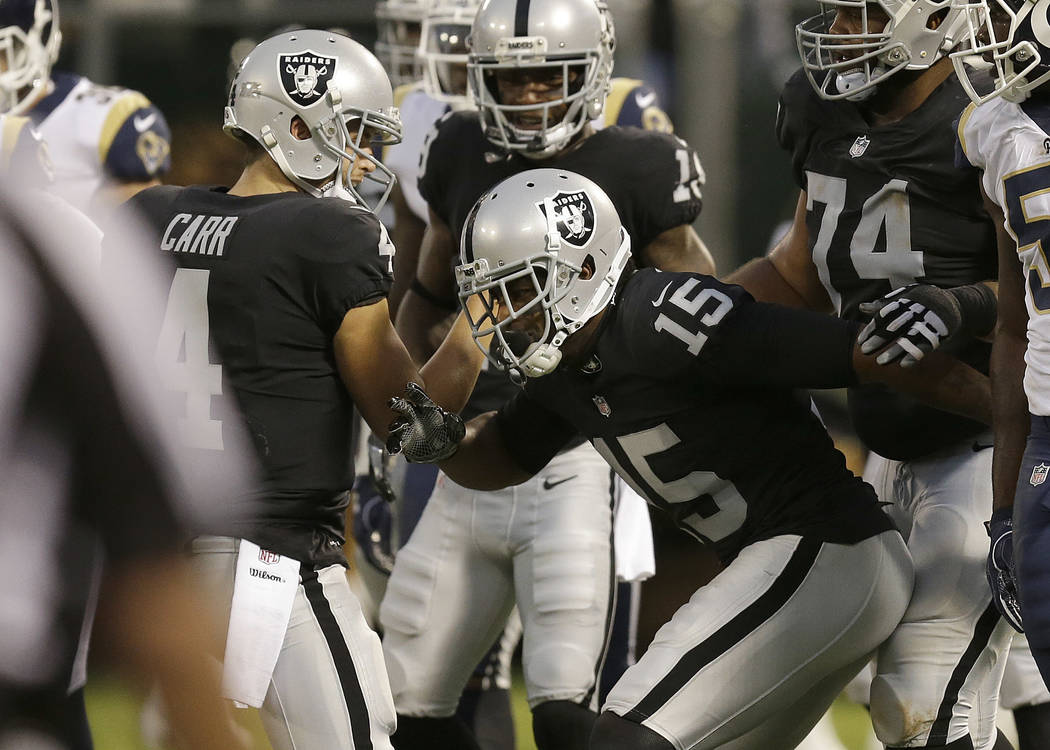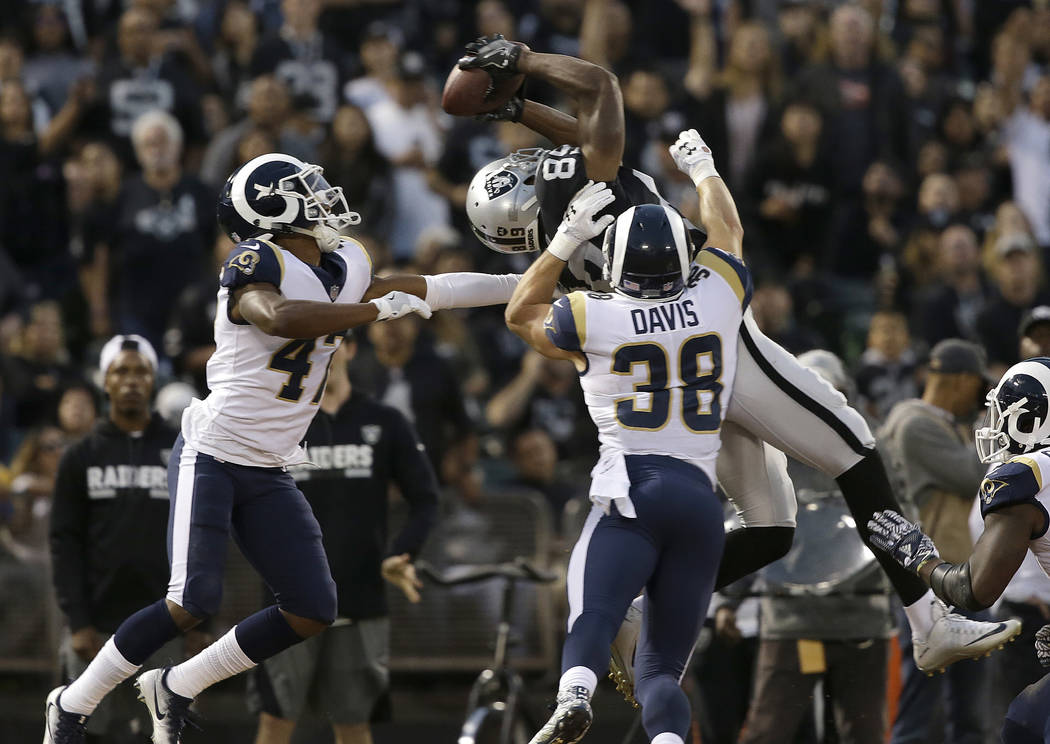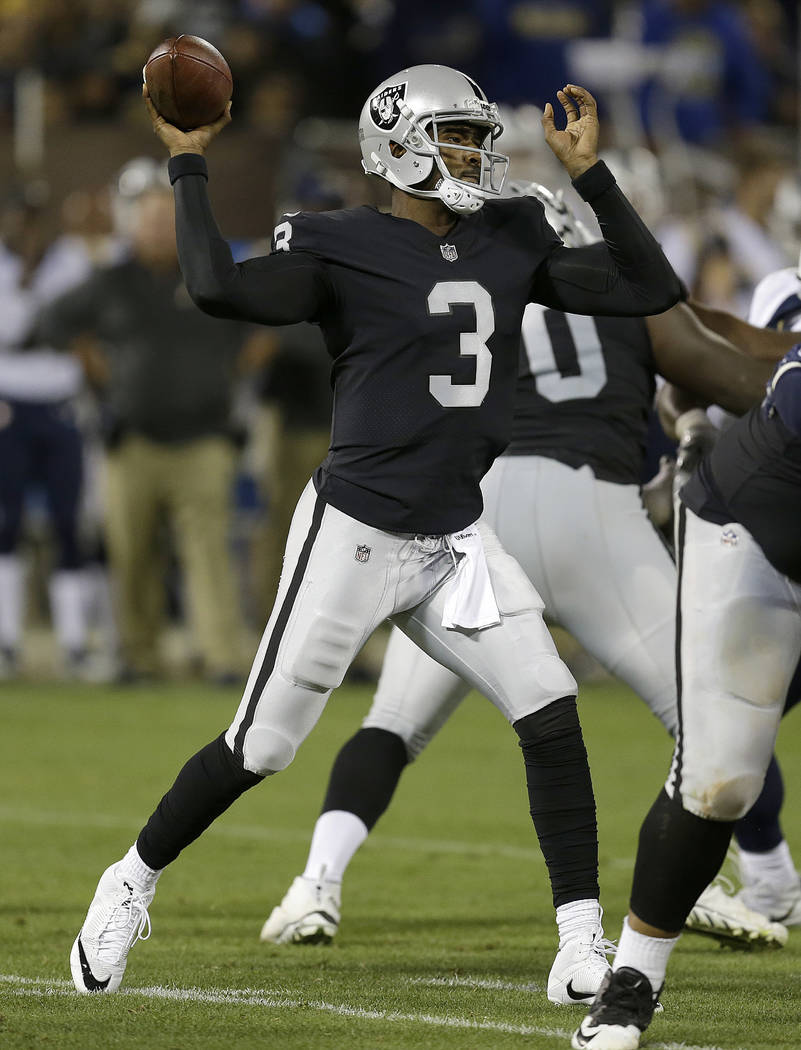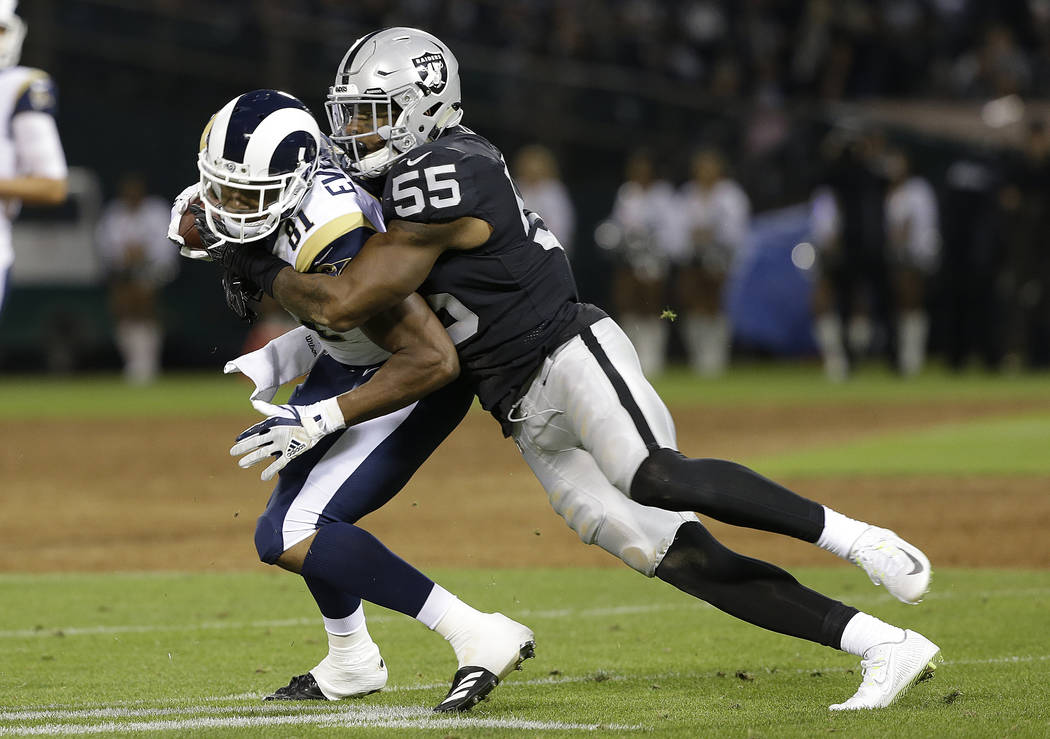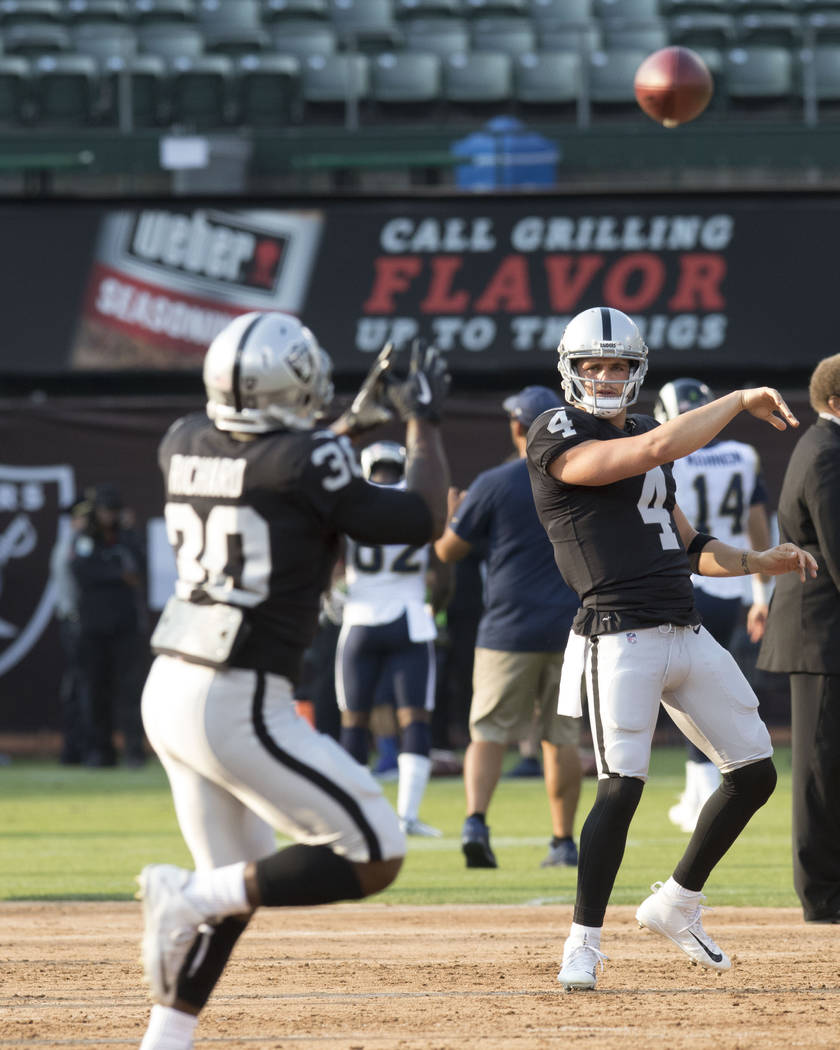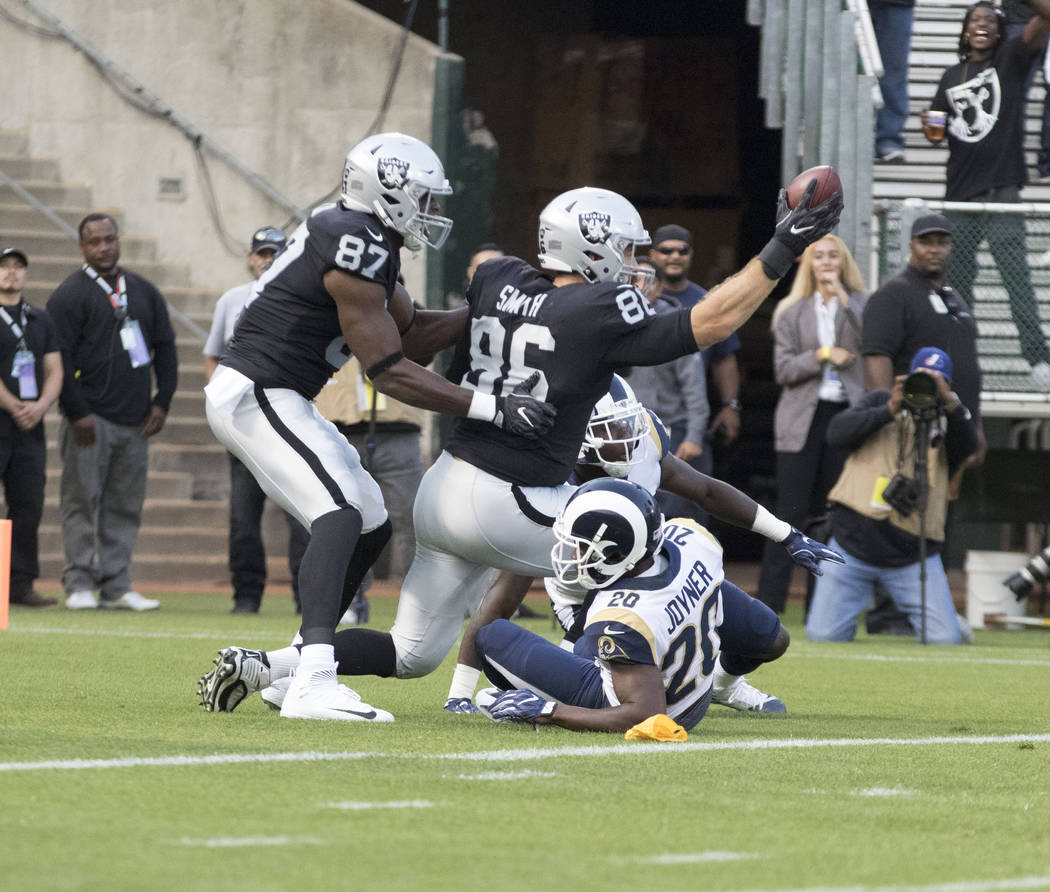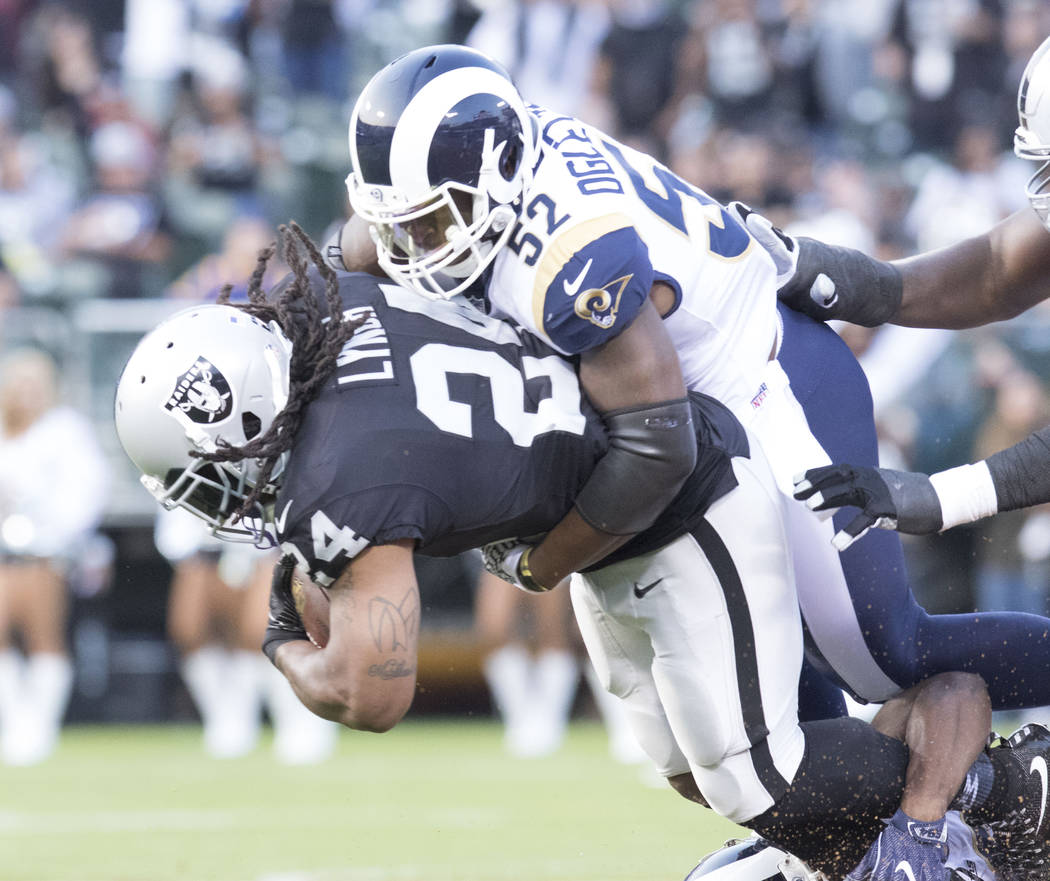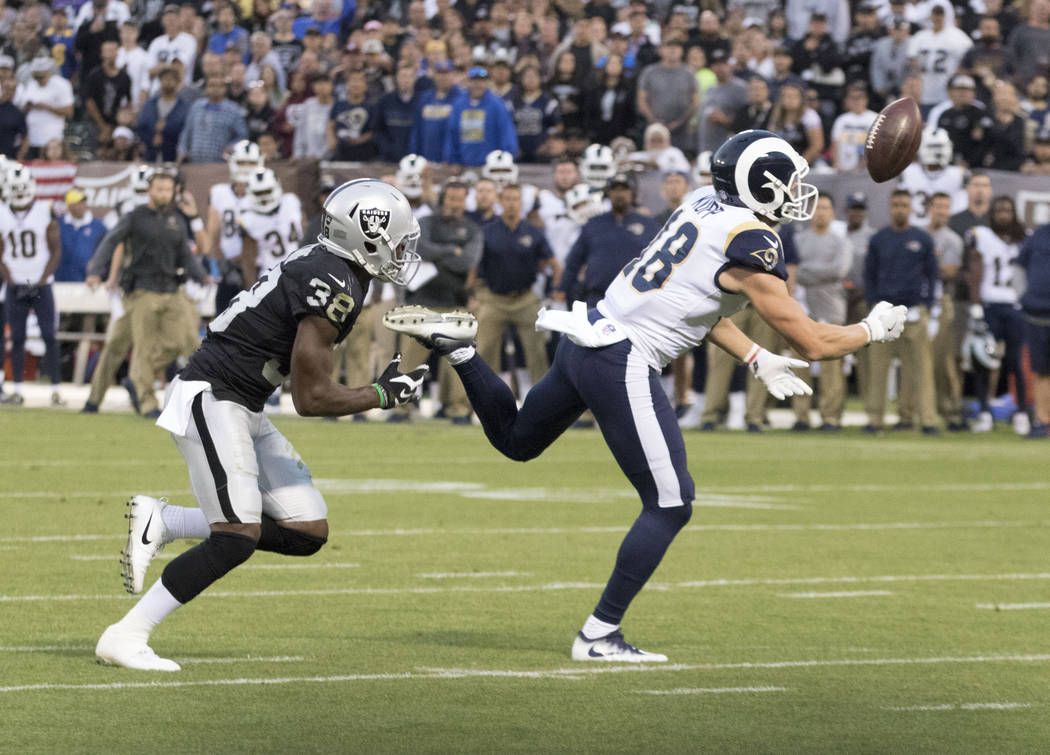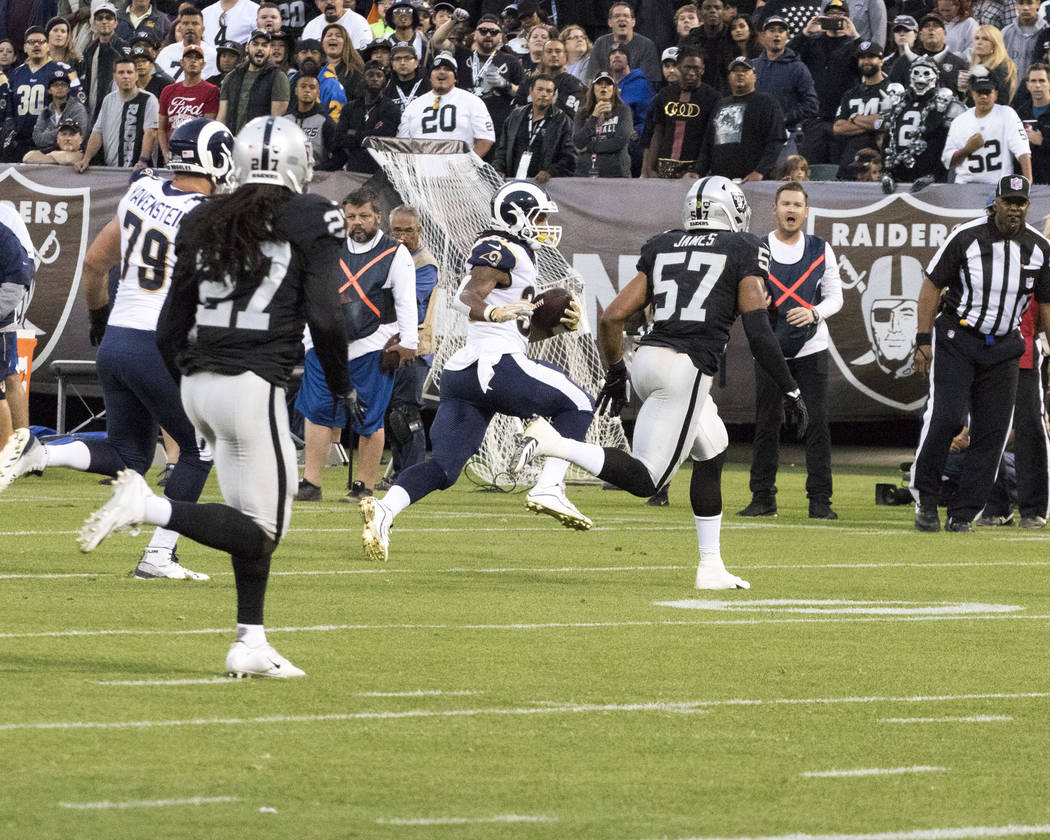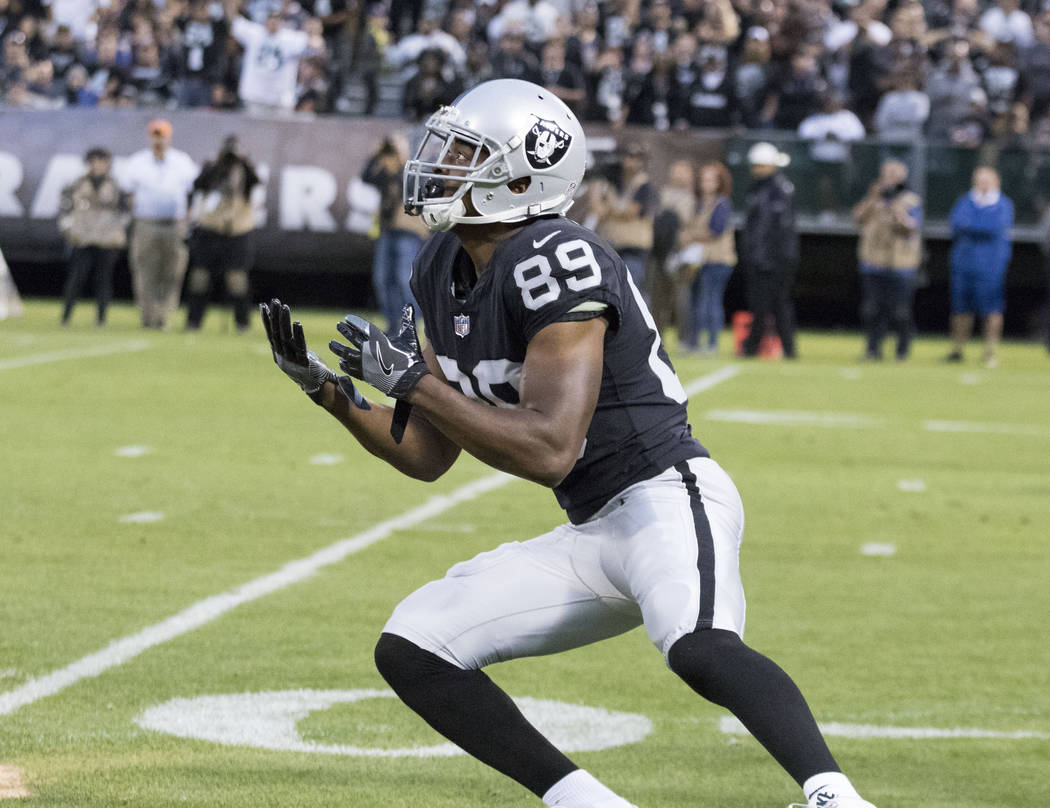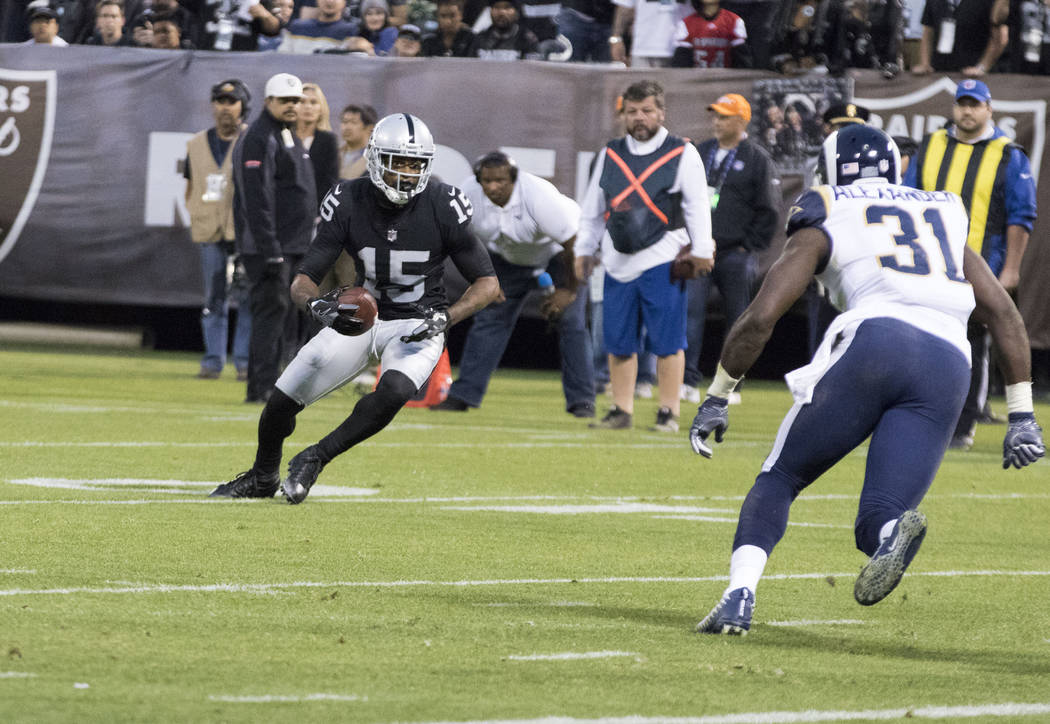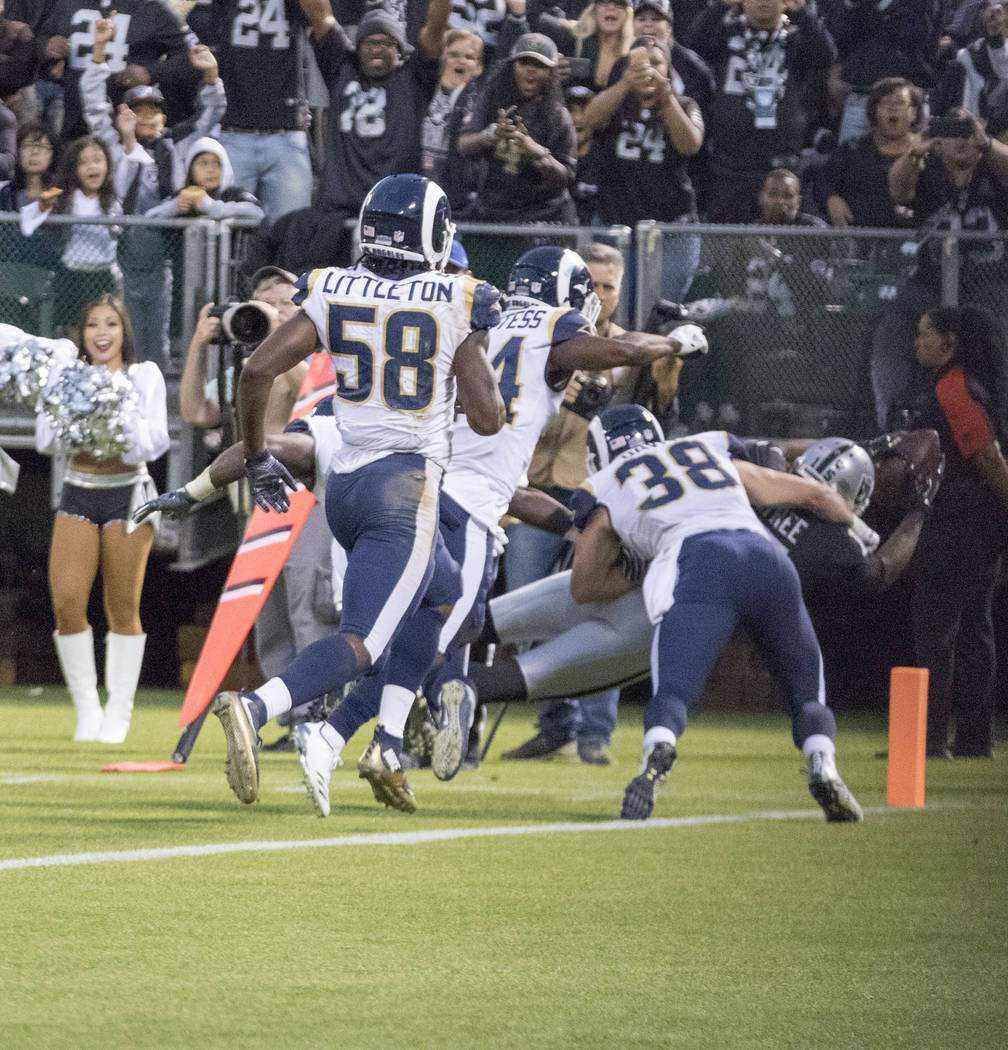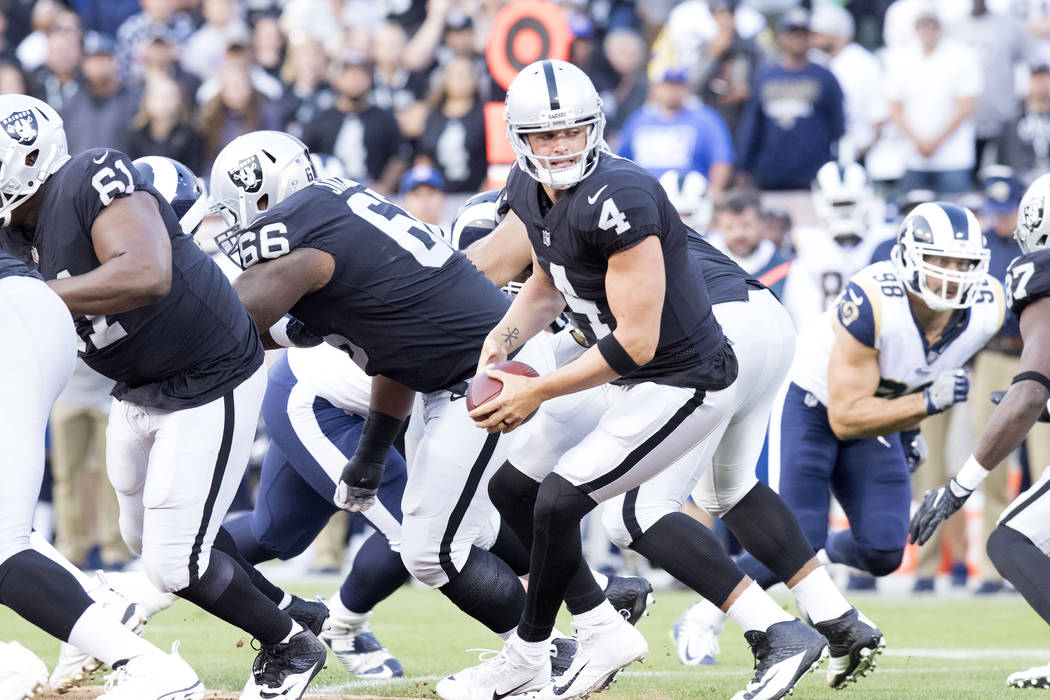 OAKLAND, Calif. — John Pagano held a blue-covered Microsoft Surface tablet in his hands, a crowd formed around him on the Raiders' sideline. The assistant head coach-defense sifted through images of the opening touchdown drive, looking to review and discuss how a coverage breakdown occurred.
Later in the first quarter, a similar scene unfolded.
Coach Jack Del Rio walked to the sideline bench and chatted with cornerback Sean Smith. Again, Pagano brought out the tablet after a touchdown drive. More reviewing with his defensive backs. More discussing.
Better now than September.
The Raiders' defensive and offensive starters flashed ability Saturday night in their most extensive action of the preseason. They also committed blunders, a good balance to build from in a 24-21 loss to the Los Angeles Rams at the Oakland-Alameda County Coliseum.
Quarterback Derek Carr threw for two touchdowns.
The first was flung to Lee Smith, a tight end predominantly known for his blocking. Smith caught the 19-yard pass and absorbed a blow from Rams safety Lamarcus Joyner, maintaining possession while falling into the end zone. Two series later, Carr found wide receiver Michael Crabtree in the red zone. Crabtree made a sharp cutback and sprinted past the pylon for a 13-yard score.
Running back Marshawn Lynch logged two carries for 10 yards. Wide receiver Amari Cooper high-pointed a 31-yard pass in traffic.
Plenty of good.
But between those two scores, Carr found himself under pressure, an interior rush coming from Rams outside linebacker Connor Barwin. Carr forced the issue and threw well inside of Crabtree to cornerback Trumaine Johnson, who converted the easy interception. This was Carr's first appearance in a game since suffering a broken fibula Christmas Eve on this same field. He completed 7 of 9 passes for 100 yards.
A fine start.
For the defense, there is more learning to do.
Khalil Mack, the reigning AP Defensive Player of the Year, made his exhibition debut in expected style with a sack as part of a three-and-out the Raiders forced on their second defensive series. He fought through a double team from Rams tight ends Tyler Higbee and Gerald Everett to down quarterback Jared Goff for a 10-yard loss
That aside, there was little resistance.
Goff, the 2016 first overall pick, looked comfortable with upgraded weapons, as the Raiders allowed him to complete 16 of 20 passes for 160 yards. That included a 23-yard touchdown on the first drive that prompted Pagano and the defensive backs into a review session.
Rams wide receiver Cooper Kupp, a rookie second-round pick, was wide open on a blown assignment. That was just the start for Kupp, who finished with six catches for 7o yards. The Raiders allowed a score in three of the Rams' four possessions in the first half.
Too much shouldn't be made of an exhibition. It's early.
But for a defense that had its struggles in 2016, it's time to learn from the game film and address these miscues before they count.
More Raiders: Follow all of our Oakland Raiders-to-Las Vegas coverage online at reviewjournal.com/Raiders and @NFLinVegas on Twitter.
Contact reporter Michael Gehlken at mgehlken@reviewjournal.com. Follow @GehlkenNFL on Twitter.
Related
Marshawn Lynch sharp in brief Raiders debut
Raiders' Derek Carr, Khalil Mack promote racial solidarity during anthem