Raiders sign TE as possible replacement for Darren Waller
Updated March 20, 2023 - 5:11 pm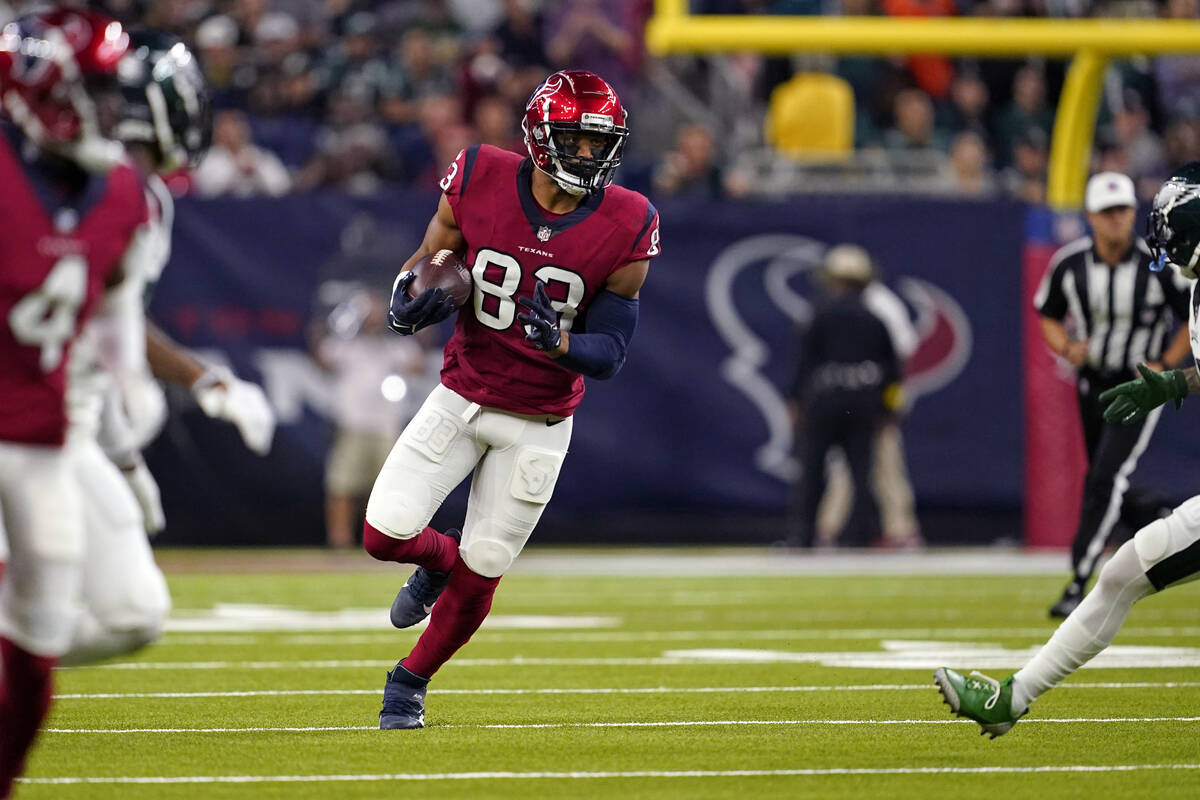 The Raiders remained busy building their roster Monday at the start of the second wave of free agency.
In the process, they brought back veteran wide receiver Keelan Cole, came up with a potential replacement for tight end Darren Waller and added depth on the defensive line, the secondary and the wide receiver room.
The day started with a meeting with veteran tight end O.J. Howard that concluded with the Raiders signing the former first-round pick.
Howard, 28, has slumped the past two seasons statistically, but a move to the Raiders could be the fresh start he needs to get back on track. At the least, he can be a situational down-field threat for quarterback Jimmy Garoppolo while also lending a hand as a solid run blocker.
Howard has played six seasons in the NFL, including five with the Buccaneers, and has 129 catches for 1,882 yards and 17 touchdowns.
The 6-foot-6-inch, 251-pounder did most of that work in his first three seasons, when he had 94 catches for 1,456 yards and 12 touchdowns. Those numbers dropped to 24 catches for 280 yards and three TDs in the past two seasons, including last season in Houston.
After trading Waller last week to the Giants for a third-round pick, the Raiders have an immediate opening at tight end. Howard joins Jesper Horsted, who played 26 snaps last season, and Cole Fotheringham, who spent last season on the Raiders' practice squad, as the only tight ends on the roster.
The Raiders are expected to address the position in the draft, which features a deep class of tight ends. They also are hosting veteran Austin Hooper on a visit Tuesday.
The busy day included the addition of defensive end Jordan Willis, defensive back Jaquan Johnson and former Commanders wide receiver Cam Sims.
The 27-year-old Willis, a third-round pick of the Bengals out of Kansas State in 2017, has been a reserve pass rusher and special teams player with the Bengals, Jets and 49ers. He has 91 tackles, including 15 for losses, and 10.5 sacks in his career.
Willis essentially replaces Cle Ferrell, who signed with the 49ers last week, and will back up Maxx Crosby and Chandler Jones. The Raiders have been looking for ways to ease Crosby's workload to preserve his energy for late-game and late-season situations, along with finding a partner to ease Jones' load.
The Raiders also will make the defensive line a priority in the draft.
Johnson, 27, has played his entire career with the Bills, who drafted him in the sixth round in 2019 out of Miami. He's coming off a season in which he made a career-high three starts and had a career-high 32 tackles to go with one interception. He also played on special teams.
Sims, 27, played five seasons in Washington and caught 57 passes for 804 yards and three touchdowns.
Cole played in 14 games last season for the Raiders, including three starts, and had 10 receptions for 141 yards and a touchdown.
Contacts Vincent Bonsignore at vbonsignore@reviewjournal.com. Follow @VinnyBonsignore on Twitter.