Raiders to meet Broncos rookie head coach Joseph, former OC Musgrave for the first time
September 27, 2017 - 6:37 pm
Updated September 27, 2017 - 7:00 pm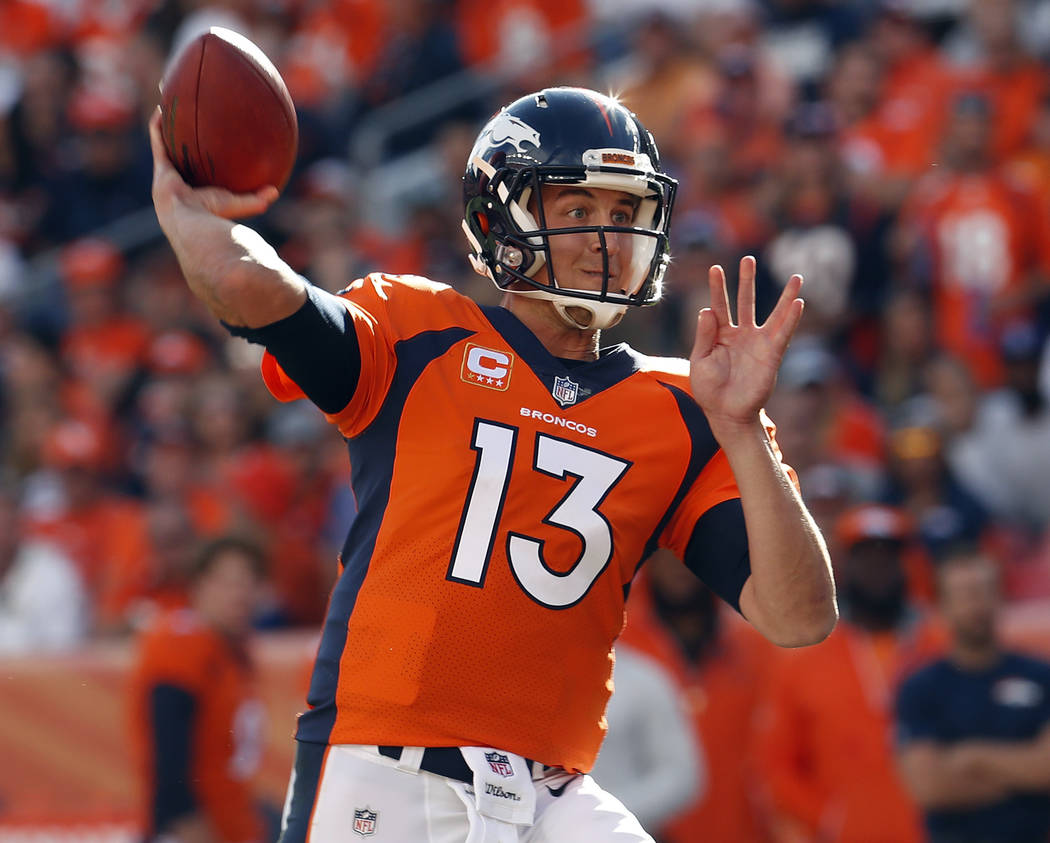 ALAMEDA, Calif. – It's a running joke.
On Sept. 11, "Monday Night Football" introduced two rookies: 29-year old sideline reporter Sergio Dipp and first-year Denver Broncos coach Vance Joseph.
One debut went better than the other.
Joseph beat the Los Angeles Chargers, but Dipp flubbed his lines onscreen when discussing Joseph. The signature goof had Dipp declare that Joseph was "having the time of his life!" The report went viral on the Internet.
"But it's true," Joseph said Wednesday. "I'm having the time of my life."
His coaching staff helps. When the Broncos hired him in January, he made it a priority to build an experienced staff.
"I've worked for a lot of head coaches and everyone understands that your staff is your bloodline," Joseph said. "It was my goal when I got this job to hire the best staff I could hire."
That includes a familiar face in Bill Musgrave, the former Raiders offensive coordinator who was released in January. Joseph hired Musgrave to be Denver's quarterback coach.
"He is the perfect personality to raise young quarterbacks," Joseph said. "He's so patient, he's easy to talk to, he's easy to trust. So, for a young quarterback, he's a dream, and he's obviously a very, very experienced football coach."
Joseph doesn't believe Musgrave's past with the Raiders will give his team an advantage this Sunday.
"Every team changes," Joseph said. "When you watch (Oakland's) offense from last year to this year, it's a little bit different."
Crabtree's limited in practice
Raiders wide receiver Michael Crabtree was limited in Wednesday's practice after suffering a chest injury during last Sunday's loss to Redskins.
Crabtree practiced in a hoodie underneath his jersey, and left after a few drills. The injury occurred during the fourth quarter when he was hit in the chest by Redskins' safety Montae Nicholson on a third-and-11 pass.
Crabtree, who finished with one reception for seven yards, did not return to the game following the hit and X-rays returned negative.
Notables
— Cornerback Gareon Conley (shin) did not participate in practice Wednesday. Conley suffered a shin injury during minicamp in June. The injury caused him to miss training camp, the preseason and the first regular-season game. Conley played the last two games, but was consistently listed on the injury report.
— Wide receiver Amari Cooper (knee), running back Jalen Richard (calf) and defensive back Keith McGill II (foot) also were limited in practice.
Contact reporter Chris Booker at cbooker@reviewjournal.com. Follow @Bookerc94 on Twitter.