Raiders' Whitehead not worried about NFL's new helmet rule
Updated August 6, 2018 - 7:10 pm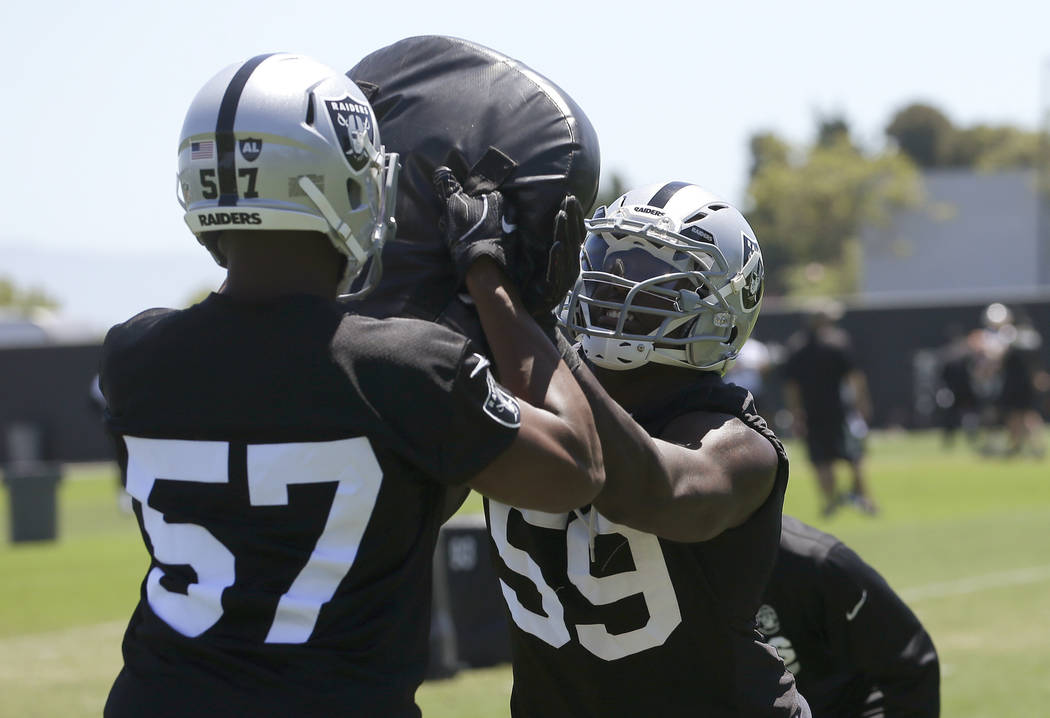 NAPA, Calif. — Tahir Whitehead started every game last season. He recorded 78 solo tackles and assisted on 32 others. He paced all Detroit Lions linebackers by playing a career-high 950 defensive snaps, 415 of which were against the run.
Rewatch every tackle and collision, he said Monday.
None would be in violation of the new NFL policy.
"Not at all," Whitehead said. "Not at all. No chance."
An officiating crew met privately Monday afternoon with Raiders coaches and players, reviewing all rule changes and points of emphasis for the 2018 season. The presentation featured an 11-minute video summary that is shown to all NFL teams during training camp. A Q&A period followed, allowing players a floor to engage a referee before taking a field.
In March, NFL owners approved several procedures.
One rule change arguably is the most significant.
Effective in 2018, a 15-yard penalty will be imposed upon any player — on offense, defense or special teams — who lowers his head to "initiate and make contact" with any part of an opponent's body. If a defender commits the penalty, the offense will be awarded an automatic first down.
Whitehead seems receptive of the rule.
"It's pretty much self-explanatory," he said. "You don't lower your head to initiate contact. At the end of the day, it's protecting the offensive guy, but most importantly, you're protecting yourself. We've all seen what happened countless times last year where guys lower their head and risk not only injuring the guy on offense but exposing yourself to injury. It just makes sense.
"As a defensive player, you're always taught, 'You need to see what you hit.' When you're taking on a block, you don't duck your head because you're exposing yourself to neck injuries. That's always the way I've played the game, so I don't think it's necessarily going to affect the way I play personally."
In specific cases, players who violate the rule can be ejected.
This applies to someone who lowers his helmet and establishes a linear body posture before initiation of contact, had an obstructed path to his opponent, and the contact was "clearly avoidable and the player delivering the blow had other options," according to a fact sheet the NFL distributed to the media.
The NFL held educational sessions with coaches May 1-2 in New York. Conference calls and webinars took place May 16-17 with all coaching staffs. Furthermore, the league created a video series, called NFL Way to Play, in which head coaches narrated position-specific examples of what is and isn't acceptable under the new guidelines.
Still, coach Jon Gruden said he anticipated some questions in the session.
"Hopefully, we get some clarity out of it and make sure everybody is on the same page," Gruden said. "I know we've been emphasizing exactly what they've been talking about since day one. We don't want any lowering of the head and malicious types of hits. We'll get some clarification. Obviously we need it. We have to get everybody on the same page and understand the rules."
More Raiders: Follow all of our Raiders coverage online at reviewjournal.com/Raiders and @NFLinVegas on Twitter.
Contact reporter Michael Gehlken at mgehlken@reviewjournal.com. Follow @GehlkenNFL on Twitter.
Fact Sheet – Use of the Helmet by Las Vegas Review-Journal on Scribd