Real work starts now for Jon Gruden, Raiders
January 11, 2018 - 2:19 pm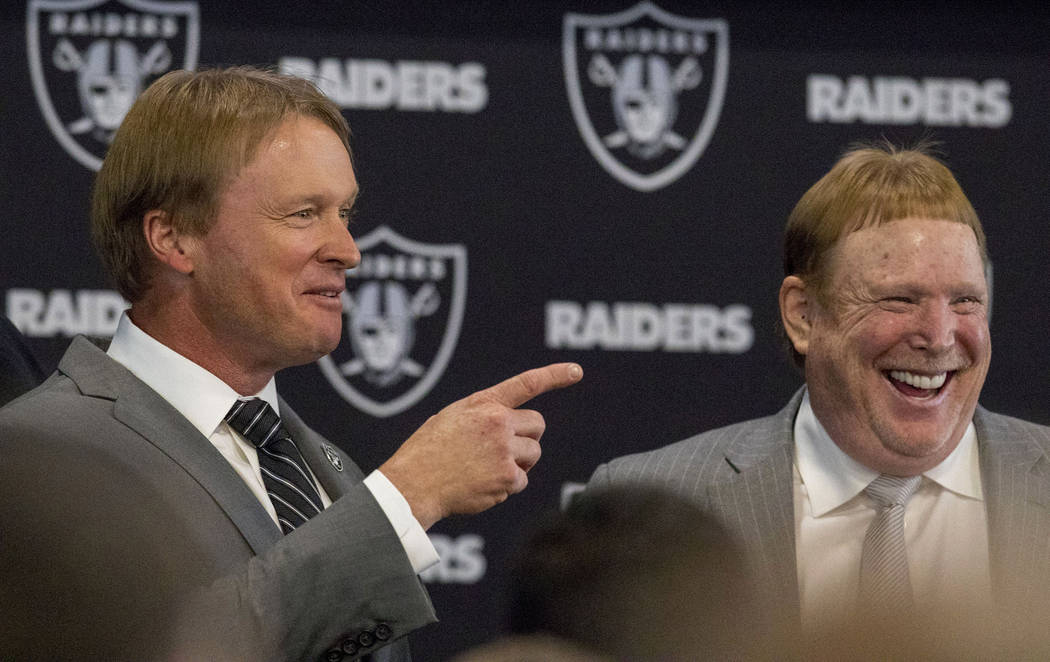 ALAMEDA, Calif. — Finally, they all left Tuesday.
The satellite trucks that televised his introductory news conference rolled away from team headquarters. The 115 media members whom the Raiders credentialed headed home. The 230 chairs, occupied not only by reporters but player alumni and others affiliated with the organization, were folded and removed from a once-buzzing team weight room.
A circus gave way to silence.
Surely, Jon Gruden felt relief. It was time to begin.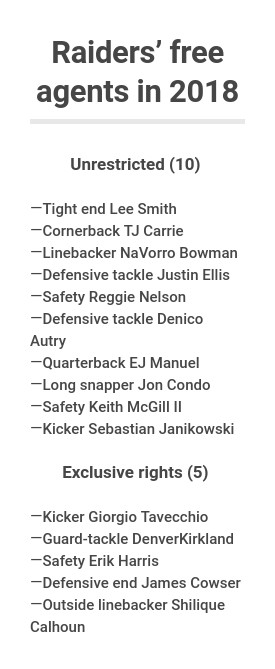 The Raiders head coach glided through his first day on the job, charming cameras with the expected polish of a former ESPN personality. All the while, he exuded an underlying eagerness. Gruden was "ready to get to work," he said. There will be no shortage in the coming weeks and months, as he seeks to restore the franchise's place atop the NFL's pantheon.
So far, Gruden has made quick progress on his top agenda item.
"I've got to hire a great coaching staff," he said. "That's been the number one criteria that I've tried to bring everywhere I've been as a head coach. It's about the people. It's about the staff. It's about the tempo that we establish as a coaching staff."
Gruden, at ESPN since 2009, had plenty of time to consider these staffing decisions. Offensive coordinator Greg Olson, defensive coordinator Paul Guenther and special teams coordinator Rich Bisaccia already are in place. He began interviewing position coach candidates on Wednesday morning. That process is expected to consume the bulk of this month.
While a staff is assembled, a player acquisition plan must be established.
This work here began before Gruden's arrival. He can lean on general manager Reggie McKenzie and others in the personnel department, as the Raiders finalize not only their roster needs but the best avenues to address them. In 2017, this process led the club to focus on offense in free agency and defense in the draft; McKenzie was underwhelmed with the defender options in free agency.
The Raiders, too, must answer questions on their current roster.
They are expected to part with wide receiver Michael Crabtree. He carries a $7 million salary in 2018, and several sources have indicated he fell out of favor with coaches last season. The staff changes seem unlikely to alter his fate. The 30-year-old saw 47 offensive snaps in the final two games combined, including just 17 in the Dec. 31 finale.
Cornerback Sean Smith, 31 in July, performed well for much of last season, but the Raiders likely will move on there as well. His $8.25 million salary might be enough to elicit that outcome. An ongoing criminal trial — Smith faces felony assault and battery charges stemming from an alleged July 4 incident involving his sister's then-boyfriend in Pasadena, California. — further clouds the likelihood he'll be counted upon in 2018.
Meanwhile, a decision awaits at running back.
Marshawn Lynch, 32 in April, signed an incentive-laden, two-year contract last spring. His salary is scheduled to to jump from $1.35 million to $4 million in 2018. On March 18, he will receive an additional $1 million bonus if on the Raiders' 90-man roster. He totaled 207 carries for 891 yards and seven touchdowns last season while averaging 5.2 yards per carry in the final five games.
"You know, I've never met Marshawn Lynch," Gruden said. "Even as a broadcaster, I asked for Marshawn Lynch in production meetings and I never got to meet him. So I'm anxious to sit down with Marshawn and meet him. We'll talk about his future and the Raiders. I can't wait. He came back to the Raiders for similar, I think, reasons that I did.
"I think he loves Oakland. I think he loves the Raiders, and guys like him interest me, so I'm looking forward to talking to him."
Safety Reggie Nelson, a two-time co-captain who turns 35 in September, is one of 10 Raiders players scheduled to become unrestricted free agents on March 14. Cornerback TJ Carrie, tight end Lee Smith, linebacker NaVorro Bowman and quarterback EJ Manuel are among the others.
One-year tenders can be placed on five players who are exclusive-rights free agents: kicker Giorgio Tavecchio, guard-tackle Denver Kirkland, safety Erik Harris, defensive end James Cowser and outside linebacker Shilique Calhoun.
The Raiders have no restricted free agents. Wide receiver Seth Roberts was scheduled to become one before a two-year, $11.1 million extension last August. A decision nonetheless is forthcoming. If on the roster March 16, he will receive a $2 million roster bonus and also be fully guaranteed his $2.25 million base salary. Roberts caught 43 passes for 455 yards and a touchdown last year.
Many questions await. Gruden and his staff will approach them with a largely fresh perspective.
"We are going to have to look at our roster carefully and see, do we have a fullback? Who is the feature back? Who are the receivers?" Gruden said Tuesday. "A lot of things have to be determined, and I think you have to have an offense that is adaptable, that is versatile and can adjust to a number of certain areas. That is what we need to do. Get through today, lock the doors and get to work."
Gruden made it through Media Day.
His doors are locked. Time to work.
More Raiders: Follow all of our Raiders coverage online at reviewjournal.com/Raiders and @NFLinVegas on Twitter.
Contact reporter Michael Gehlken at mgehlken@reviewjournal.com. Follow @GehlkenNFL on Twitter.