Shalom Luani learns as Karl Joseph heals for Raiders
November 2, 2017 - 6:09 pm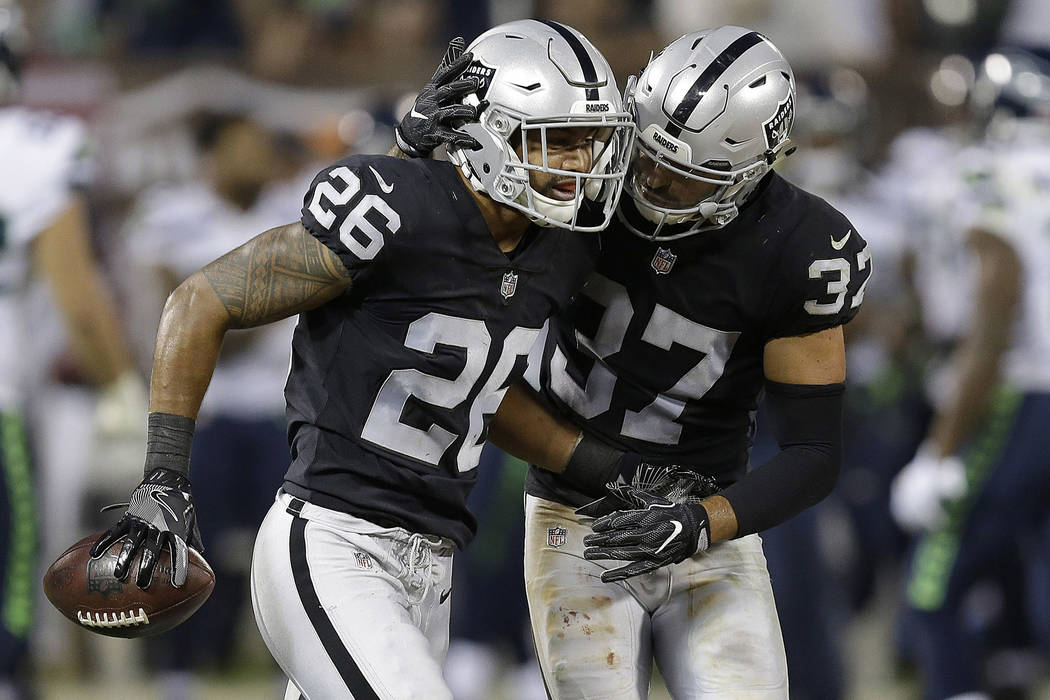 SARASOTA, Fla. — Shalom Luani, an instinctive safety, trusts his eyes in coverage.
The workload he received Sunday should help train them.
The Raiders rookie and seventh-round pick made his first NFL start against the Buffalo Bills. With the positives, there naturally were coaching points he can apply moving forward. Luani may not start this Sunday. Karl Joseph continues to progress from a groin injury and could return against the Miami Dolphins.
Luani will work to be ready if Joseph isn't.
One play from which he can learn came in the third quarter last Sunday. He and safety Reggie Nelson were in zone coverage with the Raiders in their dime sub-package. Quarterback Tyrod Taylor stood in the pocket, scanning to his left and midfield. Luani, positioned deep right from Taylor's vantage, drifted inside to where Taylor's eyes were focused.
When Taylor finally glanced right, Luani was too far inside to provide help to cornerback Dexter McDonald. Wide receiver Andre Holmes caught a 36-yard pass on third-and-12, extending a drive the Bills later capped for a touchdown.
Live and learn.
"I got sucked inside," said Luani, who played five defensive snaps before Sunday's 68. "I was just looking at the quarterback the whole time. It's all good."
"Every player has a certain value that they bring to the table," defensive coordinator Ken Norton Jr. said. "You have to really understand what that is and work around it. It's about experience. It's about understanding what you can and cannot do in certain situations — understanding and anticipating the routes you may get on certain downs and distances. Instincts are really good if you use them correctly."
Joseph moved well during the portion of Thursday's practice open to reporters.
The team listed him as a limited participant. His status for Sunday will be included on Friday's injury report.
Notable
— The Raiders carry six cornerbacks on their 53-man roster. Only three practiced Thursday. David Amerson (foot), Gareon Conley (shin) and Demetrius McCray (knee) were sidelined, as TJ Carrie, McDonald and Sean Smith worked.
— After spectating Wednesday, linebacker Cory James (knee) returned to practice as a limited participant. He is expected to start Sunday after totaling eight solo tackles, include three for a loss, against the Bills.
— Quarterback Derek Carr attempted a season-high 10 passes that traveled 20 yards or more downfield in a Week 7 win against the Kansas City Chiefs. That number dropped to six in Week 8, according to Pro Football Focus. "We ran some people down the field," offensive coordinator Todd Downing said. "It's not like we didn't call the shots and run people in those spots. (The Bills) either covered it or the progression may have taken (Carr) somewhere else, but it certainly was not a complete change in approach in saying, 'Hey, we're going to take shots against the Chiefs, and when we're in Buffalo, we're not.'"
More Raiders: Follow all of our Raiders coverage online at reviewjournal.com/Raiders and @NFLinVegas on Twitter.
Contact reporter Michael Gehlken at mgehlken@reviewjournal.com. Follow @GehlkenNFL on Twitter.