Trying week for Raiders' Josh Jacobs ends with 'hardest game'
Updated January 7, 2023 - 7:20 pm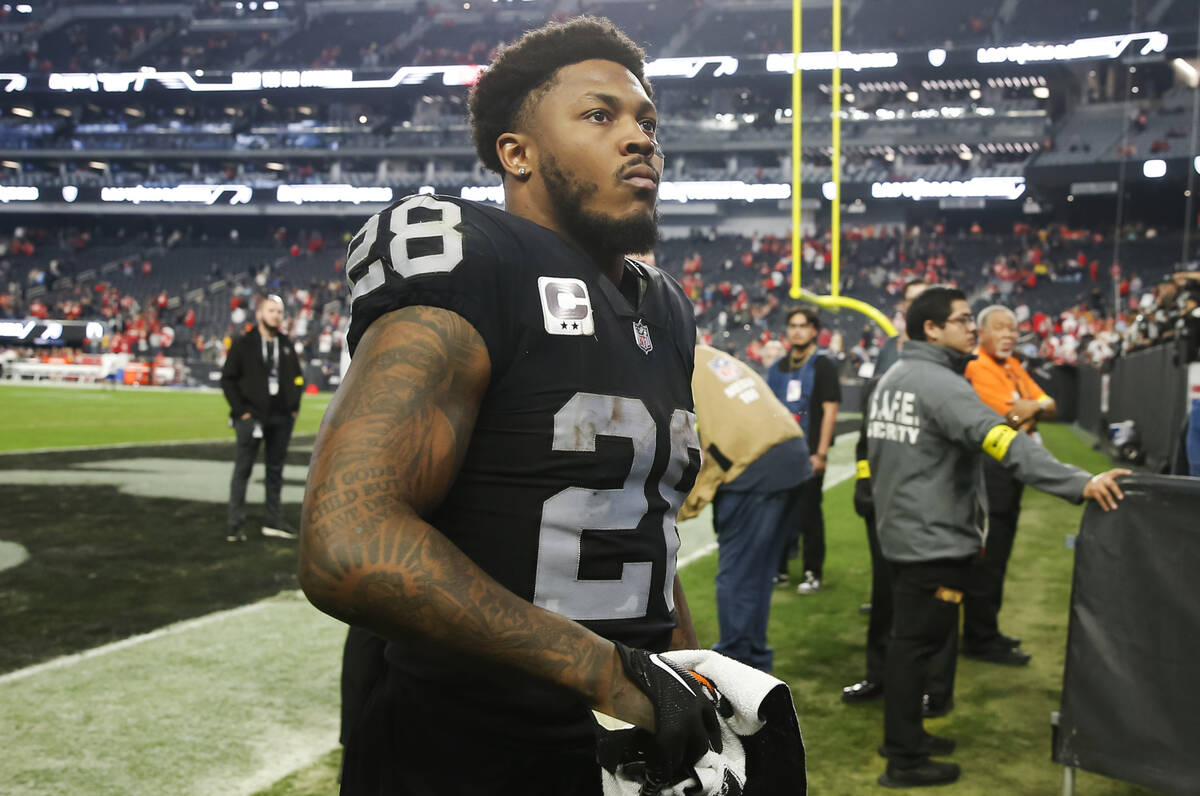 Josh Jacobs did not want to leave Tulsa, Oklahoma. He did not want to return to Las Vegas on Friday night. Or play football Saturday afternoon against the Chiefs at Allegiant Stadium.
Family, the Raiders' star running back said, is more important than football.
Precisely why he flew privately from Tulsa to Las Vegas and played Saturday in the Raiders' season-ending 31-13 loss to the Chiefs.
Jacobs missed the week of preparation for Kansas City to be with his ailing father, Marty, who underwent emergency heart surgery Wednesday in Jacobs' hometown. The running back's 6-year-old son, Braxton, discovered Jacobs' father in pain Tuesday and telephoned emergency medical services — triggering the procedure that might have saved his life.
Jacobs said he wasn't going to come back to Las Vegas because "family is before everything, especially the severity of what's currently going on." But his father awoke Friday and told his son he wanted him to play against Kansas City.
Said Jacobs, rather succinctly: "That's why I'm here."
Jacobs said his son and father are "like best friends" and was relieved and proud that Braxton understood the gravity of the situation.
"It was rough for me trying to explain to (my son) what happened," Jacobs said. "I told him that I'm proud of him, and my pops said he's his hero."
So at his father's urging, Jacobs arrived at Allegiant Stadium on Saturday for the season finale. Albeit after four or five hours of sleep and with nagging hip and oblique injuries for which he was treated before the game.
He had 17 carries for 45 yards and two receptions for 5 yards, statistics that were secondary to the merit of his presence in a game he said was the hardest he's ever played.
"When you have special dudes in the locker room, they're just a little bit different. It means a little bit more to them," said teammate Maxx Crosby, with whom Jacobs was drafted in 2019 by the Raiders. "I can go on and on about Josh Jacobs. He has every bit of respect from me and these dudes in the locker room. … I would literally go to the end of the world for him."
Those sentiments are seemingly unanimous inside a locker room he's helped captain since Week 15 at the request of the team's other eight captains.
Tight end Darren Waller referred to Jacobs as "one of the toughest people I've ever been around."
"From 2019 to now, the stuff he's fought through, the adversity he's overcome to just play and show up for the team and give what he's got," Waller said. "That's a constant from him, and the guys respect that on a very deep level."
Jacobs indicated a return to Tulsa is imminent with the season over.
He played in all 17 games, making 2022 the first of his four seasons during which he played in every game. His 1,653 rushing yards are a career high and lead the NFL. He has a 205-yard lead over the Browns' Nick Chubb as he vies for his first rushing title.
His 2,053 yards from scrimmage also lead the league.
Jacobs said the support he received from teammates, coaches and executives "made coming back good."
"When I told (Coach Josh McDaniels) when I was thinking about going home because the situation was going on, everybody had my back with it," Jacobs said. "They knew it really wasn't about football. I appreciate them. That's just the love they've got for me. I've got the same type of love for them."
Contact Sam Gordon at sgordon@reviewjournal.com. Follow @BySamGordon on Twitter.