With joint practices done, Raiders' preseason opener all about youth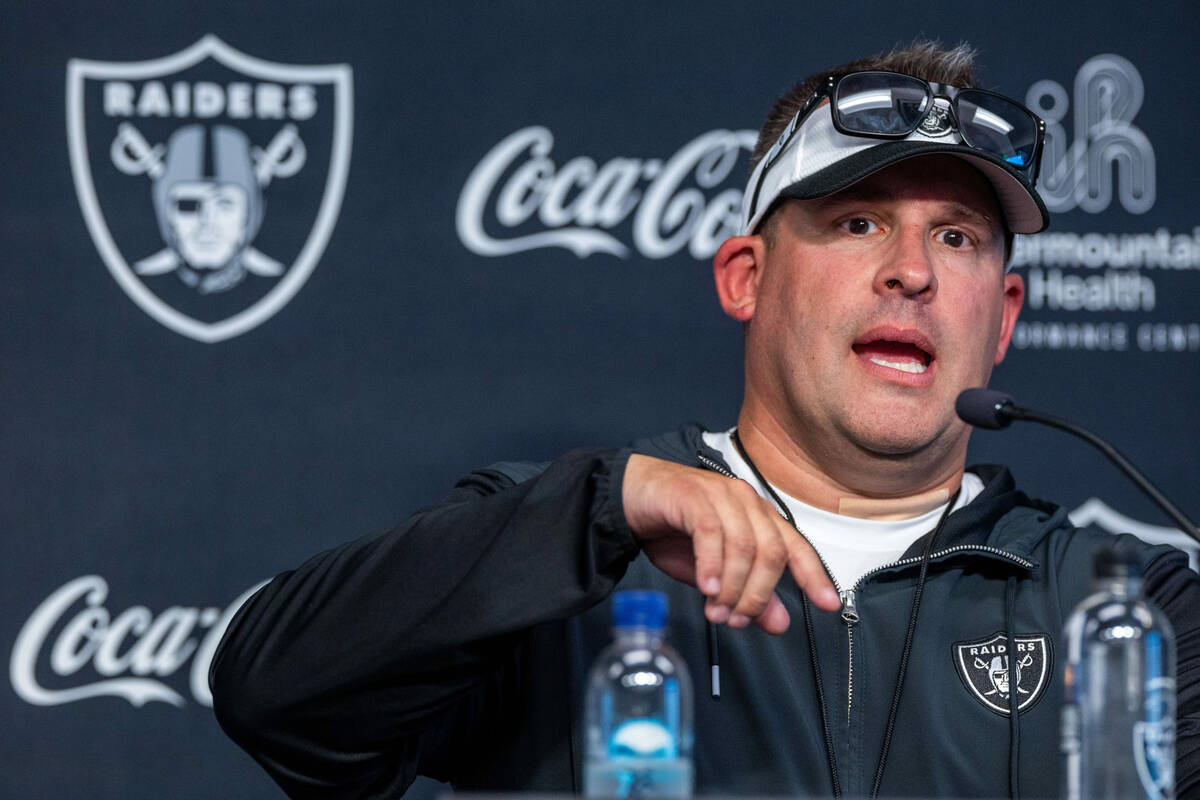 The Raiders approached their work against the 49ers this week as a three-step process that will culminate with Sunday's preseason opener at Allegiant Stadium.
As a result, fans can probably rule out seeing a slew of Raiders starters taking the field at 1 p.m. Sunday.
The bulk of their work occurred Thursday and Friday during two joint practices against the 49ers that included plenty of time devoted to scrimmages involving the starters and key backups of both teams.
"Anytime you have the joint practices, you have such a great opportunity to get a ton of work in," Raiders coach Josh McDaniels said.
The preseason game should give the public its first extended look at some young Raiders players vying for roles and roster spots, and many others who hope to put together enough good film over the next three weeks to open the necessary eyes with the Raiders or another team.
Among them is rookie quarterback Aidan O'Connell, a fourth-round pick from Purdue who has been impressive in his first NFL training camp. With Jimmy Garoppolo unlikely to play and veteran backup Brian Hoyer expected to play very little, if at all, O'Connell should get an extended look Sunday.
"I couldn't be more impressed by his consistency and his approach," McDaniels said. "He doesn't get high, low, up, down. … It's a great way to be for a young player, especially at this position."
Not so long ago, Jakobi Meyers found himself in a same situation as so many young Raiders prospects. Five years ago, he was an undrafted free agent trying to make the Patriots, and he used training camp and the preseason to win a role. That included the six catches for 151 yards and two touchdowns he had in his first two preseason games.
Now an established veteran and a key piece of the Raiders' offense, Meyers has some advice for his young teammates.
"Just enjoy it and just let the moment come to you," Meyers said. "There's a lot of things you can't control that we try to control. And that usually ends up in a bad situation. So, go out there be free, and you're applying for a job with 32 teams."
Raiders rookies to keep an eye on Sunday include wide receiver Tre Tucker, defensive tackle Byron Young, defensive tackle Nesta Jade-Silvera, cornerback Jakorian Bennett, linebacker Amari Burney, safety Christopher Smith, guard McClendon Curtis and offensive tackle Dalton Wagner.
"It's really about trying to go out there and do your job — and who's disciplined enough to do it, as many plays as they're out there," McDaniels said. "They might be out there for two quarters, and some of them might be out there for 15 plays. Some of them might be out there for the whole game.
"So you're trying to see who can be disciplined enough to know what their job is, communicate with their teammates and then try to use the right technique and see if they can help their team, their side of the ball, make good plays."
Contact Vincent Bonsignore at vbonsignore@reviewjournal.com. Follow @VinnyBonsignore on X.
Up next
Who: Raiders vs. 49ers
When: 1 p.m. Sunday
Where: Allegiant Stadium
TV: KVVU-5, KLAS-8, NFLN
Radio: KRLV-AM (920), KOMP-FM (92.3)
Line: 49ers -4, total 35½