With Nathan Peterman now on IR, new QB Deshone Kizer will take his place
Updated September 2, 2019 - 5:09 pm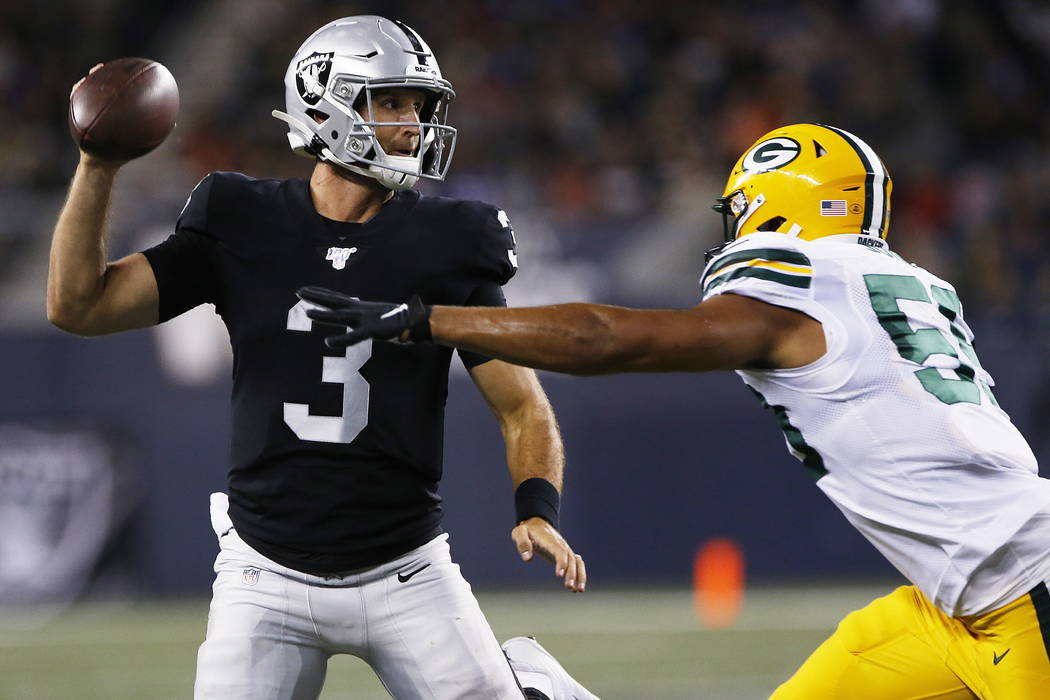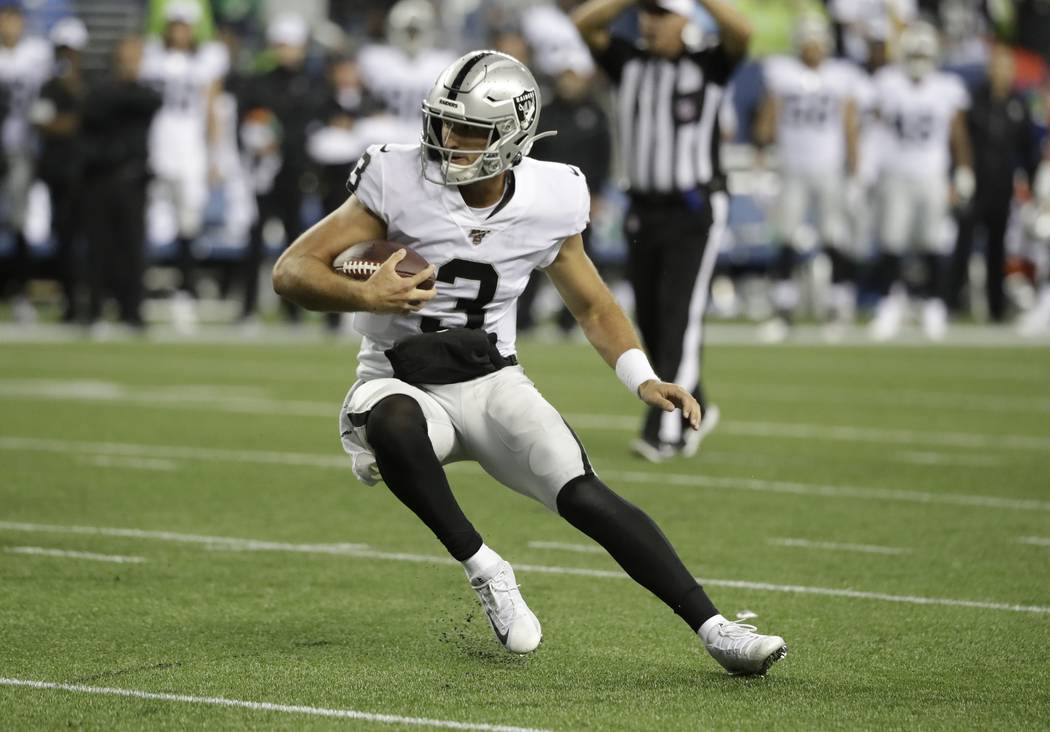 ALAMEDA, Calif. — Undrafted rookie Keelan Doss was a central character on "Hard Knocks," popular with fans and media alike at Raiders camp.
His legend may have developed a bit faster than his game, according to coach Jon Gruden.
"He's a big story on the TV show, but that's not the reality we saw on tape," Gruden said after practice Monday when asked about the team's decision to cut Doss.
Doss grew up minutes from the team's facility and was a standout at UC Davis before signing a free-agent deal after going undrafted.
Gruden was effusive in his praise for Doss throughout the offseason, often offering unsolicited commentary during interview sessions about the receiver's ability to quickly master all three positions in the offense, both outside wide receiver spots and the slot.
Doss led the team in receptions during the preseason, but dropped a couple passes in the postseason finale against Seattle. Gruden said the media allowed the narrative about Doss to get carried away.
"That was your storyline," he said. "That was not my storyline, just so we're on the same page. He did a heck of a job. We tried to keep him on the practice squad. He thought he had a better opportunity to make the team in Jacksonville. We hate to see him go. We're happy for his future."
Doss elected to eschew an offer from the Raiders in favor of an opportunity to join the Jaguars' practice squad.
Gruden said the position is a deep one for the Raiders. In addition to the six wideouts who made the team, each of the two practice squad receivers spent time on the regular roster last season.
"We weren't eager to get rid of Marcell Ateman," Gruden said. "He started several games for us. Rico Gafford made big plays for us, and he's only played wideout for one year. So (Doss) was in a tough spot."
Gafford entered the league as a cornerback and converted to offense full time last year after signing with Oakland.
Youth movement
The Raiders wanted to get younger this offseason. The numbers suggest the mission was accomplished.
Their initial 53-man roster as of Saturday has an average age of 26.5, making them the ninth-youngest team in the league, according to data compiled by Phillyvoice.com.
Last year's initial roster was the oldest in the league at 27.4.
"It was a big priority," Gruden said of getting younger. "We're trying to build our team, and you do that through the draft. It sounds cliche, but you've got to get good young players in the system so you can have them in that second, third and fourth year and hopefully get some guys on their second contract. But we've also got good veteran leadership here."
The Raiders have 18 rookies between the active roster and practice squad.
Practice squad filled
Cornerback Nick Nelson and linebacker Justin Phillips were added to the 10-player practice squad.
Nelson is a 2018 fourth-round pick from Wisconsin who played 10 games, including three starts, as a rookie last season with the Raiders.
Phillips, an undrafted rookie from Oklahoma State, spent most of the preseason with the Cowboys.
Contact Adam Hill at ahill@reviewjournal.com. Follow @AdamHillLVRJ on Twitter.