WR Seth Roberts joins Raiders' blocking brigade
September 18, 2017 - 6:27 pm
Updated September 18, 2017 - 7:11 pm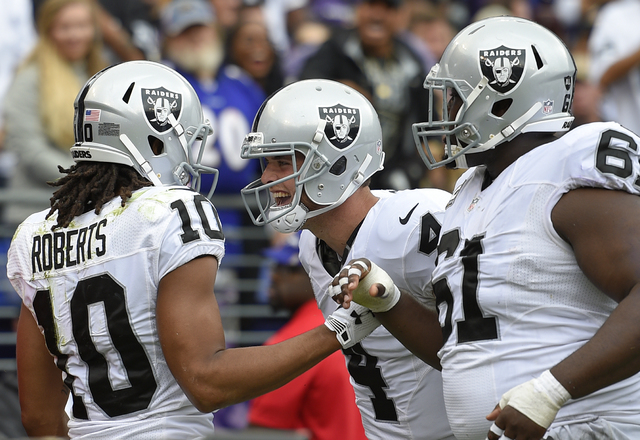 ALAMEDA, Calif. — The first play was a handoff. The second was a pitch.
The first ball carrier was a wide receiver. The next was a running back.
Late in Sunday's 45-20 win over the New York Jets, the Raiders executed a pair of long touchdown runs whose design and personnel varied. There was, however, one constant between the scores.
The same wide receiver was blocking 40-plus yards downfield.
Seth Roberts was the man involved, first on Cordarelle Patterson's 43-yard scamper and then Jalen Richard's 52-yarder. Such efforts propelled the Raiders' running game during a physical afternoon that featured 27 carries for 180 yards and three touchdowns.
Roberts was engaged with safety Marcus Maye inside the 5-yard line on the Patterson touchdown.
For the Richard score, he sprinted across the field to push Maye's left shoulder at the 7-yard line just as Maye attempted to tackle Richard from behind.
"On both of the long runs, you see Seth Roberts showing up, hustling down the field, which is a tremendous effort," coach Jack Del Rio said on Monday. "That's the kind of stuff, big plays, when you're an offensive unit, big plays you're always seeing extra effort from somebody to help. Get a block to spring you. Go down the field and get another guy. Whatever it might be. So yeah, good stuff to see."
Not to be overlooked
The Raiders' offensive line did its part, too.
Patterson took a shotgun handoff and dashed through an inside lane cleared by left guard Kelechi Osemele and center Rodney Hudson in the third quarter. Patterson juked left at the second level, sending New York Jets cornerback Juston Burris sliding across the dirt in his wake.
He was off to the races from there.
Early in the fourth, Richard took a pitch from quarterback Derek Carr toward the right edge. Right tackle Marshall Newhouse and Hudson kicked outside to clear the play's front side. Donald Penn hurried downfield from left tackle to help secure the back end.
Richard weaved left and wouldn't be stopped.
Roberts made sure of it.
On the mend
Three players on the Raiders' 53-man roster missed Sunday's win because of injury.
All three could play Sunday night against the Washington Redskins.
Del Rio expressed optimism when asked about the status of cornerback Sean Smith, who was sidelined with a neck injury. He then elaborated to address fullback Jamize Olawale (quad) and safety Keith McGill (foot), neither of whom have played yet this season.
Both were injured in August.
Del Rio said Smith's absence "shouldn't be" a longer-term situation.
"We'll see how he comes out of the weekend, but we elected to not push it (Sunday) and let him heal up," Del Rio said. "Hopefully Keith McGill, Jamize and Sean are all able to join us this week."
Contact reporter Michael Gehlken at mgehlken@reviewjournal.com. Follow @GehlkenNFL on Twitter.
Seth Roberts file
Position: Wide receiver
Age: 26
Height: 6-feet-2-inches
Weight: 196 pounds
2017 stats: One target, one catch, 19 yards, touchdown