'You can tell they love football': Raiders make big impression on young QB
Updated March 3, 2023 - 12:19 pm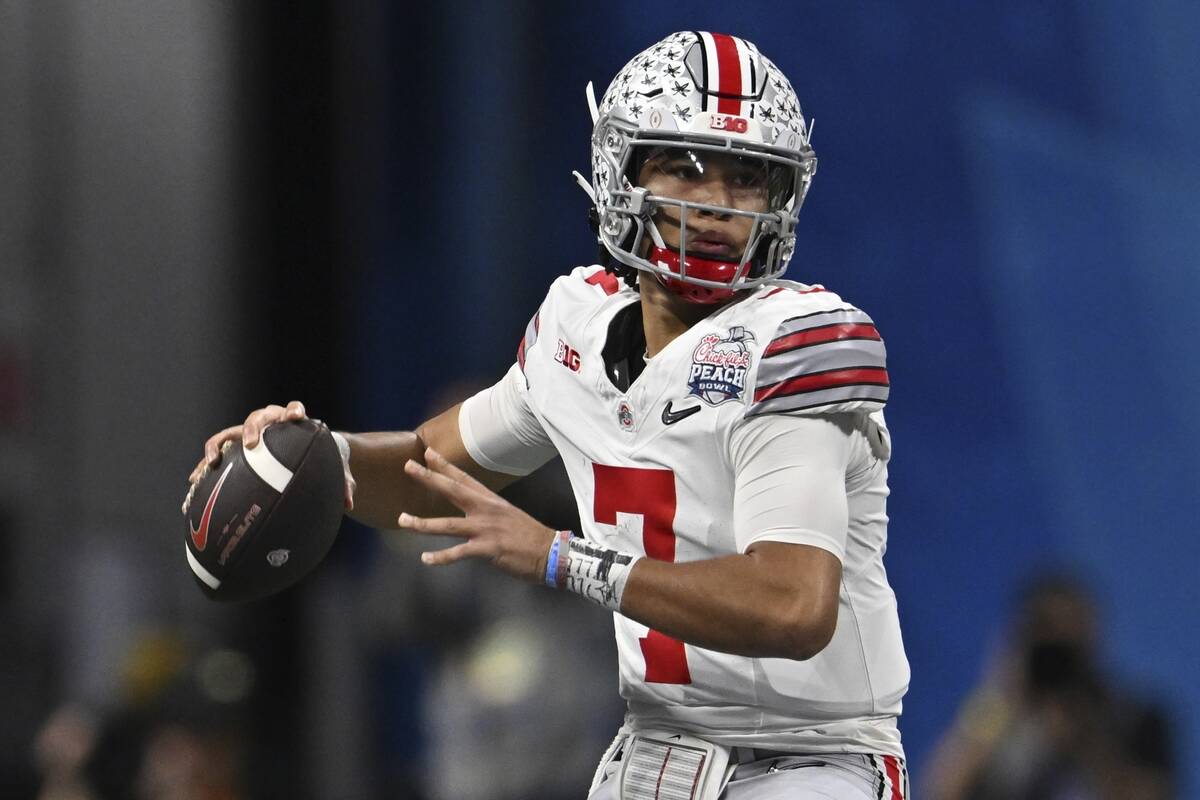 INDIANAPOLIS — Maybe it means everything. Or maybe it means nothing at all. But when C.J. Stroud began his first round of interviews with teams at the NFL scouting combine this week, the Raiders were at the front of the line.
And as the Ohio State quarterback would soon discover upon sitting down with a Raiders' contingent that included coach Josh McDaniels and general manager Dave Ziegler, he found a kindred spirit flowing through the room.
"You could tell they're kind of stern, they're kind of straightforward. They do what they do and they have no remorse for that," Stroud said. "You can tell they love football."
In other words, right up the alley for a young quarterback who arrived in Indianapolis with his game face on ready to prove he is ready to step into an NFL locker room and lead a franchise.
"All the way from rookie minicamp" is how Stroud put it.
The meeting with McDaniel and Ziegler covered a wide range of topics that spanned his willingness to run when needed to his football mind. In turn, the poise and presence that has long been evident from the Ohio State star were apparent in the room.
"It went really well," Stroud said, "I had a great conversation with them and got to explain what my offense was, and they asked me about my athleticism and things like that, if I could do it at the next level. They asked me about some family stuff as well. Just being really honest."
The objective from Stroud's perspective was obvious. "Trying to build that relationship and connection," he said.
The Raiders have the seventh overall pick in next month's draft. In order to secure Stroud, the Raiders would likely have to move up a few slots.
That would be a welcome development for Stroud, who grew up just over three hours away from Las Vegas in Rancho Cucamonga, California. "I would love to be close to home," he said.
Stroud is generally considered the second-best quarterback in this draft, just behind Alabama's Bryce Young. Neither is a perfect prospect, although their biggest flaws are more a case of perception than anything that hindered them during their college careers.
Young's size — 6-1, 190 pounds — has created some concern about his ability to hold up to the physicality of the NFL. On the other hand, it's never been an issue for him even while playing in the ultra-competitive and physical Southeastern Conference.
Meanwhile, Stroud's infrequent runs at Ohio State have created a perception he either can't or won't tuck the ball away and use his legs to make plays. Not that his lack of running hindered his play.
Stroud threw for 8,123 yards in 25 games with the Buckeyes while completing 69 percent of his passes. His 89 touchdown passes against just 12 interceptions on 830 pass attempts is proof of his diligence with the ball.
Stroud showed a willingness to run in the college football playoff game against Georgia — and more than that, an effectiveness when doing so — but that didn't slow down the questions about his athleticism at the combine this week.
"If you turn on the film and really watch what I do, really look at film, game to game, I have used my athleticism. Not just in the Georgia game, where I did it a lot. I did every other game," Stroud said. "I have tough third-down runs. I've had tough fourth-down runs. But there are times where I didn't run the ball, where maybe I should have. I feel like that's something I've learned."
Stroud also pointed out that his job is to get the ball to his playmakers, and the pride he takes in doing that superseded any notion of proving to NFL teams he can take off and run. Doing so meant hanging in the pocket and letting plays develop.
And all anyone has to do is watch the tape and see he has enough vision and athletic ability to sidestep trouble in the pocket, while still allowing plays to develop downfield.
"Sometimes I get so invested in the read," Stroud said. "You spend eight hours on one play, I guarantee you you're not going to go one, two, run! You're going to go one, two, three, four, and really try to figure out who's open. Because you really want to feed guys the rock."
Again, by no means is he reluctant to go make a play with his legs.
"When it's time to dip my shoulder and go get that first down, I'm going to do that," Stroud said.
Contact Vincent Bonsignore at vbonsignore@reviewjournal.com. Follow @VinnyBonsignore on Twitter.