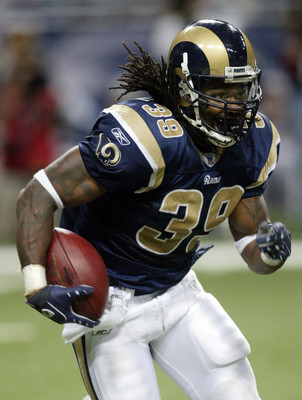 Rams running back Steven Jackson ended his holdout Wednesday, and St. Louis appeared on the verge of signing him to a new multiyear contract.
The former Eldorado High School star told the St. Louis Post-Dispatch he had agreed "in principle" to terms of a deal. He added that once a few details were ironed out, "we'll be pretty much done."
The 235-pound Jackson, a bruising runner and the centerpiece of the Rams' offense, is entering the final season of a five-year, $7 million deal he signed as a first-round pick in 2004. His prolonged stand perhaps reflected a realization of his value to an offense that averaged only 16 points last season while the team went 3-13.
Jackson told the newspaper in a story on its Web site that the stalemate had been about a difference in philosophy. He said talks "recommenced" late last week, and Jackson booked a flight from Las Vegas to St. Louis on Wednesday when a deal appeared imminent.
The Rams cut off negotiations in late July on the first day of training camp after Jackson's agent, Eugene Parker, turned down a deal the team said would have put Jackson in the top echelon at his position.
At that time, Jay Zygmunt, the Rams' president of football operations, said there would be no further talks until the running back reported.
Parker did not return a telephone message from The Associated Press.
Jackson is scheduled for a physical today and could make it onto the practice field afterward. The Rams have a workout scheduled for 10:30 a.m.
Jackson had his third consecutive 1,000-yard season in 2007 despite missing four games with injuries, and the Rams had made signing him to a contract extension a priority in the offseason. Zygmunt said the team approached Jackson's agent not long after the season to discuss a new deal, but negotiations stalled when Jackson switched representatives and signed with Parker in late June.
• EAGLES — Philadelphia wide receiver Kevin Curtis will have surgery today to repair a sports hernia and probably will miss the start of the regular season.
Eagles coach Andy Reid said he thinks Curtis, the team's top receiver last season, will be back during the regular season, but no timetable has been set for his return.
Even if Curtis is able to return to the field during the season, there is a good chance his performance will be adversely affected. Quarterback Donovan McNabb and tight end L.J. Smith each had seasons derailed by a sports hernia in recent years.
• BRONCOS — Five-time Pro Bowl center Tom Nalen is headed back to the operating table.
The only player left from Denver's Super Bowl teams of the late 1990s, Nalen needs another operation on his left knee after surgery in June failed to put him back on the field without pain.
Nalen, 37, will undergo another arthroscopic surgery on his left knee today, said coach Mike Shanahan, who is holding out hope that his center will be ready for the season opener at Oakland on Sept. 8.
• SEAHAWKS — Seattle quarterback Matt Hasselbeck did not practice again because of a stiff back, and he might miss his second consecutive preseason game against San Diego.
Coach Mike Holmgren is trying to ensure Hasselbeck is ready for the season opener Sept. 7 at Buffalo.
• CHIEFS — Linebacker Demorrio Williams probably will miss Kansas City's final two preseason games with a broken bone in his right hand but expects to be ready for the Sept. 7 season opener at New England.
Williams, a free agent who signed a five-year contract in March, suffered the injury in practice Tuesday but did not learn of the severity until a cast was placed on the hand later.
• BROWNS — Quarterback Derek Anderson and five Cleveland teammates did not practice and weren't expected to play against the Detroit Lions on Saturday.
Anderson was out with a concussion he suffered when Pro Bowl defensive end Osi Umenyiora sacked him early in the second quarter of Monday's 37-34 loss to the New York Giants.
Also missing practice were running back Jamal Lewis (hamstring), receiver Braylon Edwards (foot), kick returner Joshua Cribbs (ankle), safety Brodney Pool (concussion) and linebacker Willie McGinest (groin).
• BILLS — Quarterback Trent Edwards has a swollen bruise above his right kneecap, which forced him to miss practice, a day after the Buffalo starter knocked knees in a collision with running back Marshawn Lynch.
Walking with a noticeable limp, Edwards was relieved the injury to his lower right quadriceps wasn't as severe as he initially feared. But he said he's not sure whether he'll play in Buffalo's third preseason game at Indianapolis on Sunday.
• DOLPHINS — Miami traded cornerback Travis Daniels to the Cleveland Browns for an undisclosed draft pick.
Daniels played in all 16 games last season for Miami, including five starts. He had 27 tackles and an interception.
• PANTHERS — Carolina released injured defensive tackle Ian Scott and signed receiver Sean Bailey.
Scott sprained his left knee on the fifth day of training camp. Bailey is an undrafted rookie from Georgia.
• CHARGERS — Linebacker Shawne Merriman had his knee examined in Alabama after lingering soreness kept him out of practice for more than a week.
Merriman underwent surgery to repair cartilage damage five months ago but has had persistent pain in the knee during training camp. He traveled to Birmingham to have the knee checked by Dr. James Andrews, the surgeon who performed the operation.
49ERS' QB BATTLE CONTINUES TONIGHT VS. BEARS
CHICAGO — Kyle Orton has a starting job, and J.T. O'Sullivan will try to lock one up, too.
While Chicago Bears coach Lovie Smith declared Orton the winner in the quarterback battle with Rex Grossman, San Francisco 49ers coach Mike Nolan wasn't quite ready to say O'Sullivan is the regular-season starter.
O'Sullivan will take the first snaps at Soldier Field tonight, but Nolan stopped short of calling him the winner of a quarterback competition with holdovers Alex Smith and Shaun Hill.
"Some are getting more reps than others, but I've been pleased with all three of them," Nolan said. "I do feel confident we have three guys who can win games. Two of them I know can because I've played with them in the past and continue to take a look at J.T."
The third preseason game usually is a rehearsal for the season opener, but if O'Sullivan is going to start the first game against Arizona the announcement apparently will come later. That's fine with him. He's just focusing on the upcoming exhibition game after starting the first two.
"I'm just worried about this week, and I don't really let myself feel anything about it," said O'Sullivan, a sixth-year pro with his eighth team.
THE ASSOCIATED PRESS