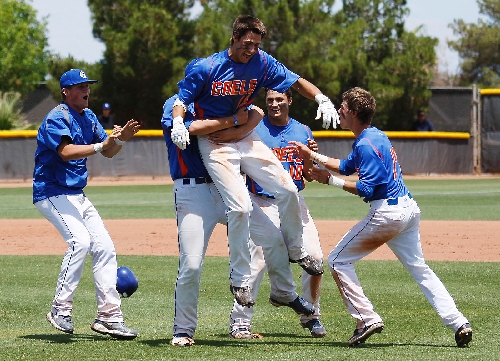 Joey Gallo already knew the Texas Rangers planned to select him with the 39th overall pick in Monday's Major League Baseball Draft.
But when 14-time All-Star catcher Ivan Rodriguez strolled to the podium to call Gallo's name on national television, it made the moment even more memorable for the senior third baseman from Bishop Gorman High School.
"That was actually really cool," Gallo said. "I saw (Rodriguez) walk out, and I knew I was getting drafted.
"It's kind of like a dream right now. When you're a little kid, you dream of hearing your name called."
Gallo was projected by many draft experts to go in the first round, but he had no complaints after being tabbed by Texas in the first compensation round.
"I knew probably a while, 10 picks before. My advisor (Brody Schofield) was keeping me updated," Gallo said.
To say the 6-foot-5-inch Gallo has rare power might be an understatement. He batted .509 with 21 home runs and 80 RBIs as a senior, leading Gorman to its seventh straight Class 4A state title. He received Nevada Player of the Year honors from the Review-Journal and Gatorade.
Gallo's 65 career home runs are the most in state history, according to the Nevada Interscholastic Activities Association record book.
"He was the most pure power hitter in the draft," Gorman coach Nick Day said. "He proved (last) summer he has no problem hitting for power with the wood bat. I think the Rangers are lucky to get him where they did."
Wielding a fastball that approaches 100 mph, Gallo also was an accomplished right-handed pitcher for the Gaels, but he projects as a corner infielder on the pro level.
Gallo has until July 13 to decide whether to honor his college commitment – he has a full scholarship to Louisiana State – or sign with the Rangers. He said he hasn't decided.
"No idea yet," Gallo said. "We'll enjoy these next couple days. The Rangers are a great organization."
The signing deadline this year was moved from August to July.
Tony Gallo, Joey's father and a former pitcher in the Montreal Expos organization, said the family will begin discussing the options available to Joey.
"We kind of thought by the early predictions he would go a little bit higher, but we'll more than likely sit down with Joey, my wife, his advisor, and we'll see what the best options will be," Tony Gallo said.
Day, who also coaches Gorman's American Legion team, said he'll support Gallo no matter what his decision is.
Then Day quipped: "I think he should play Legion, though."
The draft resumes at 9 a.m. today and will run from the second round through the 15th. Rounds 16 through 40 are Wednesday.
Arbor View pitcher/infielder Zach Quintana, Green Valley infielder Evan Van Hoosier and Gorman outfielder Johnny Sewald are among locals expected to be chosen.
UNLV's top prospect is junior outfielder Brandon Bayardi, who hit .361 with seven home runs and 53 RBIs this season.
Contact reporter Tristan Aird at taird@reviewjournal.com or 702-387-5203. Follow him on Twitter: @tristanaird.
In-depth high school sports coverage
ASTROS USE NO. 1 PICK ON PUERTO RICAN CORREA
SECAUCUS, N.J. – Carlos Correa was all smiles when he heard his name announced, knowing he had made hometown history at the Major League Baseball Draft.
The Houston Astros selected the 17-year-old slugging shortstop with the No. 1 pick Monday, making him the first player from Puerto Rico to lead off the draft.
"This means a lot," Correa said from the draft site at MLB Network studios. "We've got a lot of good players there."
Correa, however, is the only one to be drafted first from an island that has produced plenty of baseball royalty: Roberto Clemente, Ivan Rodriguez, Carlos Beltran, Carlos Delgado, Juan Gonzalez, Bernie Williams. Catcher Ramon Castro had been the highest-drafted player out of Puerto Rico, going No. 17 to Houston in 1994.
With the second pick, Minnesota selected speedy Georgia high school outfielder Byron Buxton, considered a five-tool player with a bat among the best among all draft prospects.
University of Florida catcher Mike Zunino was taken No. 3 overall by Seattle. Baltimore went with Louisiana State right-hander Kevin Gausman with the fourth pick, adding a potential ace to its system.
Kansas City selected University of San Francisco right-hander Kyle Zimmer, a converted third baseman, with the No. 5 pick.
THE ASSOCIATED PRESS